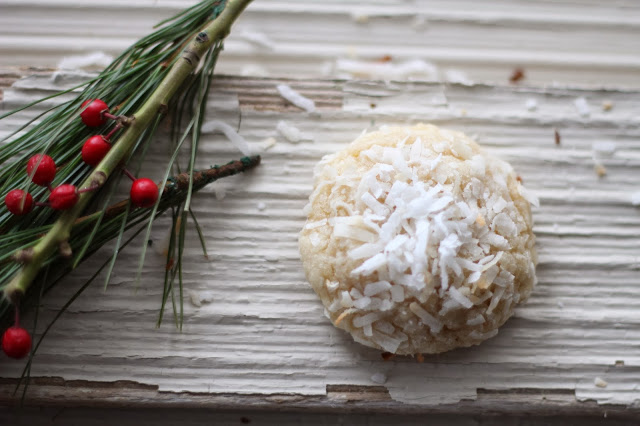 Coconut cookies. You are either a lover or a hater. I'm a lover. This recipe for Simple Coconut Cookies is one simple and delicious little nugget of coconutty deliciousness. It is moist and chewy. Full of coconut flavor.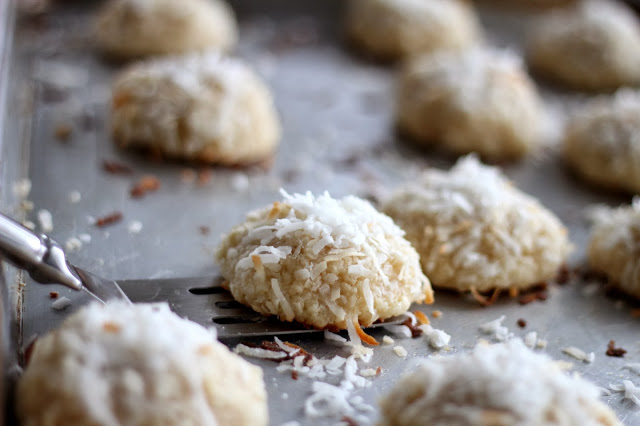 You probably have all of the ingredients in your pantry to make these little gems. It will take you 5 minutes to mix up the dough. Bake for 30 minutes while you clean up the mess and powder your nose. You don't powder your nose? Neither do I.
Anyway. You're going to love these.
Less than a week before Christmas.
Get Baking.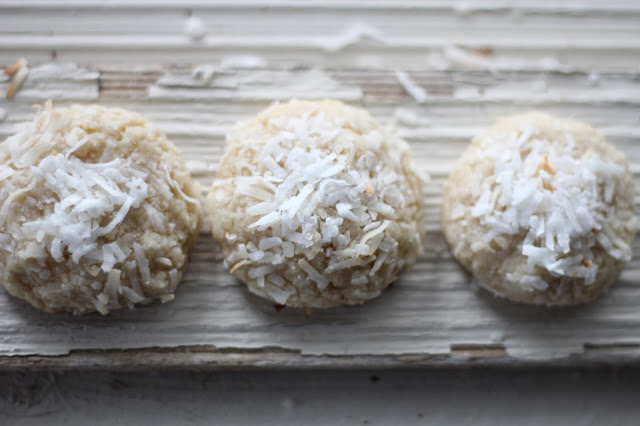 Simple Coconut Cookies
Ingredients
1

package

14 ounces sweetened shredded coconut (5 1/3 cups)

1

cup

sugar

1/2

teaspoon

salt

1/4

teaspoon

baking powder

1/2

cup

1 stick chilled unsalted butter, cut into small pieces

1

large egg

1

teaspoon

vanilla extract

1 1/2

cups

all-purpose flour

(spooned and leveled)

splash of milk if needed
Instructions
Preheat oven to 350 degrees.

Set aside 2 loosely packed cups of coconut on a plate.

Place remaining coconut in a food processor along with sugar, salt, and baking powder; process until finely ground. Add butter, and process just until no lumps remain. Add egg and vanilla; process just until smooth. Add flour; pulse until a crumbly dough begins to form, scraping sides of bowl as needed (do not over mix). If the dough is a bit dry, add a splash of milk until the dough comes together. Do not over mix.

Forming 5 or 6 at a time, scoop level tablespoons of dough, and place in reserved coconut. Roll into balls, coating with coconut.

Arrange balls, about 2 inches apart, on baking sheets. Do not flatten the balls of dough.

Bake until lightly golden, 23 to 25 minutes. Cool on baking sheets 1 to 2 minutes; transfer to a wire rack to cool completely.

If desired, sprinkle with a bit more coconut while hot.

This recipe yields about 15-18 cookies if using a 2 1/2 inch cookie scoop. The cookies are very rich, and can be made using a smaller scoop or spoon.