If you have always wanted to make sushi at home, I have just the recipe for you! My recipe for simple sushi can be made as individual maki rolls or you can set out all of the ingredients and let guests create according to their preferences.
Let's talk basics before we get started. The who, what, why of this classic Japanese dish…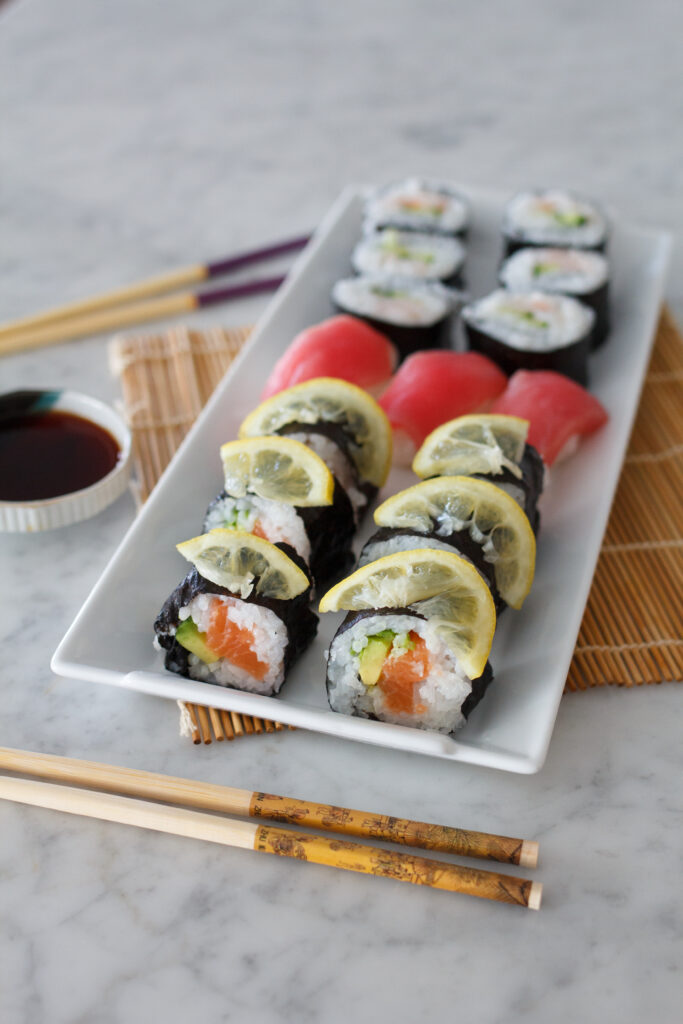 What is the difference between sushi and sashimi?
For starters, let's clarify the difference between sushi, maki, nigiri and sashimi. The term "sushi" is actually rice, flavored with rice vinegar.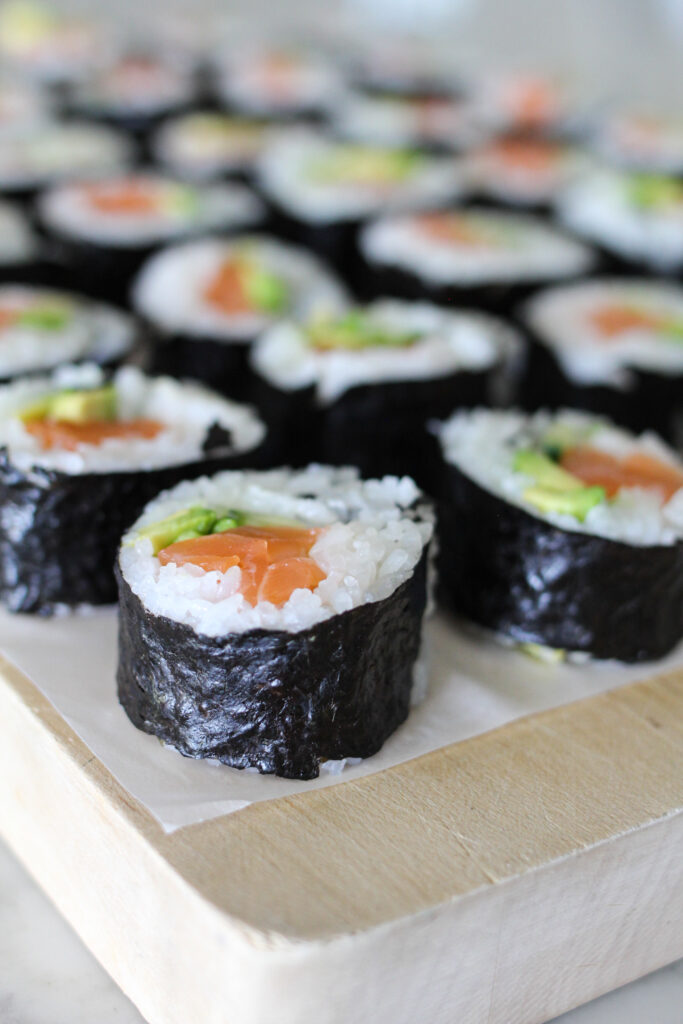 Maki usually consists of fish, vegetables and rice rolled in a seaweed (nori) wrapper, then sliced. Maki can include countless combinations of raw fish, tempura (battered and fried) shrimp, crab, etc, also raw vegetables, egg, fruit, and even cream cheese.
Nigiri is usually made up of a little mound of rice seasoned with rice vinegar (prepared sushi rice) formed into a rectangle (flat or mounded on top) and then topped with a slice of fresh fish or other seafood.
Sashimi is simply fresh fish, sliced, served raw. Many people mistake sushi for sashimi and say they don't care for sushi, when they really mean they don't like sashimi.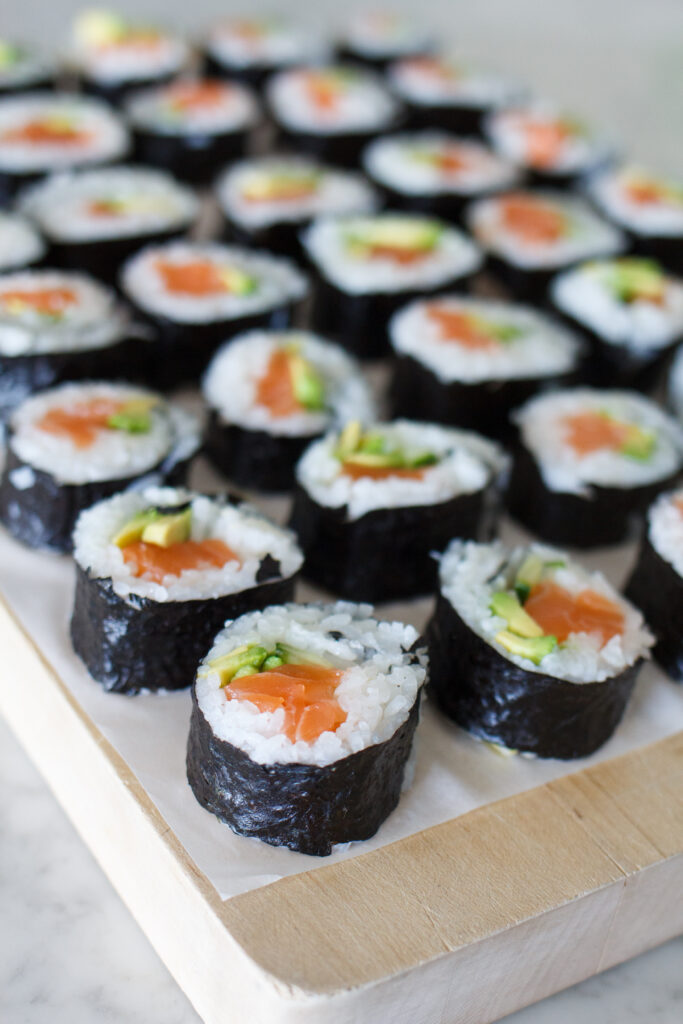 What is in sushi rice?
Sushi rice consists of Japanese short grain rice, often called sticky rice, cooked and mixed with rice vinegar. I like to use a rice vinegar that has already been sweetened, which eliminates the need to add extra sugar to the sushi rice. Seasoned rice vinegar usually includes sugar, salt and a bit of water. My favorite brand sold in most US grocery stores in Marukan. Look for the orange label.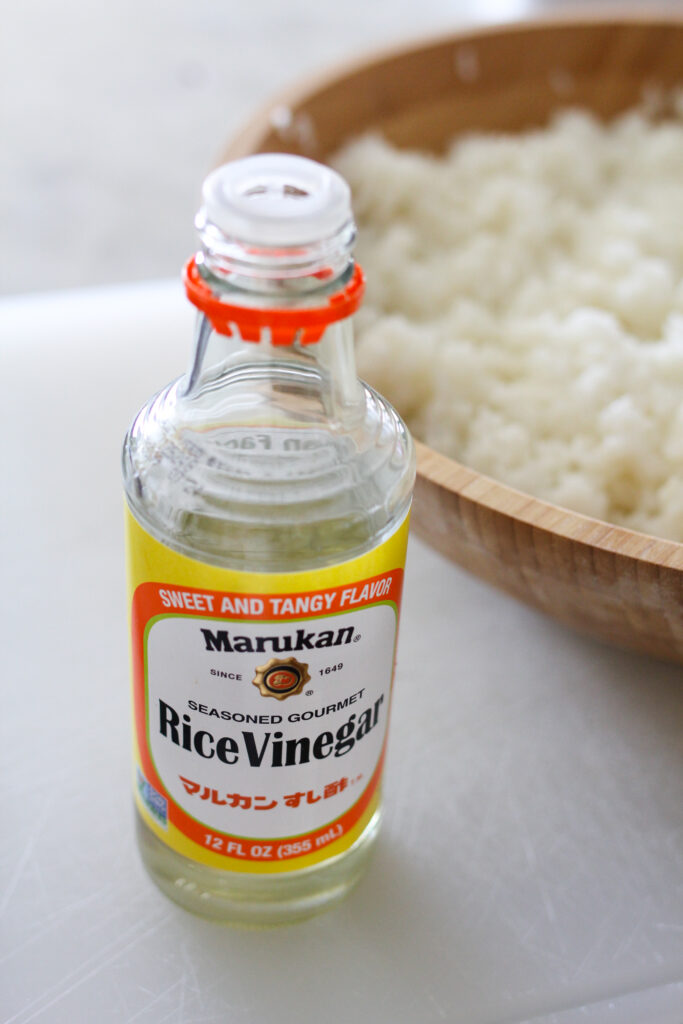 What type of rice is used in sushi?
Rice vinegar is essential in making sushi. It's the glue (maybe a bad analogy) that makes everything come together in this crave worthy recipe! Japanese sticky rice is also essential. Do not use long grain rice. Do not use Minute rice. Look for short, plump grains of rice. I have bought Calrose brand rice for years. It's the same brand my mom bought when we were growing up. It used to be found only in Asian grocery stores. Now it is sold in almost every grocery store.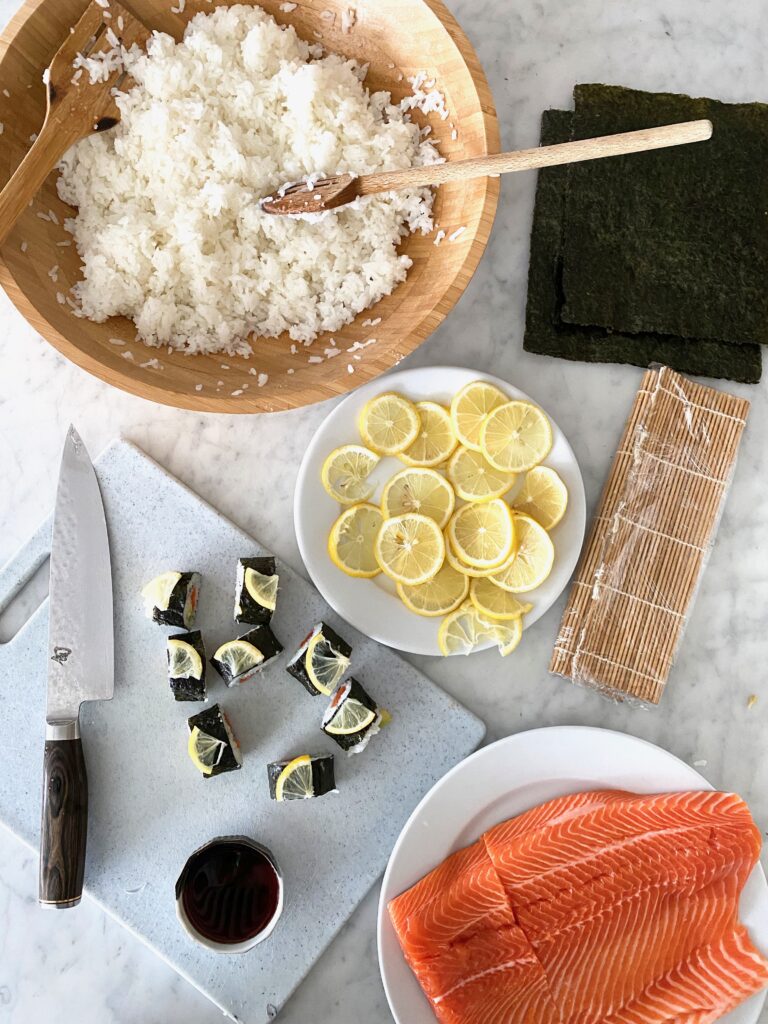 Some of the photos in this post are from 2008 when I traveled to Okinawa, Japan to visit family. Most of my relatives speak about as much English as I speak Japanese (very little). I watched carefully as my cousin Kaori and her sisters-in-law prepared a huge meal. Sushi, soba, shrimp rolls, salad made with Goya (a weird, bumpy green veggie found in Okinawa) and many other types of speciality dishes.
Feast prepared by my cousins and other family
We ate and laughed and I realized then, more than ever before, how food unites us. Sharing meals and cooking together can bridge language barriers we have- kind of like smiles.
I love the way they served it on a big platter with all types of fillings. Every year on Christmas Eve in our home, we make sushi with my mom. We started this tradition when our kids were young to preserve our Japanese family heritage. We make sushi and tempura, and my mom always makes her famous fried rice (even though fried rice is Chinese). We usually make individual maki rolls with nori, fish and vegetables. The buffet-style method is much easier and allows everyone to build their own roll. Just spread the seasoned rice over the seaweed, top with your favorite raw fish, shrimp, vegetables, fold over. and enjoy! They don't even slice it. Just wrap and eat.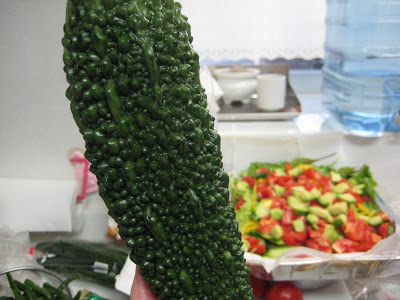 The national vegetable, Goya. Eaten in salads, stir fry, deep fried.
The key to making sushi at home
In my opinion, the key to having a good experience making sushi is preparation. Cut the veggies, fish and any other fillings for sushi ahead of time. The rice can be made a day ahead and mixed with the rice vinegar if necessary (see recipe notes). Sushi is basically seaweed, rice, fillings and condiments (soy sauce, ginger and wasabi). It's a very simple process.
Once you get the hang of rolling sushi, I think you will love it! Gather your friends and family and some fresh ingredients and get creative in the kitchen. I'd love to hear about your sushi making experience in the comments below!

Simple Sushi recipe originally posted in October 2008, updated with new content and photos July, 2022