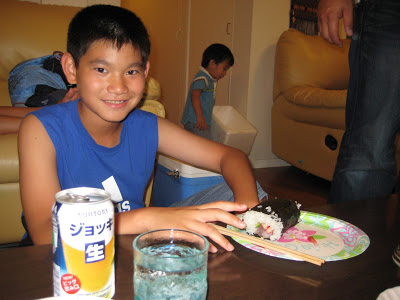 Last week, I was able to travel to Okinawa, Japan to visit family. I met my mom and we had a great time experiencing Japanese/Okinawan culture. Most of my relatives speak as much English as I speak Japanese. Just a scoshie. I watched carefully as my cousin Kaori and her sisters in law prepared a huge meal. Sushi, Soba, Shrimp rolls, salad made with Goya (a weird, bumpy green veggie found in Okinawa) and many other types of speciality dishes. We ate and laughed, and I realized then more than ever before, how food unites us. Sharing meals and cooking together can bridge language barriers we may have- kind of like smiles. Hope you enjoy these pics, and the following recipe for Simple Sushi. I love the way they served it on a big platter with all types of fillings. Every year on Christmas Eve, we make sushi rolls with my mom. We order Chinese takeout, make sushi and tempura, and have an Asian dinner. We usually make individual (Maki) rolls. But this method is much easier and allows everyone to build their own roll. Just spread the seasoned rice over the seaweed wrapper, top with your favorite raw fish, shrimp, vegetables and fold over. Oishi!Cousin with a giant sushi roll.
A salmon and almond appetizer.
The feast prepared by my family!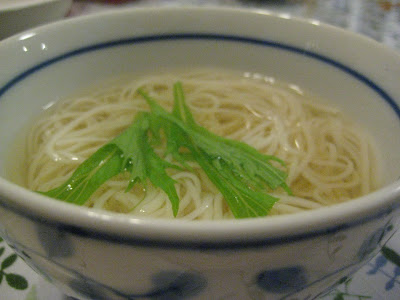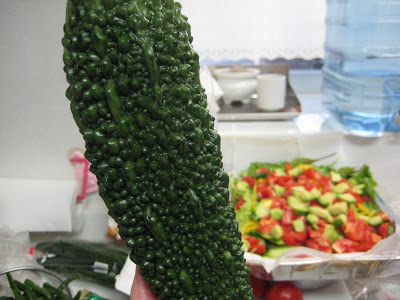 The national vegetable, Goya. Eaten in salads, stir fry, deep fried.
Remove seeds first.
Really delicious, but chewy seaweed tempura.

Simple Sushi
Ingredients
7-8

cups

white sticky rice

cooked, hot

1/2 to 3/4

cups

rice vinegar

Nori seaweed dark green

in sheets

assorted vegetables – avocado

cucumber, scallions,mushrooms dried or fresh assorted raw fish sliced thin or shrimp

Soy sauce

Pickled Ginger, Wasabi
Instructions
Serve with assorted filling ingredients.

Stack Nori seaweed next to the rice, alongside the veggies and fish.

Let each guest spread the seaweed wrapper with a thin layer of rice, then top with fillings.

Fold over to make a giant roll!

When mixed and rice is desired flavor, set aside on large platter or bowl.

Sprinkle with black sesame seeds if desired.
Recipe Notes
1) Prepare all ingredients while the rice is cooking. 2) Brown rice does not form a firm roll. The flavor of the brown rice does not complement the fillings.White sticky rice is best for sushi! (although I once had a black rice in NYC in a sushi roll I loved). We like the Calrose brand, found at most grocery stores. 3) Sushi tastes best right when you make it. If you have to refrigerate, let it warm up to room temperature before eating for best flavor.4) Extras-must haves – Wasabi, soy sauce in small bowls for dipping, pickled sliced ginger, ohashi (chop sticks).