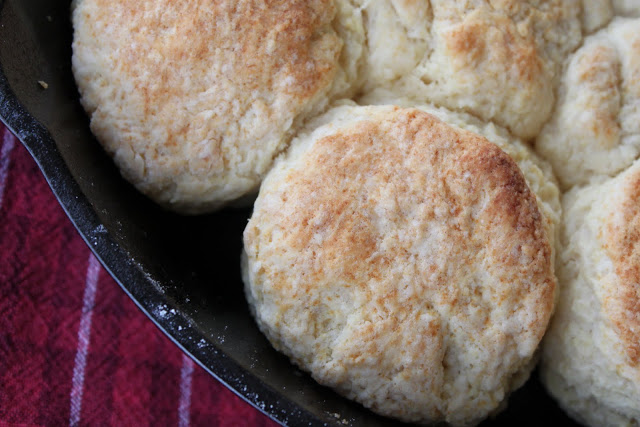 You all know how I love a good biscuit. Seriously, l could live on biscuits alone. Well, not totally alone. Butter and jam. And biscuits. Maybe in that order.
I've never owned a cast iron skillet- until now. My mom had one when I was a kid. My dad thought he was a cook. And he thought everything should be cooked in that cast iron pan. Bacon. Spam. Hash browns. Eggs. I absolutely hated my eggs cooked in the cast iron pan. Especially if the pan wasn't wiped out after the meat was cooked. I hate specks on my eggs. I like them to be clean.
White.
And yellow.
Maybe a bit of salt and pepper.
I didn't want residual specks of- whatever was left in the cast iron skillet after cooking the rest of the meal on my eggs. I know, I have issues.
Somehow, I associated my less than perfectly (in my opinion, as a 7 year old) cooked eggs with a cast iron pan. Bad feelings/cast iron skillet. I need therapy. Years later, as a grown up (that's me, now)I have heard, you can't be taken seriously as a cook if you don't own a cast iron pan. Pfshhhh. Whatever.
Then I saw a recipe or two showing biscuits cooked in the oven, using a cast iron skillet. And the benefits of using one. The nice all around golden color.
I loved that way the cooked biscuits looked in the pan. So cozy. I imagined their bottoms, sides and tops browning perfectly. Next thing I know, I bought one (at my favorite, TJMaxx)$11.99 for a Lodge brand pan. Love it.
This recipe is a bit different from my tried and true buttermilk biscuit recipe. The difference- sugar. I've tried lots of biscuit recipes. The best ones are made with shortening, in my opinion. The combo of sugar, shortening, buttermilk, along with my new cast iron pan?
Tender, flaky, slightly sweet, golden browned perfection.



Skillet Biscuits
adapted from Paula Deen
Ingredients
2 1/2

cups

flour

2

tablespoons

sugar

2 1/2

teaspoons

baking powder

1/2

teaspoon

baking soda

1/2

teaspoon

salt

1/2

cup

shortening

Butter Flavor Crisco

1

cup

buttermilk

1/4

cup

melted butter
Instructions
Preheat oven to 450 degrees

In a medium bowl, combine flour, sugar, baking powder, baking soda and salt. Cut in the shortening with a fork or pastry cutter, until it looks like cornmeal. Add the milk, a little at a time, Just until all dry ingredients are incorporated.

Turn the dough out onto a lightly floured surface. Knead lightly two or three times. Roll out the dough with a floured rolling pin to about 1 inch thickness. Cut with a two inch cutter.

Place the biscuits in a greased iron skillet. Biscuits will be touching each other in pan.

Brush tops of biscuits with melted butter. Bake for 12-14 minutes or until golden browned.

After the biscuits are done cooking, remove from oven and brush with remaining butter.
Recipe Notes
-Don't get all worked up if you can't fit the biscuits in the pan perfectly. I cut one biscuit into two and formed two little biscuits. -Don't over handle the biscuits, this will make them tough. -Keep the ingredients cold. -Keep the oven HOT. This allows for a high rise on the biscuits. -I bake these on the lower third of the oven so the tops won't over brown. -You may use regular Crisco, I prefer Butter Flavor Crisco. I've found TARGET has the best price on the Crisco sticks. So easy to use when making biscuits or pies.