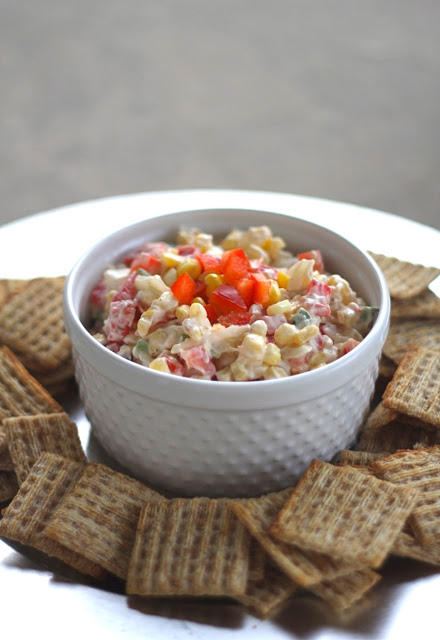 If you're a UTE fan, you're in heaven right about now. Winning our Pac 12 season opener for the first time EVER and hosting ESPN's COLLEGE GAME DAY here in our own backyard for the first time since 2010 calls for a celebration! This Skinny Poolside Dip is tasty, fresh, simple and perfect for the game tomorrow.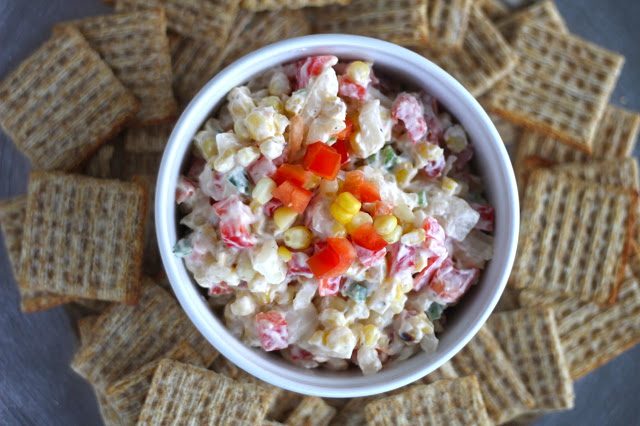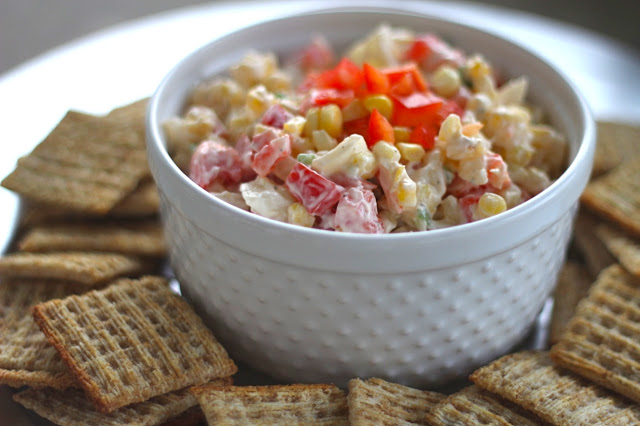 You know how the word "skinny" always catches a woman's eye!?! And the words: skinny, pool and dip all together in one recipe name? That was all it took to grab my attention. When I saw this recipe for Skinny Poolside Dip on Pinterest, I immediately thought of all the times I had packed my pool bag with Red Vines, Cheetos and Diet Coke.
One look at this recipe and I knew it was a keeper. I must admit, I have a gift. It's a small gift, insignificant to most, but very helpful if you're a food blogger. I can usually look at a recipe and tell you if it's going to be worth trying. This dip? One look and I knew it would be good. I made a couple of modifications (I know, you're shocked) to make it my own and more appealing to our family.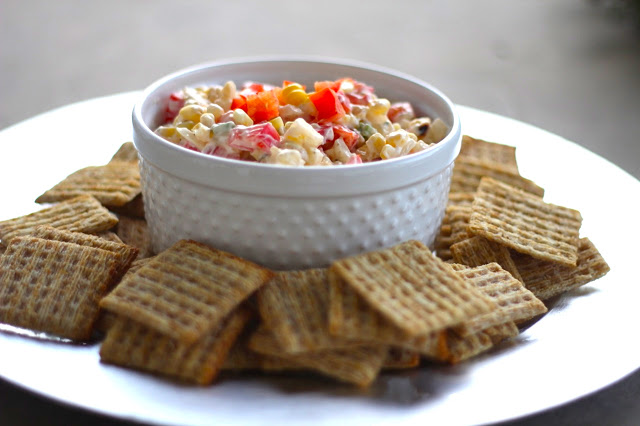 I'm not sure why this dip is called Skinny Dip? The first recipe I looked at was made with Neufchatel otherwise known as low fat cream cheese. Ok, makes sense. That would qualify as Skinny Dip (kind of). But the recipes using regular cream cheese? Well, the word "Skinny" should probably not be attached to that recipe 😉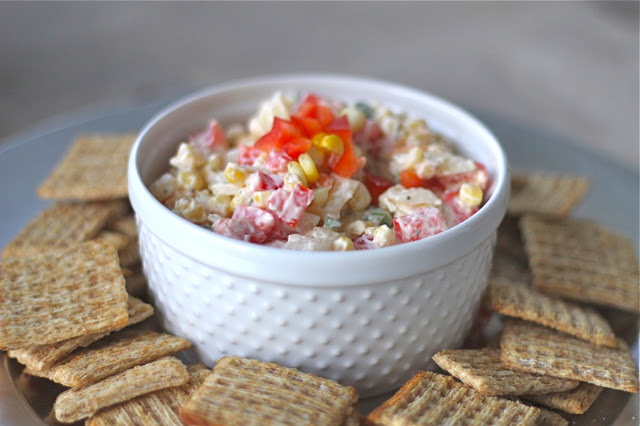 I loved the ease of this recipe. Start to finish, this recipe takes about 10 minutes, if you are grilling corn. Otherwise, if using frozen corn, it's close to 5 minutes total.
It's absolutely delicious and a dip that most will love.
Oh, I almost forgot.. GO UTES!!!
Poolside Skinny Dip
modified from Buns In My Oven
Ingredients
8

oz

cream cheese

room temperature (regular, low fat or Neufchatel)

2

red bell peppers

cored and diced

3

large ears fresh corn

cooked or 2 cups frozen corn

1

cup

sweet onion or red onion

diced

1

jalapeno

seeded and diced

2

tablespoons

dry ranch dressing or

pepper to taste
Instructions
In a large bowl, fold cream cheese, red peppers, corn, onion, jalapeno, and ranch dressing mix together. Season with ground pepper.

Serve immediately or refrigerate until ready to eat. Serve with crackers, tortilla chips or cut up vegetables.
Recipe Notes
-The dip will set up and be difficult to scoop right out of the refrigerator. Let sit at room temperature for a few minutes prior to serving.
-If fresh corn is not available, use one can of corn or 2 cps frozen corn, do not thaw before using.
-If grilling corn, husk corn. Sprinkle with a little salt and pepper. Butter the corn (if desired, not necessary). Wrap tightly in a piece of foil. Place on grill and cook over med high heat for about 10 minutes.
If you're looking for more appetizers, here are a few of our favorites…