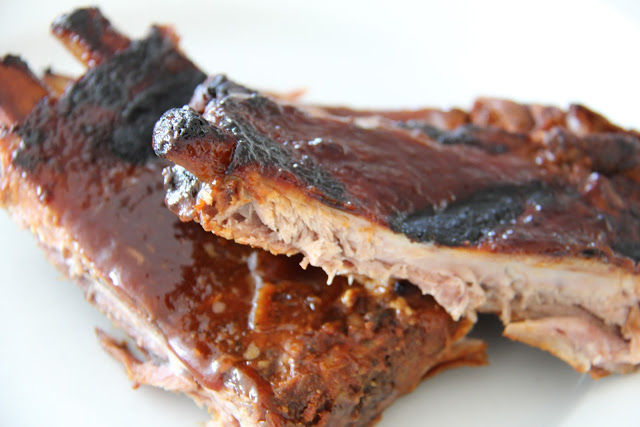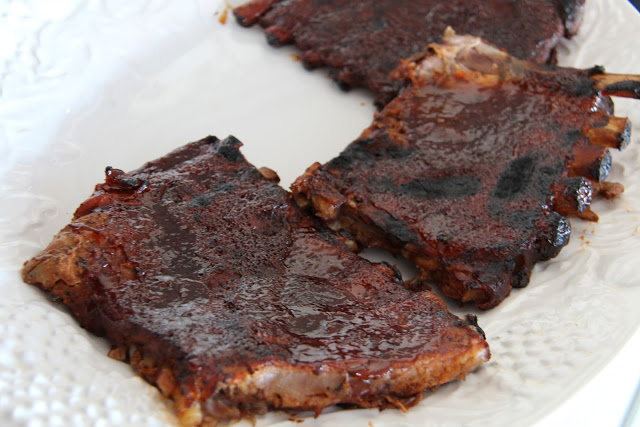 Once in a blue moon, I attempt cooking ribs at home.
Master of the grill?
No.
The last time I cooked ribs, I threw them on the bbq, smothered them with sauce, started out on low heat, grew impatient after about an hour (surprising, I know) and turned the heat up. The result- a tough, sticky, chewy mess.
I had all but given up on cooking ribs at home until I saw Slow Cooked BBQ Ribs on
Pinterest.
The recipe suggests that slow cooking the ribs, then broiling them for just a few minutes after they are cooked to add color and that little bit of caramelizing of the sauce is what makes them both moist and beautiful.
The ribs were tender beyond belief. The meat literally fell off the bone- so much, that there were a couple of bones sitting on the platter after I transferred them from the pan and Grant thought I had eaten a few before dinner started!
Don't let the length of the recipe scare you. Most of the time required for this recipe takes place in the oven, while you are off getting a pedi, having a root canal, going to church, driving carpool, working… you get the picture.
Perfect busy-day dish. I'm thinking baseball season. Want to know my resolve for this season? I know I tell you this (or a variation of this) every year. Here it is: We will not eat licorice and sunflower seeds for dinner. We will not eat licorice and sunflower seeds for dinner. We will not eat licorice and sunflower seeds for dinner. Check back with me in a few weeks and I'll let you know how it's going…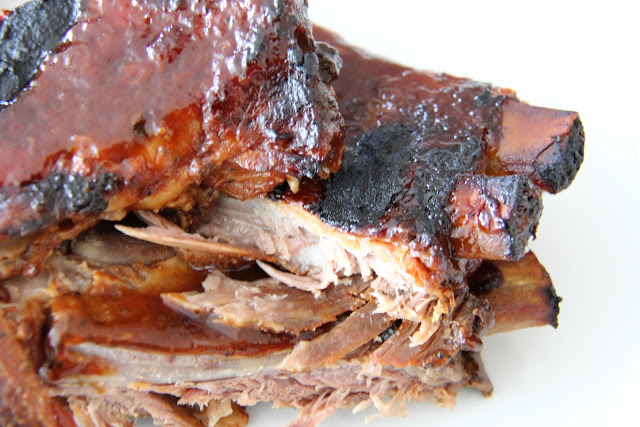 Oh, one last thing. Once the weather warms up a bit, I'm going to try the final broiling step outside on the grill.
Maybe I'll become a Grill Master after all 🙂
Slow Cooked BBQ Ribs
adapted from America's Test Kitchen Slow Cooker Revolution and Heather at Mmm is for Mommy
Ingredients
4

tablespoons

paprika

3

tablespoons

light brown sugar

1/4

teaspoon

cayenne pepper

1

tablespoon

each salt and pepper

8-9

lbs

pork ribs* – leave the membrane on the ribs to help hold them together

2

cups

barbecue sauce

home made is always best (recipe below), but bottled will work

Vegetable oil spray

foil to cover pan if you don't have a tight fitting lid
Instructions
About 9 hours before serving start this process. Most of the time will be cooking.

Preheat oven to 350 degrees, place rack in the middle of oven. You will be reducing the oven temperature right after placing the ribs in the oven.

In a small bowl, mix together paprika, brown sugar, cayenne, salt and pepper. Rub this mixture all over both sides of ribs. Good to do this with food handlers gloves on unless you enjoy a slightly orange colored hand for the rest of the day.

Arrange ribs in a large heavy pan with a lid*, fat side up. See note below if you do not have a lid to fit your large pan. Pour barbecue sauce over the ribs, cover tightly and place ribs in oven.

Reduce the temperature to 200 and cook ribs for 6-8 hours. Do not open oven door, do not lift the lid or foil off the pan.

After the ribs are cooked, remove the pan from the oven. Line a cookie sheet with foil and carefully place the ribs meat side up on the lined sheet. The ribs will be very tender and fall apart easily. I use a large spatula and some tongs. It is okay to cut the ribs a bit for easier handling. Set aside.

Pour the sauce remaining in the pan into a saucepan, skim off grease and discard.

Cook the remaining (de-fattesauce over medium high heat for about 10 minutes, until the sauce is reduced a bit.

Brush the sauce over the ribs in the lined pan.

Set the oven to broil and place the rack about eight to ten inches from the top of the oven.

Place the ribs into the oven, uncovered and broil just until the ribs are browned a bit, and the sauce caramelizes about 4-5 minutes. The original recipe says to flip the ribs and continue on the other side, but we found the ribs to be perfect with broiling on one side. Or maybe we were just hungry and wanted to eat?

Remove from oven and serve with additional sauce on the side.
Recipe Notes
Servings and cooking method:
Ribs come in many varieties. This recipe works well with Baby Back ribs or St Louis Cut ribs. I used St Louis Ribs. My package was almost 9 lbs, or generous servings for 8 adults, with salad, side veggie, bread, and potatoes. If you are serving mostly ribs, this will probably feed 6 adults.
This recipe was written originally to cook in a slow cooker or crock pot. Since we were cooking such a large amount of ribs, I used a roasting pan. The pan does not have a tight fitting lid, so I covered it with foil tightly, then to make sure the seal was tight and the steam would not escape the pan (which will cause you to have dried out meat) I placed a smaller cookie sheet on top of the pan and sealed the foil around the cookie sheet, which served as a lid. The Slow cooker time is about 6-7 hours on low. The oven conversion to this is 200 degrees for the same amount of time.
The following link provides helpful info converting slow cooker recipes to your oven temperature.
http://homecooking.about.com/library/weekly/blcrocktips.htm slow cooking conversion to oven
Cuts of meat:
Everything you ever wanted to know about pork, especially ribs and other cuts regarding ribs is here: http://amazingribs.com/recipes/porknography/pork_cuts.html
Fam Favorite bbq sauce
Ingredients
2

cups

ketchup

1-

cup

brown sugar or honey

5-8

drops hot sauce

1

tsp

dry mustard

1

clove

garlic

optional

3

tablespoons

Worcestershire Sauce

2

tablespoons

cider vinegar

if you like it more tart

ground pepper
Instructions
Heat all ingredients in pan on stove.

Add more sugar, hot sauce or garlic according to your taste.