Smashed Potatoes and Buttermilk Fried Chicken is a favorite dish that gathers the family together for a down home meal to please all!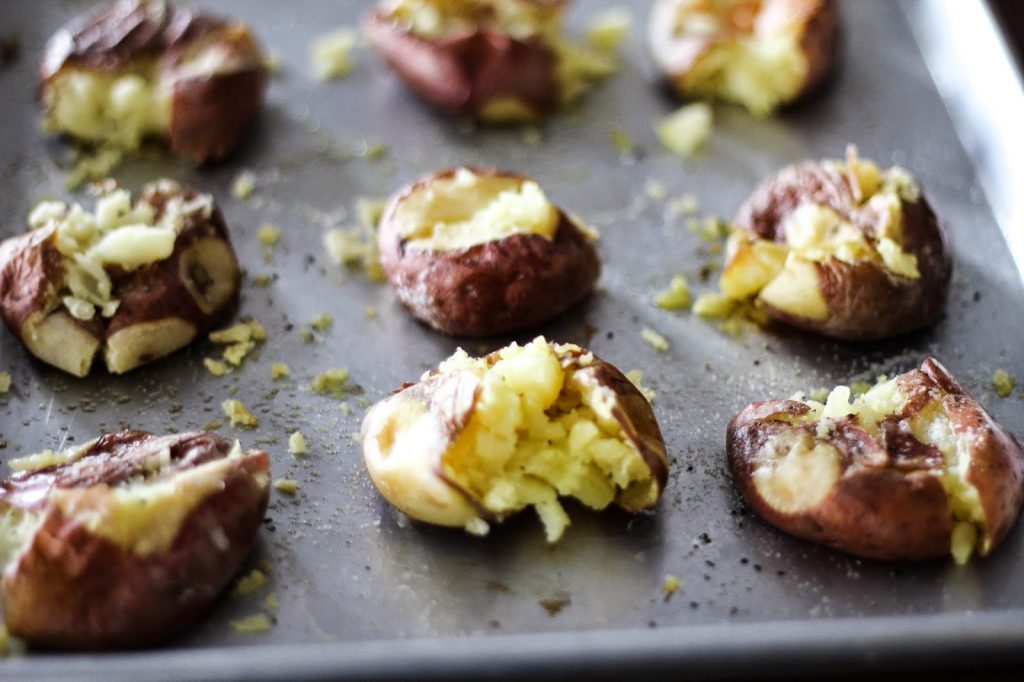 What says comfort more than fried chicken? This dinner takes just a few minutes to cook after the chicken soaks in buttermilk. I usually place the chicken in the buttermilk early in the day (If the chicken is frozen, I just plop it in the buttermilk as-is.
If you are a little skeptical about cooking fried chicken you're going to love this recipe. It's easy to put together and you can fry batches and then place the cooked chicken in the oven to keep warm. I put the potatoes in the oven about an hour before eating dinner. Then just steam the veggies while you're saying a blessing. What could be easier than this? Ok, besides KFC.
And the leftovers (if you have any)?
You might be tempted to give up your firstborn for a piece of this cold leftover fried chicken.
I'm serious.
Smashed Potatoes and Southern Buttermilk Fried Chicken
Ingredients
Chicken:

2

cups

buttermilk or milk*

1-2

tablespoons

Tabasco or other hot sauce

about 4-6 chicken breast halves

2

beaten eggs

1

cup

all-purpose flour

1 1/2

teaspoons

coarse salt

plus a little more for sprinkling

1/2

teaspoon

freshly ground black pepper

1/4

teaspoon

cayenne pepper

1/2

cup

vegetable oil

I use about 1/4 cup per batch

Smashed Potatoes:

12

small red potatoes

or white will also work

olive oil

coarse ground salt

ground pepper

butter
Instructions
For potatoes:

Pre heat oven to 350 degrees.

Wash and dry all potatoes, remove any eyes from potatoes with paring knife.

Grease a 9×13 or jelly roll pan with cooking spray.

Rub each potato with a bit of olive oil. Sprinkle with salt.

Place pan in oven and bake potatoes for about 1 hour or until knife inserted in center of potato easily goes through potato.

Remove and smash each potato with a fork. Sprinkle each potato with a little more salt and pepper. Drizzle with additional olive oil. If desired, spoon about a teaspoon of butter on each potato, top with Parmesan cheese, grated cheddar, chopped green onions if desired. Or just serve with olive oil and salt!

Keep warm in 200 oven until ready to serve.

For chicken, early in day or an hour before cooking:

In a 9×13 baking dish or gallon sized Ziplock bag, stir together the buttermilk and Tabasco.

Place the chicken in the liquid mixture and leave as long as possible. (to make ahead, ok to soak the chicken overnight. Place in refrigerator.)

When ready to cook chicken:

In a plastic or paper bag combine the flour, salt, pepper, and cayenne.

Beat eggs in a shallow bowl and set aside.

Remove chicken from buttermilk and let buttermilk drip off of chicken back into bag or pan.

Place chicken in bowl of beaten eggs. Turn chicken and coat in beaten eggs.

Place chicken in a bag with flour, salt, pepper and cayenne.

Shake the chicken pieces two to three at a time, in the flour. Repeat with the remaining chicken.

In a skillet heat one half inch of oil over medium high heat. Test with a tiny bit of chicken. If it bubbles immediately, the oil is ready for frying.

Place the chicken into hot oil. Distribute as many pieces as will fit in a single layer in the pan, leaving one half inch between pieces. Leave to fry undisturbed for about seven minutes. Lower the heat as necessary to prevent excess browning. The oil should continue to bubble steadily. Turn the pieces and cook for an additional seven to ten minutes.

Remove to a plate lined with paper towels to drain. Repeat process to cook remaining chicken. To keep first batch warm, place on a rimmed baking sheet in a 200 degree oven.
Recipe Notes
for potatoes:
-I use about 2-3 small potatoes per person.
fried chicken tips:
-I use about a quarter to a half inch of oil in the bottom of the pan.
-I use 4-5 boneless chicken breast halves. If the chicken is thick, I slice it in half lengthwise so it does not take too long to cook.
-The chicken is delicious served cold as a leftover the next day!