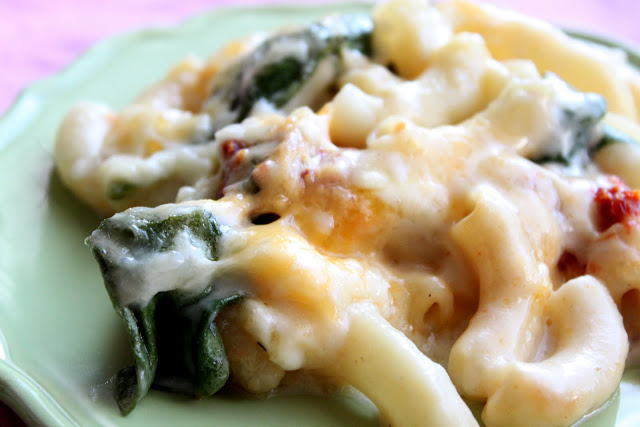 How Smoked Gouda Mac and Cheese with Sun Dried Tomatoes and Spinach was born: A few weeks ago, I received an email asking if I wanted to join a group of bloggers (about 50) to post mac and cheese recipes they find on the Internet. Same day, same time, random recipes. The only rule: the recipe had to be found on a blog.
Remember when I told you there were approx 40 THOUSAND food blogs out there? I think almost every single one of those blogs has a mac and cheese post. How to find a special recipe? One worthy of a mac and cheese challenge? I turned to my cheese drawer, and my good friend Google. In the fridge, I found some Baby Gouda (still in the wax) that Brookie brought me back from Henri Willig while in Amsterdam. Also, some white cheddar, yellow cheddar, and about 7 other types of cheese. Cause you never want to be without at least 10 varieties of cheese in your fridge, right? Just in case. Anyway. I had eaten some of this special Gouda months ago, but was saving this round for a special occasion. Btw, if you are thinking whaaa? Didn't Brooke go to Europe last year? Answer, yes. But hard, low moisture cheese wrapped in wax stays good indefinitely, so no worries. I googled Gouda Mac and Cheese and came up with a great little recipe from A Cozy Kitchen.
Result: move over children, this mac and cheese is for grownups.
Smoked Gouda Mac and Cheese with Sun Dried Tomatoes and Spinach
Ingredients
1

lb

package short pasta

penne, elbow macaroni, etc I used large macaroni

4

tablespoons

butter

4

tablespoons

all-purpose flour

sifted

5

cups

milk

½

teaspoon

salt

½

teaspoon

fresh ground black pepper

8-

oz

block sharp or regular white cheddar cheese

grated and divided (about 2 cups)

8-

oz

block smoked Gouda cheese

grated and divided (about 2 cups)

4-

oz

medium cheddar cheese

grated and divided ( about 1 cup)

4

oz

regular Gouda cheese

grated and divided (about 1 cup)

2

cups

fresh spinach

washed

1/2

cup

sun dried tomatoes

drained
Instructions
Cook the pasta about 7-8 minutes in boiling salted water, remove when pasta is al dente. Set aside.

Melt butter in a large saucepan over medium-low heat; whisk in flour until smooth. Continue whisking and cook for 2 minutes. Gradually whisk in milk. Whisking constantly, cook for 5 minutes or until thickened. Reduce heat to low and stir in salt, black pepper and most of the cheese, reserving about two cups of cheese. Stir in the fresh spinach and sun dried tomatoes. Remove from heat.

Pour the pasta in a lightly greased 9 x 13 baking dish. Spoon the cheese sauce over the pasta.Using a large spoon, evenly distribute the sauce without stirring.

Sprinkle the top with the remaining cup of assorted cheeses.

Bake at 400° for 20 minutes or until bubbly. Remove from oven, let sit for about 5-10 minutes before serving.
Recipe Notes
– This recipe is easy to half. I halved this recipe, and baked it in a 8 inch casserole. Perfect! -You may use any combo of cheeses in this recipe, I would not suggest using more than 2 cups of smoked Gouda, the flavor is very distinct, and 2 cups of smoked Gouda goes a long way 🙂