I partnered with Traeger Grills to create this amazing Smoked Green Chile Mac and Cheese. It's big enough for a crowd, but so good, you might not want to share! Green Anaheim Chilies, one of the most versatile and overlooked chile peppers, in my opinion, gives this mac and cheese a distinct flavor that everyone will love!

Traeger, So much more than a grill!
I've owned a Traeger for over a year now and love it so much that we took the old grill to our cabin and now have a second Traeger at our home!  I had our new Traeger Timberline set up just outside my kitchen on the deck and am absolutely in love. The Traeger is so much more than a grill, it's the most amazing convection oven as well! I bake cookies in the Traeger and have been experimenting with lots of recipes I want to share for baking as well as grilling. I've been asked if using the Traeger gives baked goods a smokey flavor and the answer is not unless you use the SMOKE setting. I just set the temperature and bake away! It's perfect if you don't want to heat up the house when it's hot outside, and also gives you another place to bake if your oven isn't convection or if you need to bake several things at a time.
Anaheim, my chile of choice
I'll do another post showing in detail exactly how I bake cookies on the Traeger Grill. For today, I want to share with you the most amazing creamy and little bit spicy Smoked Green Chile Mac and Cheese! First, let's talk about the green chiles. Usually when cooking with chiles, most people reach for jalapeños or serranos or other ultra spicy peppers. I like to keep things mild and still get the flavor of the chiles in my cooking. I love the flavor of Anaheim chiles because they're not too overpowering but gives this dish just a little kick and a nice smokey flavor among all of the rich cream and cheese. It's the perfect main or side dish for your next gathering! I've served this with Mexican food, grilled meats and all by itself, with a big green salad on the side.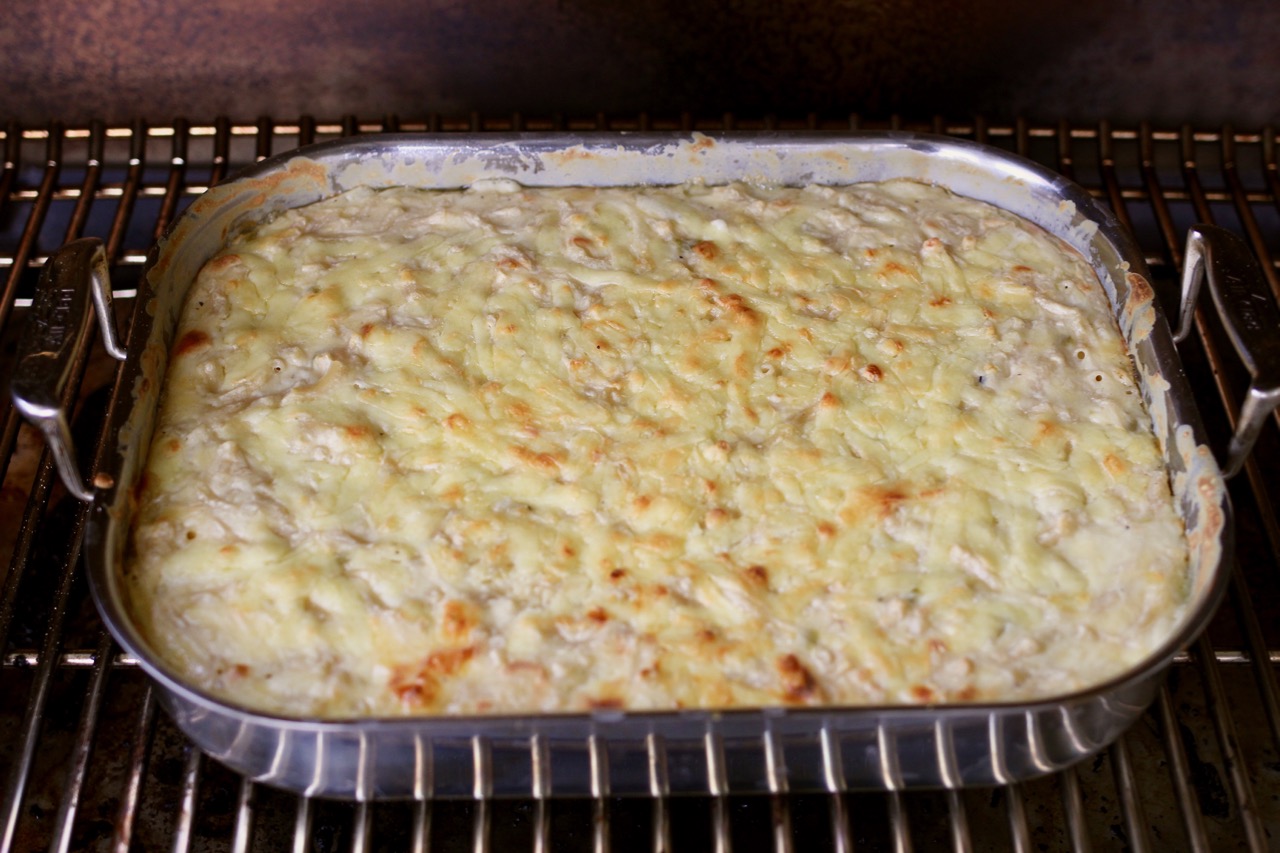 The perfect marriage
I have been making mac and cheese for years. In the process, I've found a little formula that produces the perfect creamy dish, with just the right amount of creamy and pasta combined. For every cup of macaroni or pasta, you need 3 cups of milk, cream or other liquid dairy and 3 cups of cheese. It's that simple. No more, no less. This gives the best ratio of sauce to pasta . It seems like a lot of sauce to pasta, but after baking, the ratio is just right. Add about 30 minutes of baking and you're going to be in mac and cheese HEAVEN!
Simple process, 4 basic steps
Don't let the length of the recipe scare you off! This amazing dish is made in less than 30 minutes, with another 30 to bake,  and will be the hit of your next dinner. Here's the process broken down in to 4 steps:
Roast the chiles
Cook the pasta
make the sauce
Cook the combined dish on the Traeger
It's that simple. I promise you're going to love this creamy, smooth filling dish with a little kick. If you have kids at home, and are worried about the spicy factor, seed the chiles after roasting and you'll still get the flavor of the chiles without the spice. That said, the heat level is on the very low end of the scale when using Anaheims! Leave a comment and let us know how you like this dish! I'd love to hear your comments. Happy grilling and thanks for reading ABK!
Smoked Green Chile Mac and Cheese
Ingredients
1

large Green Anaheim Chile - roasted

peeled and chopped or 4 oz. can green chiles (in a pinch) about 1/4 cup total cooked chile

2

cups

macaroni or other short pasta

1

tablespoon

salt

1-2

cloves

garlic or 1 teaspoon garlic salt

1/2

cup

butter

3/4

cup

all purpose flour

1

pint

2 cups half and half

12

oz

can evaporated milk

for extra creaminess especially when re-heating

2 1/2

cups

milk

preferably whole

6

cups

grated white cheddar cheese

you may also use a blend of cheeses such as Pepper Jack, Sharp cheddar, Monterey Jack etc.

salt and pepper to taste

I use about 1 1/2 teaspoons salt and generous pepper
Instructions
For roasting Anaheim and prepping Traeger:

When ready to cook, start the Traeger according to grill instructions. Set the temperature to 400 degrees F and preheat, lid closed, for 10 to 15 minutes.

When grill is heated, place Anaheim chile on grill and cook for about 10 minutes per side until slightly charred. When chile is cooked, Reduce the Traeger temperature to 375 degrees.

Place chile in a small paper bag and seal end*. After about 5 minutes, open bag, peel and chop the chile and set aside.

For pasta:

Place a pot of water on stove to boil the pasta. When water comes to a boil, add 1-2 tablespoons salt to water.

Boil pasta in water with 1-2 tablespoons salt 7-10 minutes or cooked al dente. Remove pasta from water and set aside.

For sauce:

Melt butter in saucepan on stove over medium to medium high heat; add fresh or canned chiles, place chiles in butter and sauté 2-3 minutes.

Add chopped garlic and saute about 1 minute, being careful to not burn the garlic.

Add flour a little at a time, to melted butter mixture and whisk. Cook on medium heat for about 1-2 minutes. The mixture will be thick and may clump.

Add milks a cup at a time, whisking until smooth. Continue stirring until sauce thickens over medium heat.

Place macaroni in large baking dish that has been coated with cooking spray.

Add 5 cups grated cheese and sauce. Fold until all ingredients are incorporated.

Top with remaining 1 cup of cheese.

Place pan on Traeger and cook for about 20-30 minutes or until dish is bubbly and cheese is melted.

Serve immediately.
Recipe Notes
-This dish may be cooked in two large cast iron pans, two 9x13 pans or one large steam table pan (12x20).
-You may also set the finished dish in the Traeger on the smoke setting for 30 minutes before cooking. Then heat the grill to 375 and cook for 20 minutes.
-It is not necessary to place the chiles in a bag after roasting, it will make it easy to remove the skins, but not essential. You may also use a sharp paring knife and remove the skins. I don't worry about getting every bit of charred skin off!
-You may make this dish ahead if desired. Place in pan or pans and refrigerate after assembly. Remove from refrigerator about an hour before cooking. Cover with foil while cooking. Heat Traeger to 350 and cook for about 40 minutes or until bubbly.