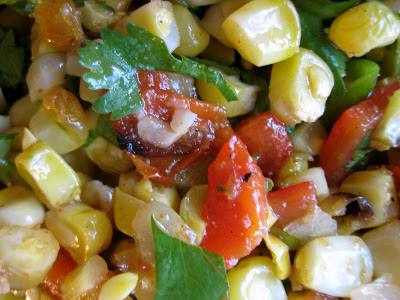 Two lessons I have learned as a cook:
1. Read the recipe. Twice. How many times have I made a recipe and not had all of the ingredients, or botched the assembly? Yearly lesson: Jam making. How it should be- Gather all of the ingredients. Check the list. Twice. Read the instructions. Twice. Follow the instructions. Make Jam.
My jam making experience: Read through ingredient list quickly. Start talking on phone, or to someone in the kitchen, throw the fruit in the pot, add sugar and pectin, boil. Pick up direction sheet. Rats! First batch, now (insert fruit used) SYRUP. This happens EVERY SUMMER.
Blackberry Syrup '09
2. Lesson #2. My kids will laugh about this bc when they were all learning to drive Grant would say "Lesson #1 Always buckle your seat belt." The next time they got in the car, lesson #1 would be "Always check the rear view mirror." Lesson #1 was always changing. They have had SO many laughs about that.
Anyway- back to my lesson #2: if you make something and the recipe says let it sit for ___ hours, then LET IT SIT. It really may taste better, set up better etc. e.g., Smoky Grilled Corn Salsa.
stand
had a delivery of fresh picked corn.
I love any type of corn salsa, and thought the grilled flavor would be a fun change. I made it, mixed it up – and tasted. Well, I won't be making this again, I thought. I would give it a 5 on a scale of 10. I placed it in the refridge until dinner time. A few hours later I took it out and WOW. Transformation. This is one recipe that really needs to sit so all of the flavors can blend and develop. So yes, my lesson #2 is an important one.
Oh – and the driving lessons. Thankfully we are 3 down and 1 to go with kids learning to drive. Teaching kids to drive…not one of my talents.
Smoky Grilled Corn Salsa
Adapted from Bon Appetit
Ingredients
2

red bell peppers

quartered, seeded

3

ears of fresh corn

husked

1/2

sweet onion

quartered

4

tablespoons

about olive oil, divided

2

garlic cloves

minced

1

teaspoon

ground cumin

3

tablespoons

fresh lime juice

1

tablespoon

bottled chipotle hot sauce

1

bunch green onions

green part only, chopped

1

cup

chopped fresh cilantro

Salt and pepper to taste
Instructions
Prepare barbecue (high heat). Brush bell peppers, corn, and sweet onion with some olive oil. Grill vegetables until well charred in spots, turning occasionally with tongs and removing pieces as they brown, 10 to 15 minutes. Cool slightly. Cut bell peppers and onion into 1/3-inch pieces. Cut corn off cob.

Heat 2 tablespoons oil in heavy small skillet over medium-high heat. Add garlic and cumin; sauté until garlic begins to sizzle but does not brown, about 30 seconds. Pour into large bowl; mix in lime juice and hot sauce. Mix in vegetables. Season to taste with salt and pepper. Cool completely; mix in chopped green onion and cilantro. Let sit in refrigerator for at least 2 hours.