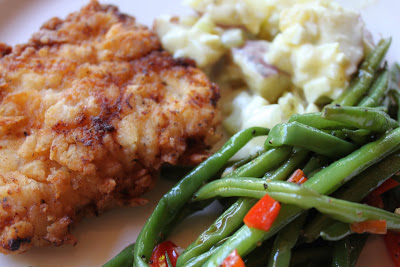 Southern Buttermilk Fried Chicken & Mississippi: Part One
Remember the last post, where I explained the fine points of bugling elk in on a hunt?
Picture this. You are eating out at an upscale restaurant. Out of the blue, the table next to you, where three (seemingly) grown men are seated, one of which begins to demonstrate an elk call. If you have never heard this in person, it's a LOUD sound. Refer to my last post on elk calling if you need a demo. So, there you are enjoying your say, anniversary dinner, and the guys at the table next to you are hee-hawing it up and continue to make elk bugle sounds. This was the scene about 15 years ago, when Grant and Brett first met Will Primos. Now, most clients would probably say, thanks, but no thanks. Will was not a typical client. The willingness to make animal sounds in a restaurant was enough to persuade Will to hire G&B to be his new legal counsel. The business relationship has turned into a great friendship we have enjoyed for several years now.
We took our kids to stay with Will, Mary and Will's parents at their beach home one summer. We have also visited them at their farm/hunting lodge in the South. Twice now. Last month, we were again treated to their gracious Southern hospitality.
This is my favorite spot at the lodge. Miss Mary's porch.
Have I told you about my obsession with the South? Before VCR's, VHS, DVD's, TIVO, and DVR, we had plain old TV. We had one black and white set, in my parent's room. Complete with "fuzz" and an antenna on top. When the picture went fuzzy, we would hit the side of the TV, and wait for it to come back into focus. We also were fortunate enough to own a color console TV placed in the living room. Anyway, once a year, my favorite movies would play:
The Wizard of Oz. Loved Dorothy, and those slippers.
And . . .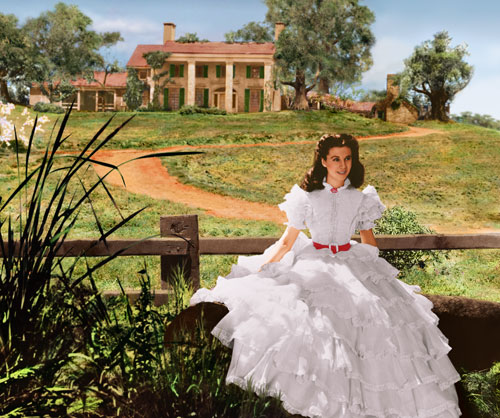 Scarlet and Tara
Gone with the Wind. Watching the entire show was a two night process. I wanted to be Katie Scarlett O'Hara. Loved the dresses. Loved the scenes of Atlanta. The plantations. The parties. Really, how did she make a dress out of curtains look so good?
Love the cotton fields.
Every time I go to the South, I secretly want to move there. Get a big porch. Talk in a drawl.
Call everyone Ma'am.
Ok, sorry. I've prob lost you.
So last month, we went back. For a few days. I can't possibly tell you about all of the amazing food I consumed, but I'll try. Miss Leisa, Mary and Will's cook and house manager, prepared menus filled with Mary's choice of Southern speciality dishes. The menu included: Buttermilk Fried Chicken, several types of biscuits, slaw, southern potato salad, collard greens, cheese grits, hush puppies, catfish, sweet potatoes, pumpkin and pecan pies, and pimiento cheese spread to name a few. I was in Southern heaven.
Leisa was kind enough to copy each of the recipes, and as soon as we arrived home I made three of her recipes. All wonderful. If you love friend chicken, you are going to go gaga over this. It's made with white meat, and fried in just a little oil. The buttermilk makes the chicken so tender and the hot sauce adds a nice spicy kick. Seriously, y'all are going to love it.
Southern Buttermilk Fried Chicken
Adapted from Mad Hungry
Ingredients
1

quart

buttermilk or milk

2

tablespoons

Tabasco or other hot sauce

about 4 chicken breast halves

1

cup

all-purpose flour

1 1/2

teaspoons

coarse salt

plus a little more for sprinkling

1/2

teaspoon

freshly ground black pepper

1/4

teaspoon

cayenne pepper

1/2

cup

vegetable oil
Instructions
In a 9×13 baking dish or gallon sized Ziplock bag, stir together the buttermilk and Tabasco. Place the chicken in the liquid mixture and leave as long as possible. (I soaked the chicken overnight. Place in refrigerator.)

In a plastic or paper bag combine the flour, salt, pepper, and cayenne.

Shake the chicken pieces two to three at a time, in the flour. Repeat with the remaining chicken.

In a skillet heat one half inch of oil over medium high heat. Test with a tiny bit of chicken. If it bubbles immediately, it is hot enough.

Place the chicken into hot oil. Distribute as many pieces as will fit in a single layer in the pan, leaving one half inch between pieces. Leave to fry undisturbed for about seven minutes. Lower the heat as necessary to prevent excess browning. The oil should continue to bubble steadily. Turn the pieces and cook for an additional seven to ten minutes.

Remove to a plate lined with paper towels to drain. Repeat process to cook remaining chicken. To keep first batch warm, place on a rimmed baking sheet in a 200 degree oven.
Recipe Notes
-The original recipe calls for two cups of oil. I followed Leisa's method and used only about a quarter to a half inch of oil in the bottom of the pan.
-I used four Costco boneless chicken breast halves. (Found in freezer section.) I sliced each one in half for eight small pieces total.
-This was delicious served cold as a leftover the next day.