Nothing tastes quite like a made-from-scratch, homemade Southern Buttermilk Pancake! Pancakes are one of the easiest recipes to learn how to make. You won't believe how simple it is to whip these up for breakfast, lunch or dinner!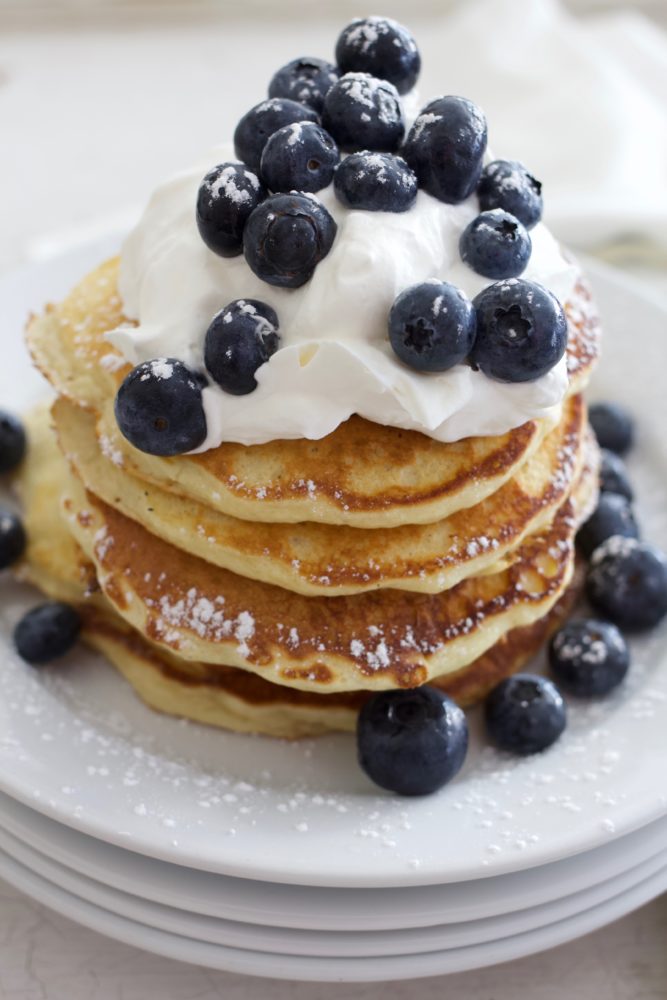 Box vs homemade
I've been making buttermilk pancakes for over 25 years. When we were first married (and for several years after we had kids) I bought packaged mixes. I grew up on pre-made pancake mixes and didn't know anything better existed. Then, one day I saw a recipe in our local newspaper for Buttermilk Pancakes…
I had some buttermilk in my fridge and decided to give the recipe a try. The only question after making pancakes from scratch was WHY? Why did I wait so long to make homemade pancakes??
Southern Buttermilk Pancakes are a simple, pantry-friendly recipe that will make a chef out of even the most inexperienced cook!

Want to become the Master of Pancakes? Over the years, I have learned a few tricks for making amazing pancakes. Anyone who has made pancakes with me knows I'm a little over the top about following the "Pancake Rules".
If you want to know how to make the best pancakes from scratch, you have come to the right place! Here are my top tips…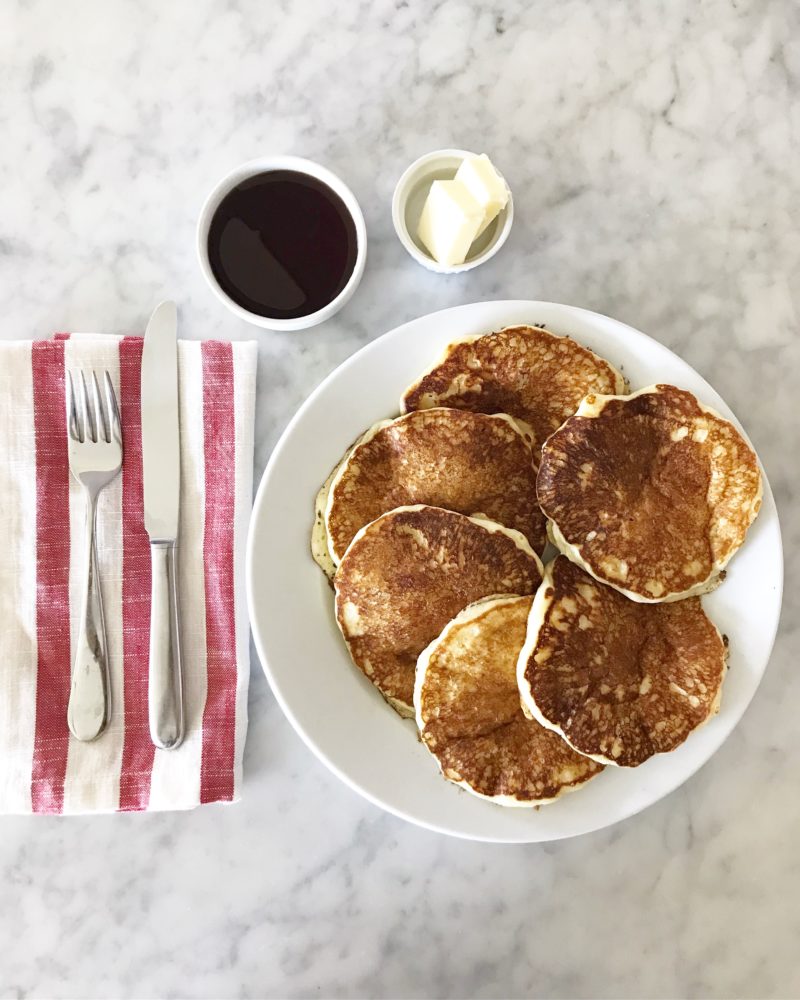 Do not use a mixer!
Do not ever use a mixer while making pancakes. All you need is a bowl and a whisk or fork. Southern Buttermilk Pancakes, or any pancake for that matter, are meant to be mixed by hand. Use a wire whisk, or a fork if you don't have a whisk.
Gently turn the batter until the floury lumps disappear. A few small lumps of flour are okay, you don't want big patches of flour in the bottom of the mixing bowl. Using a mixer will result in pancakes that are chewy and not as light and airy as pancakes mixed by hand.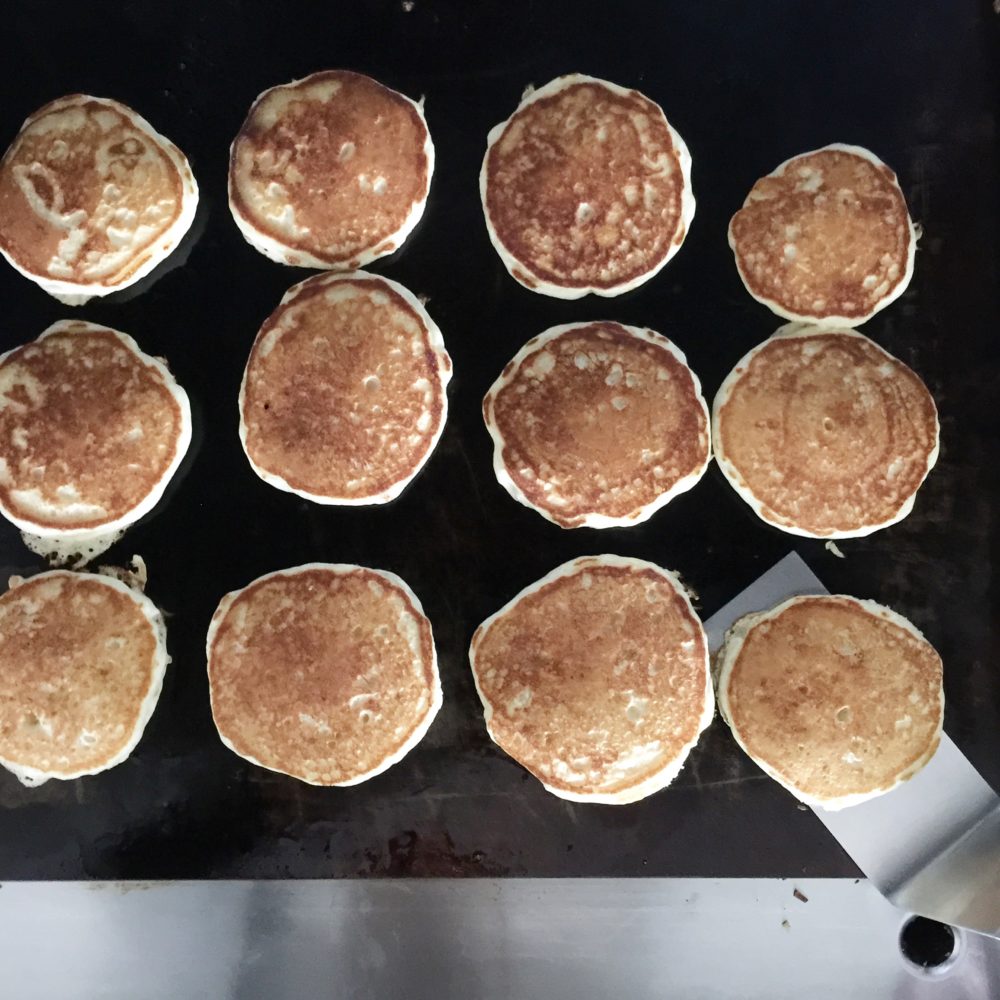 The batter forms little air bubbles when the ingredients are combined. The air bubbles form air pockets in pancakes, which make them light and fluffy! Also, over-mixing the batter will form gluten which you want in bread, but not in pancakes! Mixers are for cakes, but not for pancakes.
Why buttermilk?
I highly recommend purchasing buttermilk from the dairy section in the grocery store. Buttermilk makes all the difference in this recipe. You can use a dry buttermilk mix, but I'm partial to the good old-fashioned refrigerated liquid type. See the recipe notes for excellent substitutes if buttermilk is not available! If you wonder what to do with leftover buttermilk, I have lots of recipes to solve that problem! Enter "buttermilk" in the search bar on the homepage of ABK.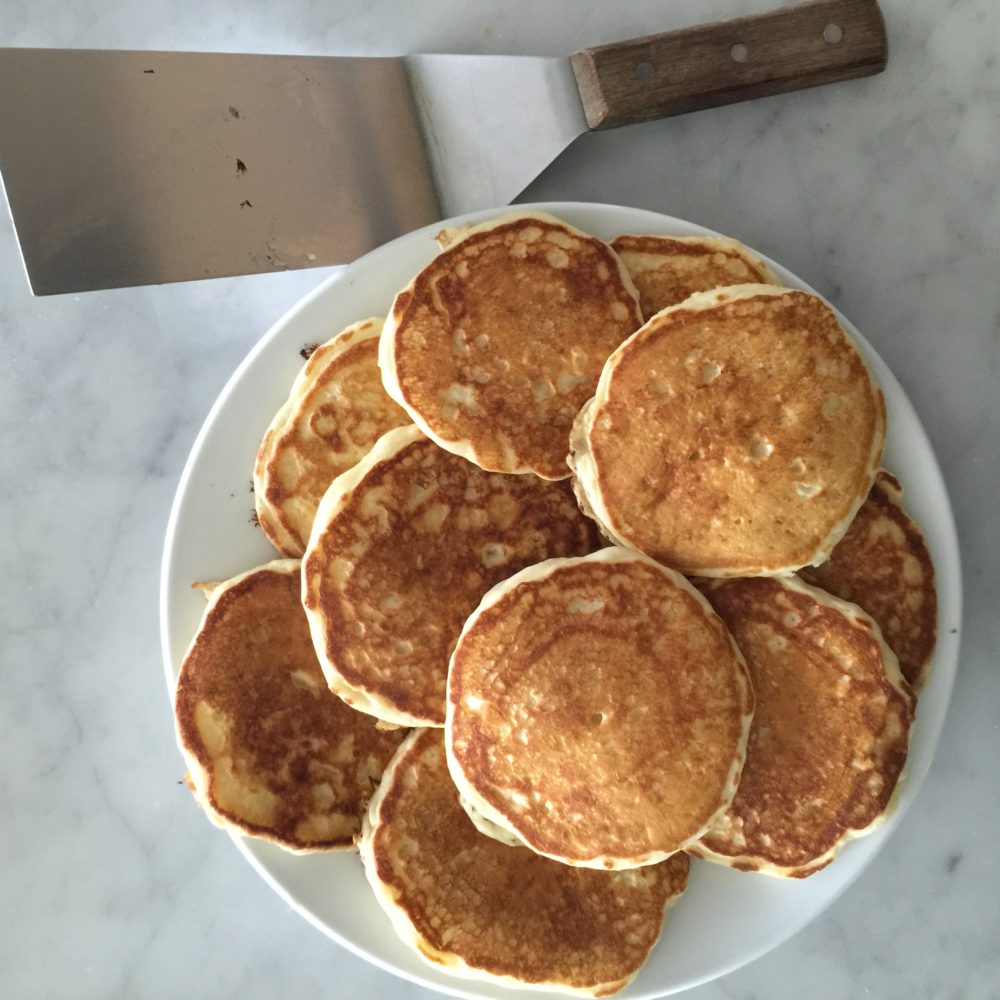 Butter for best flavor and appearance in pancakes
Butter the griddle. Butter will give your pancakes a beautiful golden finish on the outside and also a bit of delicious butter flavor. Get the griddle hot first, I turn it to 350 and then butter. Immediately place the pancake batter on the hot griddle. I use a 1/4 measuring cup. If your griddle cooks a little on the hot side, turn it down to 325 degrees. You may also use a skillet on the stove, with the heat turned to medium high. I recommend a non-stick surface for either the griddle or a skillet. A good, old fashioned cast iron pan is also recommended.
How do you know when to turn a pancake over?
Wait until the pancakes are golden on the bottom, the air bubbles begin to rise and a few bubbles start to pop. Then, and only then, are they ready to turn. Quickly slide the spatula under the pancake and flip. No need to butter the griddle again. If you are adding fresh berries, add the fruit after the batter is poured onto the griddle, but before the pancake is flipped! Also, see notes on the recipe for using fruit.
Should I turn a pancake more than once?
DO NOT turn the pancake more than once. When the bubbles begin to pop, turn the pancake. If you watch the batter carefully, it will rise. That's what you want, the batter/pancake to rise up. Turning the pancake and overhanding will result in pancakes that are not light and fluffy.
Should I pat down a pancake after flipping?
Never, under any condition, even if the person watching you tells you to do this (personal experience many times), nevereverever pat a pancake down. Promise me. Patting down, is smashing down. All of the air will disappear and you will have a heavy disk, instead of a light, airy pancake.
Think about it. It makes sense. Testing to make sure your pancake is done is simple. After flipping, wait for about a minute, or two and quickly poke the center of the pancake with the corner of the spatula. The center of the pancake should spring back quickly after poked. If the griddle is set to 350 degrees, it usually takes about 2-3 minutes per side to cook. The more you practice this, the easier it is to know when the pancake is done.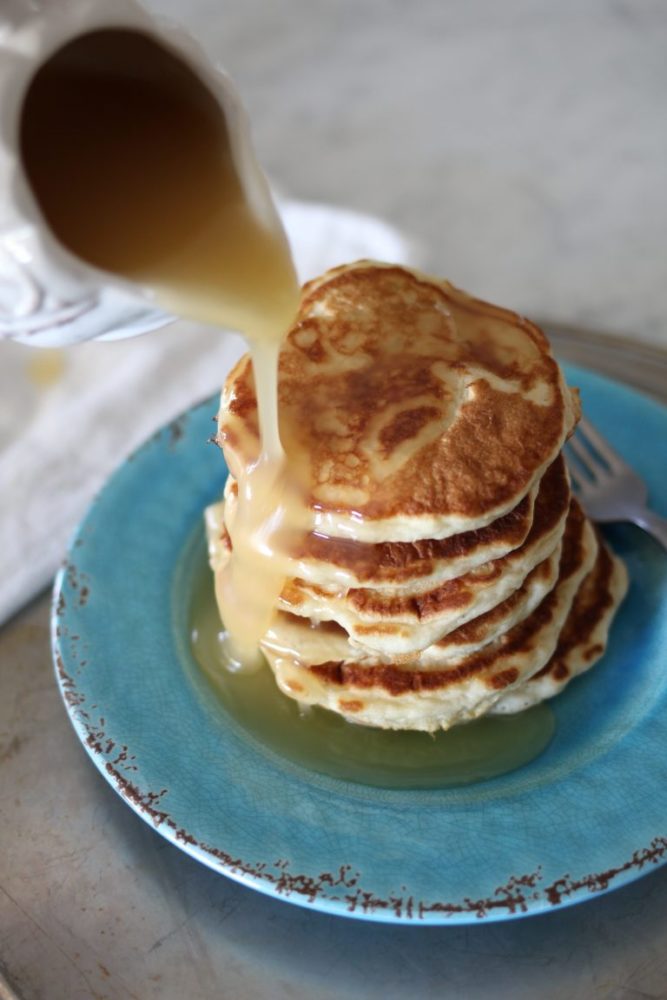 Syrup anyone?
Nothing tops a pancake like homemade syrup. Most syrups are made in minutes, while your pancakes are cooking, the syrup can be boiling away on the stovetop. Here are three of our favorites: Kristen's Special Caramel Syrup, Fresh Strawberry Syrup, and Buttermilk Syrup (perfect for using up buttermilk!)