Southwest Orzo and Black Bean Salad is an appetizer, a salad and a main dish all in one! It is easy to adapt to any gathering and is one of my favorite simple and fresh recipes!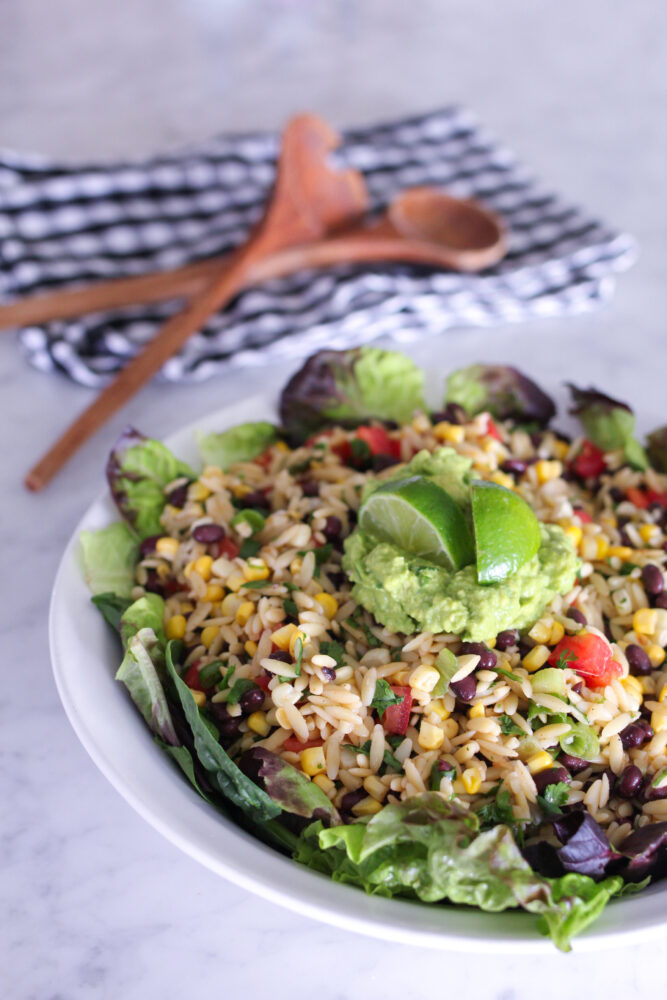 I love all things that fall under the "Southwest" label. This recipe is best in the summer when corn and tomatoes are fresh and sweet. I love to stop by our local fruit stand and pick out big juicy tomatoes and sweet corn for this salad. If you are wondering how this can qualify under the appetizer, main dish and salad categories; it takes just an adjustment or two to make the change. I love the versatility of this recipe!
The heat level in this Southwest Orzo and Black Bean Salad can also be adjusted according to your taste! The 1/4 teaspoon of chili powder gives it just enough spice to make it flavorful, but not too spicy for young eaters. If you love spicy, add more chili powder!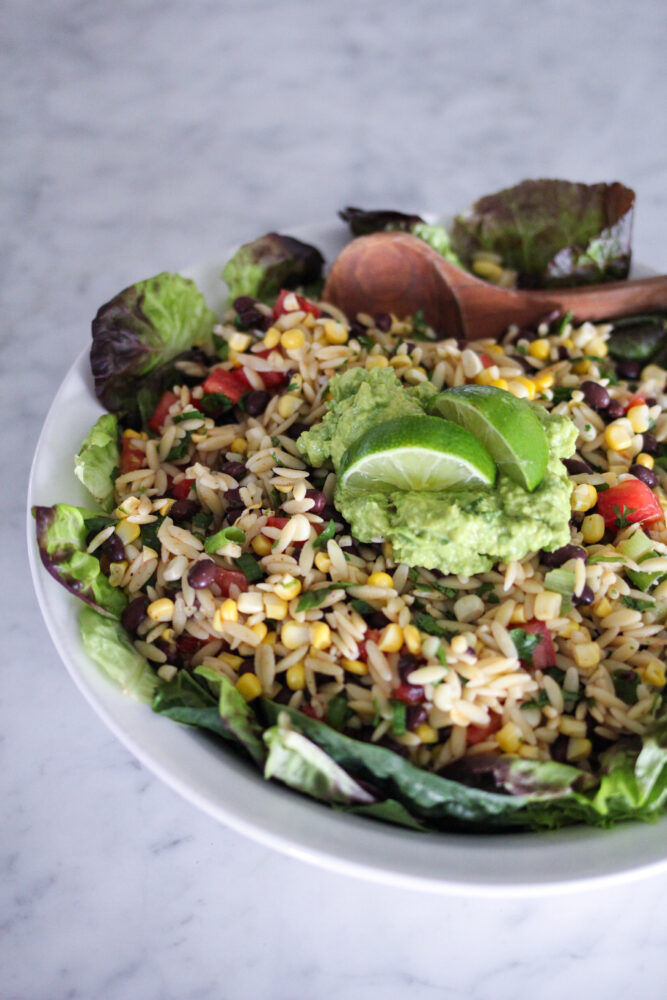 To serve this recipe as a salad, follow recipe directions as written. When I prepare this recipe as a salad, I either prepare the guac in the recipe OR occasionally chop the avocado and toss with lime juice and scoop into a bowl lined with lettuce or spinach.
To make this recipe as an appetizer, I love this dish topped with the guac (instructions included) made with or without the addition of sour cream and served with tortilla chips. For the photos on this post, I did not add sour cream to the guac. Line the bowl with tortilla chips and serve additional chips in a bowl on the side.
If serving as a main dish, grill 2 seasoned chicken breast halves, cool, chop and toss with salad ingredients. Serve with grilled tortillas and grated cheese. Such an easy appetizer, side salad or main dish in minutes!
This post originally published 2009, updated with photos and content 2021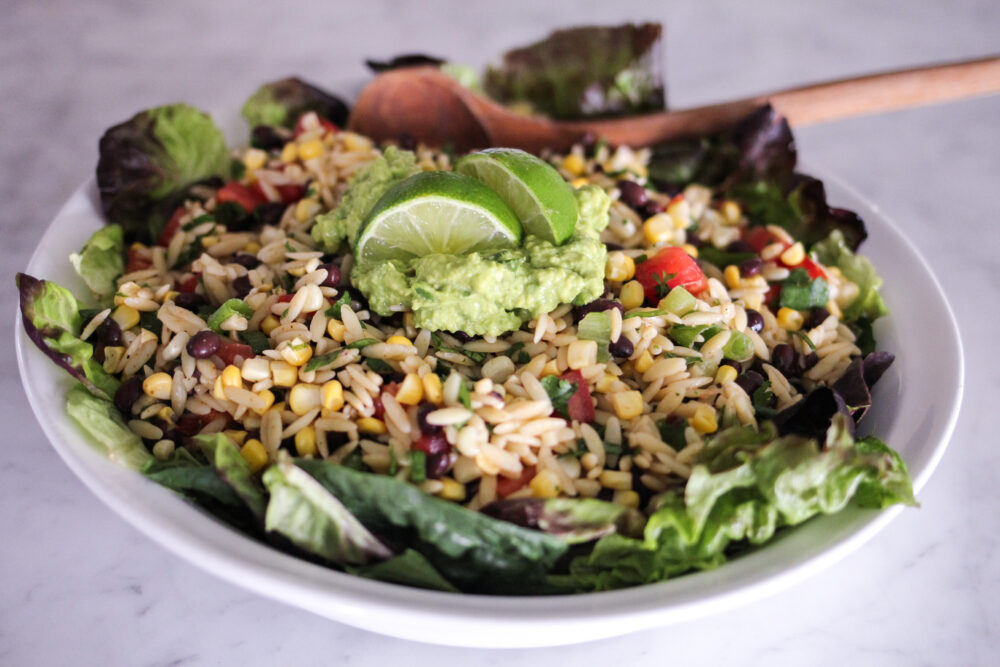 Southwest Orzo and Black Bean Salad
Ingredients
1

cup

dried Orzo pasta

1

15 oz can

black beans rinsed and drained

1 1/2

cups

corn or two ears (cooked and cut off cob)

fresh cut or frozen

2

ripe tomatoes, or about 2 cups, chopped

1/3

cup

chopped cilantro

1/2

cup

thin sliced green onion

1

teaspoon

grated lime peel

1/4

cup

lime juice

1/4

teaspoon

chili powder (I like smoked)

1/2

teaspoon

garlic powder or 1 clove garlic, minced

Salt and pepper

about 1/2 teaspoon each
Avocado topping:
1

ripe avocado

1

tablespoon

lime juice

1/4

cup

sour cream

low fat or regular

1-2

drops of Tabasco

salt and pepper
additional add-in items:
tortilla chips, chopped lettuce, tortillas, grilled chicken breasts
Instructions
Boil 2 quarts water. Add pasta, cook until barely tender 9-11 minutes. Drain and rinse with cold water. In large mixing bowl, mix pasta, beans, corn, tomato, cilantro, onions, lime and lime juice. Toss to combine. Add seasonings, including salt and pepper to taste.

In small bowl, mash avocado with 1 tablespoon lime juice, sour cream and Tabasco. Add salt and pepper.
Recipe Notes
If serving as an appetizer, pour into serving bowl or platter, top with avocado mixture. Serve with tortilla chips. As a salad, shred lettuce onto platter or bowl, top with salad and avocado. For main dish, serve with grilled, chopped chicken and grilled or warmed tortillas.
This salad lasts for about 3 days refrigerated and covered tightly. When making for meal prep, squeeze an extra half of lime over the salad and toss to help keep the veggies fresh.