Spiced Pear Flatbreads with Goat Cheese and Mustard Cream are one of my favorite quick and easy appetizers! I often use purchased Naan Bread instead of making my own flatbread when I'm in a hurry. Start to finish it takes less than 30 minutes. Perfect recipe for any type of gathering, any time of the year!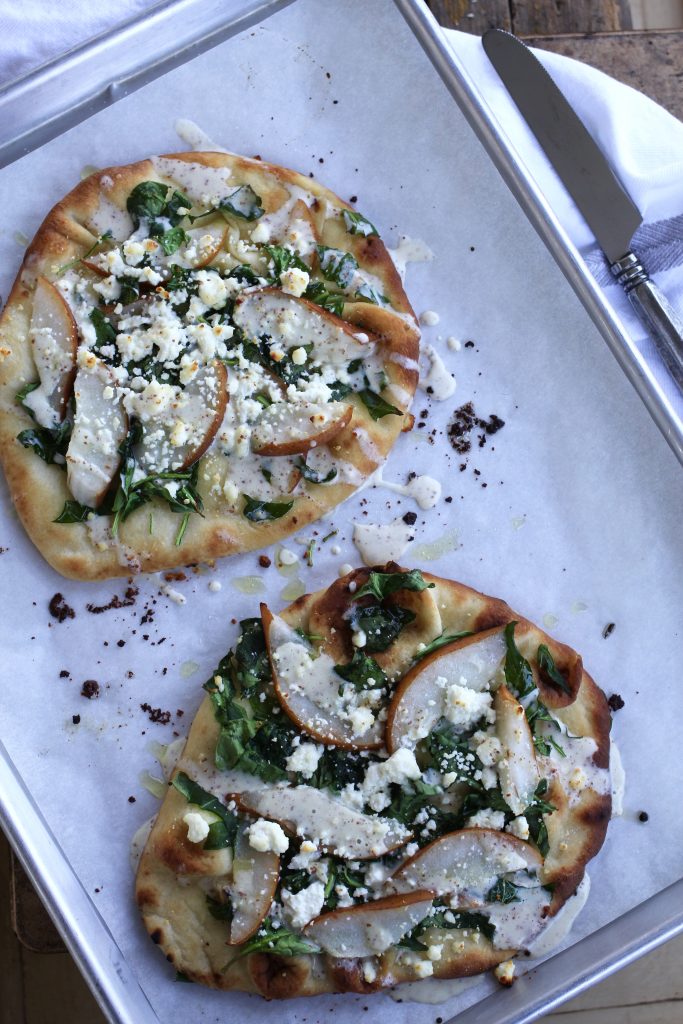 This recipe originates from the Woodberry Kitchen in Baltimore and was printed in Bon Appetite in 2009. I've adapted the recipe by using a purchased Naan bread, which you can find in most grocery stores or even at Costco. I love the pear and goat cheese combination. And the creamy mustard sauce adds just the right amount of richness to this recipe! Don't be fooled by the length of the recipe. This is a simple appetizer that will take you no more than 30 minutes start to finish if you purchase the Naan instead of making the flatbreads. It's a simple make ahead dish as well. Make the mustard cream ahead and store in fridge. Make the dough for the flatbreads the day before, or just purchase  pre-made Naan. Slice the pears just before baking.
ready to go in the oven…
The beauty of Spiced Pear Flatbreads with Goat Cheese and Mustard Cream is this appetizer doesn't need to be served hot, it is amazing at room temperature. If you are transporting it to a party, Simply arrange the cut pieces on a platter and then drizzle the mustard cream and a bit more olive oil over the top just before serving. Perfection!
Spiced Pear Flatbreads with Goat Cheese and Mustard Cream
Ingredients
Mustard Cream:
6

tablespoons

whipping cream

3

tablespoons

whole grain Dijon mustard

1

tablespoon

fresh lemon juice

1

teaspoon

honey

1

tablespoon

water

pinch

of sea salt salt
Flatbread:
Naan- two packages

I like the Stoneware brand (quick and easy)
or:
3

cups

flour

1/3

cup

whole wheat flour

1

cup

plus 7 tablespoons warm water

2

tablespoons

olive oil

2

teaspoon

fine sea salt

1/2

teaspoon

honey

1

teaspoon

yeast
Topping:
2

firm but ripe Bosc or Anjou pears

halved lengthwise, cored and sliced thin just before baking

cayenne pepper

sea salt

5

cups

arugula or spinach

8-10

oz

crumbled goat cheese
Instructions
Mustard Cream:
Combine whipping cream, Dijon, lemon juice, honey, water and salt in a bowl or jar. Whisk together set aside until ready to use.

To make Flatbreads: (or if using Naan, slice open package and set on baking pans)

Combine all ingredients in a bowl of a heavy duty mixer fitted with a dough hook.

Beat at low speed until dough forms and comes away from side of bowl, about 2 minutes.

Scrape dough off hook. Cover bowl with plastic wrap and let rest 30 minutes.

Clean hook and re-attach to mixer.

Mix dough at medium speed for about 2-3 minutes.

Cover bowl with plastic again and let rise until light and slightly puffed about 1 hour.

After the dough has risen, set rack in center of oven and pre heat oven to 500 degrees, if you have a pizza stone, set the pizza stone in the oven before preheating.

Using floured hands, turn dough out onto floured surface, turning and kneading a few times until dough is no longer sticky. Divide dough into 4 equal parts.

Stretch and roll each dough ball into a 9 inch round .

Place on a floured rimless baking sheet or pizza peel.

Drizzle dough with a bit of oil, sprinkle with sea salt. Scatter spinach over dough.

Top with pear slices, cayenne (just a little!) and 1/4 of cheese.

Slide flatbread onto hot pizza stone or baking sheet in oven. Bake until crust is golden brown and crisp and cheese is melted, about 8-10 minutes. Repeat with remaining flatbreads.

Transfer flatbreads to plates.

Drizzle with mustard cream, slice, drizzle with a little more olive oil and serve.