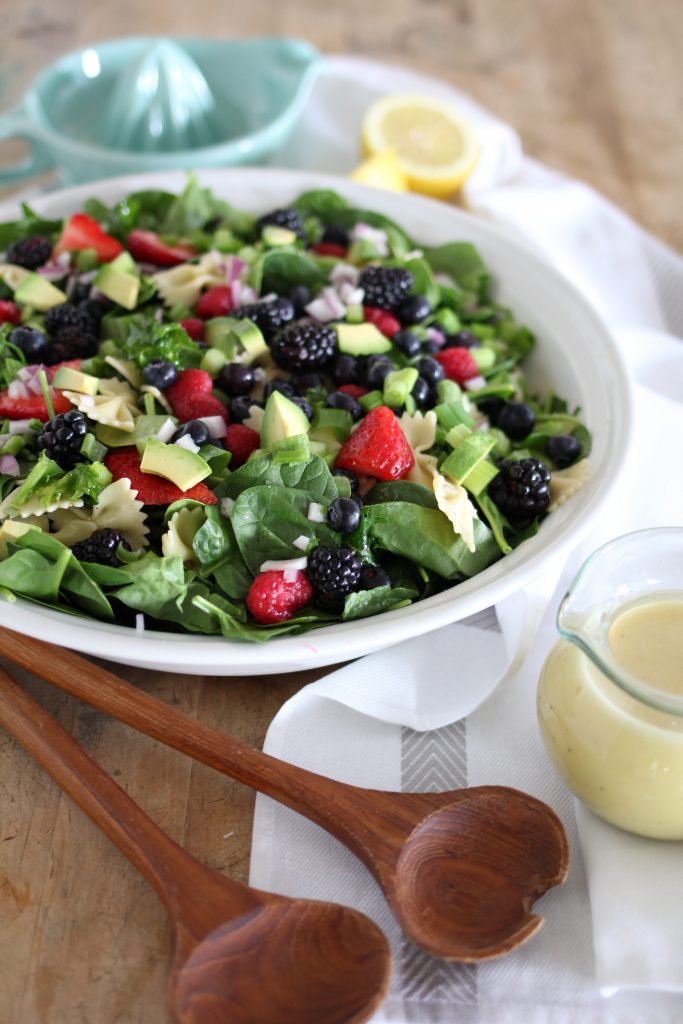 Last week, I taught a Spring Cooking Class to two groups of women in my home.We all had a great time learning how to cook, getting to know each other a little better, and of course, finishing the class off with a meal! Everyone loved this Springtime Spinach, Kale and Pasta Salad with Creamy Citrus Dressing. It's the perfect salad for your next luncheon served with a little chicken salad croissant and a fun dessert or two!
I'm probably the last person on the planet who hasn't jumped on the kale bandwagon. I have a hard time eating something that tastes like a cross between grass and really tough lettuce. I love the dark color and the interest it adds to salads. I also love that kale holds its shape and doesn't become soggy after being dressed, but the toughness of the leaves always makes me want to take a pass when offered a kale salad.
I was so happy to find the secret for me to enjoying kale in a salad was a little massage time! Yes, you read that right, a little massage. I shared a salad a while back that was a copycat of a salad I ate at Red Butte restaurant and surprisingly, loved! I knew for this salad I wanted a variety of greens and I thought kale was the perfect green to mix with either spinach or lettuce. I wanted the salad to have bit of pasta, lots of fresh fruit, and be able to hold up for a while if it was left to sit on a buffet table for a baby or wedding shower.
I know you're going to love Springtime Spinach, Kale and Pasta Salad with Creamy Citrus Dressing. It's loaded with fresh berries and veggies, a light citrus dressing and some creamy avocados to top it all off. Happy Spring!