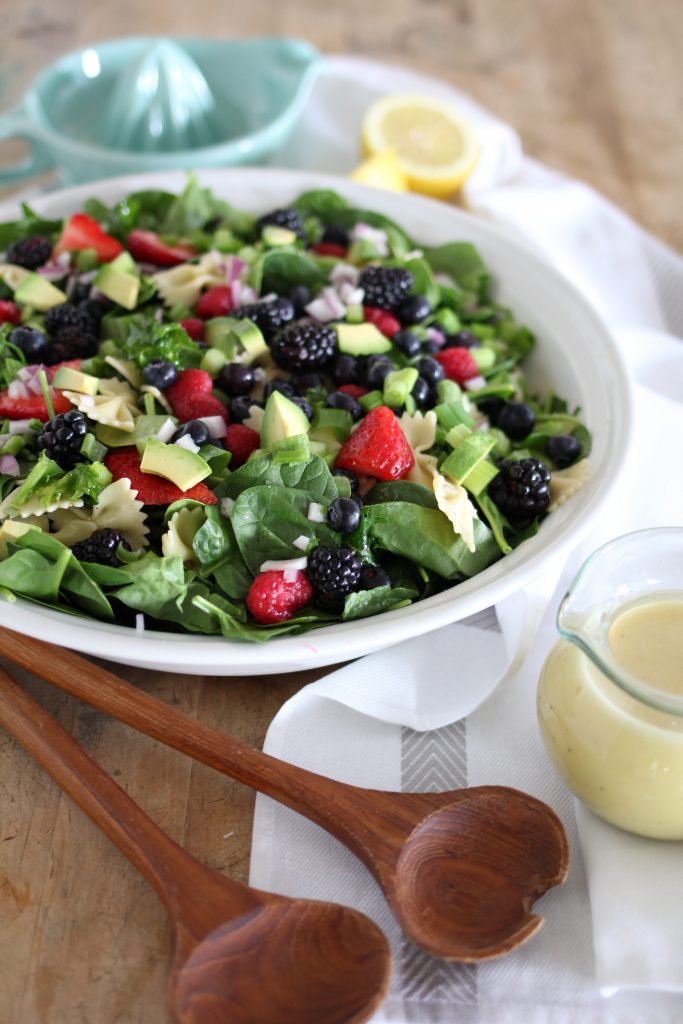 Last week, I taught a Spring Cooking Class to two groups of women in my home.We all had a great time learning how to cook, getting to know each other a little better, and of course, finishing the class off with a meal! Everyone loved this Springtime Spinach, Kale and Pasta Salad with Creamy Citrus Dressing. It's the perfect salad for your next luncheon served with a little chicken salad croissant and a fun dessert or two!
I'm probably the last person on the planet who hasn't jumped on the kale bandwagon. I have a hard time eating something that tastes like a cross between grass and really tough lettuce. I love the dark color and the interest it adds to salads. I also love that kale holds its shape and doesn't become soggy after being dressed, but the toughness of the leaves always makes me want to take a pass when offered a kale salad.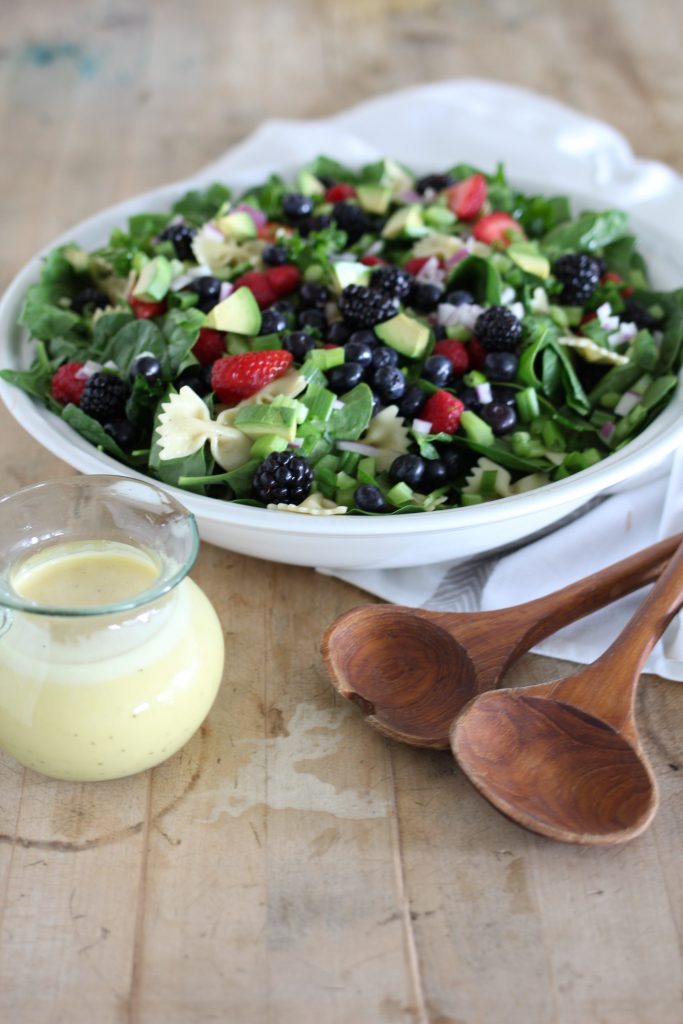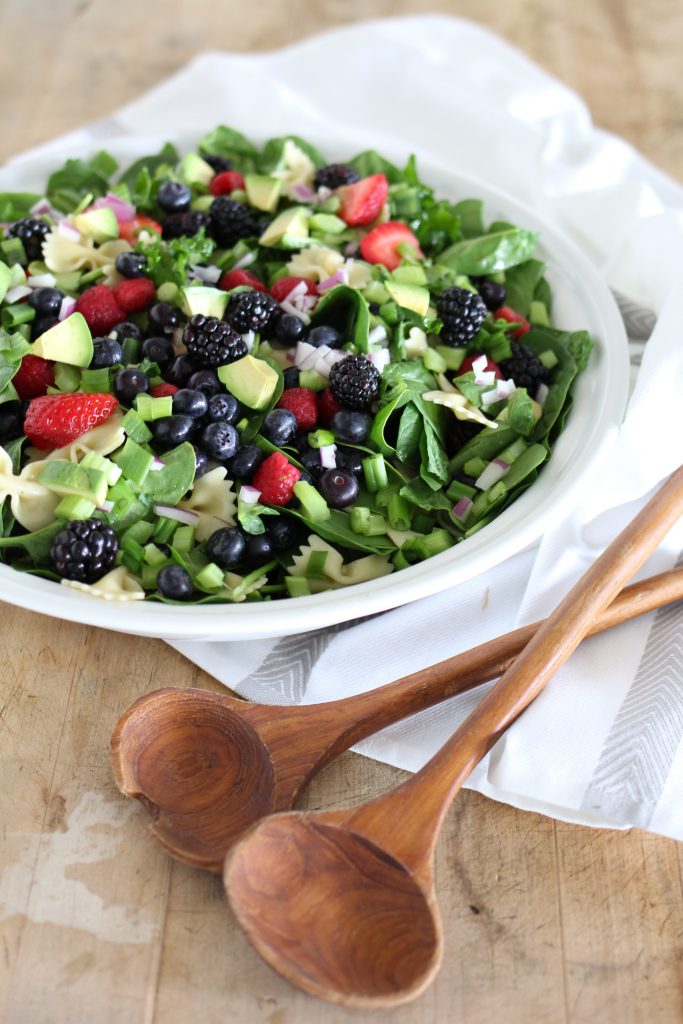 I was so happy to find the secret for me to enjoying kale in a salad was a little massage time! Yes, you read that right, a little massage. I shared a salad a while back that was a copycat of a salad I ate at Red Butte restaurant and surprisingly, loved! I knew for this salad I wanted a variety of greens and I thought kale was the perfect green to mix with either spinach or lettuce. I wanted the salad to have bit of pasta, lots of fresh fruit, and be able to hold up for a while if it was left to sit on a buffet table for a baby or wedding shower.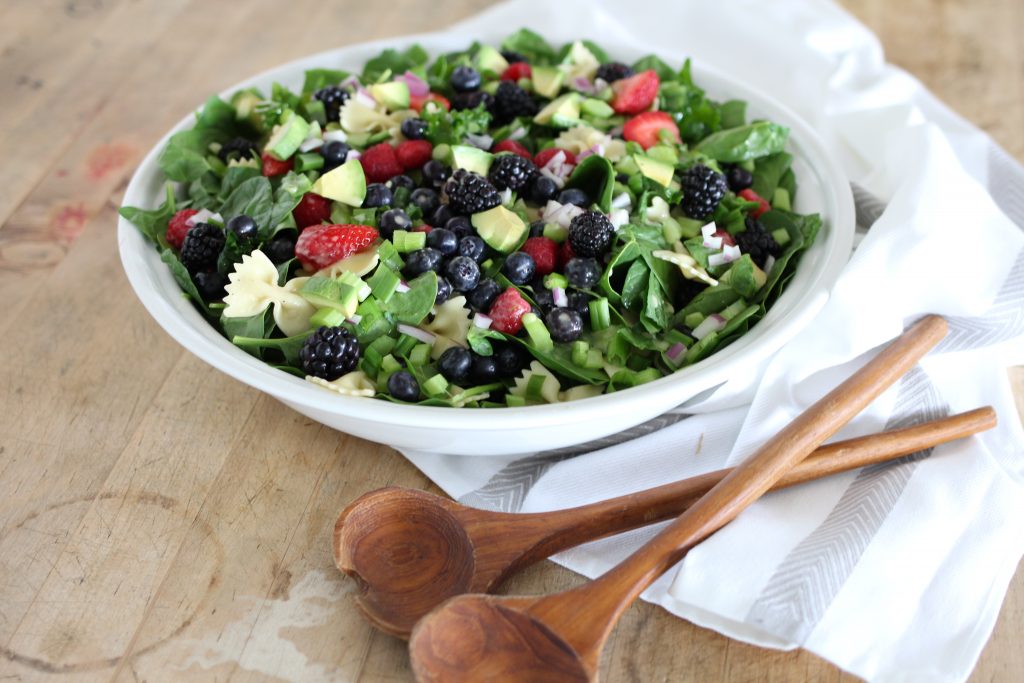 I know you're going to love Springtime Spinach, Kale and Pasta Salad with Creamy Citrus Dressing. It's loaded with fresh berries and veggies, a light citrus dressing and some creamy avocados to top it all off. Happy Spring!
Springtime Spinach, Kale and Pasta Salad with Creamy Citrus Dressing
Servings
20
-25 side servings
Ingredients
salad:
1

lb

bowtie pasta

cooked al dente , cooled and tossed with olive oil or a bit of the dressing

8

cups

kale

about one bunch of Kale, chopped

1/2

lemon juiced

1/4

cup

olive oil

sea salt

1

large head red leaf lettuce or 16-20 cups of spinach

1

pint

blueberries

1

pint

raspberries

1

pint

strawberries

celery

finely chop 2-3 stalks

1

bunch green onion

chopped

¼

cup

red onion

chopped fine

avocado 1-2

chunked
dressing:
1/3

cup

orange juice

1

heaping tablespoon frozen orange juice concentrate

1

tablespoons

chopped shallot

1/4

teaspoon

fresh grated ginger

1/2

cup

canola oil

1/4

cup

white balsamic vinegar or cider vinegar

2-3

tablespoons

honey

Salt and pepper
Instructions
Cook the pasta, for bowtie, I cook for about 10 minutes ( a minute less than package directions) in about two tablespoons of salt.Set aside to cool, or if making ahead, toss with a bit of the dressing (about 1/4 cup) or a couple of tablespoons of olive oil, place in ziplock bag and store in fridge for up to three days before serving.

Prepare the dressing by placing all dressing ingredients in a deep bowl or jar and whisking using an immersion blender. You may also use a blender. Set aside in refrigerator until ready to use.

Wash the berries and let drain. Pat dry if needed.

Wash and spin the kale dry. Chop into bite size pieces. Place in a large bowl. Juice the lemon and pour over the kale in the bowl. Drizzle the olive oil over the kale. Sprinkle with a bit of sea salt. Using hands, massage the kale for a few minutes until you can feel the kale breaking down. When you are finished, the kale should be about half the volume. You may also do this in a sealed ziplock bag, squeeze the air out first!

Toss the pasta, kale and the other greens (lettuce or spinach) together and place in a large serving bowl.

Sprinkle the remaining fruit, chopped celery, green and red onions on top of the greens in a serving bowl or platter. Add the chopped avocado just before serving. Drizzle with dressing.

Alternately, toss the greens, pasta and all of the other ingredients in a large bowl with about 1/2 of the dressing, reserving some of the fresh berries and the avocado. After tossing, place in serving bowl, top with additional fruit and avocado and drizzle with a little of the remaining dressing.