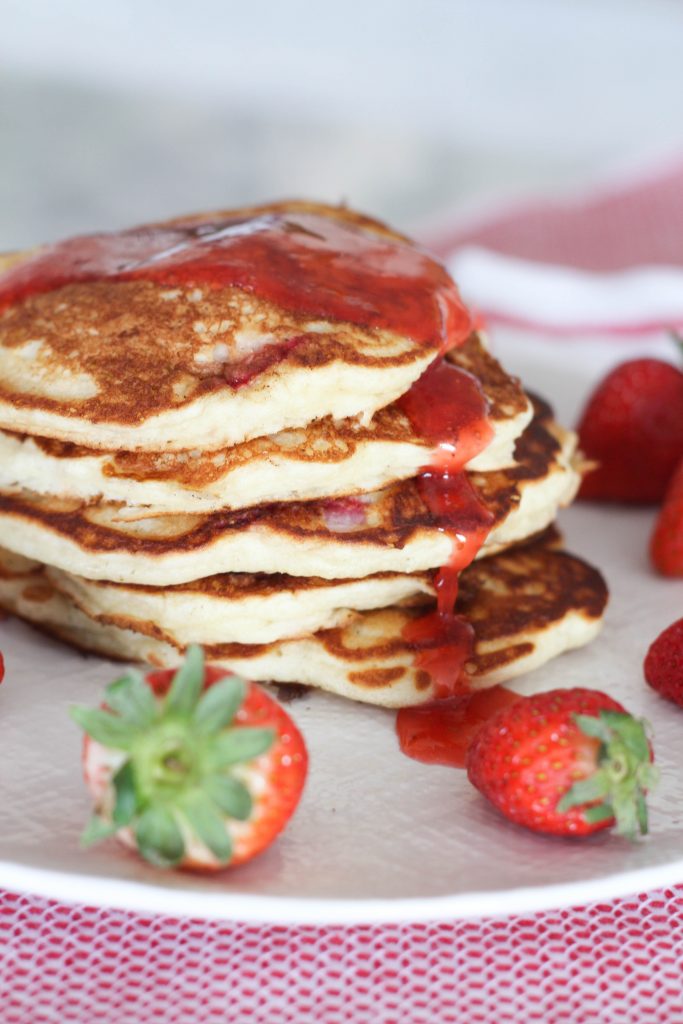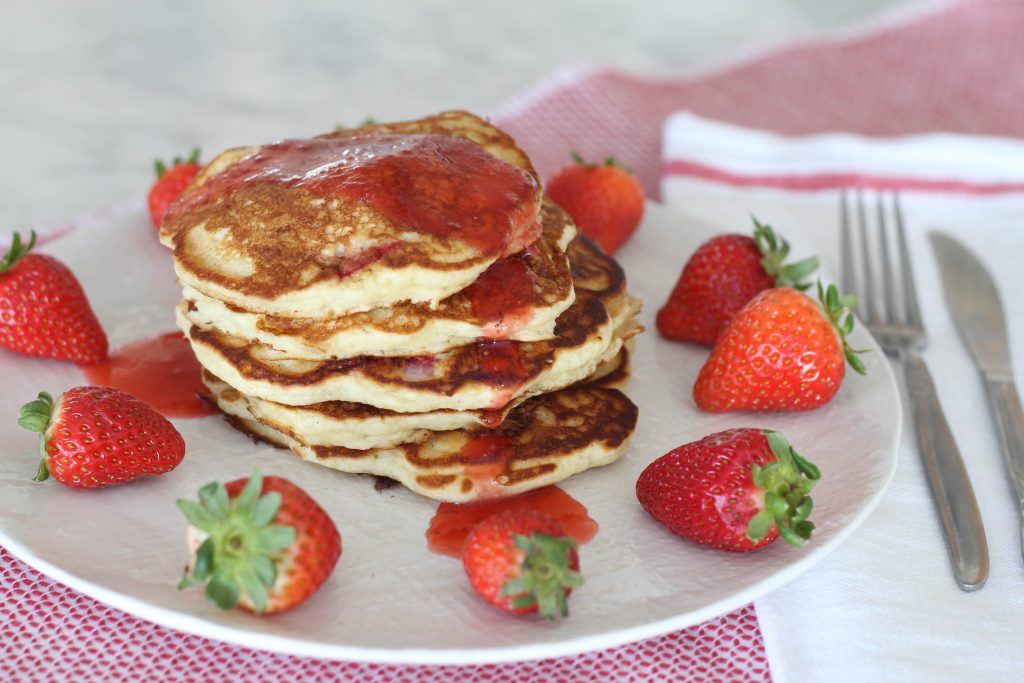 Valentines Day is just around the corner and I've got the perfect dish to make your sweetheart feel like a king. Or a queen.  ABK's Strawberry Buttermilk Pancakes with Fresh Strawberry Syrup is the sweetest way to start your Valentine's Day!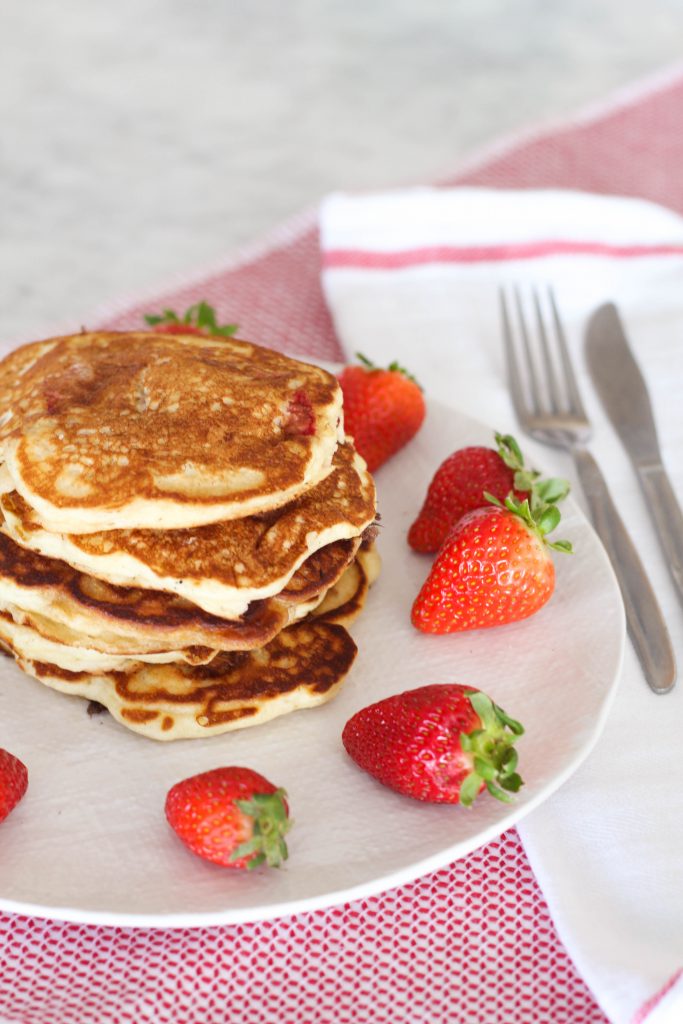 We love buttermilk pancakes in our home!  This recipe is so simple, I used to make them several times a week for my kids before they headed out to school. So many people believe a mix is just as good as homemade, but I'm here to tell you there is no comparison. Homemade takes just a minute longer than a mix, and once you've had homemade, you'll never go back.
I'm guessing you probably have most of the ingredients for buttermilk pancakes in your pantry and fridge as we speak.  Buttermilk is something I almost always have in my fridge.  Readers often ask- can I substitute powdered buttermilk or make my own by adding vinegar to milk? The answer is yes, you can, but buying buttermilk and storing it in your fridge is a much better option. If you doubt being able to use the whole container of buttermilk before it expires, these recipes should be in your lineup:  Buttermilk Fried Chicken, World's Best Buttermilk Biscuits,  BLT Pasta Salad with Buttermilk Dressing,   Pumpkin Buttermilk Chocolate Chip Coffee Cake,  Buttermilk Bran Muffins , Buttermilk Cluster Dinner Rolls , oh and finally, Buttermilk Syrup. We love it on pancakes and waffles.  Can you tell we kind of  like buttermilk ??
Have I convinced you to buy a quart of buttermilk yet? If you can't commit to a quart, you can just buy a pint. I'm guessing you'll be back for more.  Whatever your commitment level, make sure you get enough for at least a double batch of Strawberry Buttermilk Pancakes!  Your sweetheart will thank you.
Happy Valentines Day!
Strawberry Buttermilk Pancakes with Fresh Strawberry Syrup
Ingredients
1

egg

2

tablespoons

melted butter

1

cup

buttermilk

shaken

1/3

cup

cold water

1 1/3

cups

all purpose flour

1/2

teaspoon

baking soda

1

teaspoon

baking powder

2

tablespoons

sugar

1/4

teaspoon

salt

1-2

pints

fresh strawberries for pancakes and garnish

ice cream or whipped cream for topping if desired
Syrup:
1

cup

water

1 1/2

cups

sugar

2

cups

whole berries

fresh or frozen

1

teaspoon

vanilla
Instructions
Make the Fresh Strawberry Syrup:
Measure water and sugar into a sauce pan and whisk together.

Place whole strawberries into pan with hot water and sugar.

Bring to boil and cook for about 5-7 minutes. Remove from heat and add 1 teaspoon vanilla.

Using an immersion blender, place the blade attachment in the pan and pulse until the mixture is smooth. Or, let cool while making pancakes. After cooled, use a blender and place the syrup into a blender and blend until smooth.

Set the syrup aside until ready to use.
Strawberry Pancakes:
Heat griddle to 350 degrees.

Beat egg, melted butter, buttermilk and cold water together in medium bowl.

Add all dry ingredients to bowl and stir a few times with a large whisk or fork or rubber spatula.

Do not over mix! Mix just until wet and dry ingredients are incorporated. Lumps are good. Always mix by hand.

Set aside. If the batter seems too thick, add a couple of tablespoons of water. The batter should be slightly thick.

Wash and cut strawberries into small pieces. I cut the strawberries in half, then into 5-6 thin slices per half.

Lightly grease the griddle with butter or cooking spray, (butter is best).

Using a 1/4 cup measure, scoop out the batter onto the griddle. When the batter is on the griddle, sprinkle a few slices of the strawberries onto each pancake.

Cook until bubbles start to appear and pop. It is not necessary for all of the bubbles to pop before flipping the pancakes.

Flip the pancakes.

Cook for an additional 1-2 minutes.

The pancakes are done when they spring back after being poked lightly with the corner of a spatula.

Serve with Fresh Strawberry Syrup, garnish with more fresh strawberries, whipped cream or vanilla ice cream.
Recipe Notes
Tips for cooking pancakes:Do not over mix! Lumps in the pancake batter are okay.Do not flip more than once.Do not pat down!