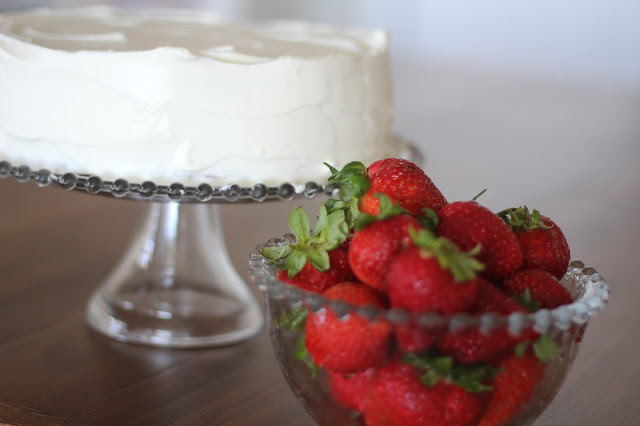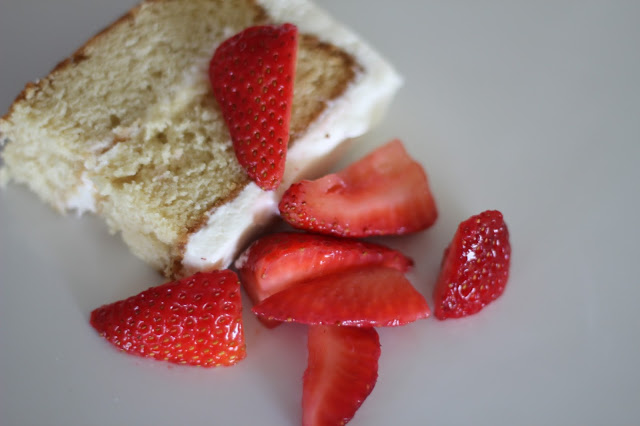 As a little girl, I absolutely loved strawberry shortcake. My mom used to serve us those little pre-packaged cakes with sliced strawberries and Cool Whip. You know what I'm talking about, right? There were 6 or 8 cakes to a package. I wished she would buy two packages so I could have one entire package to myself. I knew summer was just around the corner when we had those little cakes in the grocery cart.
A few weeks ago, I made a cake for Brett's (my BIL) bd dinner. I planned to take strawberry shortcake, but wanted to make the cake and whip the cream the night before, so we could just grab the cake and go when it was time to head out the door on Sunday. The wheels started turning and I thought it would be fun to create a Strawberry Shortcake with Whipped Cream Frosting, so it could all be prepared ahead of time, and seem more like a cake fit for a celebration.After some alterations to multiple recipes found online, I came up with this yummy twist to an old favorite.
Perfect summer birthday cake.
Love it.
Strawberry Shortcake with Whipped Cream Frosting
A Bountiful Kitchen
print recipe
4 egg whites
1/2 teaspoon baking powder
1 teaspoon baking soda
1 teaspoon salt
2 1/4 cup flour, sifted
1/2 cup butter, room temperature
2 cups sugar
1 egg
1 teaspoon vanilla
1 cup buttermilk, room temperature
Preheat oven to 350 degrees. Place rack in middle of oven.
Grease and lightly flour two-9 inch round cake pans, or grease and line with parchment.
Beat 4 egg whites until stiff in medium bowl, set aside.
Place baking powder, baking soda, salt and flour in a small bowl, mix with fork.
In a large bowl, cream butter and sugar together for two minutes on medium speed with a mixer. Add one whole egg and vanilla. Beat for an additional two minutes.
Add half of the dry ingredients, mix well. Add 1/2 cup of the buttermilk, mix well. Repeat with both the dry and wet ingredients until all are mixed into the bowl, scraping down sides of the bowl after each addition. Gently fold in the egg whites.
Spoon the mixture evenly into the prepared pans.
Bake on middle rack in oven for about 25-35 minutes, or until toothpick inserted in center of cake comes out clean. Watch carefully, so cake does not overcook.
Remove pans from oven when done, let sit for five minutes.
Invert onto cooling rack. Let cake cool completely before frosting.
Serves 12-15
Whipped Cream and Cream Cheese Frosting
1- 8 oz package cream cheese, regular or low fat, room temperature
3/4 cup powdered sugar
1 teaspoon vanilla
1/2 teaspoon almond (optional)
2 cups heavy whipping cream, cold
Beat the softened cream cheese and powdered sugar in a mixing bowl. Add vanilla and almond. Mix until smooth. Taste and add 1/4 cup of additional powdered sugar if you like it sweeter.
Slowly add the heavy cream and beat until frosting is light and fluffy.
Frost the cake with Whipped Cream Frosting and top each serving with strawberries.
Store in refrigerator until ready to serve.
Tips:
-This cake did not rise up very much at my altitude (abt 4400 ft.) . I'm going to experiment and will update the post if I am able to get a higher rise next time I bake.
If you are looking for a taller cake, double or 1 1/2 the recipe and make more layers. You'll have to increase the frosting as well to cover the cake. If you double the cake, 1 1/2 times the frosting.