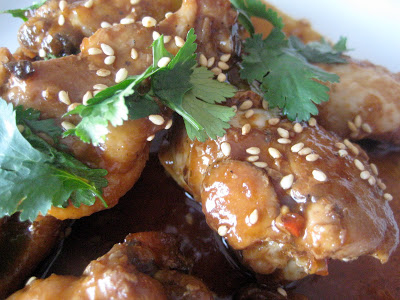 Years ago, Grant's sis Sheri invited us to go to Lake Powell on a boating trip. Four fun filled days of houseboat, camping, water sports, and of course eating. You know how people always say food is so good on a camping trip? I never share that feeling, because camping + me= don't go together. Except this time. We had a guy come with us who was a master of grilling. He brought along some chicken and I still remember, 25 years later, how delish that chicken was. It was cooked low and slow (one secret to grilling chicken successfully, that I have never mastered bc I'm too impatient) and it practically fell off the bone.
One of the guys on the trip taught Grant how to properly eat a chicken wing. We still laugh about his technique. It was: place the entire wing into your mouth (this was a full size wing, not the party wings we now have available), with the exception of one small corner or end of the whole wing. Now I'm not sure how to explain the next step(s)- but when the bone was removed from his mouth, no meat remained. This all happened without opening his mouth. It's all a mystery to me.
This recipe is adapted from Tyler Florence. I added a little honey to sweeten it to my taste. Loved the sauce. Great for chicken, especially if you are grilling. Sweet, spicy, tangy. If you are into wings, or basketball, a perfect dish for your March Madness party!
Sweet and Spicy Asian Hot Wings
adapted from Tyler Florence- Hot Wings
Ingredients
2

dozen chicken wings

about 3 1/4 pounds, rinsed and patted dry

Salt and freshly ground black pepper

Olive oil

1

tablespoon

sesame seeds

toasted in a skillet over medium heat until lightly browned

Leaves

from 1/2 bunch fresh cilantro

chopped
Teriyaki Sauce:
1

cup

low-sodium soy sauce

1

cup

grapefruit juice

1/4

cup

hoisin sauce

1/4

cup

ketchup

1/2

cup

honey

3

tablespoons

rice wine vinegar

1/4

cup

brown sugar

1

fresh

hot red chile, halved

2

garlic cloves

minced

2-

inch

piece fresh ginger

smashed with the side of a large knife
Instructions
Preheat the oven to 400 degrees F.

Season the chicken wings with salt and pepper and drizzle a little olive oil on them to prevent sticking. Lay the wings in a single layer on a baking sheet. Bake for 30 minutes or until the skin gets crispy and the wings are cooked through.

Meanwhile, combine the teriyaki sauce ingredients in a large saucepan. Simmer over low heat and reduce until slightly thickened. Pour the sauce into a large bowl. Dump the wings into the bowl and toss to coat them with the sauce. Transfer to a serving platter and sprinkle with the sesame seeds and cilantro. Serve hot.
Recipe Notes
-I made these for a party, and purchased a large (10 lb) bag of frozen chicken wings at Costco. Tripled the sauce, perfect amount of sauce to wings.