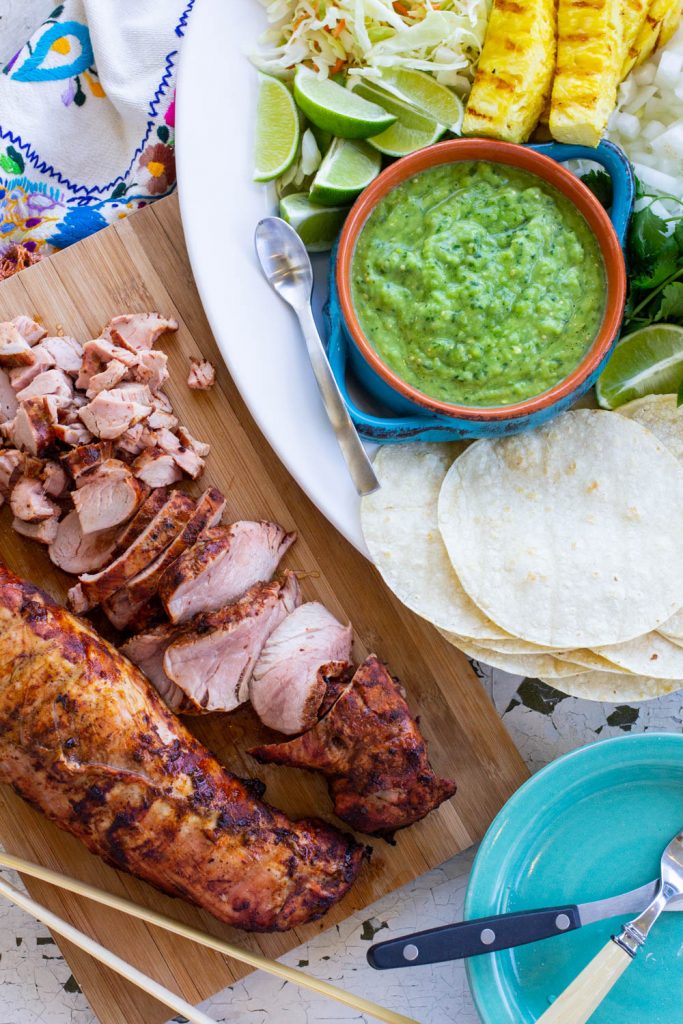 Tacos Al Pastor with Guacamole Taquero is one recipe that will make you feel like you're in Mexico without leaving your kitchen. The marinade makes this recipe our family favorite and cooking the meat on a Traeger Grill will take  your Tacos Al Pastor to the next level!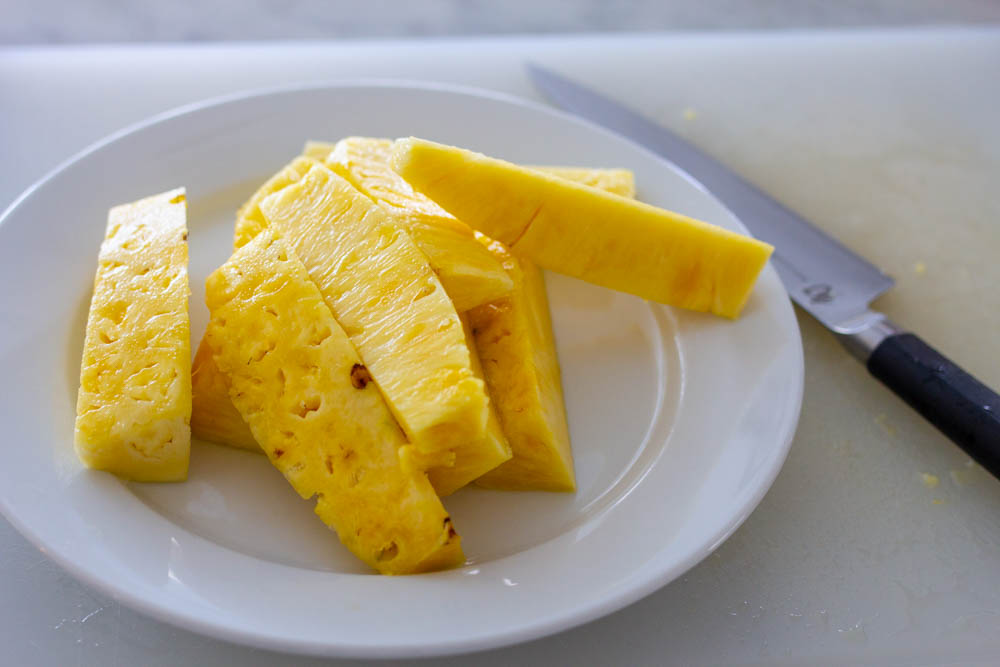 Grilled pineapple makes all the difference in this recipe for Tacos Al Pastor with Guacamole Taquero.  I love cooking pineapple on the Traeger Grill because it always turns out perfect! The pineapple gets just enough smokey flavor to compliment the sweetness of the grilled fruit. I use Pork Tenderloin for this recipe and grill it just until the internal temperature is 155-160 degrees.  Perfection! You've never tasted pork this tender and moist. 
Don't you love it when you get the scoop on an "off the beaten path" not in the guide book type of restaurant? A few years ago, my friend Janis (who lived in Mexico for three years) told me about her favorite go-to, casual Mexican restaurant: Chunga's in SLC.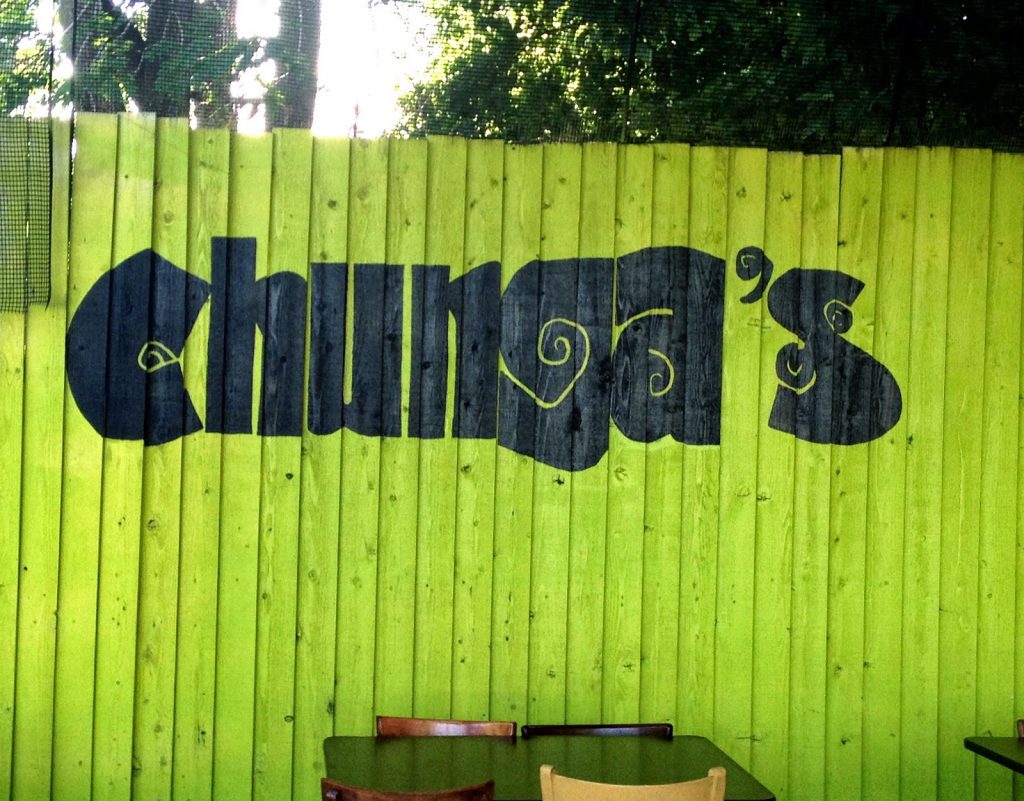 WHAT?
Could it be the same place my teenage son told me about a couple of years earlier?? I remember him saying they had "the best food, EVER!" Any restaurant that makes burritos the size of your head is a winner in Jake's book. My tendency is to not believe Jake when he gives his stamp of approval on any restaurant, since McDonald's often falls into that category.
I was skeptical, but Janis seemed to be a person with good taste, so I decided to go against my initial impression and give it a try.
Oh.
My.
Loved it.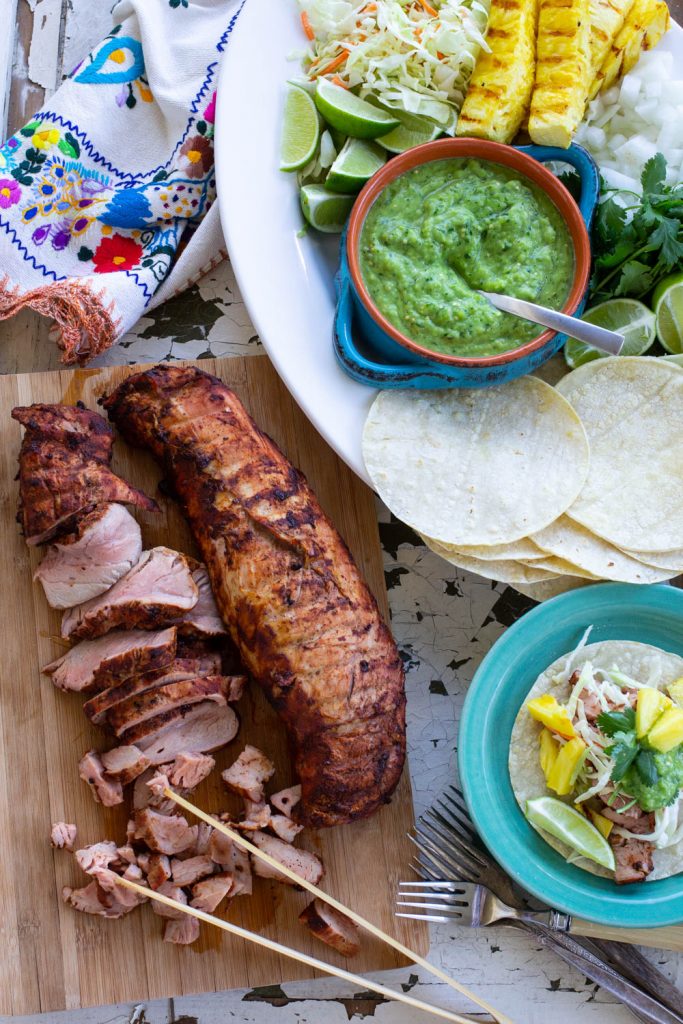 The Tacos Al Pastor were my favorite. I remembered my son Stephen talking about Tacos Al Pastor being one of his favorite meals when he lived in Puebla, Mexico while serving a mission. I'm a sucker for anything savory and sweet, so this dish is right up my alley. It's the only thing I order at Chunga's and one of my favorite go-to places now. That said, I knew I had to find a way to make this dish at home…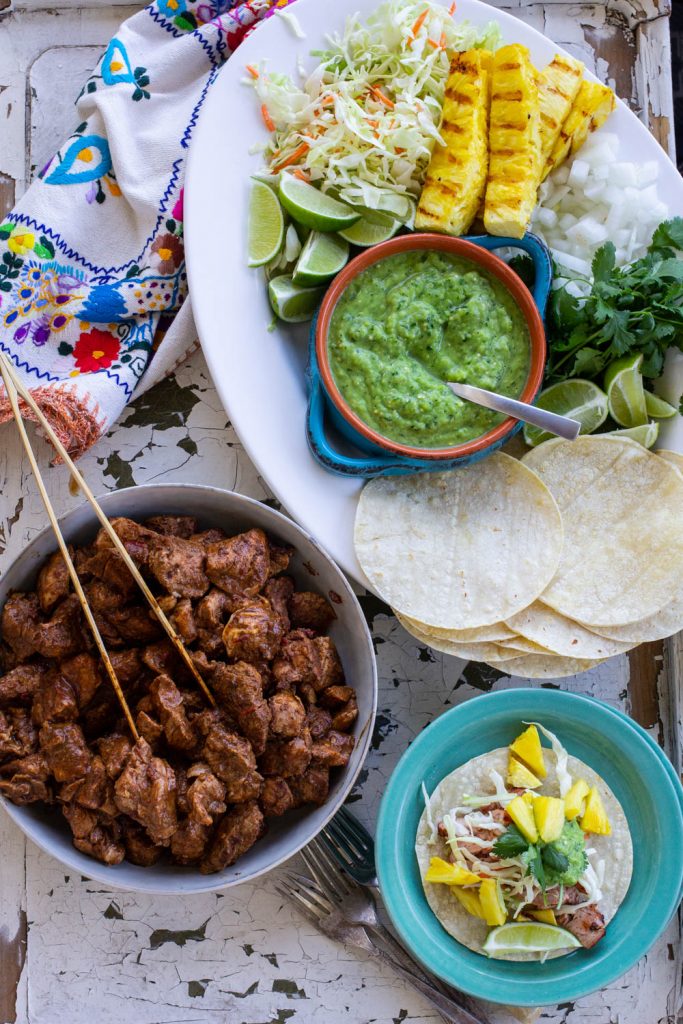 You're going to love this make-at-home version. We love the combination of flavors in this recipe. Perfect summer dish, no need to heat up the oven, just fire up the grill. I give oven instructions in the recipe notes, just in case you want to make this in the winter or don't have a grill handy!
I simply cooked the meat on the broil setting in a pan and stirred after a few minutes. An instant read thermometer is helpful while cooking this dish for Tacos Al Pastor on the Traeger. One tip for quick assembly and serving: make everything ahead such as chop the condiments, make the guacamole taquero sauce, cut the pineapple. This will speed up the process so only the meat, pineapple and tortillas need to be grilled before serving.
Hope you love this recipe!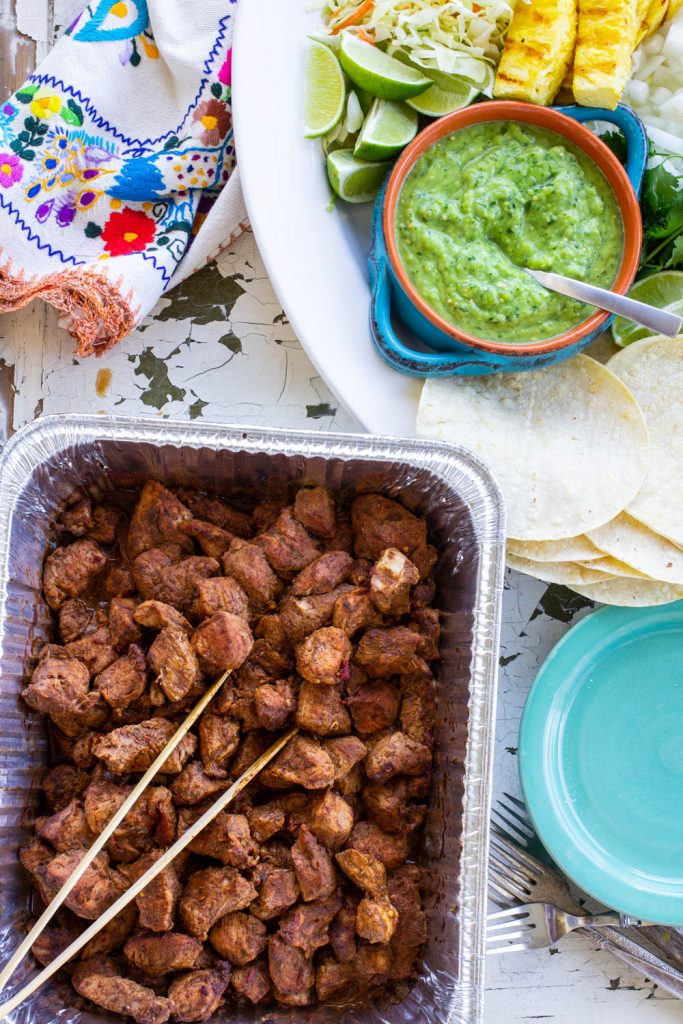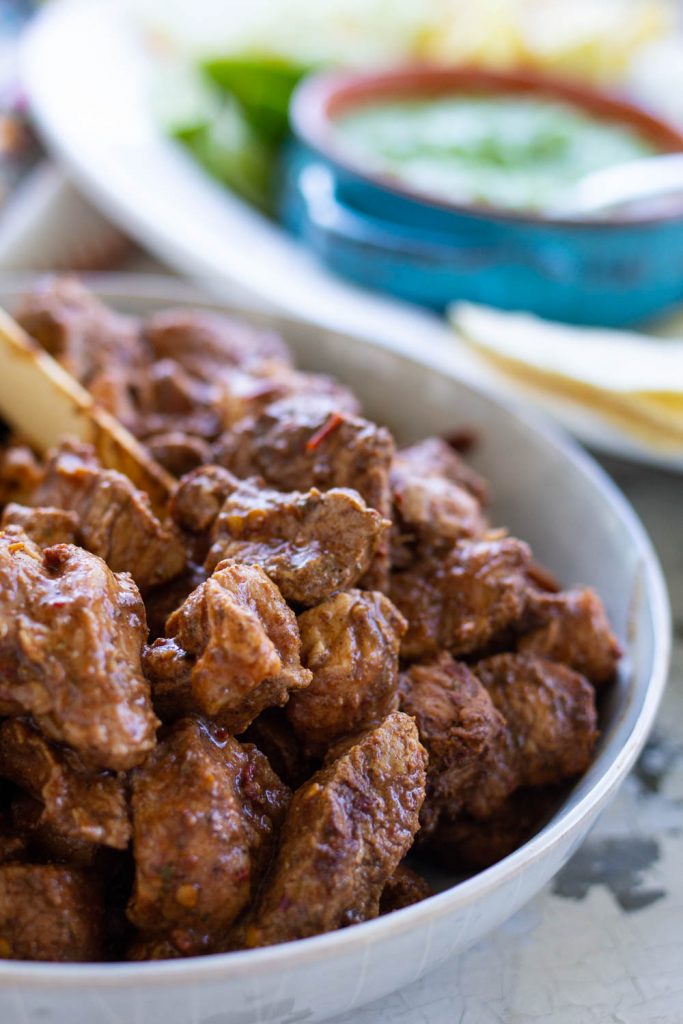 Tacos Al Pastor
Tacos Al Pastor are traditional tacos made famous in Mexico City. The pork is marinated in chiles, fresh pineapple and spices and served with grilled pineapple on tortillas.
Ingredients
marinade and meat:
1/2

cup

orange juice

1/4

cup

white vinegar

1/4

cup

chili powder

YES! 1/4 cup!

2-3

garlic cloves

halved

2

teaspoons

coarse kosher salt

1

teaspoon

dried oregano

preferably Mexican

1

teaspoon

ground cumin

1/2

cup

chipotle chiles, chopped

see notes

2 1/2-to 3-

pound

pork tenderloin*

15-20

Corn tortillas

flour may also be used
toppings:
1/2

cup

chopped fresh cilantro

2

cups

chopped cabbage

optional

remaining chopped onion

lime wedges
Guacamole Taquero (optional)
6

tomatillos, husked, washed and quartered

1/2

cup

cilantro leaves, washed

1

lime, juiced

1

teaspoon

kosher or sea salt

1

clove fresh garlic

1

jalapeno seeded and coarse chopped

1

Anaheim chile, chopped

1

ripe

avocado, peeled

1

cup

onion (sweet or white) rough chopped
Instructions
To make Guacamole Taquero or Taco Shop Guac, blend all ingredients in a blender until smooth. Will keep in fridge for one week.
Early in the morning, or preferably the day before serving:
Cut off outer edge and top of pineapple and discard.

Slice pineapple in half, long way. Slice into half again. You should have four, long wedges of pineapple. Remove the core and discard.

Place one of the four wedges on cutting board and chop coarsely.

Set other three wedges aside for grilling. You may cut these into smaller wedges (see photo) before grilling if desired.

Place the single chopped wedge of pineapple in blender. Add orange juice and next 7 ingredients; puree marinade until smooth. Place pork in large Ziplock bag. Add marinade and seal bag. Turn to coat. Chill at least 1 hour and up to 1 day. If you are cooking pork on grill, leave whole, if you are using oven, you may cut the pork into pieces ahead of time.
The following day, or later in the day:
Prepare Traeger Grill and set temperature to 450 degrees. When the grill is heated, insert thermometer into thickest part of tenderloin and grill on each side for about 8-10 minutes per side or until internal temperature is 155-160 degrees. Remove from grill and immediately wrap in foil or Saran wrap and let rest for about 15 minutes on a plate. See recipe notes for broiling directions.

Meanwhile, grill remaining wedges of pineapple until warm and slightly charred, 6-8 minutes per side. Remove from heat, set aside.

While pineapple is cooking, chop onion.

Grill tortillas until warm and slightly charred, about 10 seconds per side on Traeger or on griddle.

When pineapple is finished cooking, chop or leave in wedges and set on platter.

Chop or slice meat as well and place on platter or leave on cutting board.

Arrange pineapple, onions, tortillas, lime wedges, cilantro and chopped cabbage on a platter. Serve with Guacamole Taquero if desired.
Recipe Notes
-You may purchase a small (7.5 oz)  can of Chipotle Chiles in sauce and use the chiles right out of the can.  I have used the El Mexicano brand found at Smith's (Kroeger). Or, you may use chopped fresh Anaheim chiles and add 2 tablespoons of Chipotle Chile Powder. 
-You may serve this dish with a variety of toppings and or salsas. I love grated cabbage on tacos, even when they aren't fish tacos. Sliced cucumbers and radishes are a perfect addition, and always served at Chunga's.
-All of the prep- marinating the meat, grilling the pineapple, chopping the onions and cilantro and preparing any sauces served with the tacos may be done ahead. On the day of serving, simply cook the meat and chop. Grill the tortillas and serve.
-Pork loin, which is generally used in this recipe is easily overcooked. I prefer and highly recommend Pork Tenderloin in this recipe. 
-A Pork Butt (Boston Butt) will also work. Since almost 1/2 of the butt meat is lost in fat removal, use a 5 lb Boston or Pork Butt. Marinate overnight. Cook on low for about 6 hours, remove fat and serve. Or, cook in 275 oven (sealed tightly with foil) for about 6 hours. Shred and remove fat.
-If you don't have a Traeger, you may use a regular barbecue grill. Set the heat to medium-high and grill until internal temperature reaches 155-160 degrees, turning once.
-If using an oven, cut the meat into cubes and marinate as directed for at least 1 hour. Remove meat from marinade and place the meat in a pan and broil for about 8-10 minutes total, mixing gently about half way through cooking. watch carefully to make sure meat does not burn.