This Chinese take-out inspired dish is the perfect way to bring a family favorite to your own kitchen. Slow Cooker Take-Out Homemade Sweet and Sour Chicken is made with sauce you whip up in a flash and all white meat. No deep fryer needed!
Take-Out Homemade Sweet and Sour Chicken is a great option if you love the flavor of sweet and sour chicken, but don't love the price tag of ordering from a restaurant or the often used deep fried coating. Some people refer to this dish as Hawaiian Chicken, but it reminds me of  the sweet and sour chicken my dad used to pick up occasionally on his way home from work.
When I was working on this recipe, I tested it a few different methods for preparing  in the slow cooker. I found the best way to avoid a watery sauce was to only add little of the sauce while cooking the chicken. The remaining sauce is added later, when the chicken is cooked, just before serving. I serve this dish with Slow Cooker Beef and Broccoli and love the combinations of colors and flavors of the two dishes together.  Served with a pot of rice it's the perfect meal for any night of the week. If you want to cook both dishes at once, and only have one slow cooker, you can cook one of the dishes in the oven on 275  to replicate  the low setting. Make sure to tightly cover the dish so liquid does not escape.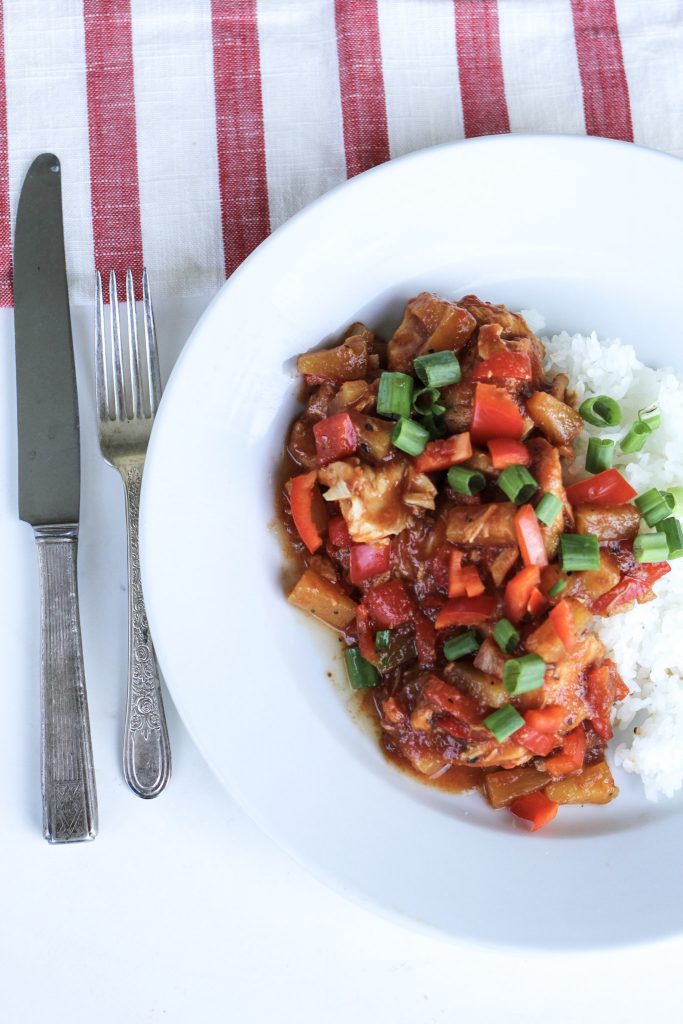 Next time you're throwing a theme party,  get some paper take-out containers , disposable chop sticks and a bag of fortune cookies.  Dip the cookies in chocolate for dessert.  Make a batch of Slow Cooker Beef and Broccoli and Take-Out Homemade Sweet and Sour Chicken. Ask your guests to bring other Asian inspired dishes for a simple, fun and affordable gathering. I know you'll love this dish for any day of the week,  or a party menu!
Slow Cooker Sweet and Sour Chicken
Total Time
2
hours
5
minutes
Ingredients
4

chicken breast halves

about 1 1/2 lbs total

1

red pepper

seeded and chopped (optional)
Sauce:
1 1/2

cups

ketchup

1 1/2

cups

brown sugar

1

teaspoon

mustard

1/2

cup

pineapple chunks or tidbits

drained (canned or fresh)

3

tablespoons

Worcestershire sauce

1

teaspoon

ground pepper

for garnish: chopped green onion

optional
Instructions
Spray the inside of a slow cooker with cooking spray.

Cut up chicken in to large chunks about 1x1 inch or into strips about 1/2 inch thick.

Whisk together all of the sauce ingredients in a bowl. Remove 1/2 cup of the sauce and place in slow cooker.

Place cut up chicken and chopped red pepper in slow cooker, mix with a large spoon and cover with lid.

Turn slow cooker to high and cook for about 2 hours or about 4-5 hours on low.

After cooking, add the remaining sauce and stir gently. Turn slow cooker to high and cook for an additional 15 minutes or until sauce is bubbly. Serve with rice.
Recipe Notes
-If you would like the sauce to be a bit thicker, you may remove some of the sauce from either the cooked chicken in the slow cooker or add about 1 tablespoon of cornstarch to about 1/4 cup of cold water and whisk until smooth. Add this to the final sauce in the slow cooker during the last 15 minutes of cooking. You may also quickly stir fry the chicken pieces before adding to the slow cooker. to do this, place about 3 tablespoons of cornstarch to a ziplock bag, toss the chicken pieces, uncooked in the bag. Place about 1 tablespoon of oil in a non stick skillet and turn the heat to medium high. Stir fry the chicken just until no longer pink. Proceed with recipe as directed. -You may also add chopped onion, snow peas or other vegetables to this recipe as well. Stir fry any additional vegetables about 15 minutes before serving. Add to cooked chicken mixture in slow cooker. Heat until sauce is bubbly.