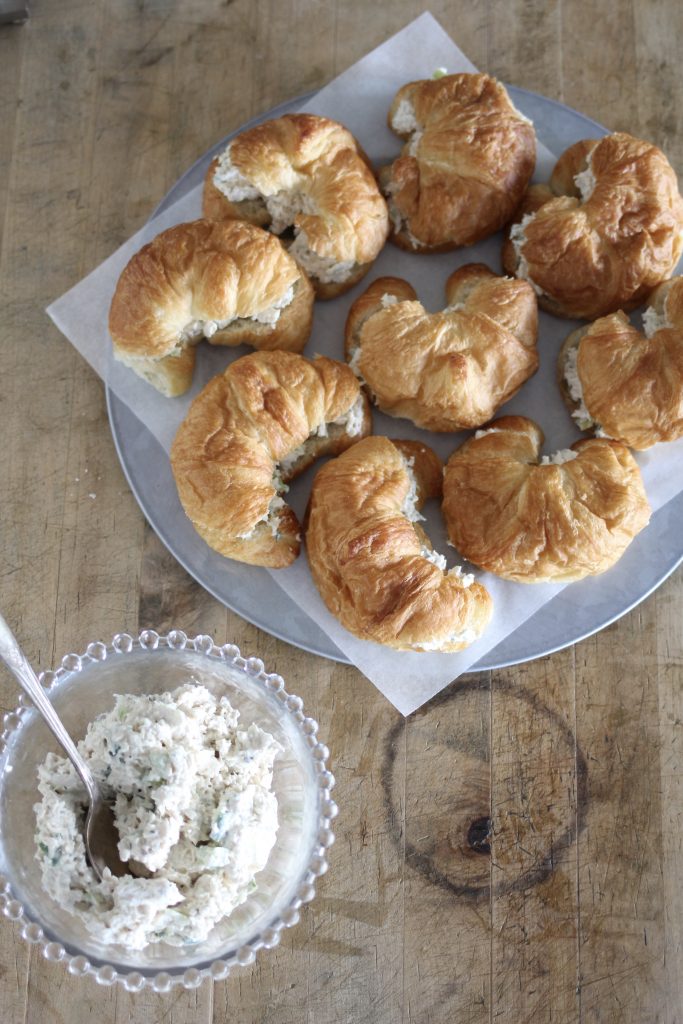 Tarragon Chicken Salad on croissants is the ultimate classic luncheon food! I remember thinking I was really grown up when I finally was old enough to attend a bridal shower and partake of dainty chicken salad sandwiches on flaky pastries. Methods of making chicken salad have changed a bit over the years, but the basic ingredients stay the same and every girl I know loves a good chicken salad recipe!
One thing I love about chicken salad is its versatility! It's simple to make, can be made ahead and you can make it your own with add-ins. I also love that chicken salad can be served so many different ways: as a salad, on top of shredded lettuce or on a lettuce leaf, or even in the half of an avocado which has been pitted; on any type of bread such as a croissant, a baguette served open faced, stuffed in a pita, or even on crackers!
Tarragon Chicken Salad is one of my favorite dishes to serve at a brunch or shower. I love cooking the chicken a few days ahead, and then mixing up the rest of the ingredients the day before so the flavors have time to really settle into the chicken. This recipe is also perfect for your weekend Mother's Day celebration! Mom will love this served with a salad. Search "salad" on the side bar of my home page for ideas to pair with Tarragon Chicken Salad. And how about a really decadent brownie to top off the meal? Guaranteed Mom will love these Southern Lady Brownies .