Some things were just meant for converting from a main dish to a salad. Teriyaki chicken, veggies and pasta are three items that combine perfectly to make Marinated Teriyaki Chicken and Vegetable Pasta Salad!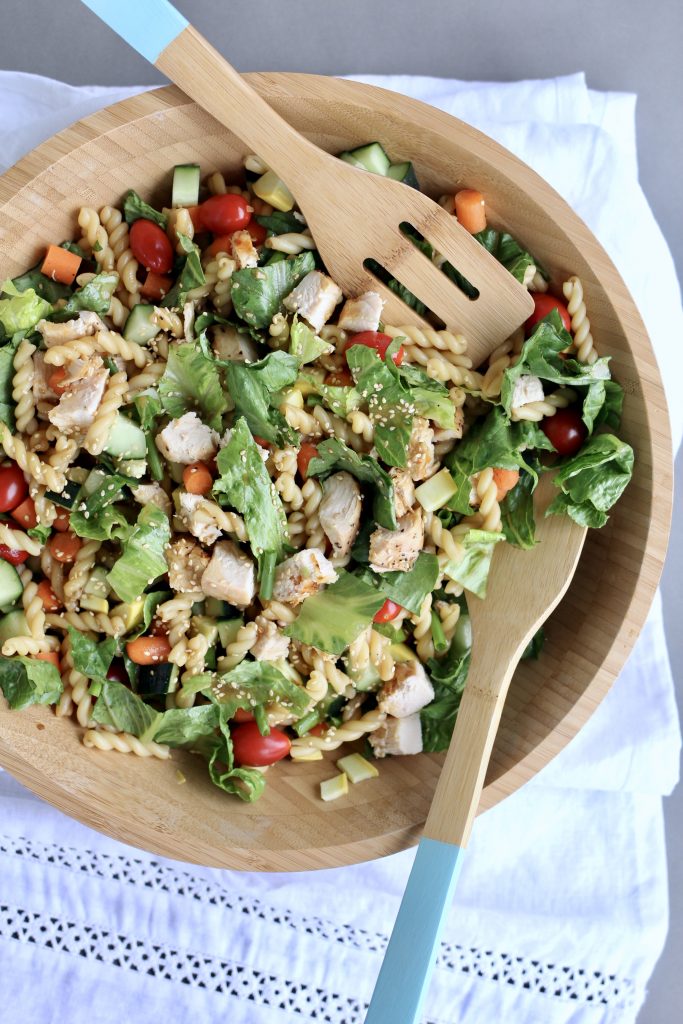 My dear friend Eden Bennett made this salad for me years ago, and I have loved it since. Eden is an amazing cook and generous about sharing her talents. If you're looking for a dessert to go with this salad, take a look at her Giant Oatmeal Chocolate Chip Cookies. They are legendary! Eden's huge oatmeal chocolate cookies with big chunks of chocolate are so good.
I modified Eden's Teriyaki Chicken and Vegetable Pasta Salad recipe a bit- I use tomatoes, carrots and cucumber for vegetables, but substitute other fresh veggies as they are available in the summer. Sugar snap peas are a favorite, but when they are $5 a pound, I leave them out or toss in a little blanched broccoli instead! You can add or omit the veggie ingredients depending on your preferences. Really, anything goes here!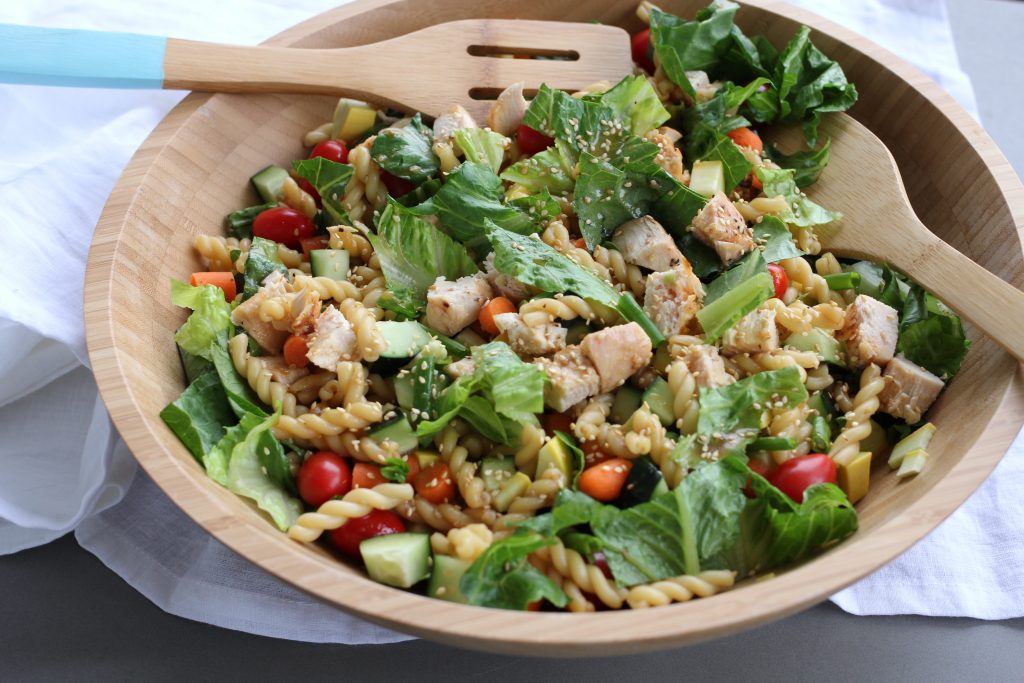 NOT ALL TERIYAKI SAUCE CREATED THE SAME…
When I was growing up, my mom always made her own teriyaki sauce by combining soy sauce, a little rice vinegar (found in the Asian section of grocery), fresh grated ginger and a bit of sugar or honey. In all the years I've cooked, I haven't found prepared teriyaki sauce I love, until I found "Veri Veri Teriyaki" by Soy Vay.
It's available almost everywhere from Costco to Walmart. Or of course, on Amazon. I linked the sauce, but it is considerably less expensive at your local grocery! Trader Joe's also carries a similar version of the Soy Vay sauce called "Soyaki".
It's the perfect sauce for marinating chicken and beef in this recipe, and is used for dressing as well. Most teriyaki sauce is okay to use without diluting, but this brand is extra concentrated. I have used other brands when in a pinch. If you can't find this brand when making the dressing- you may make your own teriyaki sauce or buy another brand.
Have salad, will travel!
This recipe is the ultimate make-ahead and travel salad. It can be made up to 3 days ahead and be ready to go on the day of serving. The key to keeping everything fresh is to separately bag all of the prepped ingredients, and make sure to squeeze all of the air out of the bags (without smashing the contents). See below for detailed instructions!
This salad fits well into a few sandwich and gallon-size Ziplock bags, and it is easily arranged on a platter or bowl when ready to serve. I love salads that can be made ahead when I have a busy schedule! One tip for serving a beautiful salad…save some of the veggies and chicken for placing on top of the salad for a colorful presentation!
Instructions for making Teriyaki Pasta Salad ahead:
Cook the pasta, toss with teriyaki sauce as directed. Let sit until cool, then pack in a Ziplock bag with all air squeezed out.
Marinate the chicken, cook, let cool, chop and bag.
Chop the carrots and bag. Same with the cucumbers.
Leave the grape tomatoes on the counter, tomatoes are best when not refrigerated. Whip up the dressing.
It is important to bag all of the ingredients separately to keep fresh. When ready to serve, toss all ingredients together, add chopped lettuce (bagged is fine) grape tomatoes and well-shaken dressing, a little at a time. I often don't use all of the dressing.
Sprinkle generously with toasted sesame seeds.
You can make the salad and place in a bowl for serving and refrigerate several hours before serving.
If you are making the salad ahead, use bagged prepared (washed and dried) spinach or romaine that will stand up to a few hours of sitting in a bowl with dressing. Bagged lettuce is dried until moisture is removed in the leaves, which is good for salads that may sit for a while.
Originally posted in 2008, Teriyaki Chicken and Vegetable Pasta Salad has been updated with new photos and content in 2021.