What is the best way to use Thanksgiving leftovers? The most perfect and logical solution is to make a pie out of the leftovers. All of your holiday table goodness, packed into one savory pie!

Pass the pie, please
Imagine. All of your favorite savory Thanksgiving dishes in one bite and stuffed into a perfectly crispy crust. Best Thanksgiving Leftover Pie is just that. One dish, all of your favorite flavors. YUM. It's the ultimate savory pie, and you already have all of the ingredients prepared!  Honestly, who can say no to pie?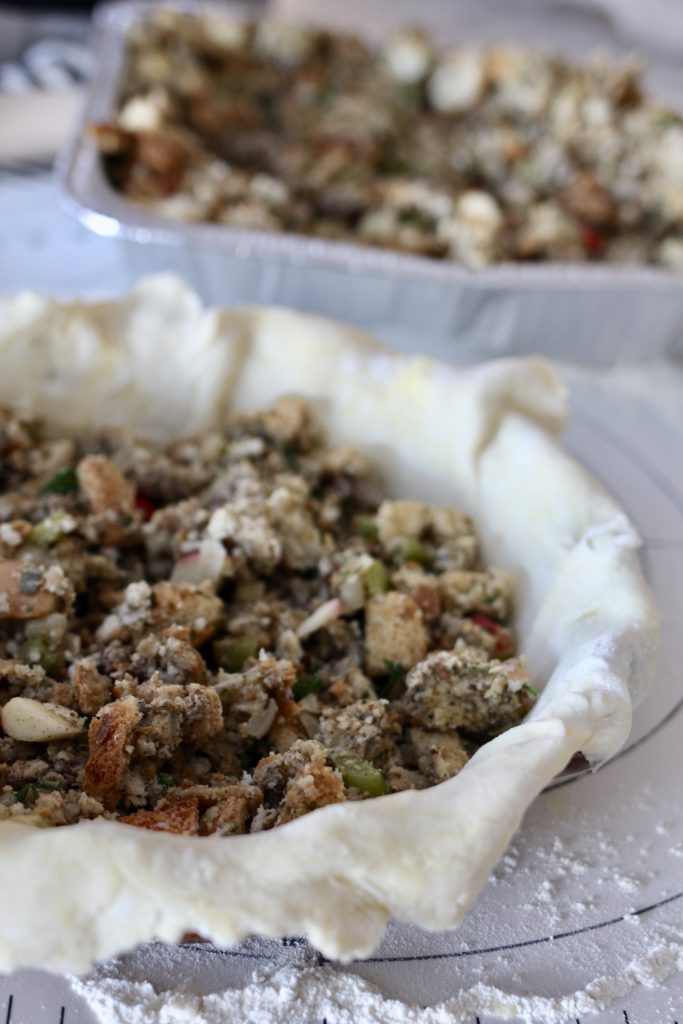 More gravy and a really great crust
The key to Best Thanksgiving Leftover Pie is to layer correctly and make sure to have enough moisture (gravy) to keep the pie from being dry. I start with putting the dressing on the bottom, potatoes next and then the gravy and meat together. If you want to throw in some corn or peas or green beans, they will only add to the goodness! Just remember to not fill the pie too full or overload with stuffing and potatoes or you'll end up with a dry pie. You can also double the gravy and serve it along side the pie after it's baked which I highly recommend!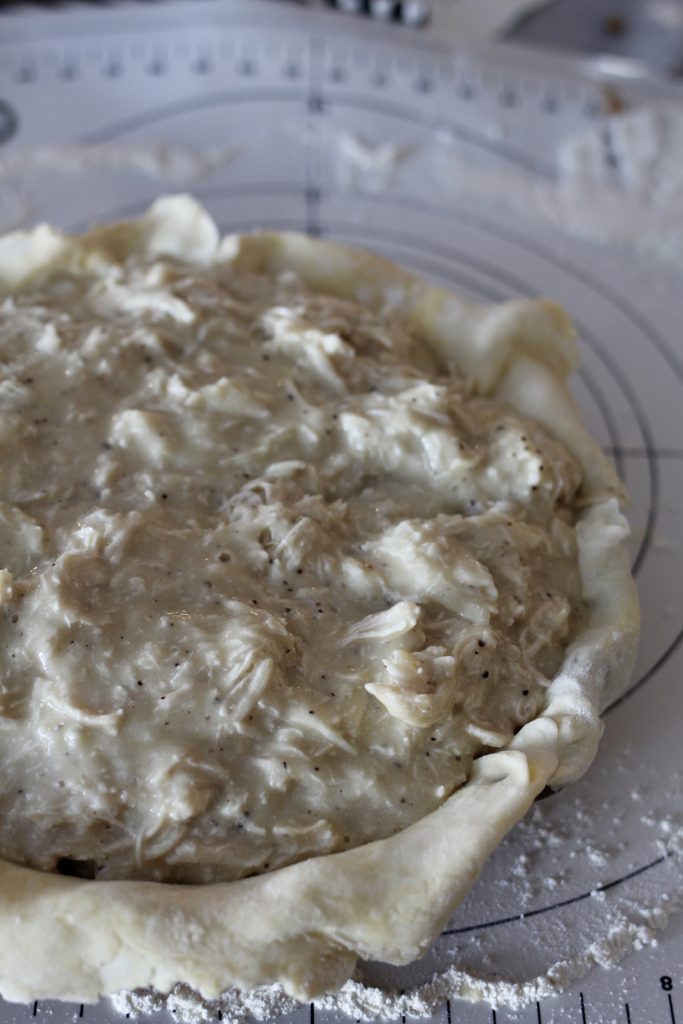 Not enough leftover turkey?
We cooked two smaller size turkeys this Thanksgiving instead of one large, but ended up with just a few cups of leftover meat.  I cooked some chicken breasts in the Instant pot using this recipe and then shredded and used the chicken in Best Thanksgiving Leftover Pie. Loved the result!  Hint for super moist chicken: after shredding, add about 1 cup of juice from the Instant Pot back to the shredded chicken. I store it in fridge until ready to use. No need to drain before using in recipes. You'll end up with unbelievably moist chicken!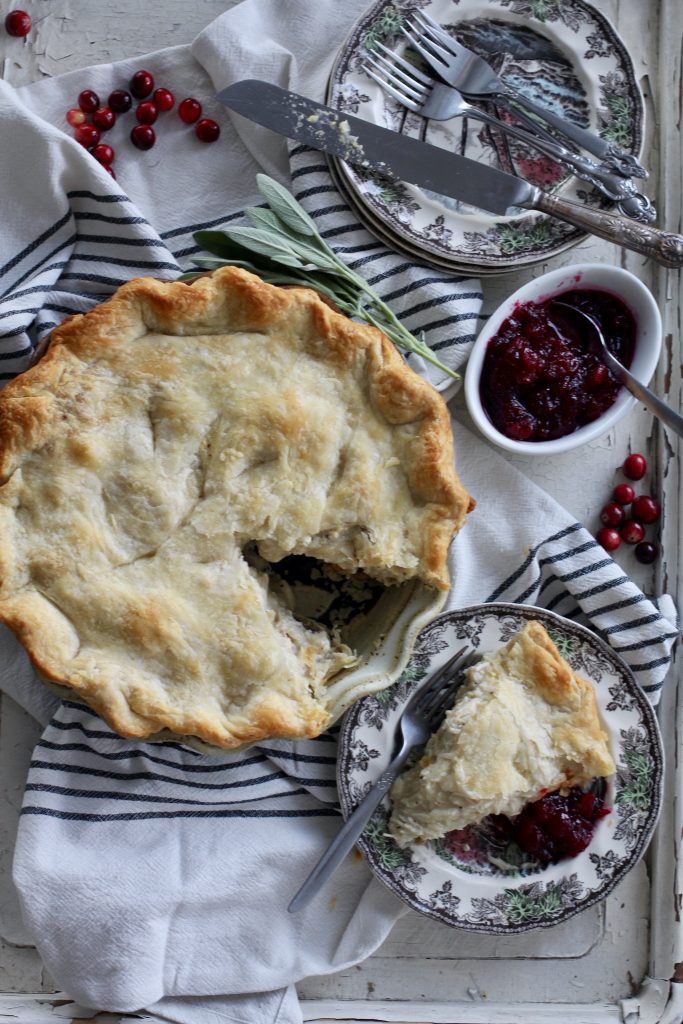 If you're looking for a new way to use up  holiday leftovers, this recipe will save the day!  Best Leftover Thanksgiving pie, a green salad and you're set. It's a main dish loaded with everything savory we love. Pair it with Fresh Cranberry Sauce for the perfect accompaniment to this dinner! Making good use of leftovers has never been easier, or more delicious. What's your favorite way to use up holiday leftovers??
Best Thanksgiving Leftover Pie
What to do with all of your leftovers from holiday meals? Make a Thanksgiving leftover pie of course! So easy to make and everyone will love leftovers packed into a savory pie!
Ingredients
2

cups

mashed potatoes

3

cups

stuffing

2 1/2

cups

turkey or chicken, boneless, skinless

4

tablespoons

butter

1/3

cup

all purpose flour

1/2

teaspoon

pepper

1

teaspoon

sea salt

2

cups

chicken broth (no MSG)
for crust:
2

cups

all purpose flour, plus another 1/2 cup for rolling out and adding to pastry

1

teaspoon

sea salt

1/2

cup + 2-3 tablespoons

cold water

1/2

cup

shortening

I use half butter flavor and half regular Crisco
Instructions
Remove leftover stuffing and mashed potatoes from refrigerator.

Preheat oven to 425 degrees (or 400 convection), place rack on lower third of oven.
Make gravy:
Melt butter, add flour, whisk until smooth over medium heat. Slowly add chicken broth half cup at a time, whisk until gravy is smooth and thickened, about 4-5 minutes. Season with salt and pepper. Turn off heat and set aside.

Place 2 1/2-3 cups chopped chicken or turkey in gravy. Love sitting on stove top with heat off.
Make pie crust:
Place 2 cups flour in a medium size bowl. Add salt. Cut shortening into flour mixture until the shortening is pea sized, using a pastry cutter.

Add 1/2 cup of the water and fold the water into the flour/shortening mixture with a fork. This should take a few seconds. When the dough begins to come together, if it is still a little dry to form a ball, add a couple more tablespoons of water. You should be able to press the dough together into a ball.

Split the dough in half. Roll out half of the dough a floured surface, into a circle about 3 inches larger than the pie plate. Place the rolled out dough into a 9 inch by 2 inch deep pie plate.

Place 3 cups of leftover stuffing on top of the bottom crust. Top with 2 cups of mashed potatoes (it's okay if the mashed potatoes are crumbly!).

Add gravy and meat mixture on top of the mashed potatoes.

Roll out remaining dough and top the pie. Cut slits for steam to escape. Crimp edges, folding under to keep gravy inside of pie.

Bake for 40 minutes or until crust is golden and gravy is bubbly. Let sit for 10 minutes before cutting.
Recipe Notes
If you don't have enough leftover turkey, you may cook chicken or use chicken previously cooked. I cook frozen chicken for this recipe using this method: How to Cook Frozen Chicken in the Instant Pot
Don't increase the amount of stuffing or mashed potatoes by too much or your filling will be dry. The gravy to filling ratio in this recipe is just right!
You may use a store bought crust if you don't want to make your own. 
If you want to make this in a 9x13, roll out the pie dough to a rectangle and just fit the crust on top, no need to make a bottom crust!