How do you feel about white chocolate?? The Best White Chocolate Chip Cookies are soft, chewy and so tasty. Making an extra batch for the freezer is highly recommended!
White chocolate has been the subject of intense debate for years. Is it, or is it not chocolate? White chocolate is in fact, made from cacao or cocoa beans, same as dark and milk chocolate. White chocolate is made from the "extra cocoa butter that is extracted from the cocoa bean when making cocoa powder." This article in the Chicago Times/Washington Post is an excellent resource for education about white chocolate, including, is white chocolate really chocolate?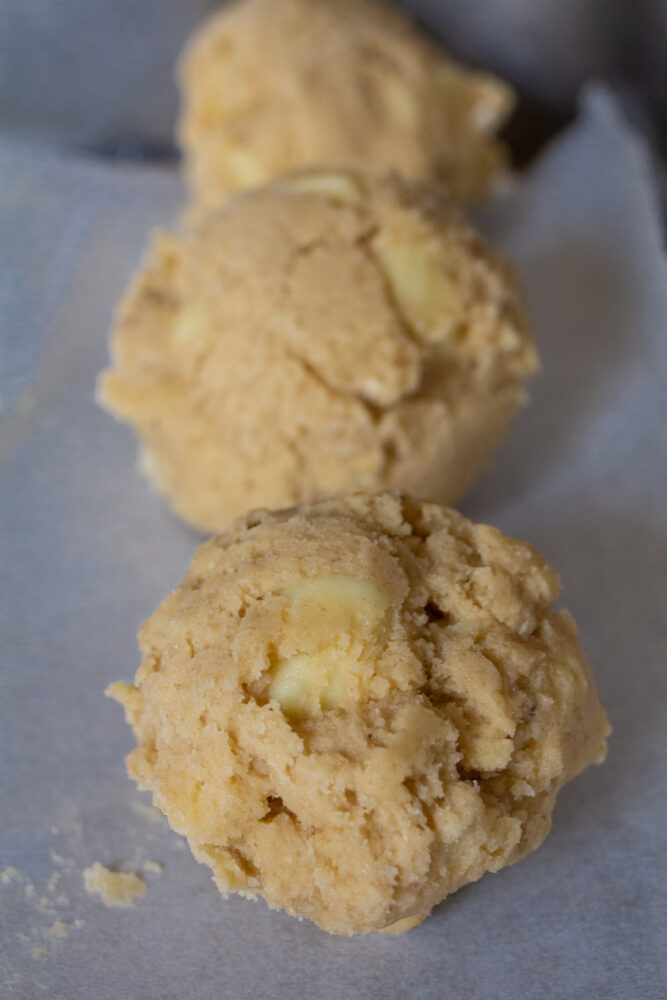 Look for these ingredients on the label when purchasing the best quality white chocolate: cocoa butter, sugar, vanilla, dry milk. Stay away from white chocolate that includes vegetable or other oils. In the US, I think Ghirardelli has the best quality white chocolate available at most grocery stores or on Amazon (although way more expensive). Lindt also has excellent quality white chocolate bars that can be chopped for this recipe!
This is a great recipe to have on hand if you want to a change from the usual traditional chocolate chip cookie! White chocolate combined with just the right amount of sweet and salt makes this cookie one to remember.
I added a bit of oatmeal to this dough which gives this cookie a unique texture. If you want to make a fun tray of treats for your next gathering, place rows of white chocolate chip cookies on a platter next to rows of traditional (dark or milk) chocolate chip cookies and see which go first. In my experience, the white chocolate are usually the first to be eaten! Even people who are admitted dark chocolate lovers can't resist this White Chocolate Chip Cookie.
My most important tips for making a delicious white chocolate chip cookie?
Use quality chips, or a good quality white chocolate bar, chopped. I like Ghirardelli Classic White Chips.
Do not overbake. Bake this cookie just until the top of the cookie is set and no longer looks wet or shiny!
Don't overmix the dough. Never mix on a speed above medium.
If the batter seems sticky, add another 2 tablespoons of flour OR refrigerate or freeze the dough for 30 minutes to an hour before baking.
Let cool completely on the baking pan before serving.
The Best White Chocolate Chip Cookies
If you love soft, chewy cookies you're going to love our White Chocolate Chip Cookie! This cookie is sure to be on your family favorite list. It's adaptable to many variations (see notes) and a recipe you will make over and over again!
Ingredients
1

cup

unsalted butter, softened*

¾

cup

brown sugar

½

cup

granulated sugar

2

large

eggs

2

teaspoons

vanilla

1

teaspoon

baking soda

½

teaspoon

baking powder

1

teaspoon

sea salt

if using salted butter, cut this amount to 1/2 teaspoon

2 ¾

cups

all-purpose flour

1/2

cup

oats

regular or quick oats, I prefer quick oats for this recipe

2

cups

white chocolate chips or one bag

about 12 oz or 2 cups chopped white chocolate
Instructions
Preheat the oven to 375 degrees and place the rack in the middle of the oven.

Place softened butter in a bowl with brown and white sugars. Beat on medium speed until the butter is incorporated with sugars.

Add two eggs and vanilla. Scrape down sides of bowl. Mix again on medium speed until smooth and there are no longer visible streaks of butter.

Turn off the mixer. Place all dry ingredients into the bowl with butter/sugar mixture. Pulse the mixture for a few seconds*. Or fold the mixture together using a spatula or large spoon.

Mix slowly just until flour disappears.

Using a cookie scoop*, place 6-8 scoops of cookie dough on each pan, spaced apart to allow for spreading of dough. Flatten the dough balls just a little bit with the palm of your hand.

Bake for 8-10 minutes at 375 degrees, or just until the top of the cookie is no longer wet or shiny looking.

Let cool completely on a baking sheet or carefully transfer to a cooling rack.
Recipe Notes
To soften butter, remove from fridge and microwave for 5-10 seconds or until it is barely soft. If you push your finger into the side of the butter wrapper, the butter should give a little but not collapse. You can also set it on the countertop (remove from box and wrapper) for 30 minutes before making cookies. Do not let the butter come to room temperature, it will be too soft and the cookies will not hold their shape while baking. If your butter is too soft, make the dough, shape into dough balls and refrigerate for at least 30 minutes or place in freezer for 30-60 minutes before baking. 
I generally use a scoop that holds 3 tablespoons, and measures about 2 1/4 inches across the top of scoop. This size yields about 18-20 cookies. 
Each oven cooks differently. If your oven cooks on the hot side, turn the temperature to 350 and watch the first batch to see how long they need to bake before the top crust forms on the cookie. If your oven is a little slow you may need a few more minutes. Watch carefully to determine baking time with the first batch.
"Pulse" refers to turning the mixer off and on quickly so the ingredients just start to mix together. I have found pulsing ingredients to be helpful when making many different baked goods. It allows the butter and sugar mixture to mix more evenly without getting overmixed. Pulsing also helps to prevent ingredients from spilling over the sides of the mixing bowl.
You may add 1 cup of chopped nuts to this recipe without making alterations.
If you are baking at sea level AND in high humidity, add 2 tablespoons of flour and remove 1 tablespoon of egg before adding to cookie dough.