Hi. I've been keeping this recipe from you for a couple of years, and it's time to share. The Best Yellow Cake with Chocolate Frosting is my favorite yellow cake recipe! It's moist, delicious and just the right balance of light and fluffy, with enough substance to stay on your fork when cut. It's so good, I know you are going to love it too!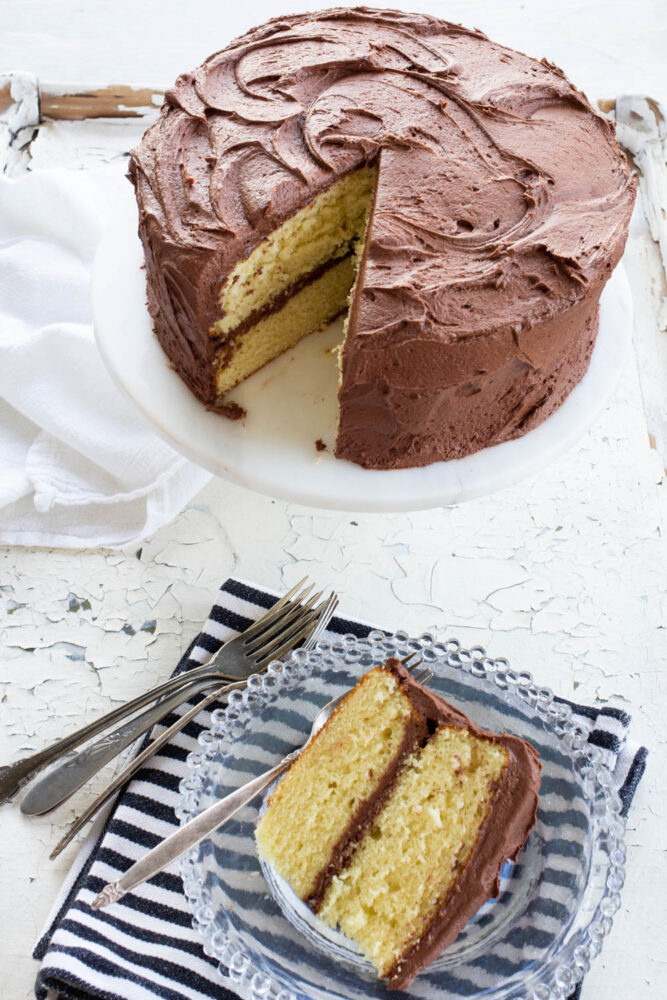 When I was growing up, my mom regularly made Duncan Hines Yellow Cake with a box of Jiffy chocolate frosting. I absolutely loved it. It was my favorite dessert. I loved yellow cake so much! For years, I have tried to create a homemade yellow cake I love, that is worthy of sharing with ABK readers.
This made-from-scratch yellow cake is the perfect balance of not too light, not too dense, and so tender. I want my cake to be fluffy, but not fall apart when it is sliced! I've found that in most homemade cakes, the formula for moist cake is a combination of oil and butter in the cake batter. It works like a charm in this recipe!
Butter gives this cake the best flavor and oil creates a tender crumb that just can't be duplicated with an all-butter cake. I believe a cake made with part oil and part butter has a higher success rate with most home cooks, and also helps the cake to have the perfect texture. When testing this recipe, I tried several combinations, and finally found the perfect combination of ingredients and method to create this yellow cake! This recipe is adapted from the America's Test Kitchen Yellow Cake recipe.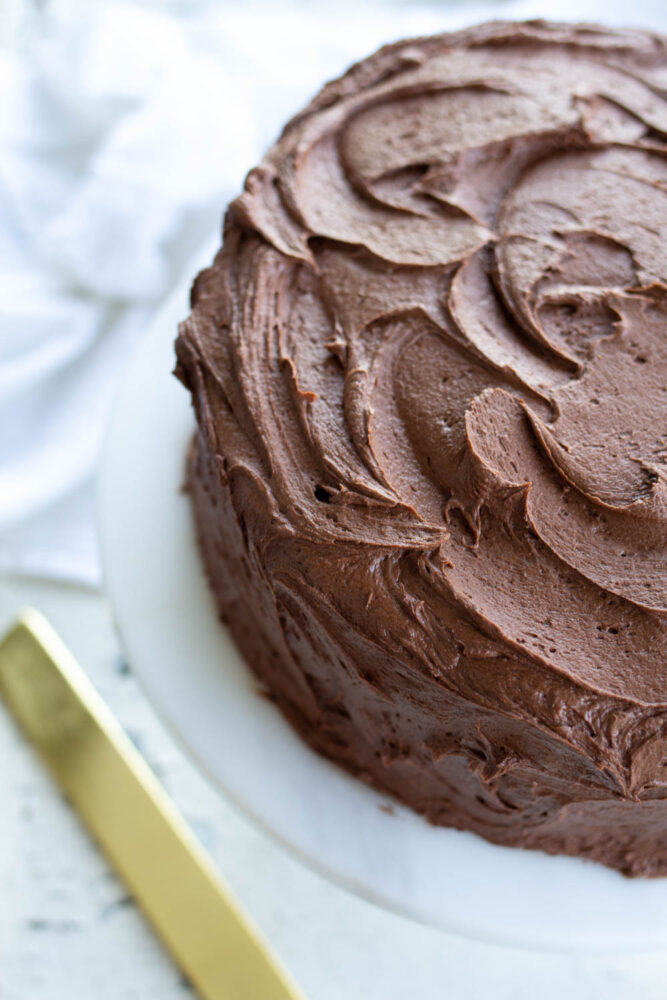 If I had to choose one cake to eat for the rest of my life, I'd choose yellow cake with chocolate frosting. I think yellow cake is the perfect compliment to chocolate frosting. This cake is over the top delicious, without being fussy or pretentious. It's the perfect cake for a family birthday or Sunday dinner. This cake is just as my mom used to make, with 2-layers, frosted and swirled, only it's my homemade version!
You don't need special ingredients to make a delicious homemade cake. Simple is best and I think quality ingredients and method are the most important factors to making an amazing homemade cake.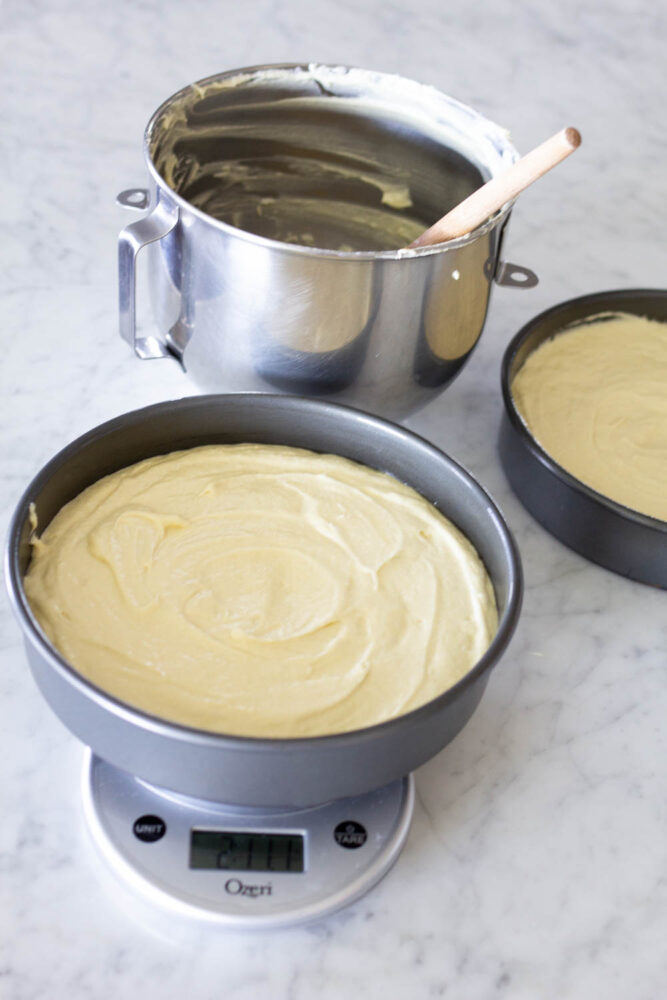 You can bake this cake in two-9 inch pans or one 9×13 pan. I prefer using 9 inch pans for this recipe. Three layers of 8-inch work too, but I like the ratio of frosting to the thickness of a 9 inch layer best!
Tips, ingredients and methods for making The Best Yellow Cake with Chocolate Frosting
Whipped whites make all the difference in this cake!
Folding in the egg whites instead of placing in the bowl and beating will contribute to a fluffy cake.
Make sure to generously grease and line the cake pans with parchment paper for easy removal!
Butter and oil are the perfect combination in this cake batter. The butter gives the cake excellent flavor and the oil contributes to the perfect crumb and moist texture.
Buttermilk is a key ingredient in moist cakes!
Cake flour gives this cake a tender texture.
Cracking and measuring the eggs makes a difference. Eggs vary in size, so measuring will give a more accurate measurement and ensure success!
Using quality pans with straight sides will make all the difference!
Baking time is extremely important. Stay close to the kitchen when baking cakes. In my oven this cake takes about 22-25 minutes in 9 inch pans. Some ovens will take less and some more. The cake should spring back when touched lightly; or when a toothpick is inserted in the center, the toothpick should have a few moist crumbs attached when removing from cake. Don't open the oven too many times! Be patient. Opening the oven will lower the oven temperature each time and cause the cake to fall.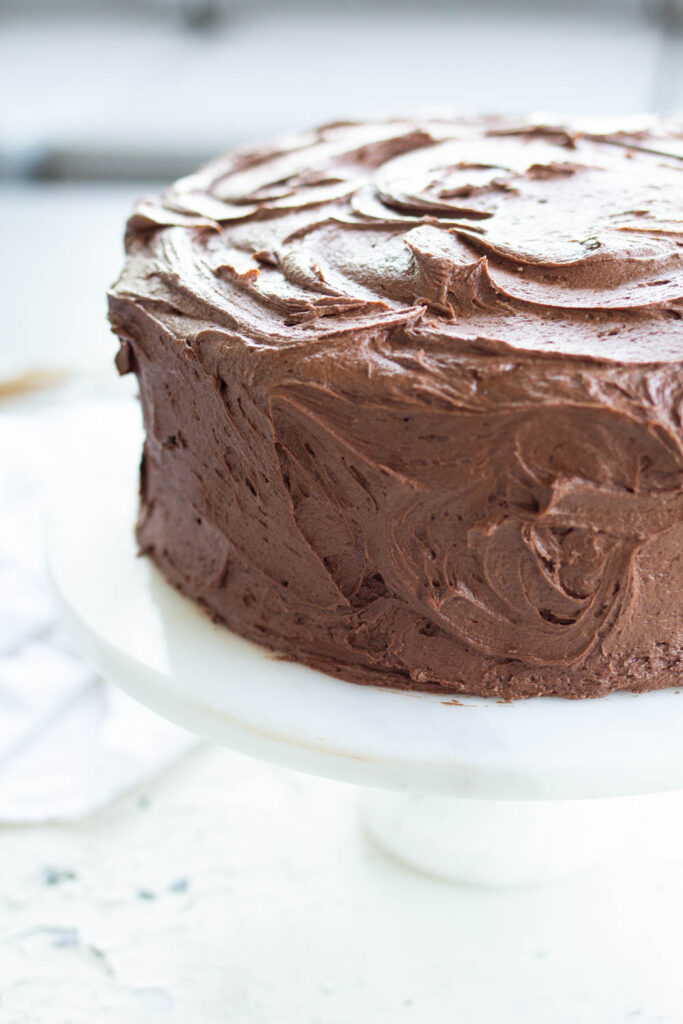 Tips for success when making a yellow cake:
Remember to assemble ALL ingredients before making. Read the recipe to the end. Make sure you have enough time and the right equipment before beginning. Then back up your time clock. If you have to take kids to a soccer game at 4:30, best to not start this cake at 4:00. Allow plenty of time to make, bake and remove the cake from pan to cool. Little things like reading the recipe, assembling all of the ingredients and allowing enough time will lead to success in the kitchen!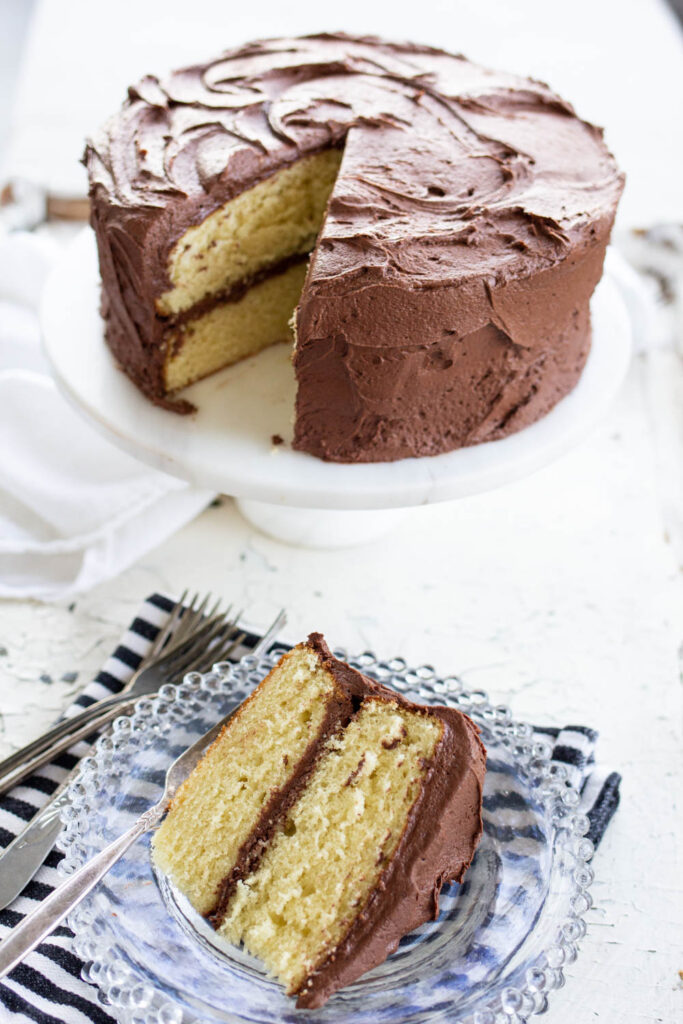 The Best Yellow Cake with Chocolate Frosting
Yellow cake and chocolate frosting are meant for each other. This recipe combines a moist made from scratch yellow cake with creamy chocolate frosting. Stays fresh for days and is the perfect family birthday cake!
Total Time
1
hour
10
minutes
Ingredients
4

egg whites = ½ cup whites

1

cup

unsalted room temperature butter

1 ¾

cup

granulated sugar

4

large egg yolks PLUS 2 whole eggs

total of 2/3 cup of egg

4

tablespoons

canola or vegetable oil

I do not recommend coconut oil in this recipe

1

teaspoon

vanilla

1

cup

room temperature buttermilk or substitute

see recipe notes

2 ½

cups

cake flour

1

teaspoon

baking powder

½

teaspoon

baking soda

½

teaspoon

salt
Chocolate Buttercream Frosting:
1

cup

unsalted butter, slightly softened

½

cup

unsweetened cocoa powder

1

teaspoon

vanilla

6

cups

powdered sugar

dash of salt

cream, milk or half and half to thin the frosting (about 2-3 tablespoons)
Instructions
*This recipe requires 6 eggs total, separated
Place the rack in the middle of the oven and preheat the oven to 350 degrees while preparing the cake. I let my oven preheat for a full 15-30 minutes before baking.

Grease and line two 9-inch round cake pans, three 8-inch pans or one 9×13 pan on bottom and sides. I also line the bottoms of the round pans with parchment paper to ensure the cake does not stick.

In a clean bowl of stand mixer fitted with wire whisk attachment, whip ½ cup of room-temperature egg whites at high speed until stiff peaks form. This usually takes about 1 minute or less. Scrape beaten egg whites into a clean bowl and set aside.

After removing the egg whites from mixing bowl, (no need to clean out bowl) mix butter with paddle attachment for a few seconds in the bowl. With the mixer on medium high, gradually add 1 ¾ cups sugar until mixed well. Scrape down the sides of the bowl.

Add 4 egg yolks plus 2 eggs (⅔ cup total egg) to the sugar and butter mixture. Mix for a few seconds, scrape down sides to ensure all ingredients are incorporated.

Add oil and vanilla to the mixture on medium speed. Scrape down the sides of the bowl again.

Add the buttermilk and all of the dry ingredients (cake four, baking powder, baking soda and salt) to the bowl. Mix on low until dry ingredients are no longer visible. Then mix on medium high for about 5 seconds. Turn off the mixer. Do not over mix! Remove the bowl from the stand mixer and place the bowl on the countertop.

Using a large spatula, gently fold the egg whites into the mixture in the bowl until the streaks of whipped egg whites no longer are visible. This takes a few seconds by hand. Pour the batter into prepared pans.

Bake until cake layers begin to pull away from the sides of pans and the toothpick inserted into the center comes out clean, 25-28 minutes.*

Cool cakes in pans on a wire rack for 20-30 minutes.
Chocolate Buttercream Frosting:
Place one cup of room temperature butter into bowl of a stand mixer or large bowl. Turn on mixer and blend until butter is smooth, about 20 seconds.

Add the unsweetened cocoa powder and vanilla to the butter and mix on low until smooth.

Add 3 cups of the powdered sugar to the bowl and mix on low, add pinch of salt.

Add remaining 3 cups of powdered sugar, a half cup at a time, alternate with cream or milk to thin the frosting. Scrape down sides occasionally. When all ingredients are incorporated, Beat frosting on medium high speed for 2-3 minutes until smooth.
Assembing the Cake
Place one layer of the cake on a platter or cake stand. Place a dab of the frosting on the middle of the plate before placing the cake layer on to help it stay in place.

Frost with about 1/3 of the frosting. Place the other layer on top. Frost the sides and then the top. Cake is ready to eat immediately, or will stay fresh for two days.

Cover the cake loosely with saran wrap or use a cake dome to store the cake. The cake does not need to be refrigerated.
Recipe Notes
Since egg sizes vary so much, and the amount of eggs in a cake are key ingredients, I measure the eggs after cracking for best results. See notes on recipe regarding eggs.
Make sure the eggs, butter and buttermilk are at room temperature.
If your eggs are cold, place in a bowl of warm water for a few minutes until at room temperature. 
Make sure the bowl used to whip egg whites and whisk are free of any oils, or the egg whites will not beat into stiff peaks!
I use a kitchen scale to weigh the batter in pans to make sure all layers are evenly distributed.
No buttermilk? Make your own substitute by pouring 1 tablespoon of lemon juice (fresh or bottled) or white vinegar into a one cup measure. Fill the measuring cup with milk. Let sit for 5-10 minutes on the countertop. You may also use ½ cup of plain Greek yogurt mixed with ½ cup of milk (skim or whole doesn't matter) whisk until smooth. This works best when the milk is at room temperature. If you don't want to wait, heat the milk up in the microwave just until room temp or barely warm, then proceed with instructions for making buttermilk.
No cake flour? Measure out one cup of all purpose flour into a bowl. Remove 2 tablespoons flour and replace back into flour container. Add 2 tablespoons cornstarch to the bowl with flour. Place the flour and cornstarch into a sifter or a small wire mesh strainer. Sift flour and cornstarch mixture together. Use as directed in recipe to equal one cup of cake flour. 
Each oven bakes differently. If your oven bakes hot on the top, lower the rack to the bottom third of your oven. If your oven bakes hotter on the bottom, raise the rack a bit. You may also need to adjust the oven temperature more or less 25 degrees. This cake may take as few as 20 minutes to bake and for some, closer to 25.