Turkey and Fresh Veggie Chili is a one pot wonder! Quick and easy and healthy too. Gluten free, dairy free and a great way to cut back on red meat, but still enjoy a filling meal.
This post was originally published January 2016 and has been updated.
Sugarbuttereggshamturkeypiecookiescookiescookiescandygravymashedpotatoesrollschocolatenutspumpkin is where I was living for the past two months. It's time to make an effort to eat something on the healthy side! This Turkey and Fresh Veggie Chili is our new favorite dinner. It takes minutes to throw together and is loaded with good for you ingredients.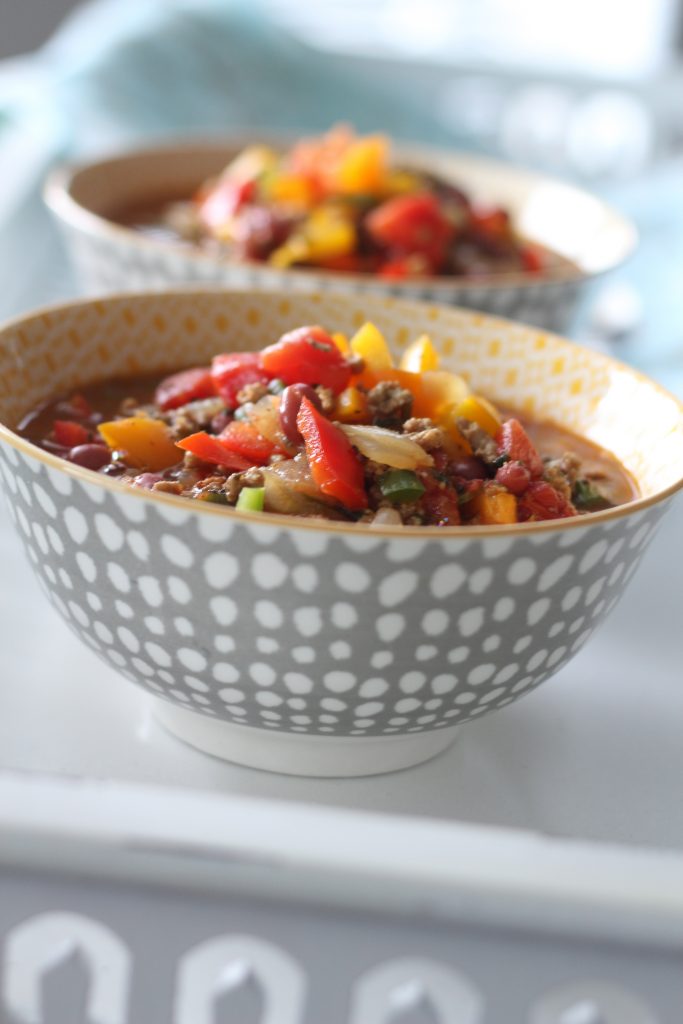 One item of interest, when I first published this recipe in January of 2016, I received so many comments from readers on Instagram saying they made this for their family and the kids LOVED it! I was caught by surprise thinking that adults would love this but the kids not so much because of the peppers, not true! There were many reports of families loving this recipe and asking for seconds.
We started off the new year with a little workout in the snow. Snowshoeing is something I love to do with Grant. It's beautiful and peaceful and so fun to be out in the snow and sun.
January is probably the most difficult month of the year to live in Utah. The Christmas let down has settled in and it's just plain COLD. The once beautiful snow is now coated with black along the sides of the streets and thick layers of ice are starting to develop in areas that don't see the sun. Ugh. One wonderful bright spot in the month of January is cozying up in the kitchen and making dishes that fill us up and keep us warm!
This Turkey and Fresh Veggie Chili is perfect for curing winter blues. Ground turkey? I'm usually not a huge fan, although I do LOVE this recipe for Ground Turkey Enchiladas which remains among my favorite enchilada recipes!
I was going for something healthy and simple, colorful and fresh in this recipe. The problem with ground turkey- it's kind of bland. You have to compensate with spices and flavors that really compliment the turkey. I choose many of the same flavors in the enchilada recipe mentioned earlier. Lots of fresh peppers, onions, garlic and cilantro make this turkey chili as appealing to the eye as it is to eat!
Instead of using a thickening agent that might add more calories, I whipped out one of my favorite kitchen tools, my immersion blender. KITCHEN TIP: I know. You're thinking I don't need that. I thought the same when my SIL gave me one years ago. In fact, it sat in the box, in my closet for about a year before I pulled it out one day.
The immersion blender is my secret weapon when I want to make gravy or sauces smooth without pouring into a blender. I use it all of the time for making dressings too. Stick it in the jar or bowl and pulse or blend. The beauty of the immersion blender is it can blend hot liquid without a mess or danger of the hot sauce spattering. If you don't have one, you can buy the same one I have here.
You can make this Turkey and Fresh Veggie Chili early in the day and leave it in a slow cooker on low (see notes on recipe), or it can be ready to eat in thirty minutes for a quick mid-week dinner. Either way, I know you're going to love it.