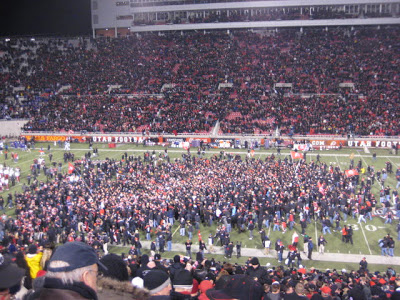 If you live in the state of Utah, you know that last week the Utah -TCU game was huge. Life changing. Ha. No, really it was. We needed that win. Some hotshot in the marketing department at the bookstore decided to come up with the idea to have a "blackout" game. Hype the fans up to wear all black to the game…For a school whose primary color is RED, that meant everyone heading to the bookstore and buying new black sweatshirts, hats, coats, etc. We bit… along with everyone else in the valley. By Thursday, it was rumored that there was not a speck of black left in the bookstore. I must say, it was an awesome sight, to see almost the whole stadium in black. We (along with our eternally optimistic friend Bob Lake) were hoping it wouldn't end up being appropriate dress for our own Ute funeral. In the end, the Utes came through AGAIN, with a touchdown in the last couple minutes of the game to win 13-10.
Last spring, Corrine made this yummy Blackout cake for a luncheon at work. I watched her make the pudding (which I think is the best part) and the cake, but wasn't able to see (or sample) the finish product.I thought this would be an appropriate celebration dessert for the most recent win! Blackout cake is printed in many different versions. I think there was a bakery -Ebingers? that was famous for a similar version of this cake. If you love dark, rich, chocolate desserts, get out your apron.
Utah-TCU Blackout Cake
Ingredients
Pudding:
1 1/4

cups

granulated sugar

1/4

cup

cornstarch

1/2

teaspoon

salt

2

cups

half-and-half

1

cup

whole milk

6

ounces

unsweetened chocolate

chopped

2

teaspoons

vanilla extract
Cake
8

tablespoons

butter 1 stick

1 1/2

cups

all-purpose flour

plus extra for dusting pans

2

teaspoons

baking powder

1/2

teaspoon

baking soda

1/2

teaspoon

salt

3/4

cup

Dutch-processed cocoa powder

1

cup

strong black coffee

I used de -caf

1

cup

buttermilk

1

cup

packed light brown sugar

1

cup

granulated sugar

2

large eggs

1

teaspoon

vanilla extract
Instructions
For the pudding:
Whisk sugar, cornstarch, salt, half-and-half, and milk in large saucepan. Set pan over medium heat. Add chocolate and whisk constantly until chocolate melts and mixture begins to bubble, 2 to 4 minutes. Stir in vanilla and transfer pudding to large bowl. Place plastic wrap directly on surface of pudding and refrigerate until cold, at least 4 hours or up to 1 day.
For the cake layers:
Adjust oven rack to middle position and heat oven to 325 degrees. Butter and flour three 8-inch cake pans. Whisk flour, baking powder, baking soda, and salt in bowl.

Melt butter in large saucepan over medium heat. Stir in cocoa and cook until fragrant, about 1 minute. Off heat, whisk in coffee, buttermilk, and sugars until dissolved. Whisk in eggs and vanilla, then slowly whisk in flour mixture.

Divide batter evenly between prepared pans and bake until toothpick inserted in center comes out clean, about 30 minutes. Cool layers in pans 15 minutes, then invert onto wire rack. Cool to room temperature, at least 1 hour.
To assemble the cake:
Crumble one cake layer into medium crumbs and set aside. Place one cake layer on serving platter or cardboard round. Spread 1 cup pudding over cake layer and top with another layer. Repeat with 1 cup pudding . Spread remaining pudding evenly over sides of cake. Sprinkle cake crumbs evenly over top and sides of cake, pressing lightly to adhere crumbs. Serve. (Cake can be refrigerated for up to 2 days)
STEP BY STEP:
Using your hands, crumble one cake layer into medium-sized crumbs.

Spread the pudding all over the top and sides of the cake.

Sprinkle the reserved cake crumbs all over the top and sides of the cake, then use your hands to gently press the crumbs into the pudding.
Recipe Notes
** Before baking, I  lined the cake pans with parchment paper.
** Make sure to leave plenty of time to prepare the pudding and let it cool completely. Also let the cake cool completely.
** This cake is best when left to sit in the refrigerator for at least 2-3 hours before slicing/serving.