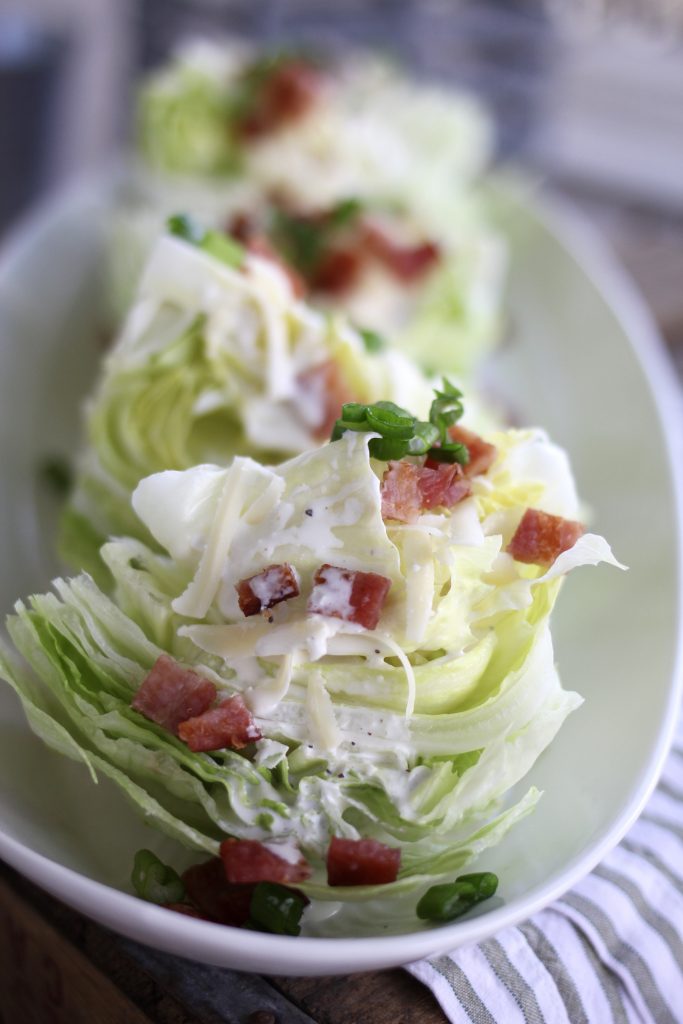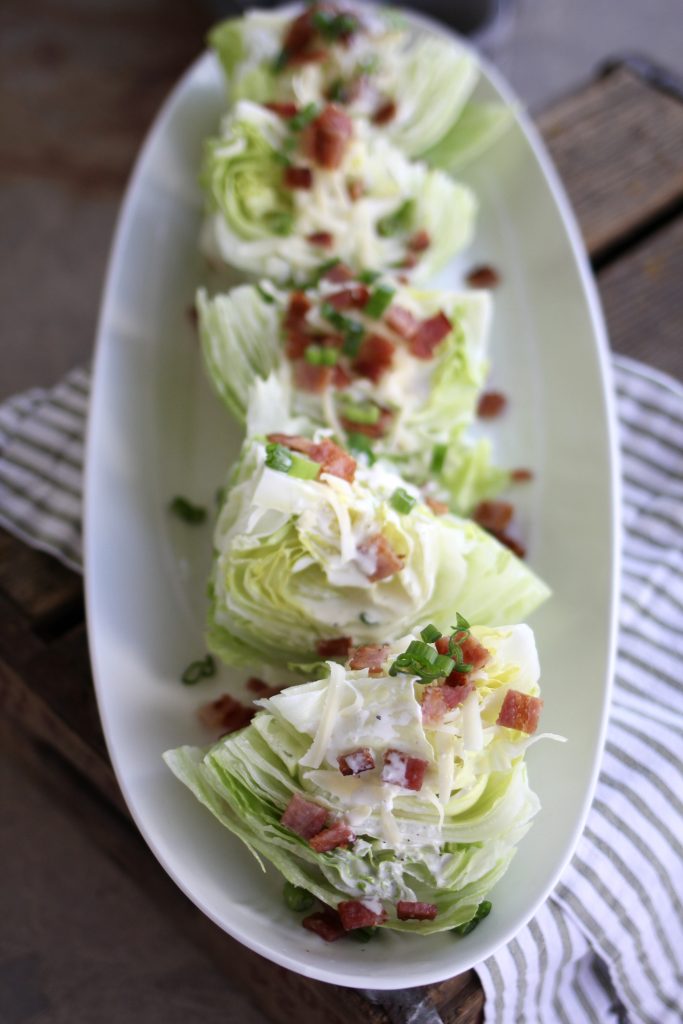 Hello 1970! The classic Wedge Salad with Green Onion Dressing.  I remember it being popular back when I was a kid. I loved that crisp little lettuce wedge, smothered with Blue Cheese dressing and topped with crunchy bacon (usually out of a bottle). It seemed very grown up then. Very special occasion-ish. The funny thing is, a wedge salad is the most simple salad you will ever make.  In. Your. Life.
A wedge salad consists of a head of iceberg lettuce, washed and drained. With dressing on top. That's it!  This wedge salad dressing is made with a few simple ingredients: buttermilk, mayo, garlic and green onions.  Throw everything in the blender for a minute and wow. Fresh flavorful dressing just like that!  If you want the dressing to be thicker, add a bit of sour cream or blend up some cheese in the dressing.
I like the addition of sharp white cheddar in the dressing, or sprinkled on top of the lettuce wedge. I've found that people either love or hate Blue Cheese. I happen to love it, my stomach does not. I had some White Cheddar  leftover from the White Cheddar Mac and Cheese I made  and thought it would add a perfect bit of cheesy bite to my s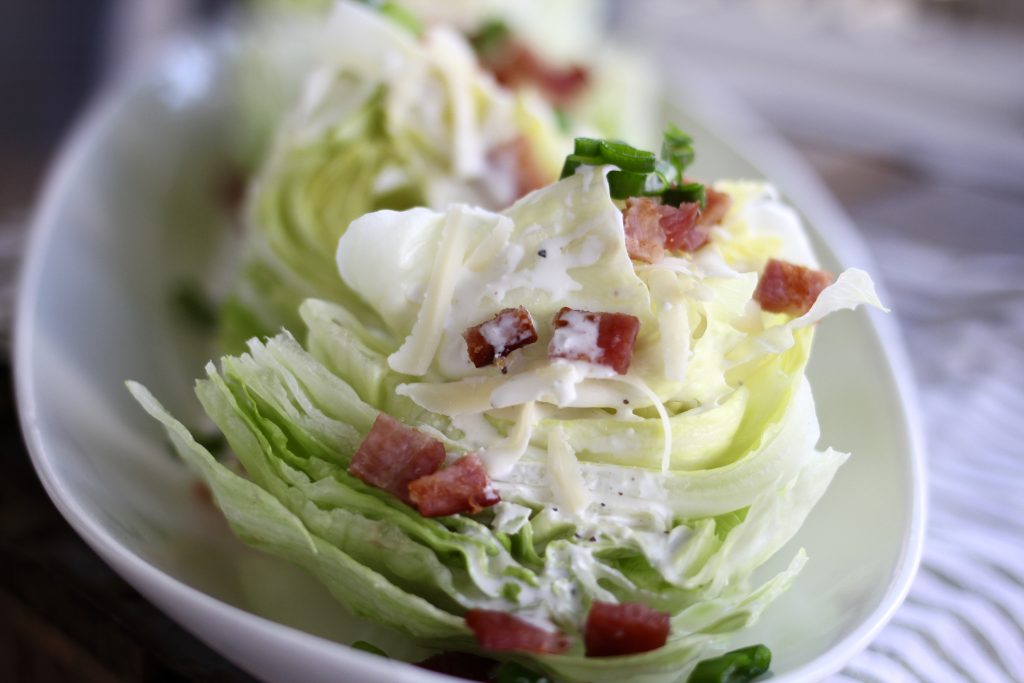 alad.
Wedge salads are like a blank slate.  The topping options are endless… bacon crumbles, nuts, candied nuts, chopped fruits such as apples, pears, even dried cranberries or chopped dried apricots. Wouldn't this be the perfect salad for your Father's Day bbq coming up??  Serve the salad on a platter, or individually on plates. Even the pickiest eaters will love this salad 🙂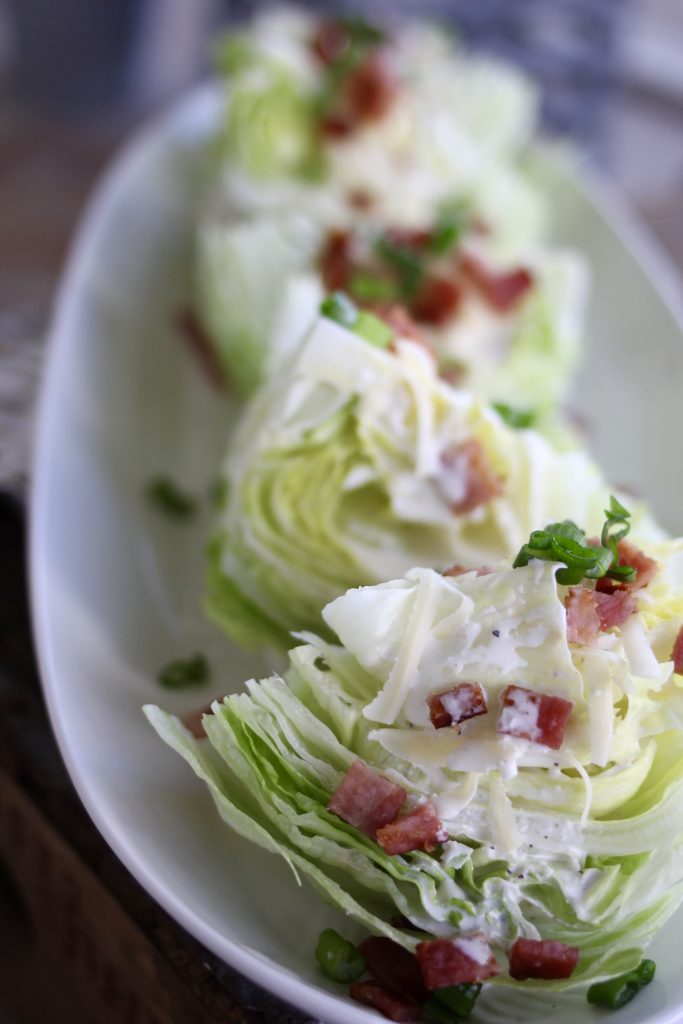 Wedge Salad with Fresh Green Onion Dressing
Ingredients
2

heads Iceberg lettuce

1

cup

buttermilk

shaken

1

cup

mayo

I used regular Best Foods

1

Tablespoons

Red Wine Vinegar

1

clove

garlic

minced or crushed

1

teaspoon

salt

1/2

teaspoon

pepper

4-5

green onions

about 1/3 cup chopped mostly white part of onion, save green for garnish

Green tops of onions

chopped

additional toppings: Grated cheese

crumbled bacon, dried fruit (Craisins, apricots etc), nuts.
Instructions
Remove one to two outer layers of lettuce leaves, discard.

Place the lettuce on a cutting board, cut off the stem end, discard.

Cut each head of lettuce in half, then quarter.

Gently rinse the lettuce under cold water.

Gently shake the lettuce leaves so the water drains into the sink.

Place the washed leaves onto a paper towel lined pan, cut side down. Let lettuce drain, change paper towel if necessary. Place in refrigerator.

Mix buttermilk,mayo, vinegar, garlic, salt, pepper and white parts of green onion in a blender on high speed until smooth. Refrigerate until ready to serve.

When ready to serve, place the lettuce wedges on a plate or platter. Drizzle with dressing, top with grated cheese, bacon, green onions, etc.