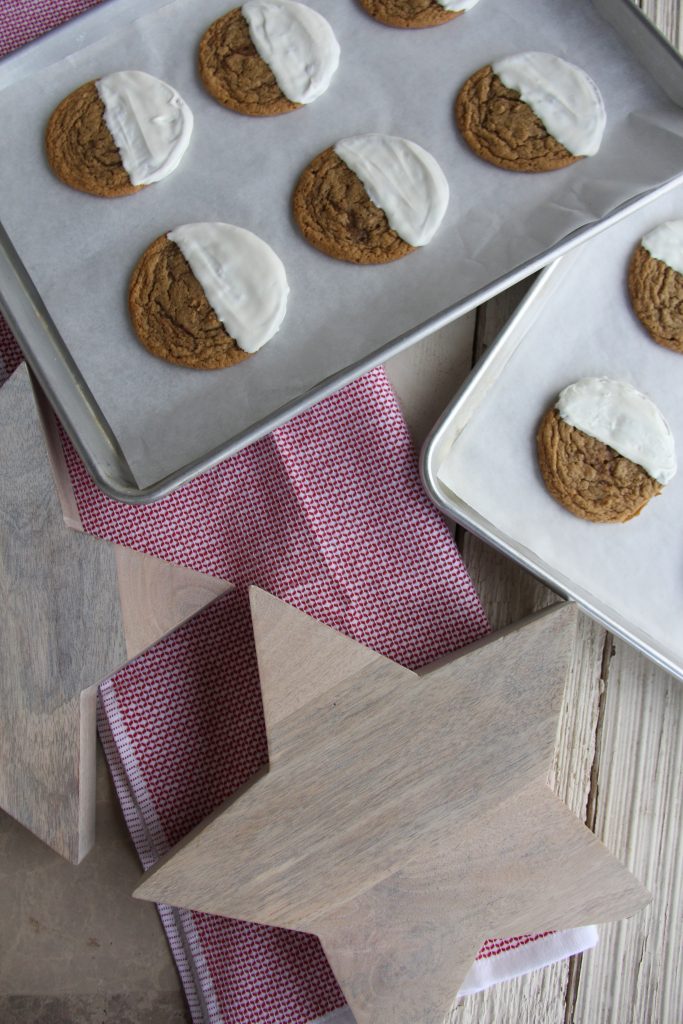 I've been making ginger cookies for years. Let's just say A Bountiful Kitchen has covered more than it's fair share of ginger cookie testing. I have all varieties on my blog, famous Frosted Gingerbread Cookies with Buttercream Frosting from Cutler's Bakery in Bountiful (not a copycat, recipe straight from Curt Cutler himself), Gingersnaps, so crisp and snappy you can stack them high on a plate. Want a Soft Gingersnap Cookie topped with sugar? Check. I love the Chocolate Ginger Cookie from last year… Oh can't forget the traditional shaped Lemon Gingerbread Cookies or Melinda's Gingercream Cookies with Brown Butter Icing ! The ginger cookie I made for years, without fail, and received recipe request after request is my Giant Ginger Cookie. Still love it.
A few years ago, my friend Laurie, who is famous for her Amazing Chocolate Cake, made some white chocolate dipped ginger cookies and brought them to a cookie exchange. I loved the combination of ginger and white chocolate in a cookie! I didn't ever get the recipe from Laurie, so I used a recipe I've been working on for a butter based ginger cookie and then simply dipped my cookies into melted white chocolate when cooled.
This is a cookie you'll want to put on your Christmas baking list year after year. These cookies stay soft and chewy for days. Really, for days! I left a few out on my counter overnight and they did not dry out. Oncovered. In the dry desert 🙂 Several days after being dipped… still soft and chewy. Hope you enjoy these soft and chewy cookies on your holiday cookie platter!