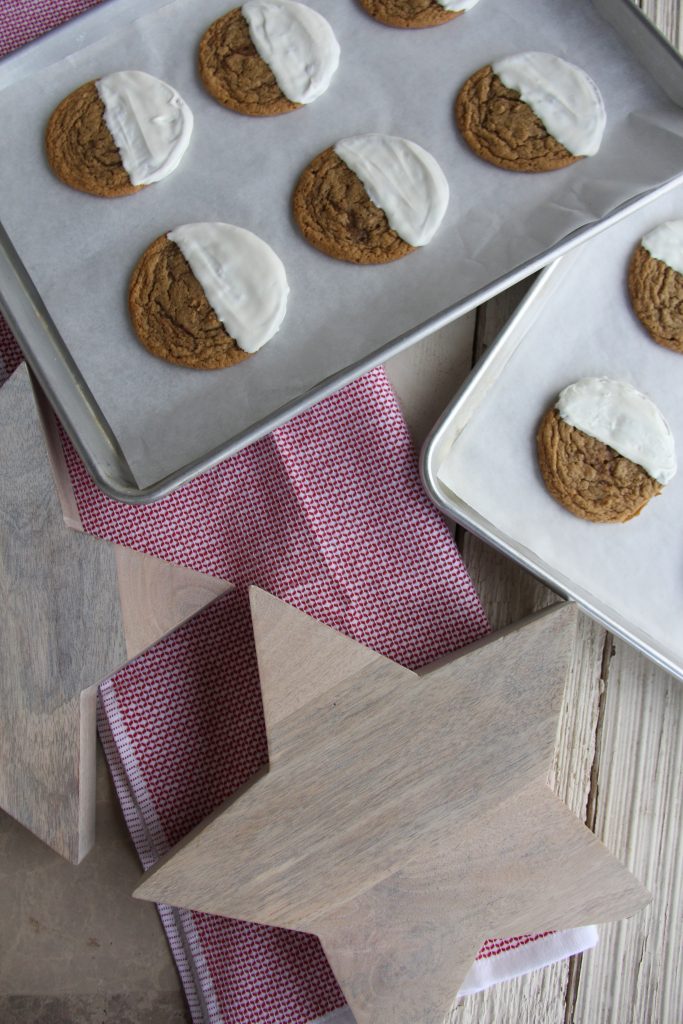 I've been making ginger cookies for years. Let's just say A Bountiful Kitchen has covered more than it's fair share of ginger cookie testing. I have all varieties on my blog,  famous Frosted Gingerbread Cookies with Buttercream Frosting  from Cutler's Bakery in Bountiful (not a copycat, recipe straight from Curt Cutler himself),  Gingersnaps, so crisp and snappy you can stack them high on a plate. Want a Soft Gingersnap Cookie topped with sugar? Check.  I love the Chocolate Ginger Cookie from last year… Oh can't forget the  traditional shaped Lemon Gingerbread Cookies or Melinda's Gingercream Cookies with Brown Butter Icing  !  The ginger cookie I made for years, without fail,  and received recipe request after request is my Giant Ginger Cookie. Still love it.
A few years ago, my friend Laurie, who is famous for her Amazing Chocolate Cake, made some white chocolate dipped ginger cookies and brought them to a cookie exchange. I loved the combination of ginger and white chocolate in a cookie!  I didn't ever get the recipe from Laurie, so I used a recipe I've been working on for a butter based ginger cookie and then simply dipped my cookies into melted white chocolate when cooled.
This is a cookie you'll want to put on your Christmas baking list year after year. These cookies stay soft and chewy for days. Really, for days! I left a few out on my counter overnight and they did not dry out. Oncovered. In the dry desert 🙂  Several days after being dipped… still soft and chewy.  Hope you enjoy these soft and chewy cookies on your holiday cookie platter!
White Chocolate Dipped Chewy Ginger Cookies
Ingredients
1

cup

unsalted butter

softened

1

cup

brown sugar

packed

½

cup

powdered sugar

2

eggs

½

cup

molasses

2 ¾

cups

all purpose flour

1

teaspoon

baking soda

1

teaspoon

salt

1

tablespoon

ground ginger

1

teaspoon

cinnamon

½

teaspoon

ground cloves

-----------------------------------------------

white chocolate for dipping cookies

about 2 cups
Instructions
Beat butter and sugars until smooth and fluffy, about 3 minutes.

Beat in eggs and molasses.

Add the flour and rest of the ingredients and mix just until the flour disappears and all ingredients are incorporated on low speed or by hand.

Using a 2 inch cookie scoop, or spoon, scoop the dough out into balls and place on cookie sheet lined with parchment paper, or lightly greased.

Place 6 cookies per pan.

Heat oven to 350 degrees and bake for about 10-12 minutes until cookies are set and a top crust has formed.

Cool completely.

When ready to dip, melt the white chocolate in a bowl over a double boiler on stove or in microwave.

If using microwave, heat for about 30 seconds at a time, to insure the chocolate does not overheat and burn.

Stir with spoon, heat just until chocolate melts.

Using a spoon, spread the melted white chocolate over half of the top of cookie.

Place on parchment paper or wax paper until chocolate is set and firm.