Are you thinking, really ANOTHER brownie recipe? I thought I'd share this one with you because it's such a great recipe for mailing to a loved one (service men and women, missionaries, students, etc). If you have ever tried to mail cookies (especially out of the country), no matter what you do, they never seem to make it all in one piece. Or if they do, they are just not quite as good as when they're first made. I sent these to my daughter  Brookie when she was in China, and she could not believe how fresh they were upon arrival 10 days after they were sent from the US of A. Here's the skinny…
These are super chocolaty, dense brownies. Follow the recipe and do not over bake. This is the first key to keeping the treat fresh tasting. Make sure to line the pan with foil and grease the foil before spooning batter into the pan. When the brownies are out of the oven, let cool, and remove from pan (by lifting foil out of pan) in one piece, cut brownies, and wrap the whole slab in foil and then slide into a gallon sized Ziploc bag.
Squeeze out all of the excess air. Place in freezer, and freeze overnight. When ready to mail, place in package with other items, on bottom of package if possible, with other items stacked on top, so brownies remain flat and in one slab in box. Mail the same day.
What better Valentines gift than a box from home filled with home made brownies?? Seriously, it doesn't get much better than this.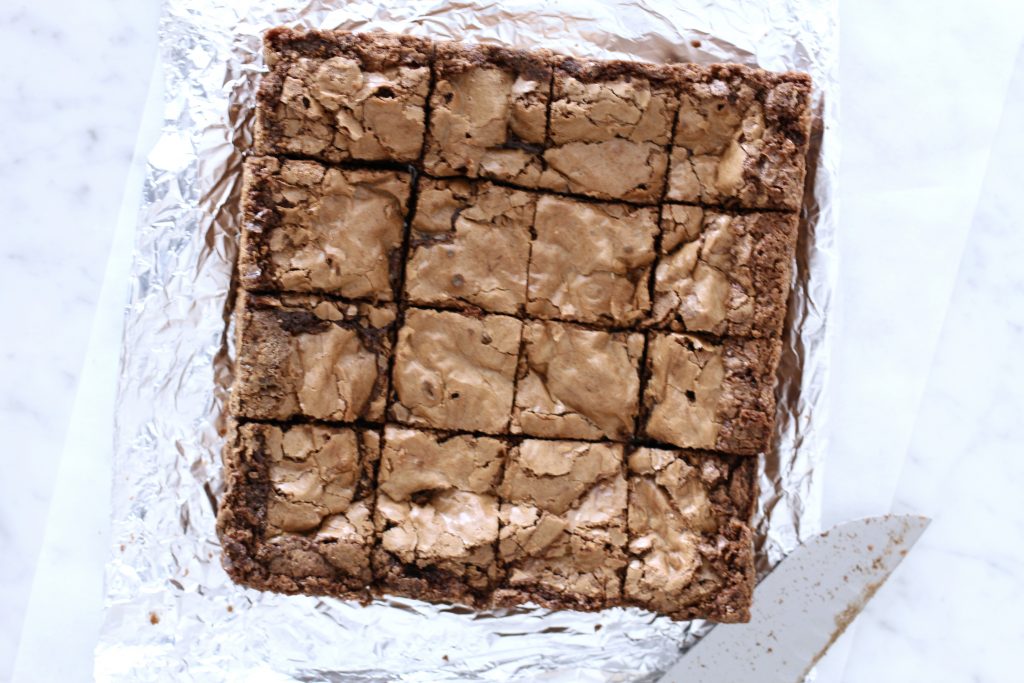 Williams Sonoma Triple Chocolate Brownies
Ingredients
8

Tbs.

1 stick unsalted butter, cut into 4 pieces

4

oz.

unsweetened chocolate

finely chopped

1 1/4

cup

sugar

Pinch

of salt

3

eggs beaten

at room temperature

1

tsp.

vanilla extract

3/4

cup

cake flour

3/4

cup

milk chocolate chips*

3/4

cup

white chocolate chips*

2/3

cup

nuts

optional
Instructions
Preheat an oven to 325°F. Line an 8 inch square pan with foil, grease foil.

In a saucepan over low heat, combine the butter and unsweetened chocolate. Heat, stirring often, until melted.

Remove from heat and stir in sugar and salt. Add the eggs and vanilla and stir.

Sprinkle the flour over the mixture and stir until just blended. Do not over mix.

Stir in the chocolate chips

Pour the batter into the prepared dish and spread evenly.

Bake until a toothpick inserted into the center of the brownies comes out with a few crumbs attached, about 25-35 minutes. Do not over bake. Transfer the pan to a wire rack and let cool completely. Cut into squares.
Recipe Notes
-You may use any combination of chocolate chips, milk, white or dark chocolate. A total of 1 1/2 cups total.
- I have also used 3/4 cups chocolate chips and an additional 2 tablespoons of flour.