This is most Wonderful Peach Pie you will ever eat! No runny, soggy mess in the bottom of your pie plate. Peaches cooked just right. Not too tart, not too sweet. Peach pie perfection! I've looked for years and experimented with all types of recipes. This is the last baked peach pie recipe you'll ever need.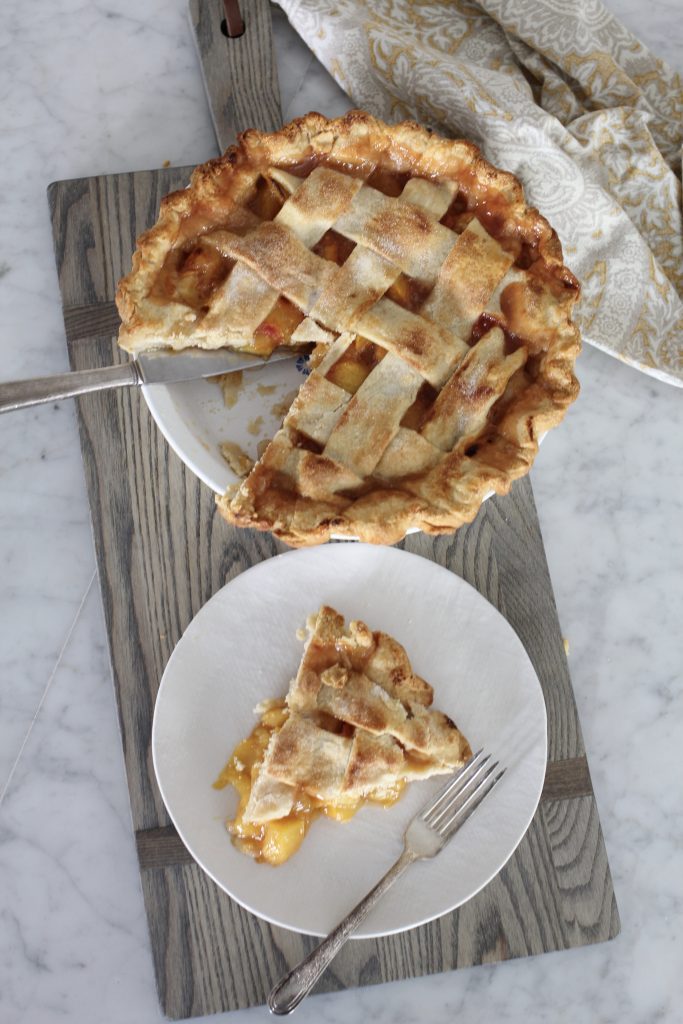 I cannot tell you how many times I have made peach pies only to be disappointed in the filling. I'm a peach lover. But I'm also a crust lover and it's a sad day for me when I make a pie and the crust ends up being soaked with peach juice. These are the type of things that keep me up at night! I'm serious.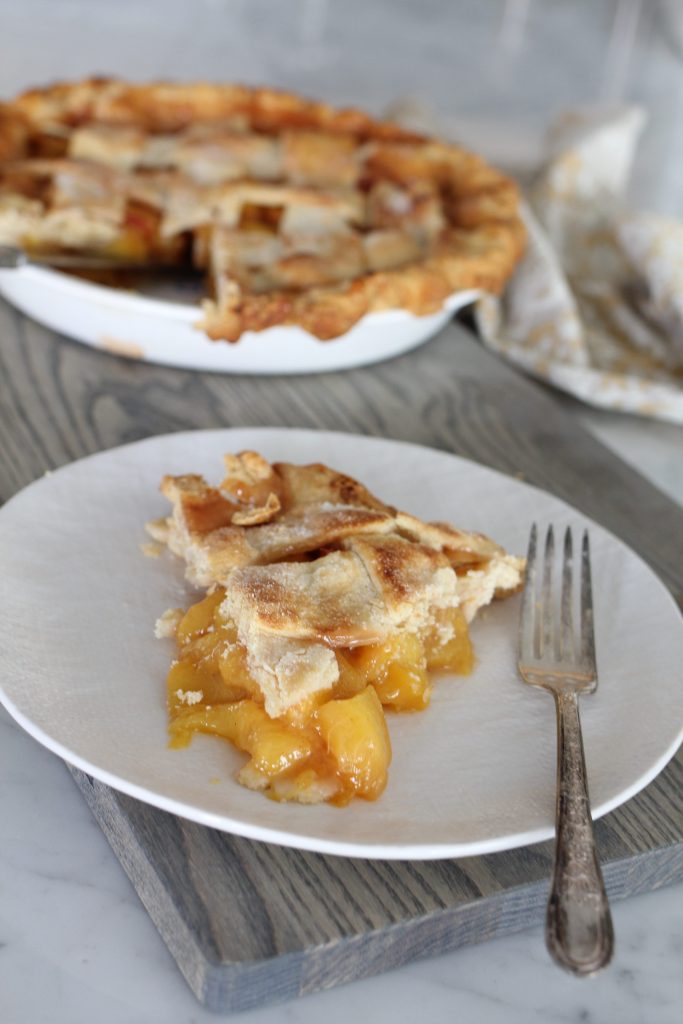 Years ago, I made a Peach Crumble from Cook's Illustrated. It is by far, the best peach crumble I have ever baked. It has a crisp and crumbly top and is loaded with peaches, sweetened just right. The filling is made using a method which extracts the extra juices from the peaches after they have been tossed with sugar (maceration), leaving them still juicy enough for filling, but not so juicy that they bake into peach soup. I thought about this a few days ago when I had a slice of peach pie that was amazingly delicious, but left the bottom crust a juice soaked mess.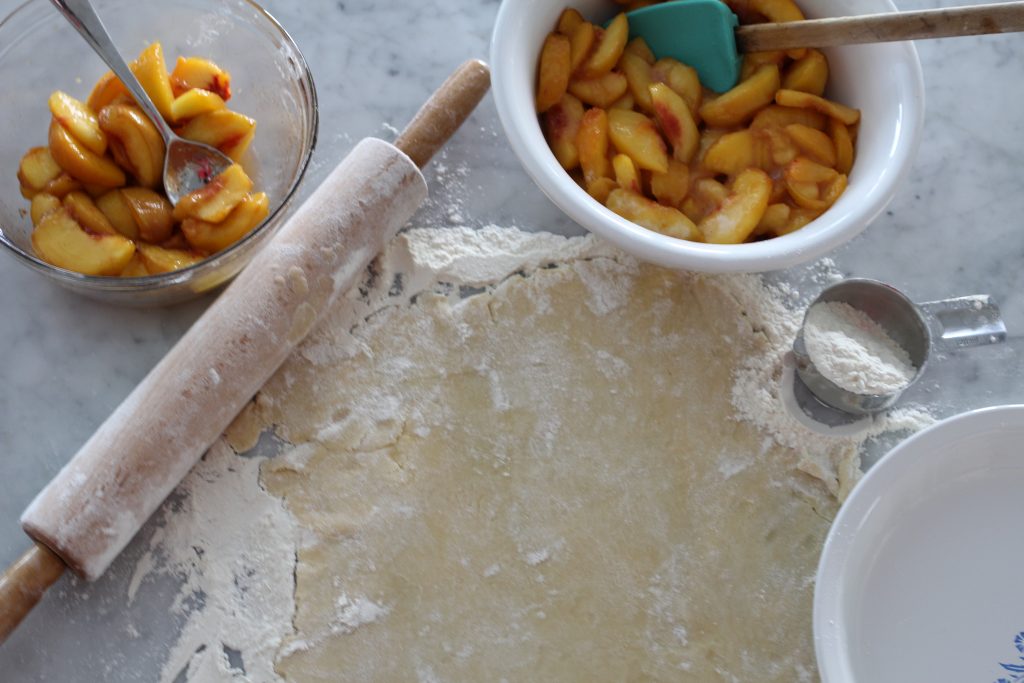 What if I used the same method in the peach crumble recipe for a peach pie?? I went to my archives of Cook's Illustrated recipes and found they had already taken the guesswork out of making the perfect peach pie, using, you guessed it, the same basic method used in Cook's Illustrated Peach Crumble. I went to work, using my own favorite Best Basic Flaky Pastry Crust recipe, which for 35 years has been my go-to recipe and made a few adjustments to their basic recipe.
When making a recipe for the first time, make sure to carefully read the entire recipe before you begin cooking! Read all of the instructions before making the crust. And all of the notes attached to the recipe. This is a big step toward success in the kitchen. Read and follow. Don't be intimidated by the length of this Wonderful Peach Pie recipe. I've included in depth instruction, to help you succeed. Broken down, the recipe includes a few steps: Making crust, preparing peaches, make the filling, put the pie together, bake. And wait. Make sure to wait the suggested time if you want the filling to set up. The sugars and fruit need time to settle and firm up. You can cheat and refrigerate after the pie has cooled on the counter for about an hour. Place the pie in the refrigerator uncovered on top of a jelly roll pan for about 2 hours or until completely cold.
Oh, and if you are looking for simple to follow tips on how to make lattice crust, take a look at this post…
I know you're going to love this recipe. I kept saying to Grant "Isn't that the best peach pie you've ever eaten???" "In your life??" He loves it when I ask the hard questions. I promise you will love this recipe. It is, by far, the most wonderful peach pie I have ever eaten.
In my life.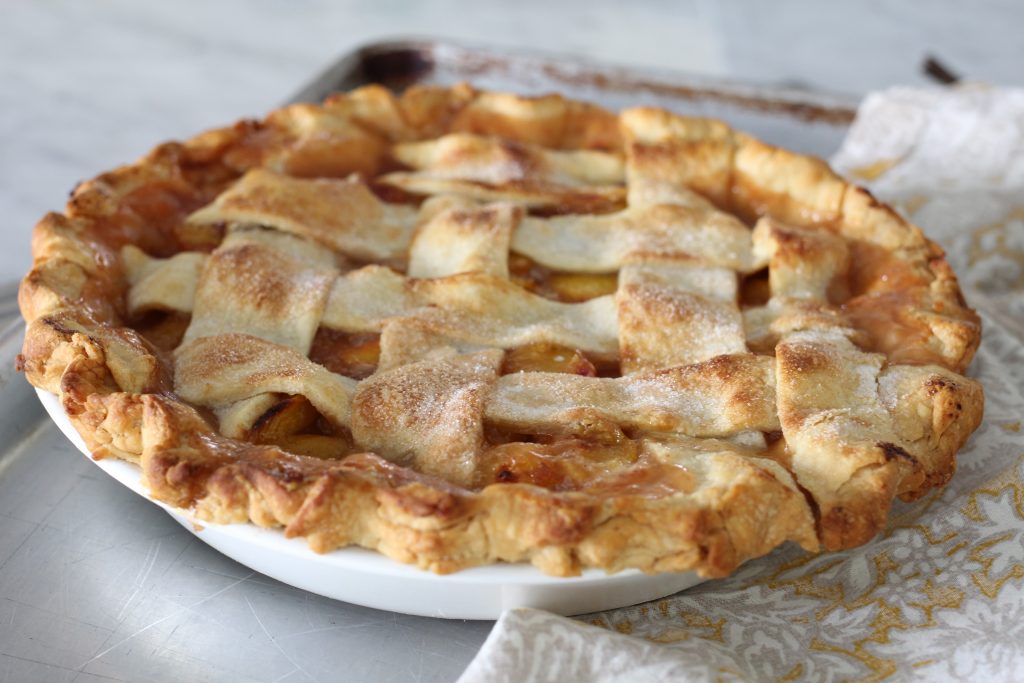 The Most Wonderful Peach Pie
Total Time
1
hour
45
minutes
Ingredients
4 1/2

lbs

about 6 cups sliced peaches, peeled, quartered, and pitted, each quarter cut into thirds

½

cup

3 ½ ounces plus 3 tablespoons sugar

1

teaspoon

grated lemon zest plus 1 tablespoon juice

pinch

of salt

2

tablespoons

fruit pectin

¼

teaspoon

ground cinnamon

Pinch

ground nutmeg

1

recipe Pie Dough see below

1

tablespoon

cornstarch

1

teaspoon

vanilla or almond extract

optional

1

egg for brushing over pastry

additional sugar for topping pie

1- 9

inch

shallow pie plate
Pie crust:
2

cups

all purpose flour

1

teaspoon

salt

1

cup

shortening

I use 1/2 regular and 1/2 cup butter flavor Crisco

1/2

cup

cold water

additional flour for rolling out

foil for covering sides of pie crust if needed
Instructions
For Pie Dough:
Place flour, salt and shortening into medium size bowl, or the bowl of a food processor, fitted with a metal blade. Cut the shortening into the flour and salt. If using processor, pulse a few times until the shortening and flour has a crumb type texture.

Add the water and mix with a fork or pulse until blended and dough just begins to come together.

Dust with flour and prepare to shape dough.

Prepare pie dough, split dough so a little over one half of dough is for bottom crust, and the remaining dough is for lattice top. This ends up being close to a 2/3 to 1/3 ratio.

Roll out bottom crust, fit into pie plate. Trim edges, leaving about a 1 inch overhang. Place the remaining dough into the dough ball for lattice top. Place the pie plate in refrigerator until ready to fill.

Place flour onto a cookie sheet and roll the remaining dough out onto cookie sheet. Try to roll into a square, approximately 11x11 inches. Using a butter knife or a pizza cutter, cut into strips of desired width, I like the strips to be about one inch wide. Set into refrigerator until ready to use.
For pie filling:
Peel the peaches and set into a large bowl. If the peach skins are difficult to remove, bring a pan of water to boil on the stove. place peaches into the water a few at a time for about 30 seconds. Remove from the boiling water with a slotted spoon to a bowl of ice water. The skins will easily slip off with the help of a paring knife.

Cut the peaches into quarters, and then each quarter into 3 slices. Toss peaches with 1/2 cup sugar, lemon zest and 1 tablespoon fresh or bottled lemon juice and pinch of salt . Let sit for 30 minutes.

Meanwhile, remove 1 cup of the peaches from the bowl and mash with a fork until a paste forms. The peaches should look similar to peach jam. Set aside until rest of peaches have macerated for 30 minutes in sugar.

Turn the oven on to 425 degrees and set the rack on the lowest level in the oven.

Using another bowl, Pour the peaches in sugar into a strainer and let the juice drain into a bowl or large measuring cup.

You should have at least 1/2 cup of peach juice at this point. Measure out 1/2 cup of juice. Keep the rest of the juice to add to lemonade or smoothies.

Place the drained peaches into a bowl and toss with 1 tablespoon cornstarch and 1 teaspoon of vanilla or almond extract if using.

Place the peach juice into a pan on stove. Whisk the peach juice and 2 tablespoons pectin together over medium heat. Add 1/4 teaspoon ground cinnamon and pinch of nutmeg. Cook until mixture starts to bubble. Whisk for about 3-5 minutes and mixture becomes less cloudy and has a clear appearance.

Remove from heat, pour pectin mixture over peaches in bowl and add mashed peaches.

Toss the peach mixtures together lightly. Add remaining 2 tablespoons of sugar, toss. 

Fill the crust with the prepared peaches. Top the peaches with strips of dough, alternating as the second layer of dough strips are placed on top in the opposite direction. See post for hints on making a lattice top.

Cut the edges of the dough strips so they are even with the bottom layer of crust overhang if possible. Gather the dough from the lattice top and the dough from the bottom layer of pie. Pinch together. Finish the edges of the pie by pinching the dough between your thumb and forefinger to make a pointed or rounded edge. Or simply press the dough to the edge of the pie plate with a fork!

Brush the top of the pie with beaten egg, if desired and sprinkle generously with sugar, about 1 tablespoon.

Place the pie on a thin cookie sheet or layer of foil in the oven on the rack. See tips for baking in notes.

Bake at 425 for 25 minutes, then lower oven temperature to 375 and bake for an additional 30 minutes. Pie is done when filling is bubbly and top is golden brown and has been baked for 60-70 minutes.

Remove from oven and let cool for at least 3-4 hours or let cool in refrigerator for 2-3 hours.
Recipe Notes
-Buy peaches that are almost ripe, if the peaches are overripe, they may be too juicy and soft for baking.
-I have not tried using frozen peaches, but they may work in this recipe. Cut while still partially frozen.
-If the amount of juice yielded form the peaches is not enough, you may substitute orange juice or apple juice for peach juice to haul 1/2 cup. Do not discard any extra peach juice! It is wonderful added to lemonade or added to smoothies.
-The Cook's Illustrated recipe calls for low or no sugar pectin, I use regular pectin, Sure Jell brand, which I believe has about 4 tablespoons per package.
-I'm guessing you could simply add 2 tablespoons of peach or apricot jam to the juice mixture and thicken in the pan if you don't want to use pectin. Basically, you are creating a home made jam with the juice and pectin at this point to help thicken the peach filling in the pie. if using jam, follow the same instruction for cooking 3-5 minutes.
-I have had best results when using a non convection oven, baking on the bottom shelf of the oven. Place the rack on the lowest possible shelf in the oven, without setting the rack on the floor of the oven. If your pie needs browning, set a rack near the top of the oven for browning purposes.
-I use a Convection BAKE setting in my oven which is designed primarily for pie baking. It circulates the heat to the bottom of the pan so it will brown the crust. I have a Wolf brand oven. If you have a similar oven, use the setting that displays a fan with the word BAKE after the fan. Set the rack to the lower third of the oven. and set heat to 375 Conv Bake. Bake for 20 minutes, then place a piece of foil around the edges of the pie (not covering the top of pie) and bake for an additional 30 minutes at 375 bake (not convection). This produced a perfect result for my pie. I don't particularly like to cover the top of the pie. It sometimes leads to steaming the pie and the crust will not stay as flaky and crisp on top.
-Do not place foil on the bottom of the oven. Many new ovens have a coating that will melt the foil onto the oven and will ruin the finish of the oven.
-I use a thin, old baking sheet placed under my pies while baking to catch any drips. I also occasionally use a piece of foil, which I place under the pie before placing in the oven. It is easier to handle the pie when the foil is placed under before placing in oven. I always turn the shiny side up for purposes of reflection toward the bottom crust. Again, be very careful about placing foil on bottom of oven.