Nothing says summer like a fresh berry pie! I love summer berries, but even more than a straight-up berry pie, I adore apples combined with berries. Our Apple and Fresh Berry Pie has a healthy dose of tart, along with sweet all encased in the flakiest pastry ever!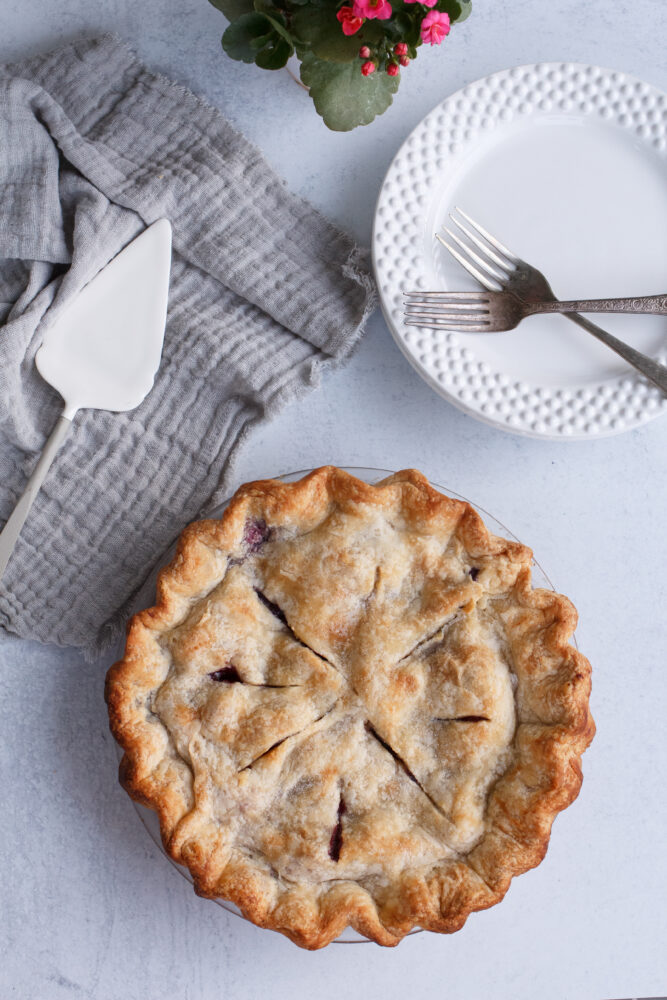 I crave berry pies, especially in the summer. Plump berries, baked in a flaky crust are a sweet summer indulgence! If I had to pick one pie to eat for the rest of my life, I think it would be apple pie.
Apple pie brings back so many memories of both my childhood, and the precious years when we had all of our kids living in our home. Those were the apple pie years!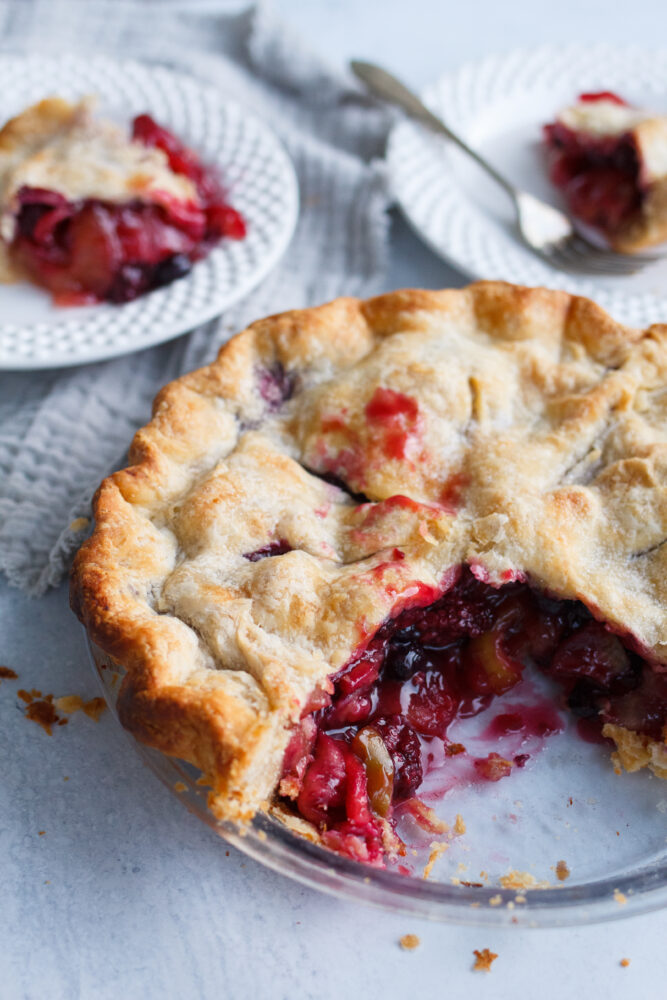 This pie combines the best of both worlds. Fresh cut apples, along with fresh summer berries bursting with flavor. I love to use Granny Smith apples in pies because they are super tart, no matter if they are paired with berries or alone, Granny's provide just the right amount of tart in a pie. Combined with blackberries, boysenberries, raspberries or sour cherries, the result is a perfectly tart and sweet filling that makes this summer pie worth every minute of preparation.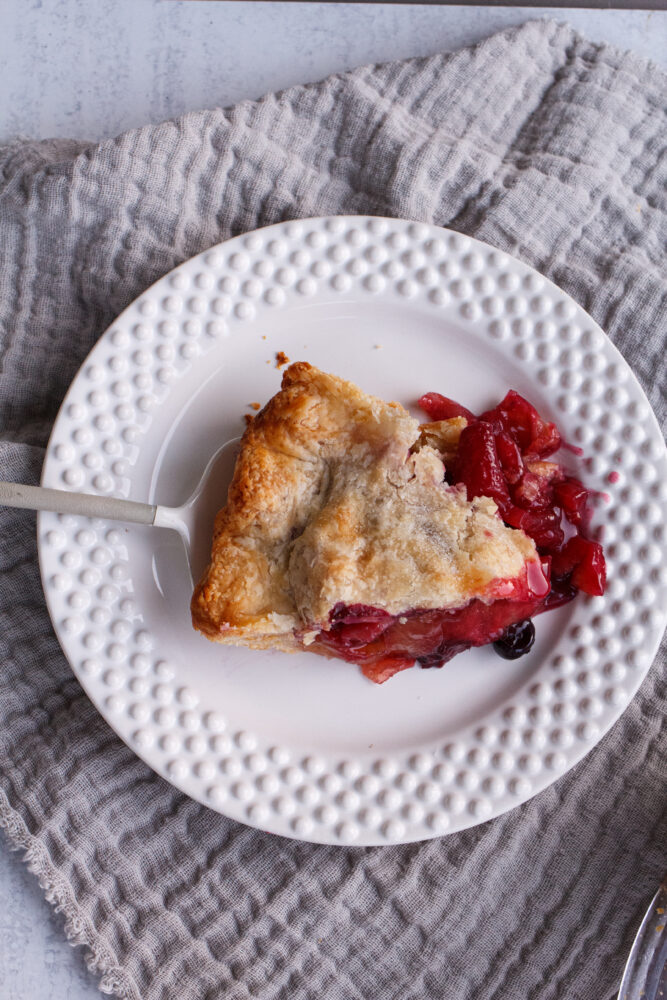 One of the problems I have found when baking fruit pies (especially using fresh berries) is, by the time the crust and is done, the berries are mush. This can also be a problem when dealing with any type of baked fruit pie.
I remedied this problem in our Apple and Fresh Berry Pie by first cooking the apples a bit before combining with the fresh berries. Since the apples take longer to cook than the berries, I cooked the apple slices on the stove top for a few minutes with sugar and then thickened the liquid a bit using a cornstarch slurry.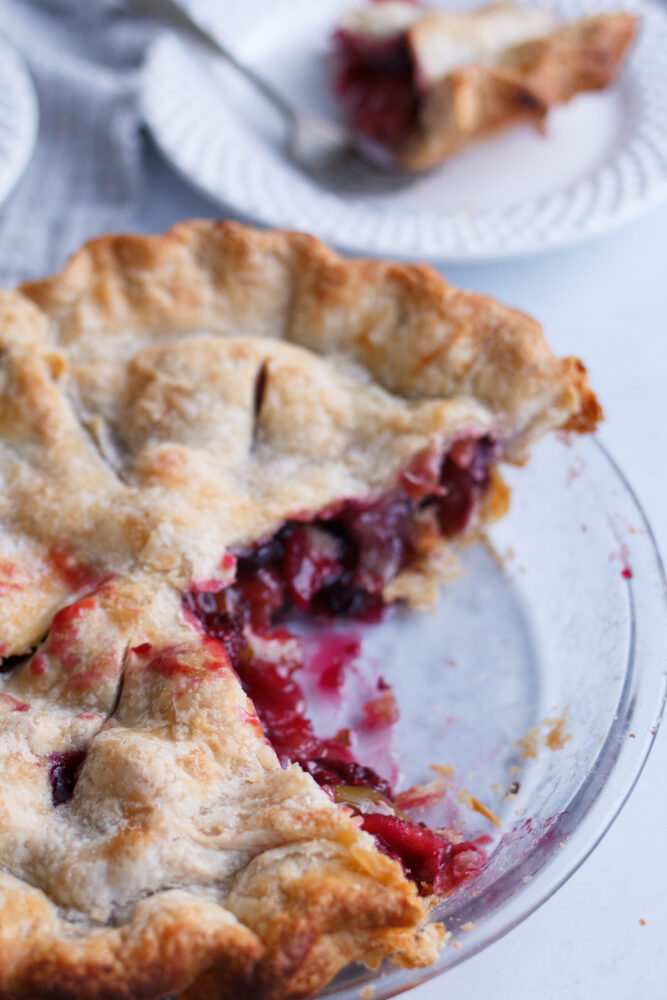 After the apples are cooked, the filling is cooled a bit. Then the fresh berries are added. When it's time to bake, the pie is baked at a higher than usual temperature to ensure the crust is baked to perfection without overcooking the filing. I found the best result when baking this pie for 45 minutes at 425 degrees.
The high temperature yields a bottom crust that is a beautiful golden-brown, as well as a perfectly done top crust. Berries that are more firm, such as boysenberries or blackberries stay whole, while raspberries lose their structure but still gave the pie a perfect tart and fresh fruit flavor! My favorite combination of berries for this pie are half-boysenberry or blackberry with half-raspberries. One cup of each.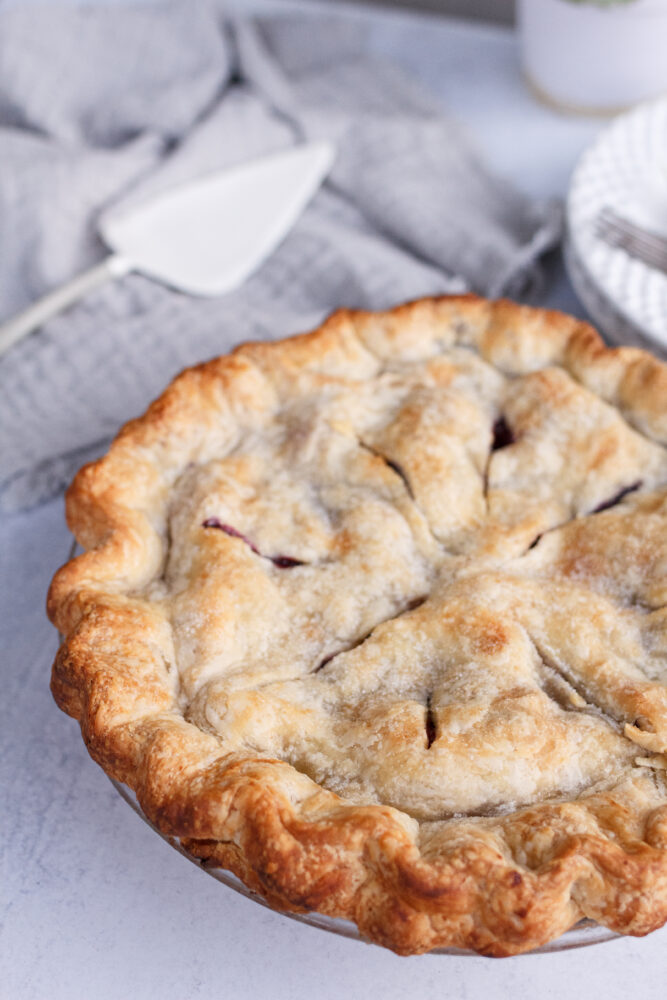 Solving the soggy bottom crust is always a concern. I have found three tips to avoid a soggy bottom, and in fact, result in a bit of a crisp bottom crust! This is our favorite pie crust recipe which I use in most of my double and single crust pies.
3 tips for perfect bottom pie crust:
Set oven rack on lowest shelf in oven.
Preheat oven for a full 30 mins before baking.
Bake at a high temperature. 425 degrees works well to cook bottom crust, while still brown on top and no issues with burning the top of the pie.
What you need to make Apple and Fresh Berry Pie
1 double crust pastry, prepared and refrigerated for at least 30 minutes.
Granny Smith apples 6-7 small
fresh berries 2 cups
1 cup sugar
1/4 cup brown sugar (omit if using sweet berries)
salt
cinnamon
1/4 cup water
1 tablespoon butter
3 tablespoons water + 3 tablespoons cornstarch
This pie is similar in flavor to my family favorite Apple and Fresh Cranberry pie. If you have cranberries in your freezer, you'll love our cranberry apple pie too. Don't wait until November to bake pie! I know you'll love this recipe. Happy baking my friends!
Apple and Fresh Berry Pie
This Apple and Fresh Berry Pie is perfect for summer! Cooked apple filling with fresh berries in a home made pastry. Baked to perfection at 425 for 45 minutes!
Total Time
4
hours
15
minutes
Ingredients
1-

double crust pie pastry

prepared, recipe linked in post

6-7

small Granny Smith apples or 7 cups peeled

cored and sliced

1

cup

granulated sugar

¼

cup

dark brown sugar

light works too, see recipe notes

Dash of salt

1

teaspoon

cinnamon

¼

cup

water

3

tablespoon

water

3

tablespoons

cornstarch

1

tablespoon

butter

2

cups

fresh berries

blackberries, raspberries, blueberries, marionberries, or tart cherries
Instructions
Early in the day, or 1-2 hours before baking, Prepare pastry in a 9 inch standard pie plate, (not deep dish) cover and chill for one hour or up to one day before.

30 minutes before baking, preheat oven to 425 and place rack on lowest level in the oven.

In a saucepan, place prepared apples, sugars, salt, cinnamon, and ¼ cup water on medium high heat, uncovered for 8-10 minutes stirring every few minutes to avoid burning or sticking to bottom of pan. The apples should be soft, but not mushy.

Pour 3 tablespoons cold water and 3 tablespoons cornstarch into a cup. Whisk until smooth.

Slowly pour into the pan with apples, cook for one minute until bubbly. Fold apples until sauce thickens and coats fruit. Remove from heat, stir in one tablespoon of butter while hot.

Scrape the fruit mixture into a shallow bowl to cool, stir and refrigerate for 15 minutes.

Gently fold 2 cups fresh berries into the apple mixture.

Pour the fruit filling into the bottom prepared crust. Top with pastry, seal sides of pie, crimp, and cut slits for steam to escape. Sprinkle lightly with sugar.

Bake at 425 degrees for 45 minutes on the bottom rack. the pie should be golden brown on top and the filling should visibly bubbly on top.

Cool for 2-3 hours before slicing.
Recipe Notes
Best to use a 9 inch pie plate for this recipe. Do not use a deep dish. 
If using a sweet berry, omit the brown sugar or only use 1 cup total of sugars. 
Make sure to wait 2-3 hours before cutting into the pie to avoid a soupy pie! This allows the filling to cool and set up. 
The pie may be cooled after an hour in the refrigerator if needed. Do not cover, just cool for an additional hour, remove and serve. 
To store pie, leave on counter top, do not cover.