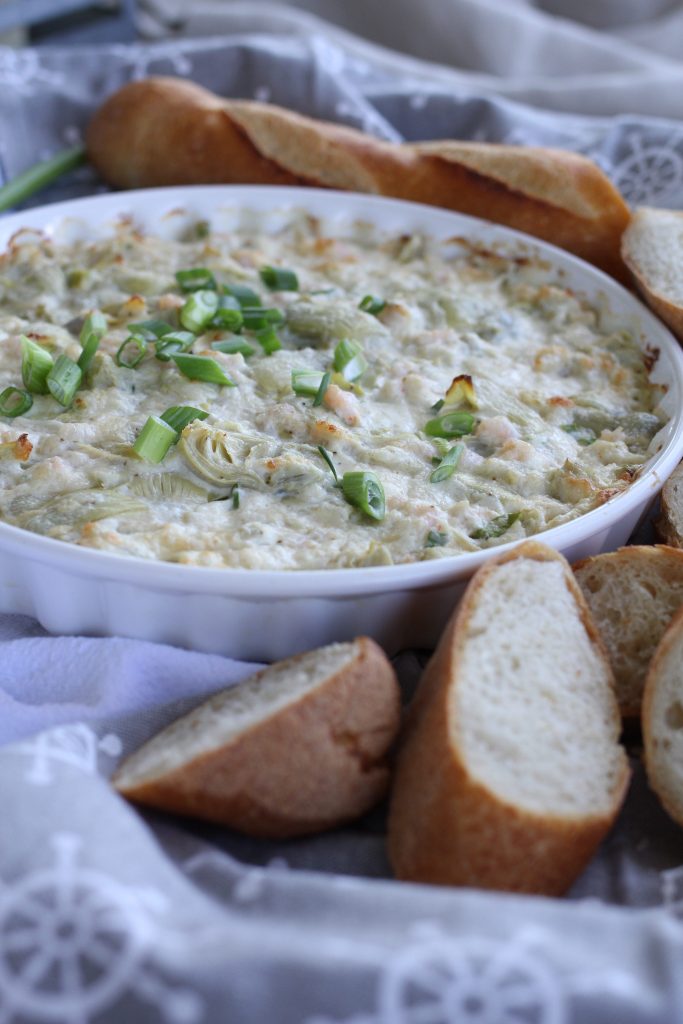 I took a trip to visit family in my hometown, Bremerton, WA recently and we were able to enjoy dinner at Anthony's on Sinclair Inlet. For starters, we ordered the Crab, Shrimp and Artichoke Dip. Let's just say I ate so much of the appetizer, it could have qualified as my entree.
What is it about gathering with family and friends and visiting your hometown that makes you want to eat at every spot that has any tiny bit of nostalgia connected? Needless to say, we enjoyed days of eating at fun restaurants, cookouts in backyards, ballgame watching and lots of stops for treats.
I'm a huge seafood lover and anything crab and shrimp are almost like dessert to me! When it comes to crustaceans I love to eat them baked, sautéed, deep fried…you name it, I love it. Add a little cream cheese and parmesan cheese and I'm in heaven! One taste of the Baked Crab, Shrimp and Artichoke Dip and I was planning how to make an at-home version.
The best place to purchase seafood in my inland town of Salt Lake City is Harmons Grocery. Harmons is the king of fresh seafood at grocery stores in Utah. I recently toured the Farmington location of Harmons Grocery and attended a lunch and personal Q&A session with Bob Harmon.
"Many of the fish and other seafood we enjoy are in trouble due to destructive fishing and farming practices. Which is why Harmons is now partnering with Monterey Bay Aquarium Seafood Watch to chart the course towards enjoying only sustainable seafood." If you'd like to read more about what Harmons is doing to promote responsible seafood sales and consumption, read this article .
When I decided to make the homemade version of Anthony's baked seafood dip, I headed straight to Harmons to purchase seafood. It's always fresh, always the best quality. I know you're going to love this Baked Crab, Shrimp and Artichoke Dip. I loved it served with a crusty baguette. Crackers or even cut up veggies are also perfect to serve with this dip. I made this for Father's Day and it was gone in a flash. It's creamy, rich and so quick and easy to mix up. I know you're going to love it.