After years of hit-and-miss Fettuccine Alfredo, I recorded my recipe for the Best East Creamy Fettuccine Alfredo you will ever eat! This delicious meal can be ready to eat in less than 20 minutes and is sure to please any picky palates in your home!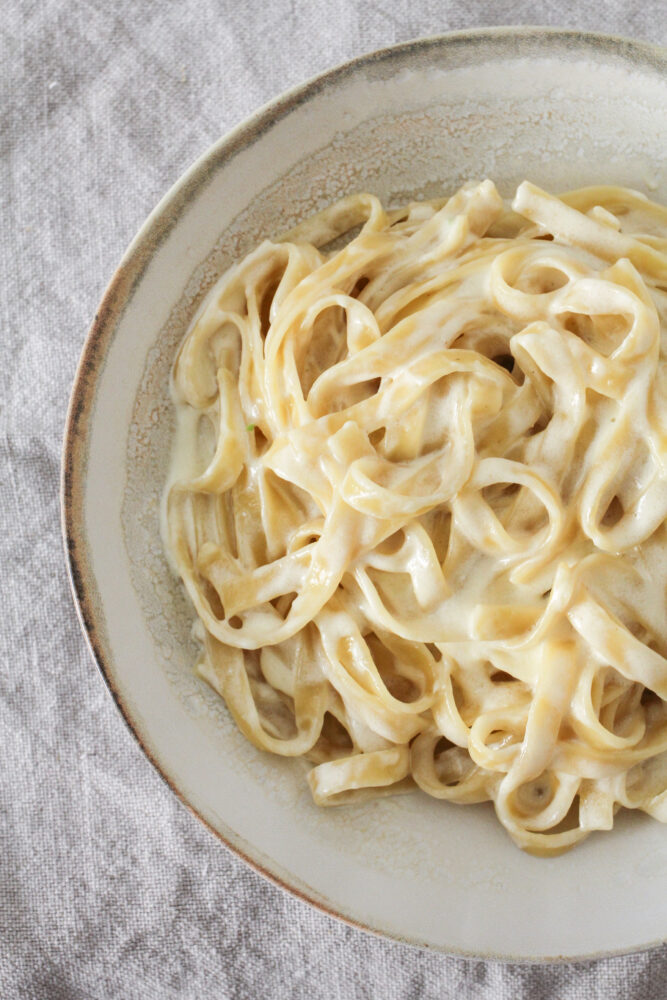 Basic ingredients for Best Easy Creamy Fettuccini Alfredo
The basic ingredients for Alfredo are usually the same. Butter. Sometimes garlic. Usually cream. Sometimes half and half. Always salt. Over the years, I experimented with flour in the sauce. In the early days, I tried margarine (yikes!) and even packets of Ranch Dressing mix!
I have tried making Fettuccine Alfredo with cream cheese as well. It was a little on the heavy side for me. The flavor was good, but it didn't taste like classic Alfredo sauce…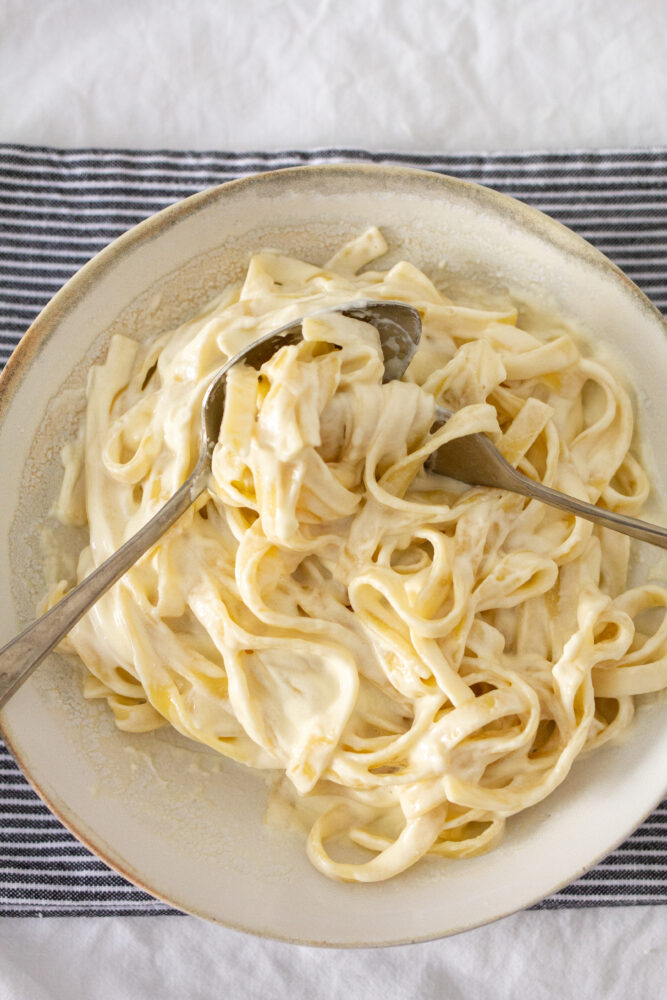 Can Fettuccini Alfredo be made without a recipe?
Creating the perfect Fettuccini Alfredo seemed to be an experiment every time I made it. I simply never took the time to find a method I loved and then stick with it. Finally, one day, I wrote down the measurements and exactly how I make it.
Like our Tried and True Chocolate Chip Cookie recipe, this recipe for Creamy Fettuccine Alfredo deserved to be recorded properly, once and for all! Recording the ingredients and proportions eliminates the guessing game every time.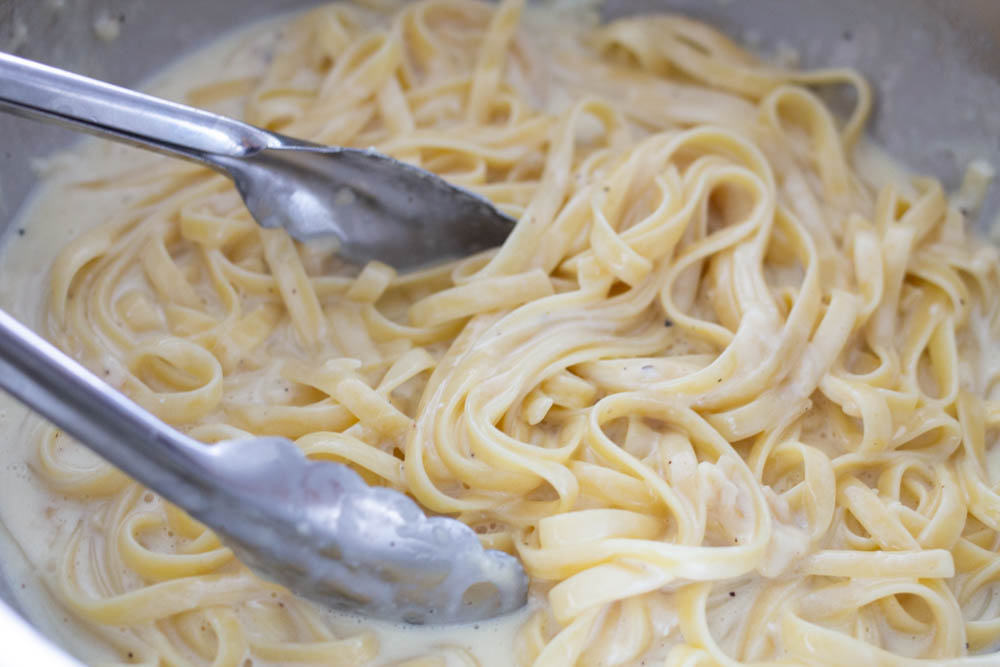 Authentic Italian Alfredo is made with only three ingredients: butter, Parmesan cheese and pasta.
The only problem with this combination? Unless you are an experienced cook, I feel it is really easy to end up with a ball of pasta that sticks together and seems very greasy.
That's where heavy cream comes in. Using heavy cream helps prevent issues with the pasta sticking together and creates a creamy delicious dish of pasta.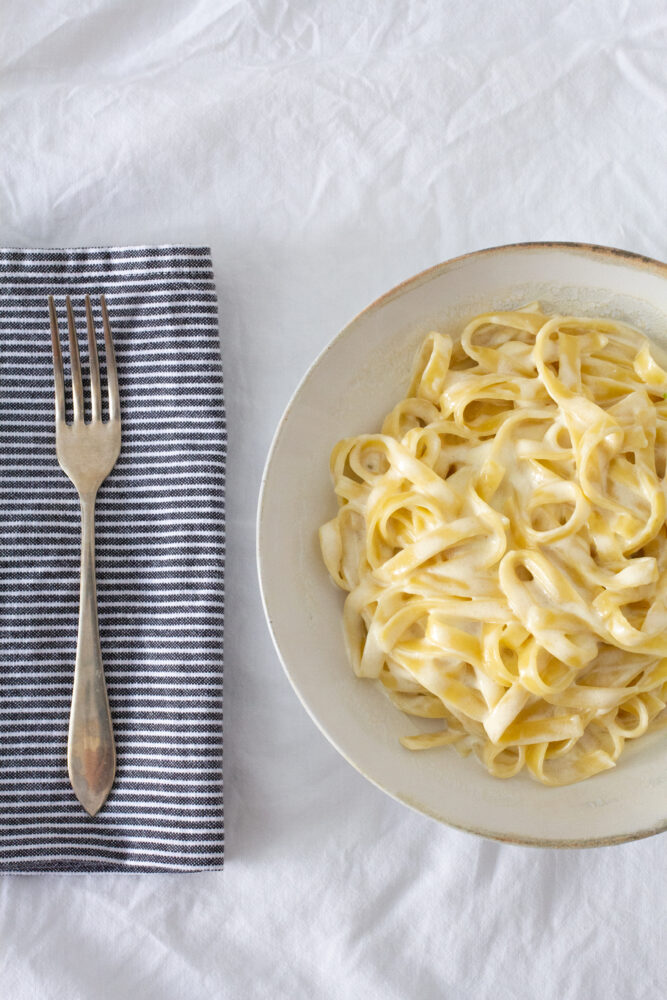 Simple recipe and method = best results
Fettucinni Alfredo is a simple recipe. I've come to know over years of cooking, the simple recipes are most often the best recipes. I believe that's true with our Best Easy Creamy Fettuccini Alfredo recipe.
One of the best kept secrets to making delicious pasta sauces is to use the pasta water. I first learned about pasta water being the secret to excellent pasta sauce way back in 2011 in this Pasta Pomodoro post!
Basic Ingredients for our Best Fettuccini Alfredo:
I'm going to give you the best option, and then the "use what you have option"…
Start with unsalted butter. If you can afford it, spring for a brand such as Kerry Gold. If not, use what you have in your fridge. Unsalted is best because you can control the amount of salt in your recipe!
Fresh garlic is also a key ingredient in this homemade Alfredo sauce. Buy a bulb of garlic, pull off a clove and mince it yourself. It takes seconds to crush and mince a clove of garlic!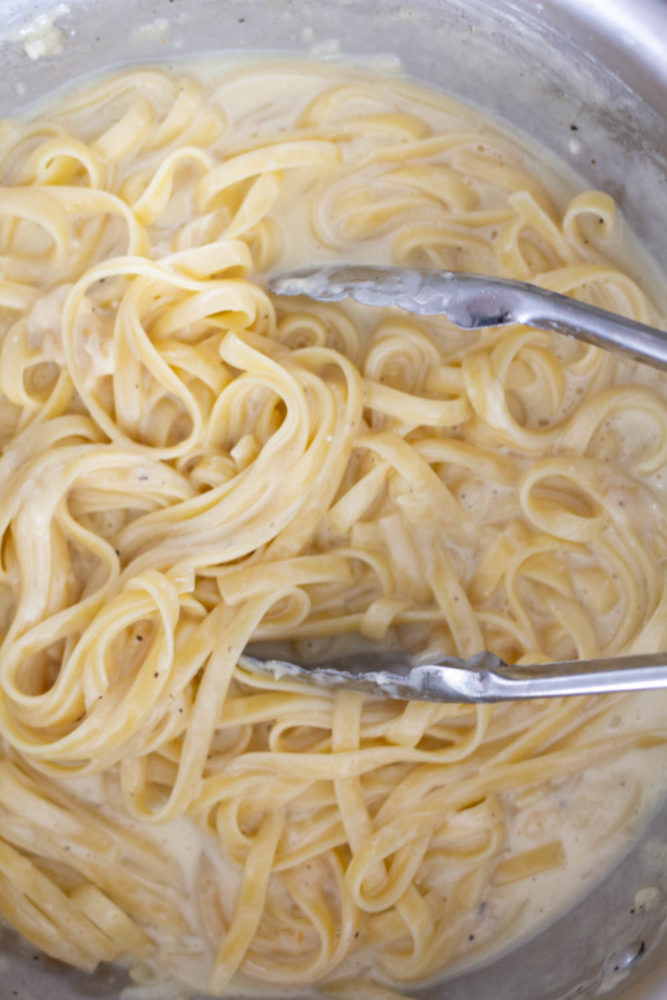 Heavy Cream is a must, and highly recommended in Fettuccini Alfredo. I experimented with this for years before realizing the best creamy Alfredo sauce is made with heavy cream. Using flour to thicken the sauce gives it a different texture.
If you can't get your hands on heavy cream, you can use 2 tablespoons of flour sprinkled on the melted butter to make a roux. Cook the flour and butter over medium, whisking while cooking, then add milk or half and half. Not quite the same as heavy cream, but it works in a pinch!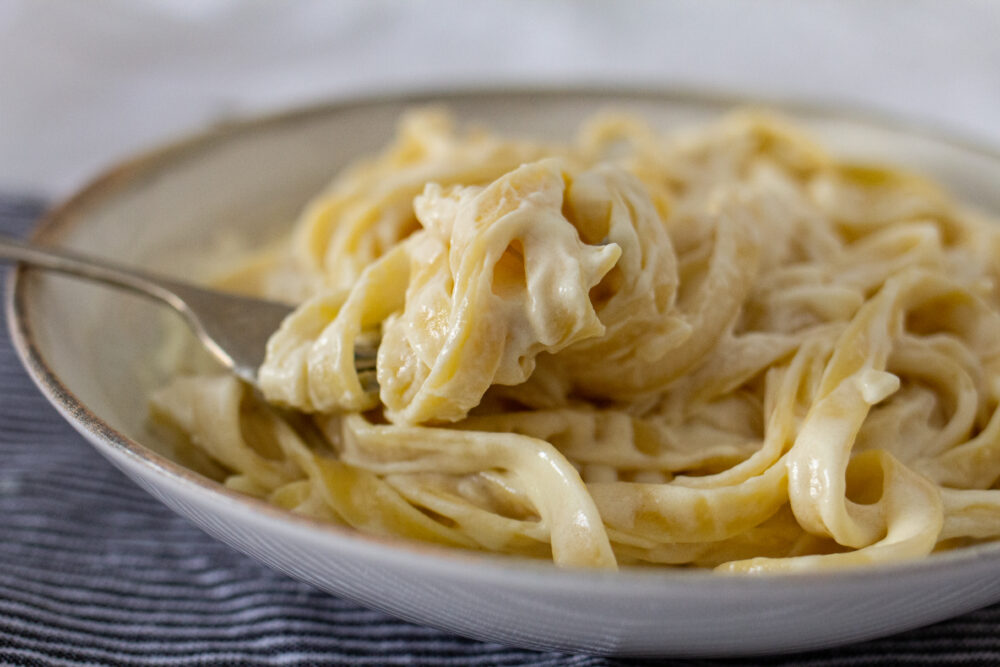 Fresh grated Parmesan Cheese is also key in Alfredo sauce. I am a big fan of buying large bags of shaved Parmesan from my favorite big box store for many recipes. BUT, I will say that it does not melt quite the same as if you grate it yourself. If you have Pecorino Romano, that works as well.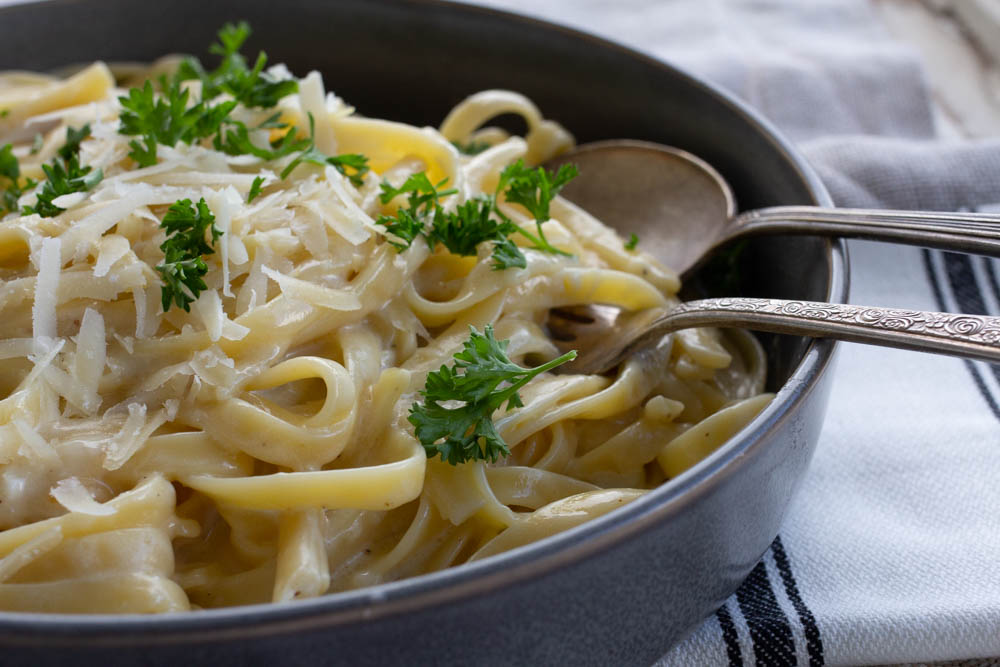 Why grate it yourself? Any type of cheese sold pre-grated contains additives or a process to remove moisture to keep the cheese from sticking together. These additives also inhibit the cheese from melting.
If you have a choice, grate it yourself. If not, pre-grated will work! Pre-grated is better than going without. Cheese in the green can is not recommended. I have used a microplane grater for years to grate Parmesan Cheese!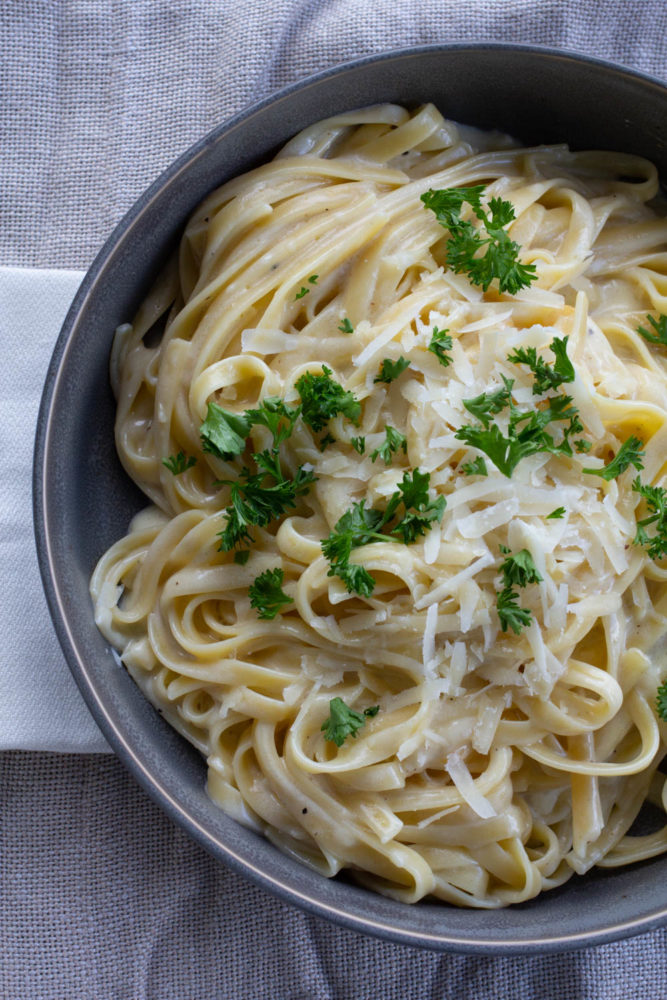 Pasta. There are countless options when choosing pasta! Dry pasta is most readily available. Most people have some shape of pasta in the pantry at all times.
Fettuccini refers to the shape of the pasta. Fettuccini is similar to spaghetti, but is shaped as long, flat pieces of pasta. You may use other shapes of pasta for this recipe.
If you can purchase fresh pasta (pasta that has not been dried), fresh is always best. That said, I often make Fettuccini Alfredo with dried pasta. Look for a good quality brand.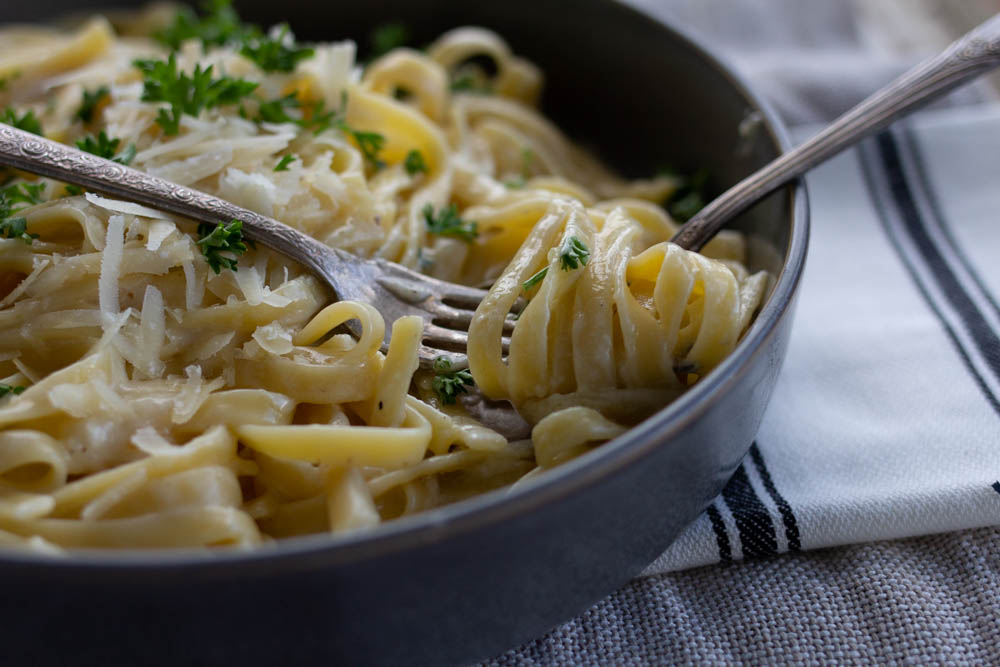 How to choose good quality pasta? If you want to read more about dry pasta, Savuer did an extensive blind taste test with 16 brands of pasta. Some are readily available in most grocery stores, some were not. I most often purchase Garafolo brand. It is middle of the road as far as cost goes, and I like the flavor and texture. If you are gluten free, I have tried Barilla Gluten Free Pasta, and found it to be a great product.
How much pasta do I need?
After years of dumping a 1-pound package of pasta into boiling water, I finally learned to cut back a bit on the pasta. Just because a package contains 1 lb of pasta does not mean you have to cook the entire package!
Usually, 2-3 oz of pasta per person is enough! For this recipe, I use 8-12 oz of fettuccini, which yields about 4 large or 6 medium size servings.
As you can see in the photos, I prefer to have less sauce and more pasta. I don't like my pasta swimming in sauce. This sauce in particular is extra rich, so for me, a little goes a long way.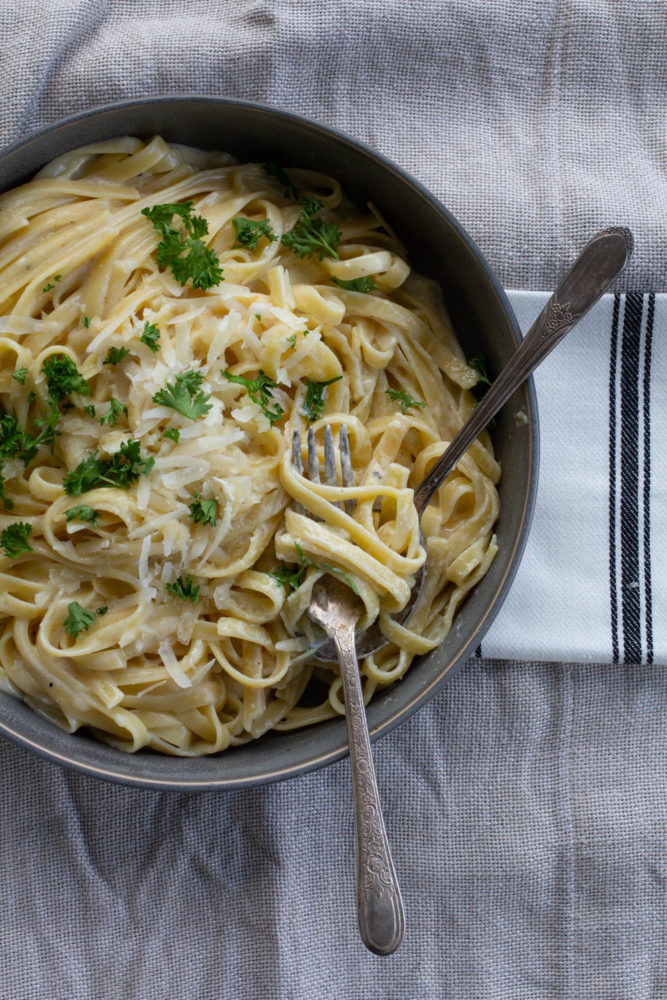 I'd rather have less sauce coating my pasta, so I usually cook 10-12 oz of pasta for this recipe. If you prefer more sauce on your pasta, use about 8 oz of pasta per recipe! Most packages of pasta are sold in 1 lb (or more) per package.
This recipe is easy to adapt. If you love chicken and broccoli, add it for a complete meal in a pan! This recipe yields 4-6 servings depending on if serving as a main dish or a side. I know you will love this basic recipe for the Best Easy Creamy Fettuccine Alfredo!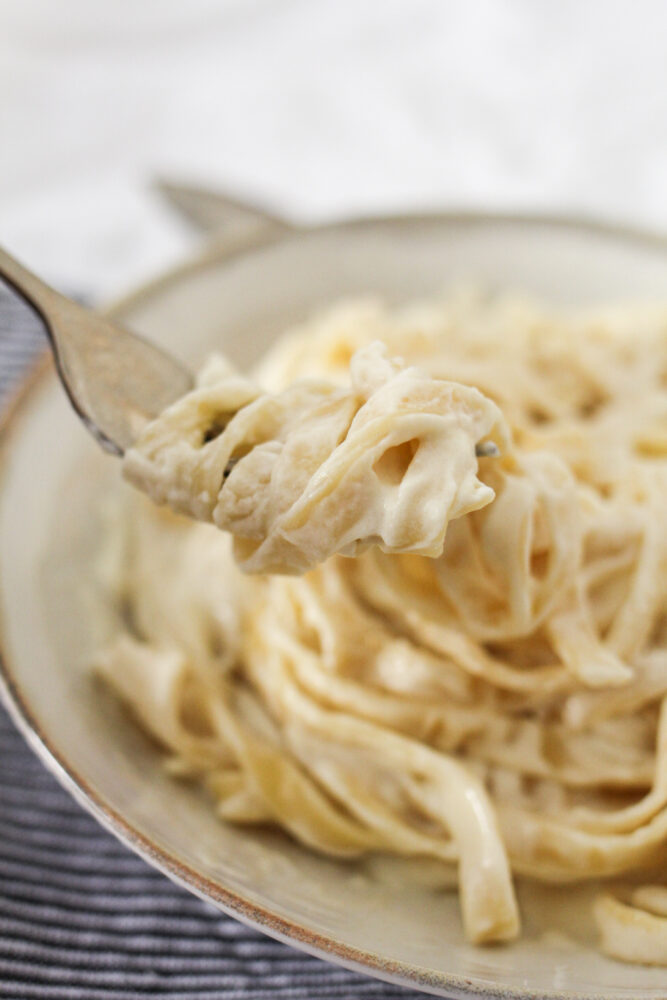 The Best Easy Creamy Fettuccine Alfredo
The Best Easy Creamy Fettuccini Alfredo is made with a few basic ingredients! Made with butter, garlic, heavy cream, Parmesan and salt. Dinner in less than 20 minutes.
Ingredients
1/2

cup

unsalted butter (no margarine), cut into tablespoons

1

clove

garlic, minced or crushed (about 1 teaspoon)

1 1/2

cups

heavy cream

4

oz

fresh grated Parmesan Cheese (about 1 1/4 cup)

salt and fresh ground pepper to taste

8-10*

oz

fettuccine or other pasta, fresh or dried
Instructions
For Pasta:
Bring water to boil in a large pot.

Place 8-12 oz* of pasta into a pot of boiling water with 2 tablespoons of salt.

Cook the pasta to al dente (see notes).
For sauce:
While cooking pasta, melt butter in a large skillet over medium-low heat. Add minced garlic to pan.

Let the garlic cook for about one minute, taking care to not burn garlic!

After a minute, turn the heat to medium and add the heavy cream to the pan with the butter and garlic. Whisk together.

Let the cream, butter and garlic simmer for 5-8 minutes on medium heat. It will thicken a bit during this process.

Grate the cheese and add to the sauce a little at a time, stirring with a whisk to prevent the cheese from clumping. Turn heat to low.

When the pasta is done, Using tongs, remove pasta from the boiling water in a few batches. Let the excess water drip back into the pasta pot and place hot pasta directly into the pan of Alfredo sauce. It is ok if some of the pasta water ends up in the sauce. This will help thin the sauce a bit.

Toss the pasta and Alfredo sauce together. Taste the pasta coated in the sauce. Add salt and fresh ground pepper to taste. Thin with additional pasta water if needed.

Serve immediately in warmed bowls and top with additional grated cheese on top.
Recipe Notes
If using fresh pasta, the cook time for the pasta will be very short. Usually 2-4 minutes at most. Read package directions. 
When cooking pasta, do not over cook! It is best to remove the pasta from the water before it is "al dente" it will continue to cook in the pan a bit in the sauce! Al dente means "to the tooth" in Italian. Read the directions for cooking on the package and cook a couple of minutes less than directed. The pasta will continue to cook after it is removed from boiling water and also in the pan of sauce on the stove top. 
If serving Fettuccini in a serving bowl, heat the bowl (make sure it is heat proof)  for a few minutes in an oven at 225. This will help keep the sauce and pasta warm and creamy. 
The amount of pasta used will depend on the amount of sauce you prefer on your pasta. I like my pasta to be less saturated with sauce, so I use 10 oz of pasta in this recipe. If you like a lot of sauce and less pasta use 8 oz of pasta! 
For best results when reheating, use a low setting on microwave to prevent separation of the butter and cream, or place ingredients in a non-stick pan on stove over low heat.