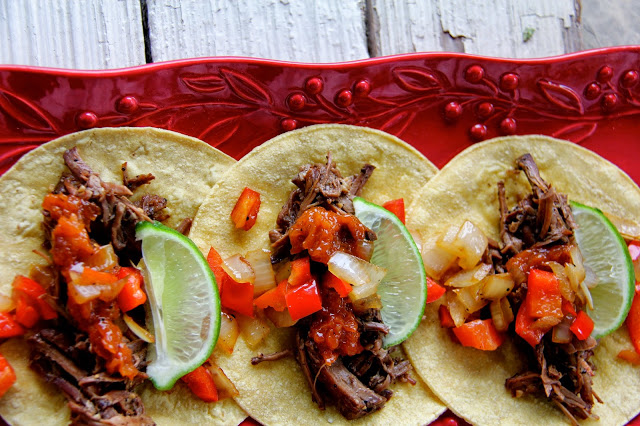 People often ask where I get ideas to make all of the recipes I post on ABK? Besides my enormously huge and creative mind (eheheh) some of my ideas come from:
1. My cookbook collection (over 300 at last count)
2. I'm a cooking magazine addict. Have I ever told you how difficult it is for me to part with magazines?? When we moved down the street last winter, so did stacks of magazines. I did manage to toss boxes of Bon Appetite and Gourmet mags that were from the 80's and 90's into the recycle bin. Ridiculous, I know. If they ever make a show called
"Hoarders, Magazine Addition"
I'll be on the pilot.
3. If you've read ABK for any length of time, you know my new favorite place to find recipes is on
Pinterest
. Love the visuals. Love the convenience of literally hundreds of thousands of recipes available with a simple right click. Last week, Ipinned a recipe on my board
"Cooking, Next on my List"
. There were so many re-pins the next day, I decided to test out this recipe ASAP.
We loved it. The caption another Pinner left under the photo read
"Now THIS is Texas!!" Crockpot tacos.
I'm not sure about the Texas part(if y'all are Texans, you'll have to try this out and let me know what you think).
This recipe has a sweet twist. You'll have to give up a can (or two) of Dr. Pepper for the sauce. You know it's going to be good if the recipe calls for meat swimming in DP. And the Mango Relish? Stash the leftovers for topping your eggs in the morning. Yummy.
Leftover meat? See recipe idea in "Tips" below.
Brisket Tacos with Mango Barbecue Relish
adapted from Confessions of a Foodie Bride
Ingredients
Brisket
3-4

lb

brisket

shoulder or cross rib roast

Salt

Ground black pepper

1

tablespoon

chili powder

2

cloves

garlic

minced

16

oz

Dr. Pepper

not diet (I'm sure Coke or Pepsi will work as well)
Mango Barbecue Relish
2

tablespoons

olive oil

1

medium onion

chopped (about 3/4 – 1 cup)

1

clove

garlic

minced

1/2

cup

ketchup or bbq sauce

2

tablespoons

lemon juice

2

tablespoons

Worcestershire sauce

1

teaspoon

Spicy Brown mustard

Salt

Pepper

1/4

cup

mango chutney
Quesadillas
8

flour or corn tortillas

olive oil or cooking spray

to brush tortillas

chopped red pepper and onions – sautéed or fresh, sliced avocado, fresh mango, lime for garnish
Instructions
Note- Don't let the length of this recipe scare you off. It's basically 3 simple steps:

1. cook meat in slowcooker

2. make a (less than 5 minute relish/bbq sauce

3. assemble the tacos or quesadillas.
Meat:
Rub the meat with salt, pepper, chili powder, and garlic.

Place brisket in slow cooker and pour the Dr. Pepper around the sides and a little over the top, taking care to not wash away all of the spice.

Cook on low for 8 hours, or in the oven covered tightly at 250 for 6-8 hours.

Remove meat from the crockpot. Slice or pull apart meat. Drain off some of the juice. Keep meat warm until ready to assemble.
Mango BBQ Relish:
While meat is cooking, heat olive oil in a 2-qt sauce pan.Saute onions for 5 minutes.Add garlic and cook until fragrant.

Stir in the remaining ingredients and simmer for 5 minutes.

Transfer to a blender or food processor and run until smooth, or use a immersion blender and blend in pan. Set aside until ready to assemble tacos.
Assemble:
Heat a griddle or large pan over medium-high. Cook the tortillas just until warmed. Place tortillas on plate.

Top with warm meat and mango relish.Garnish as desired.

Yield: 8-10 servings
Recipe Notes
-Make sure to use regular, not Diet Dr. Pepper.
-This dish may be served as quesadillas or tacos. To make quesadillas, shred Monterey Jack cheese, spread over tortillas, top with meat and a bit of mango relish. Grill, slice and serve.
-I used the leftover meat (about 2 cups) andsautéedan onion and a red pepper as a base for chili.
Add a can of small red beans and a can of chili beans, a chopped tomato and a bit of water. Simmer and serve.