Cafe Rio-Style Sweet Pork Salad is one of the most popular items on Cafe Rio's menu! Now you can make Cafe Rio-Style Sweet Pork Salad at home for a crowd at a fraction of the price of eating out.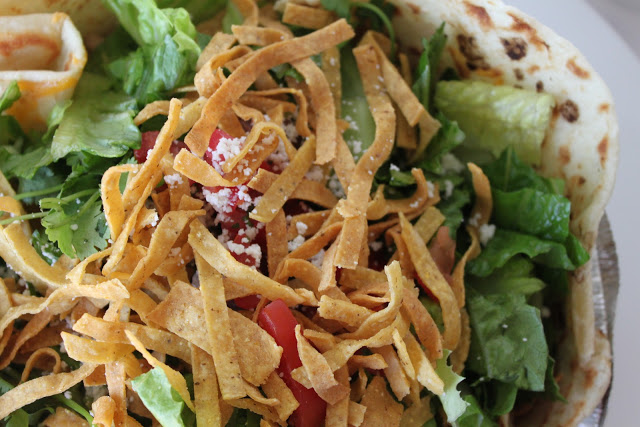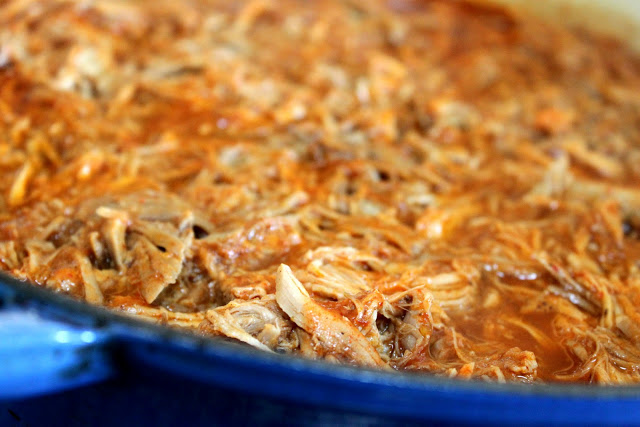 If you live in the great state of Utah, or have visited here in the past ten years, you know about  Cafe Rio. Mexican food with a Southwest flair.
This recipe is a great option for feeding a crowd, because there's something for everyone. Don't like meat? Have a meatless salad. Don't like meat or salads? Have a tortilla with cheese, rice, dressing, pico and beans. Everyone builds their own. It's worked for me when cooking for a crowd of 30-300.
Here are our favorite recipes for Cafe Rio style: rice, beans, dressing and the fan favorite/flagship item Cafe Rio-Style Sweet Pork!  All of the links are listed below for easy reference.
To Build a Cafe Rio style Sweet Pork salad:
Other items you will need/want to make a Cafe Rio style salad:
Romaine lettuce, washed and chopped
Cheese, Mexican blend and/or Cotija(Mexican cheese) for sprinkling on top, if desired
Flour Tortillas, we like the type found in Costco in the refrigerated section, grill for a few minutes on each side at home, or you may use grilled corn or regular grocery store flour tortillas, warmed
corn tortillas and vegetable oil– cut the corn tortillas into strips, fry over medium high heat, drain on paper towels, sprinkle with salt
Sour cream for topping salad
Fresh cilantro to top salad
lime slices, to top each salad
8 or 9″ disposable foil tins found in baking section of grocery or the dollar store, or plates work too
Assembly:
Place all items on serving table in this order:
Tins or plates, tortillas, beans, rice, meat, lettuce, cheese, pico, guacamole, dressing, sour cream, tortilla strips, cilantro and lime slices.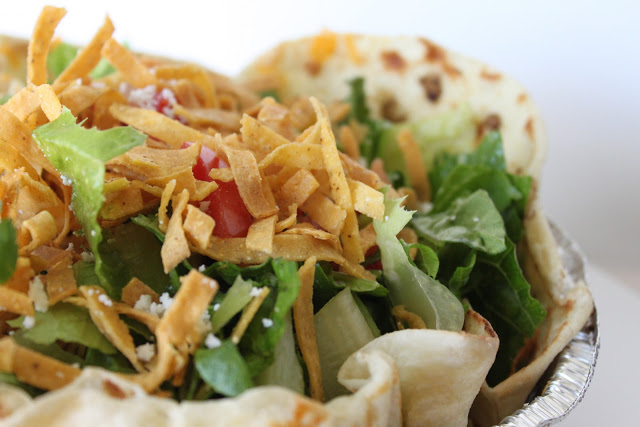 Cafe Rio-Style Sweet Pork Salad
Ingredients
For roasting meat:

13.5

lb

Pork Shoulder*

yield approx 6 1/2 lbs cooked, fat removed, shredded pork

2

teaspoon

onion salt

fresh ground pepper

3

cloves

garlic

chopped fine or crushed

1

can or approx 12 oz Coke or Dr. Pepper

not Diet (see reader comment below by Bonnie)

For sauce after roasting:

3- 4

oz

cans diced

mild to medium green chilies

1-28

oz

can red enchilada sauce

2

cups

light brown sugar

2

cans or 24 oz Coke or Dr. Pepper
Instructions
Preheat oven to 350 degrees. Place rack in bottom third of oven.

If making a full recipe and using a piece of meat larger than 6 lbs, cut the meat into at least two or more pieces to insure meat will be cooked through.

Season the pork with onion salt and ground pepper on all sides. Rub the top of the pork with crushed garlic cloves.

Place the pork in a large heavy roasting pan or crock pot. Pour Coke around the sides of roast.

Cover tightly with foil, so no steam escapes. Roast at 350 for 2 1/2 hours. Do not open oven. Turn oven to 200 roast for 2 more hours. Alternately, Place the pork into two large crock pots. Follow directions, except cook on low for about 10-12 hours.

After roasting, remove meat. Let cool for about 15 minutes, or cool enough to handle. Pull meat apart with hands, removing any visible fat remaining on meat. Discard fat and drain remaining liquid from pan.

Place meat back into roasting pan, shred with forks.

Prepare sauce by placing green chilies, enchilada sauce and brown sugar into a blender. Blend until smooth. Add the Coke, stir with spoon. Pour the sauce over the meat, and heat the meat again before serving. Do not stir too much, this makes the meat a mushy mess. Visualize the icky barbecued meat in the frozen section at the grocery.I prefer to pour sauce on top and leave the meat alone 🙂 Using tongs helps tremendously.

Yield: about 35 servings.
Recipe Notes
-*Important: Make sure to buy Pork Shoulder or Pork (Boston) Butt. Pork Roast or Pork Loin does not have enough fat to produce a product that will shred properly. I like Pork Shoulder best for this recipe. A large Pork Shoulder can be found at Costco.
-This recipe may also be used as a taco filling, salad topping or for burritos.
-If preparing ahead, follow directions until meat has been shredded. Refrigerate or freeze meat at this point. When ready to serve, prepare sauce and pour over meat. Heat up in oven or on stove top at low heat.
-This recipe freezes well. When I have leftovers, I freeze the meat and drain off the sauce. When I want to use the frozen meat, I let it thaw in the fridge overnight; then place the meat in a pan on top of the stove. I make fresh sauce but only prepare 1/3 of the recipe above.
-If the sauce is too thick for your liking, you may add water, 1/4 cup at a time.