If Cafe Rio Sweet Pork is your family favorite, you're going to love this recipe! Instant Pot Cafe Rio Sweet Pork is an updated version of my original recipe made in the oven or slow cooker, which takes up to 12 hours to cook. This new IP recipe takes about two hours start to finish, with most of the time spent in the Instant Pot, cooking the meat!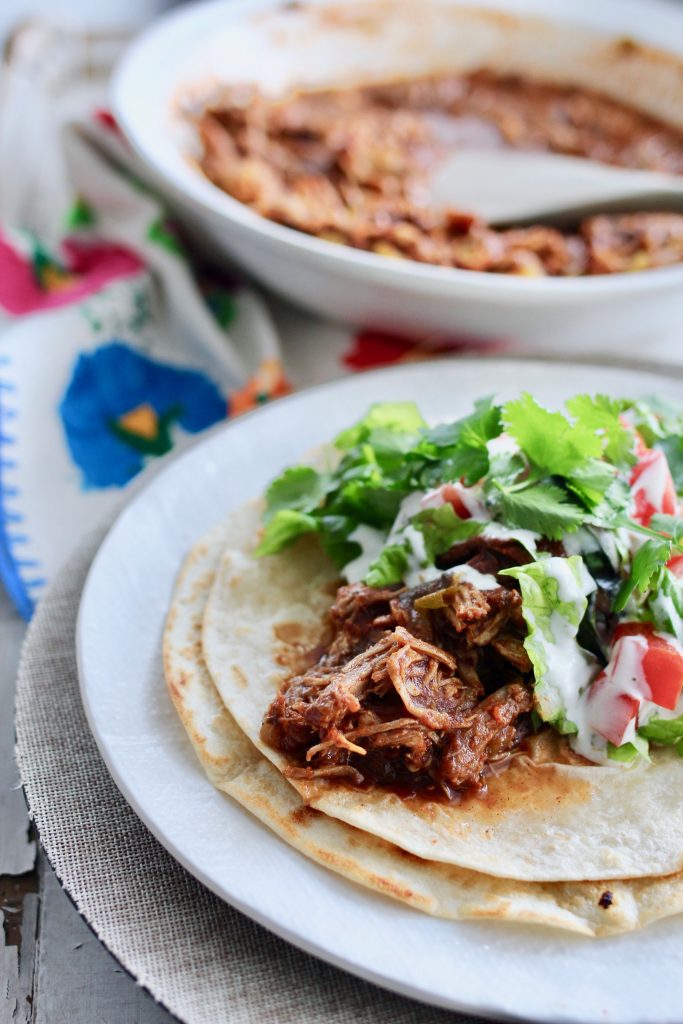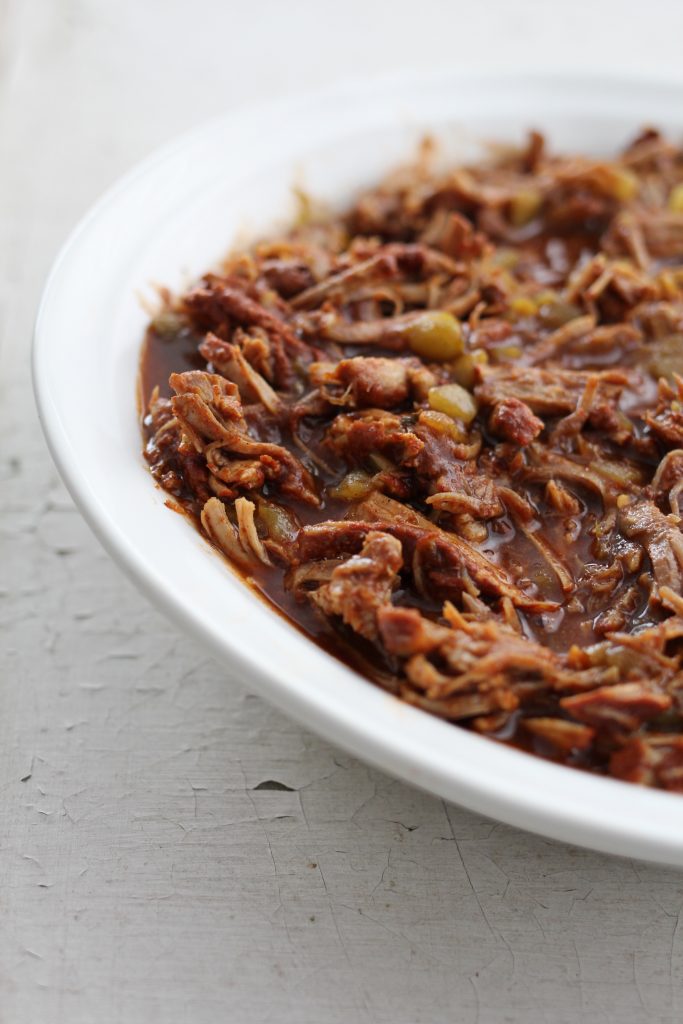 What is Cafe Rio and the complete list of make at home recipes…
Cafe Rio is a popular fast-casual Mexican style restaurant with headquarters in Utah. If you've ever even had a flight  layover in Utah, you've probably eaten at Cafe Rio (thanks to the airport location)!  Years ago, I posted a slow cooker or oven version of Cafe Rio Sweet Pork, along with a complete menu of recipes.  This updated recipe allows cooking of the sweet pork in a fraction of the original 5-12 hour time.  The at home version of Cafe Rio recipes includes: sweet pork, black beans, cilantro lime rice, pico, guac, and of course the most important part of the meal, the dressing!  All of the recipes are linked below. I've had dozens of readers email and leave comments regarding the at home version of this recipe and reported back huge success in making Cafe Rio Sweet Pork for family reunions, weddings, girls camp, and youth conference gatherings to name a few. We love to eat this dish when we are at our cabin. I make everything ahead and then we simply  chop up lettuce and tomatoes and grill  fresh tortillas for a homemade Cafe Rio style feast!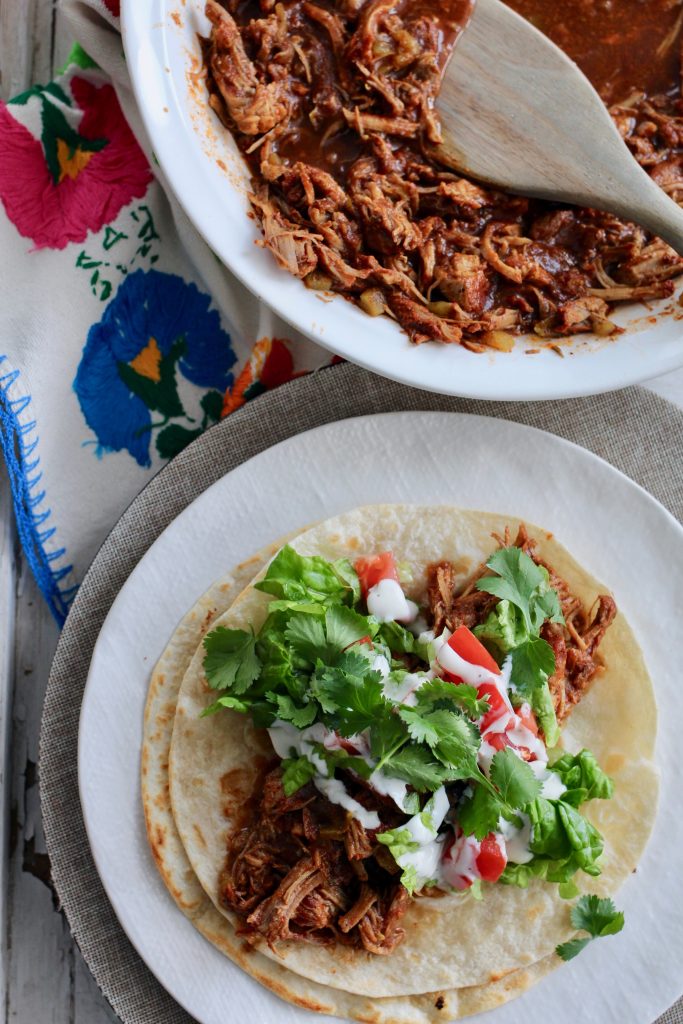 Not all pork created equal
There are many different cuts of pork sold in the grocery store and at big box stores, such as Costco. One caution, not all cuts of pork work well in this recipe!  I've had readers tell me they didn't get the desired finished product when making Cafe Rio Sweet Pork. When we boiled it down (no pun intended) I found they used a cut of meat OTHER THAN the cuts I recommend. I know the huge Pork Loin Roast at Costco is ridiculously inexpensive, and hardly has any fat on it, so not much waste as far as discarding fat goes. I get it. But here's the deal. If you buy lean cuts of pork, your Instant Pot Cafe Rio Sweet Pork will not taste like Cafe Rio's Pork. And you'll wonder why. Pork tenderloin and pork loin roast are not good choices for this recipe. Neither has a high enough fat content to make the fall apart finished product you're looking for.
I experimented with pork loin, Boston butt and pork shoulder for Instant Pot Cafe Rio Sweet Pork.  After trying a few different cook times and water levels and also marinating vs not marinating, I found pork loin to be too lean. No matter how it was cooked,  it was too lean to achieve the fall apart texture I was looking for.  It often turned out dry tasting no matter how little the cook time. Boston butt and pork shoulder, technically from the same part of the pig or hog, are from the top portion of the shoulder area. Interesting fact- the name Boston butt originates from 18th century New England when pork was packed in barrels (which were also known as butts) to store and ship meat. So, it's actually  not the butt at all, but the shoulder. Maybe we still call it butt because butt is more fun to say than shoulder?  The butt is usually sold without bone and the shoulder almost always is sold with a large bone-in. When purchasing the shoulder cut pork, I ask my grocery butcher to trim it off, along with the thick piece of fat that accompanies it. You can also use Boneless Pork Rib meat, which is basically the same thing as the shoulder, without the bone. All of this info was compiled from various butchers and online sources. In the end, your best bet for tender fall apart meat is either Pork Shoulder, Boneless Pork Ribs or Boston Butt. My preference is Pork Shoulder or Boneless Pork Rib meat!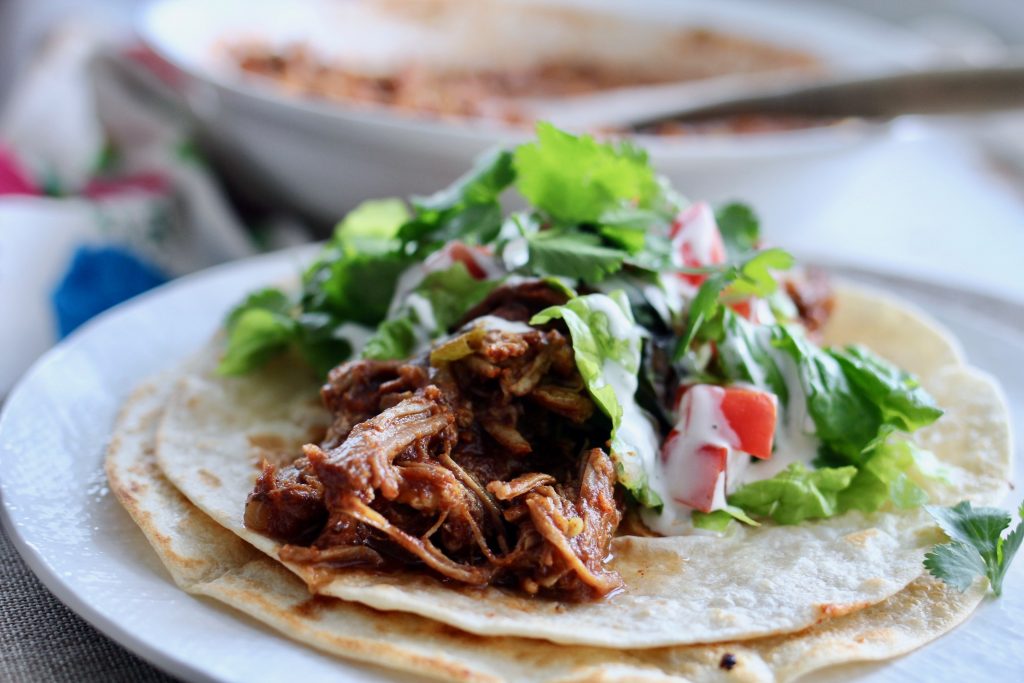 timing is everything
The cook  time in the Instant Pot  will vary according to the cut of meat used. I tried several different cook times, from 30-75 minutes.  Thirty minutes did not give the meat enough time to tenderize while 75 was too long. I found the best time combination was 50 minutes at high pressure and then a 45+ minute natural pressure release, which means no touching the valve that allows pressure to release from the pot for at least 45 minutes.  This time combination allowed the meat to cook for the proper amount of time, breaking down almost all of the fat so it melted back into the meat when using a pork shoulder.  During the natural pressure release time, the meat continues to cook with the residual heat in the pot, the pressure is slowly released and the juices stay in the meat instead of escaping out of the pan (or pot).   Many pressure cooking experts agree that releasing the pressure manually (turning the pressure valve to release) will cause the meat to be tough. Allowing the pressure to naturally release results in a moist and tender finished product, similar to slow cooking the meat for 8-10 hours! If you want to start the meat at 3:00 pm when you leave to start driving carpool, go ahead, the meat will be fine in the Instant Pot for hours. You can turn on the 'keep warm' feature and the meat will stay on a low temperature for hours and be ready to eat later in the evening without overcooking.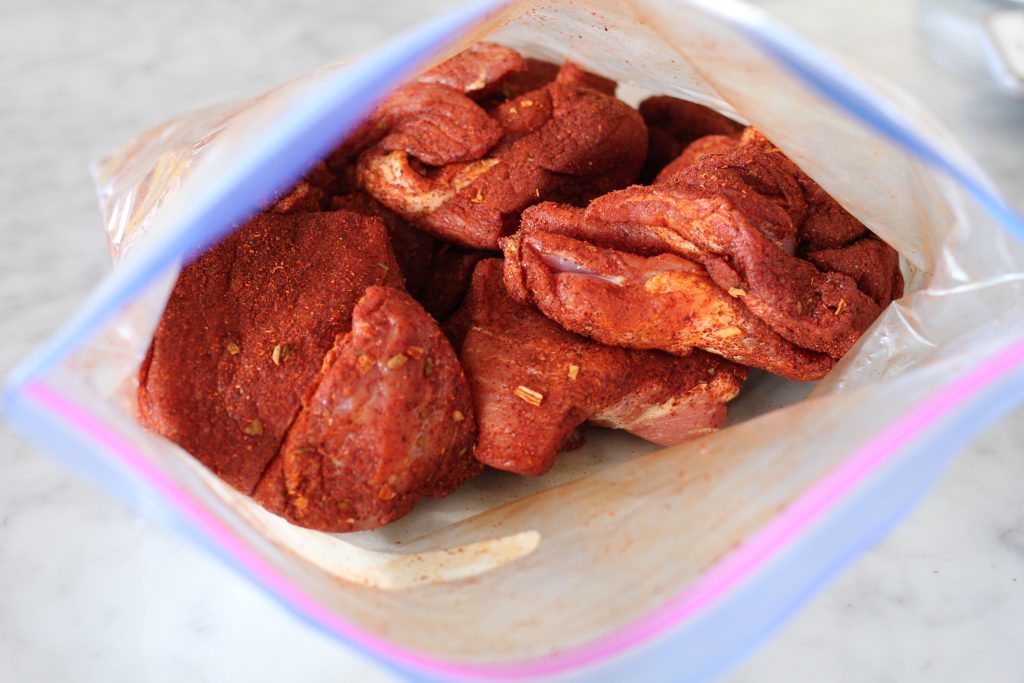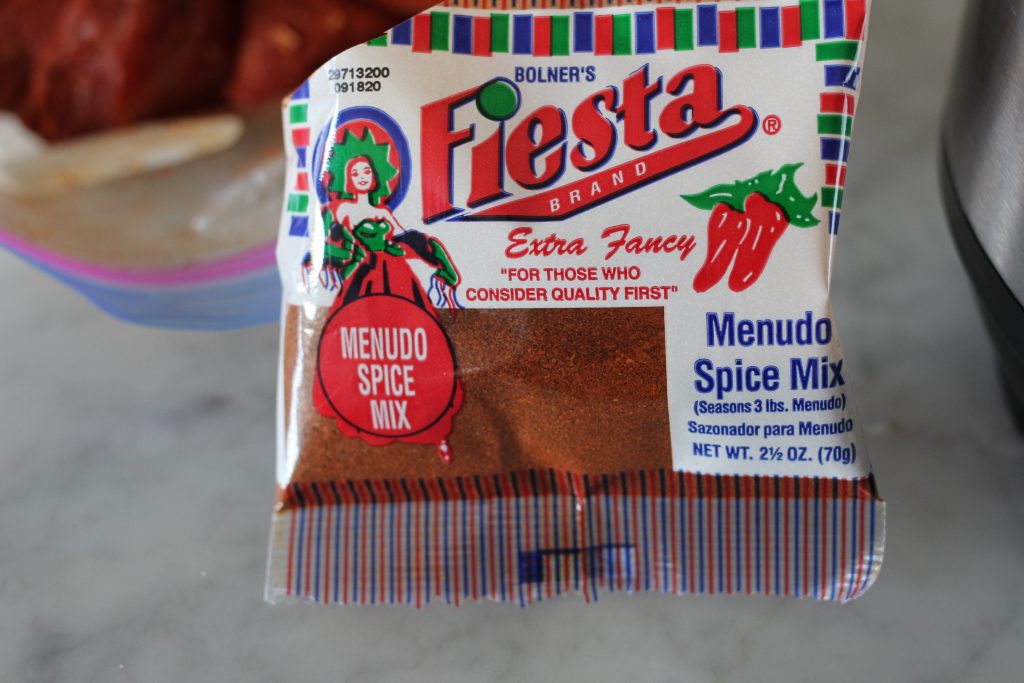 Instant Pot Cafe Rio Sweet Pork- Spice and Sauce
After eating more than my share of Cafe Rio meals, I came up with this oven or slow cooker recipe back in 2011. Cooking in the Instant Pot  is totally different than cooking in a slow cooker. The IP cooks at such a high temperature and pressure for a small amount of time, while the slow cooker is the complete opposite. The IP tends to release a higher volume of liquid from ingredient in the pot, which can dilute sauces. For this reason, when cooking in the IP,  I often make the finished sauce after the main dish has been cooked.  During early experiments with this recipe,  I cooked the pork in the sauce but  found the sauce ingredients to be so diluted (even without adding water)  and the sauce so runny that it was better to drain off some of the sauce and  start over after cooking.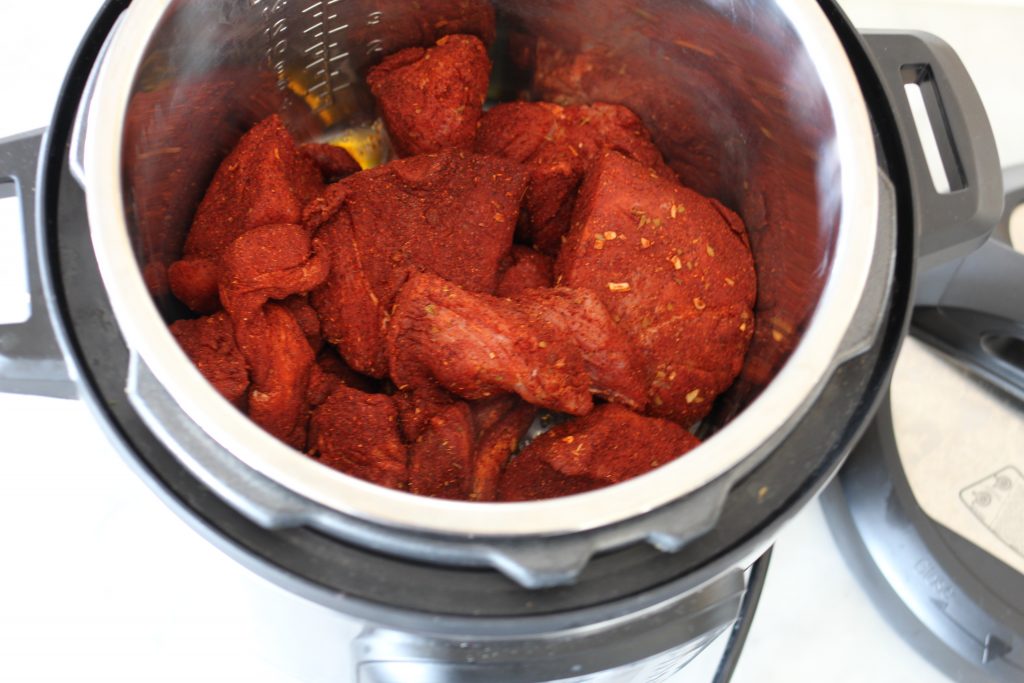 I decided the best way to flavor the pork, without wasting the sauce was to coat  the pork in a seasoning mix which you can make on your own, or purchase for less than $2 at your grocery. I used Menudo Spice mix, which is a combination of Chili Pepper, Onion, Garlic and "spices", sold in the Latino section of any grocery store.  Making  your own Menudo mix at home is simple-  just  combine the following in a dish:  2-3 tablespoons chili powder, 1 tablespoon cumin, 1 tablespoon onion powder, 1 teaspoon garlic powder,  1 teaspoon oregano 2 teaspoons salt, 1 teaspoon finely ground pepper. Mix together and store in a ziplock bag or small container. After seasoning and browning the meat (not required), I simply pour water around the edges of the meat and cook as directed. Also, to clarify, I do not marinate the meat in a sauce or mixture of spices before cooking. I didn't find much of a difference in flavors when marinating in the sauce. If you are organized and plan ahead, coat the meat with the spices a day or two before cooking this will only enhance the flavor of the meat!
Secret tips from former employees …
Over the years I have read many comments, suggestions and tips for preparing the highly guarded secrets in Cafe Rio recipes, namely the Sweet Pork recipe.  I think a few are helpful. A few I use, a few I do not. What better place to share tips for making the best sweet pork,  than on a recipe for Instant Pot Cafe Rio Sweet Pork?!  Here are the tips and secrets, all in one place for you to sift through and decided if you want to incorporate any into your recipe…
Tips and Secrets for perfect Cafe Rio Sweet Pork!
-Pork is marinated in Coke, full strength, not Diet Coke.  Some say Dr. Pepper.
-Only use pork butt or shoulder.
-Simmer pork in a pan with cut up yellow onions, serrano peppers and chopped carrots. Remove the peppers and carrots after cooking.
-Use a spice blend of garlic powder, dried oregano, cumin, salt and pepper.
-Make red enchilada sauce from scratch. My favorite homemade red enchilada sauce is found here.
-Use a canned red enchilada sauce.  Las Palmas brand used at Cafe Rio.
-Cook onions in a pan with oil until caramelized, add to cooked pork and enchilada sauce.
-Thicken sauce with cornstarch after cooked.
-Shred pork after cooked and let sit in a ziplock bag overnight with sauce made fresh after pork is cooked. Warm in a slow oven or stovetop. Pork is best served the day after it is cooked completely and sauce is made.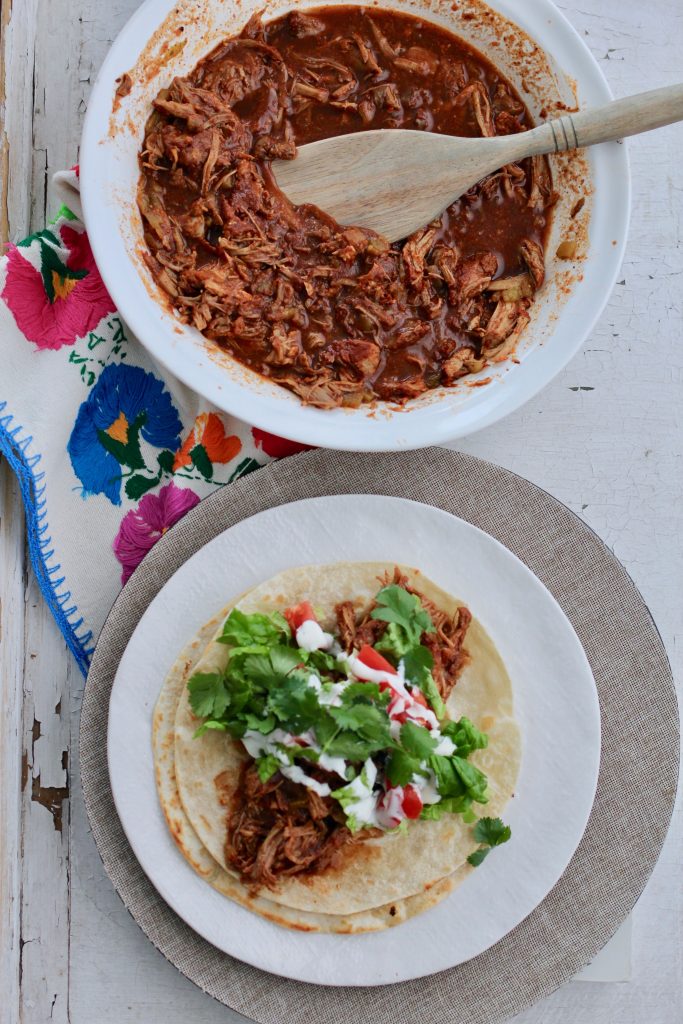 I'd love to hear your comments and suggestions for cooking Instant Pot Cafe Rio Sweet Pork at home. Please share below and rate the recipe after you've given it a try!
Instant Pot Cafe Rio Sweet Pork
natural pressure release and preparing meat after cooked
1
hour
Ingredients
4-7

lbs

boneless pork shoulder

butt or boneless pork rib meat*, cut into large chunks, large visible chunks of fat removed

Menudo spice mix

or make your own (see post for instructions)

1

tablespoon

olive oil

2

cups

cold water

for sauce

3/4 to 1

cup

brown sugar light or dark to taste

1 - 16

oz

can red enchilada sauce*

1 4

oz

can chopped green chiles

not drained

1 -12

oz

can Coke

Pepsi or Dr Pepper
Instructions
Place 3 tablespoons spice mix in a large gallon size Ziplock bag. Shake until meat is coated.

Turn Instant Pot to Saute mode.

Add one tablespoon olive oil.

Place meat in pot when hot and brown on both sides. If you are in a hurry, skip this step and omit the oil in the pot.

When meat is browned on both sides, Add water around sides of meat.

Place the lid on the top of the pot (make sure the sealing ring is in place inside of the lid) and lock into sealing position. Turn the setting to Manual or High Pressure and set the timer for 50 minutes. Make sure the lid is set to the Sealing position.

After the timer goes off, allow the pot to naturally release the pressure for at least 45 minutes.

Carefully remove the lid from the pot when all of the pressure is released.

Remove the meat and set on a cutting board. Allow to cool for a few minutes. When cool enough, pull any remaining visible fat off of meat and set aside. Discard any fat. Shred meat with a fork.

Remove the remaining juice from the pan and place in a small bowl.

Whisk the enchilada sauce, chopped green chiles, brown sugar and one can of soda together in the Instant Pot. Place the shredded meat back into the Instant Pot and turn the setting to Saute. Heat just until sauce boils and the meat is heated through, then turn the setting to keep warm mode.

If you would like to thicken the sauce a bit, whisk one tablespoon of cornstarch into a cup of the liquid removed from pan after the meat was cooked and add back to the Instant Pot with meat and enchilada sauce. Continue to heat up until thickened.

Serve on top of tortilla chips, tortillas, or a bed of rice. All Cafe Rio style recipes listed and linked on post.
Recipe Notes
-It is important to remember that Instant Pot cooking is not necessarily quick cooking! The IP takes away much of the time normally spent in the slow cooking process, but remember the pot needs to come up to pressure, and the process takes a bit of time. When using an IP, it is extremely important when cooking meat to allow the meat to naturally release the pressure in the pot. Meaning, it will take time to allow this to happen and this time needs to be built in to the cooking time of the meat. In this recipe 45 minutes of natural release time is needed. This process can't be rushed! For this recipe, count on 2 hours minimum for preparing, pressurizing and then natural release of pressure and removing any fat still attached to meat.
If using Boston butt, or pork butt, count on about 1/2 of the total pounds before cooking being discarded (after cooking). The fat will need to be removed and discarded.
-I use both homemade and canned red enchilada sauce for this recipe. I believe homemade is best, but it's very difficult to taste the difference between homemade and canned when the brown sugar and green chiles are added! The link for my homemade sauce is on this post under the last paragraph "Tips and Secrets for Perfect Cafe Rio Sweet Pork". It takes about 5 minutes to make.
-As stated in the post, I did not marinate the pork in the sauce before cooking. My slow cooked method posted previously recommends marinating, but this recipe does not.