Every Year at Christmas we make our favorite Chex Mix Treat with Coconut, Almonds and Golden Grahams! It's a bowl full of the most addictive sweet and salty deliciousness.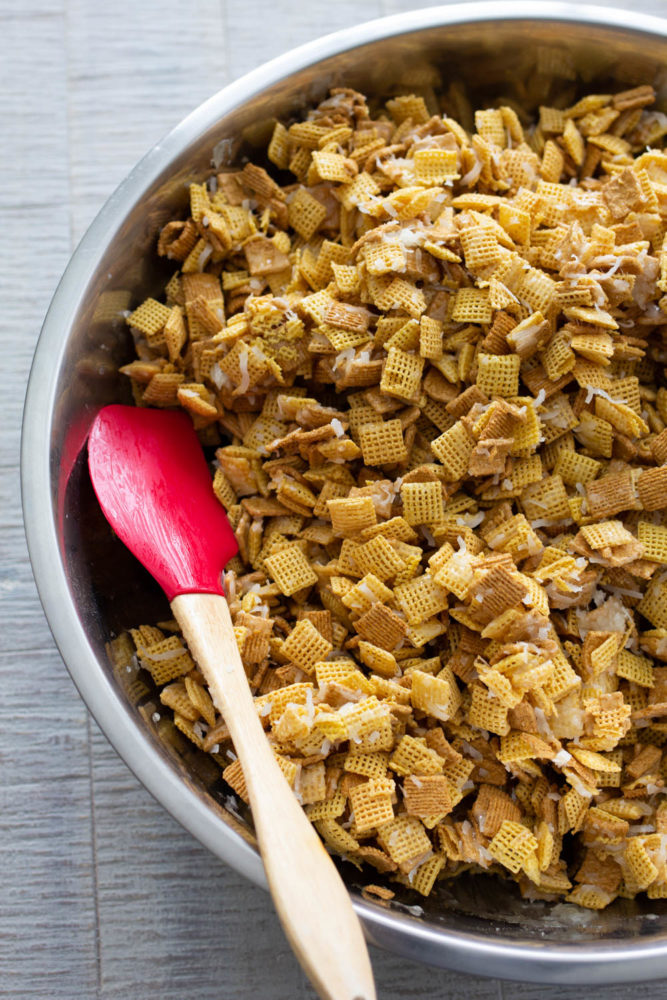 This recipe was first posted way back in the early days of ABK in 2009! It was one of the first tested and approved family favorite recipes shared. Nothing, and I mean nothing is more addictive than our favorite Chex Mix Treat!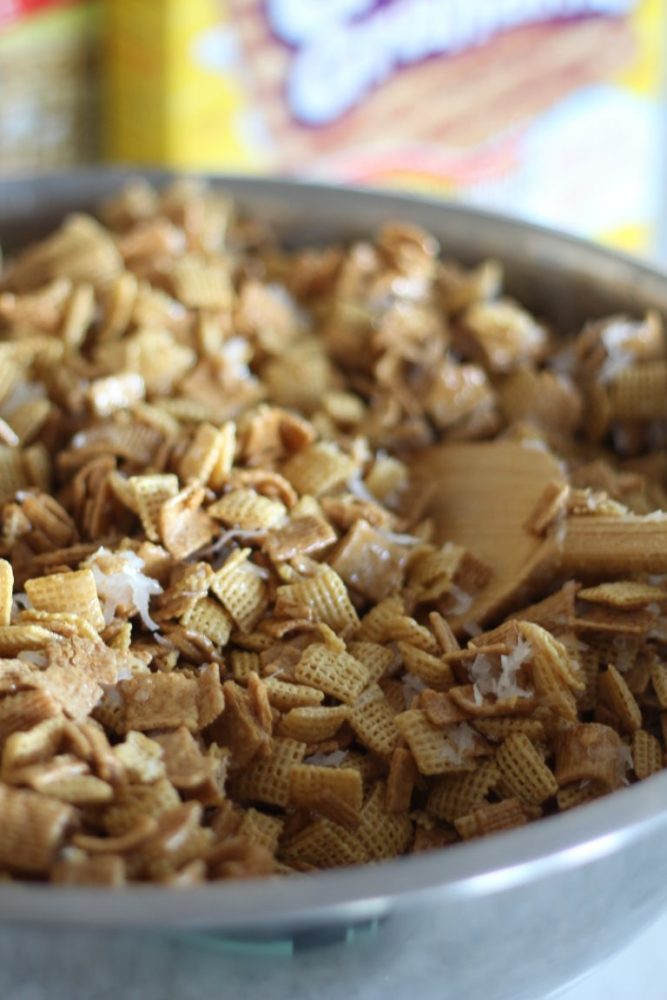 My sister in law, Diane gave me this recipe when we were first married. It came from her mother, Erma. At the time I shared this Erma was 80, so she must be over 90 now! I always think of Diane and Erma when I make this treat!
The combination of Chex, Golden Grahams, coconut and nuts make this the best type of snacking treat. This is a must at holiday time, and also a favorite around a campfire. I've made this treat many times over the years for Girl's Camp trips! I love the way this treat can be made into individual servings in containers, thrown into ziplock bags or just one big bowl.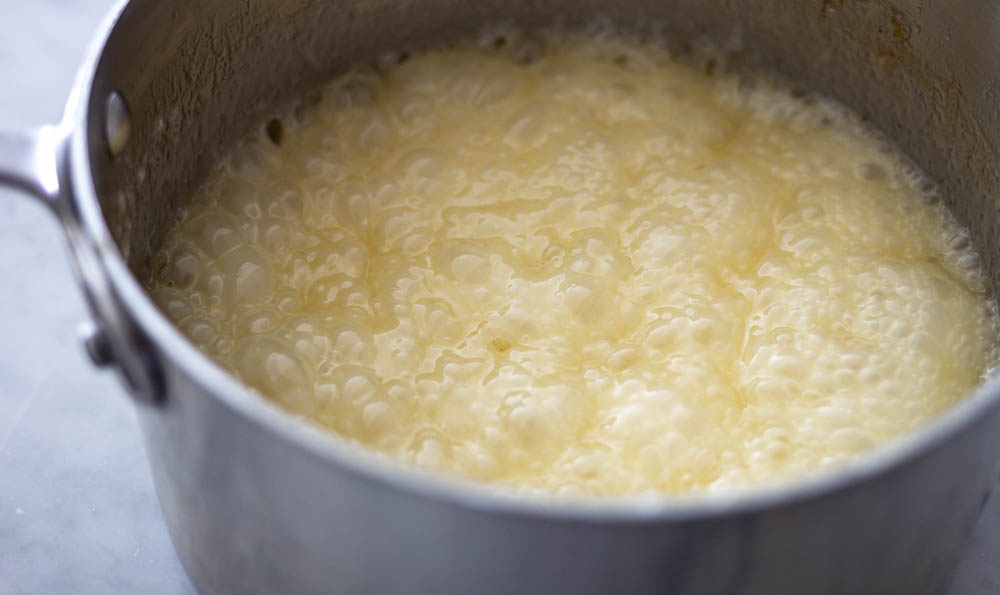 Sticky or not so sticky, it is up to you! I prefer to eat my Chex Mix Treat with coconut and almonds on the less sticky side, so I add more cereal than called for and let it cool in a single layer on a cookie sheet. If you like a more sticky texture, just pour the cooked butter/sugar mixture and pour over the contents in the bowl. Toss and serve.
There are so many variations of this versatile snack! I think we have tried them all over the years. Many times this treat has been given to neighbors at holiday time. Here are some of the variations:
With red and green M&M's for Christmas or other special holiday colored M&M's for Halloween, Easter, Valentine's Day.
After the treat is spread out on a pan, drizzle melted white or dark chocolate (or both) over the pan and let dry before placing in cellophane bags.
Substitute cashews (my favorite) or toasted almonds (whole) for the sliced almonds called for in recipe.
Add stick or traditional pretzels to the mix.
Add sprinkles just after the butter and sugar mixture is poured over the cereal.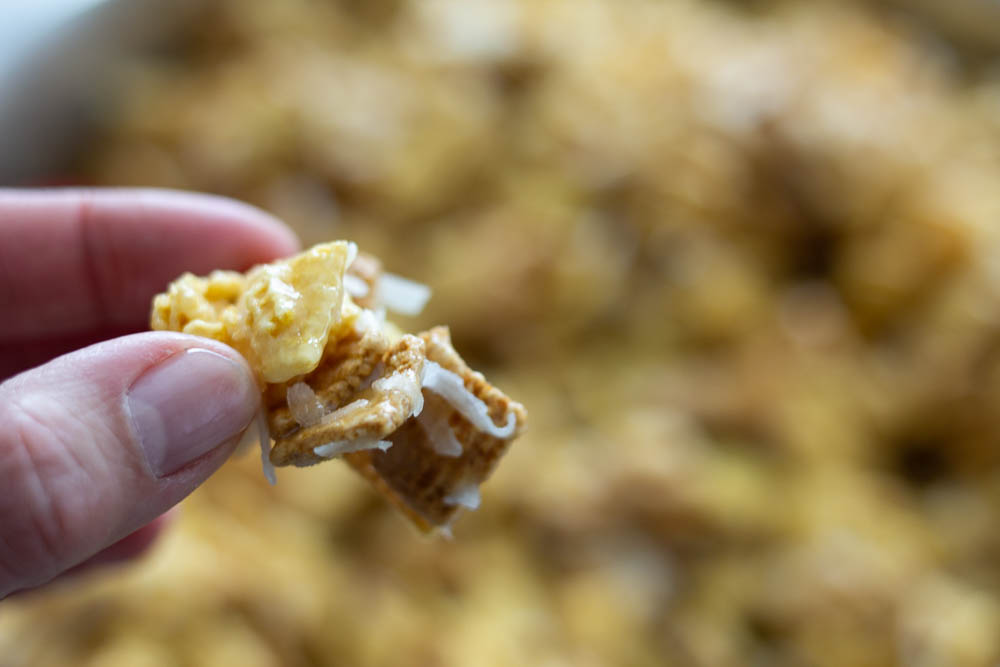 I've never met person who does not love this sweet Chex Mix Treat with Coconut and Almonds! It's the perfect cozy up to a movie night at home or game night around the kitchen table kind of snack. I like to mix all of the cereal in a big bowl first and then pour the cooked ingredients over quickly after it's ready. In just a few minutes you have a treat for a crowd!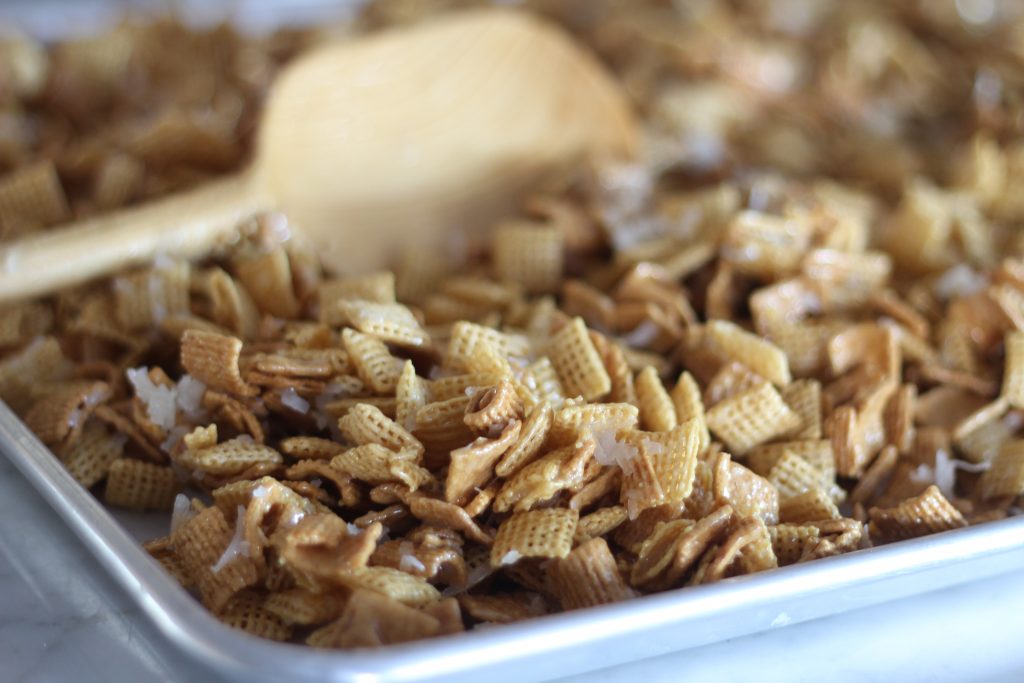 How to make Chex Mix Treat with Coconut, Almonds and Golden Grahams:
Place butter, corn syrup and sugar in a pan to cook.
Mix all cereal together in a large bowl.
Pour cooked mixture over cereal.
Let cool and enjoy!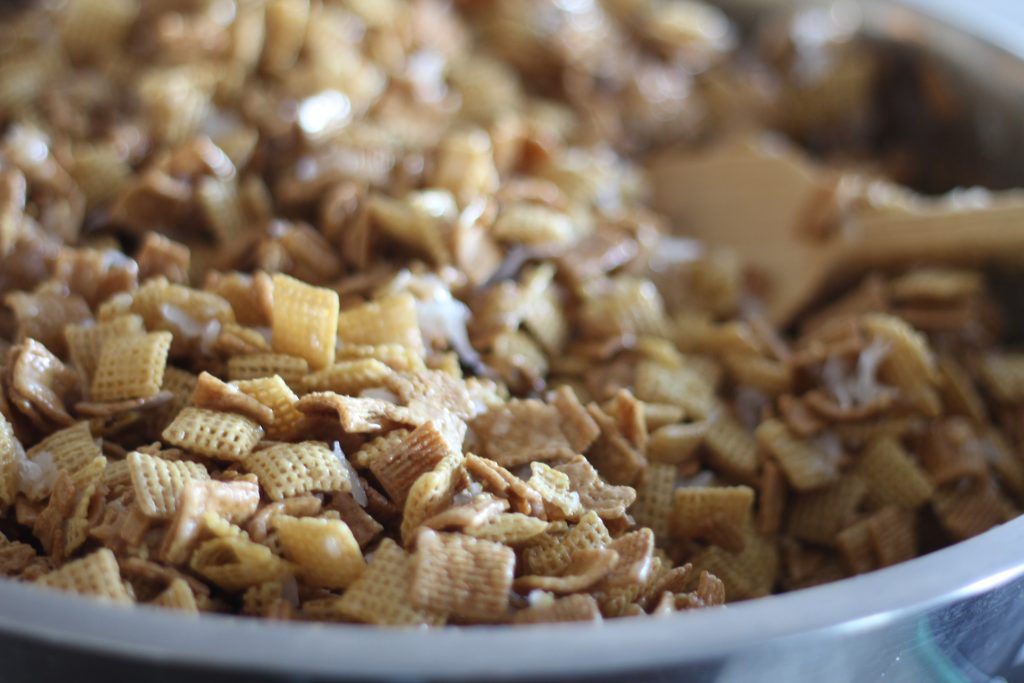 It's so easy to make and share this treat with others in minutes! Nothing complicated, and easy for even a beginner in the kitchen. Chex Mix Treat with Coconut and Almonds will become your new family favorite treat!
Chex Mix Treat with Coconut, Almonds and Golden Grahams
Ingredients
1 1/2

cups

unsalted butter

not margarine!

2

cups

granulated sugar

2

cups

light Karo Syrup

1

large box of Golden Grahams Cereal (18oz)

1

large box of Corn Chex (18 oz)

I use 1 & 1/2 boxes

1/2

package sweetened flake coconut (about 1 cup)

optional

1-2

cups

almonds, sliced or whole, or cashews, salted

optional

other optional add ins: M&M's, white or dark melted chocolate, pretzels

see recipe post for instructions on adding these items
Instructions
Place butter, sugar and Karo syrup into a medium sauce pan. Bring to boil over medium high heat for 5 minutes.

Mix all dry cereal, nuts and coconut in large bowl.

Pour cooked butter mixture over cereal.

Gently mix and pour onto 3-4 lightly greased jelly roll pans.

When completely cooled, place in cellophane bags to give away, or put into serving bowls.
Recipe Notes
I use 1 1/2 boxes of Chex, because I like it when the mixture is not super sticky. 
If you like the Chex treat to be sticky, cook the mixture for 3 minutes and do not add the additional cereal. 
If adding any type of chocolate or candy such as M&M's let the mixture cool COMPLETELY before adding, or the candy will melt onto the cereal.