Looking for the best Chocolate Banana Pudding? This is your lucky day!  After I posted the Magnolia Bakery Banana Pudding recipe, I immediately received requests to post the chocolate version of Magnolia's famous banana pudding.  This easy dessert is made with instant chocolate pudding, sweetened condensed milk, fresh whipped cream, Nilla Wafers and Oreos.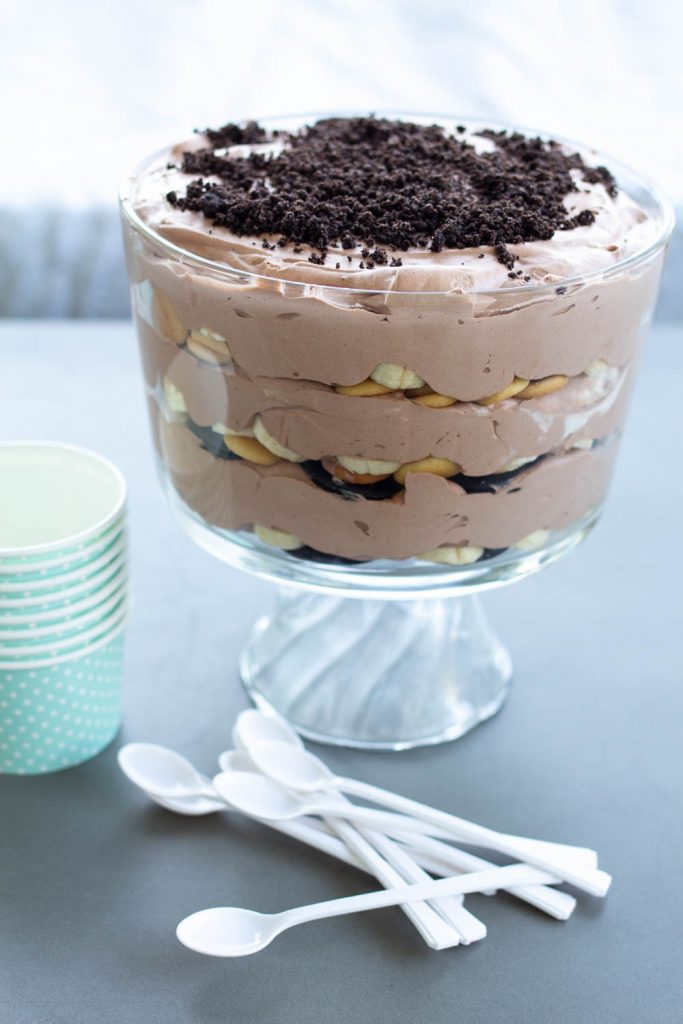 Famous Chocolate Banana Pudding
Magnolia Bakery's famous banana pudding is out of this world delicious. If you've tried it at Magnolia Bakery, chances are you have fond memories of creamy pudding, soft Nilla Wafers and fresh bananas.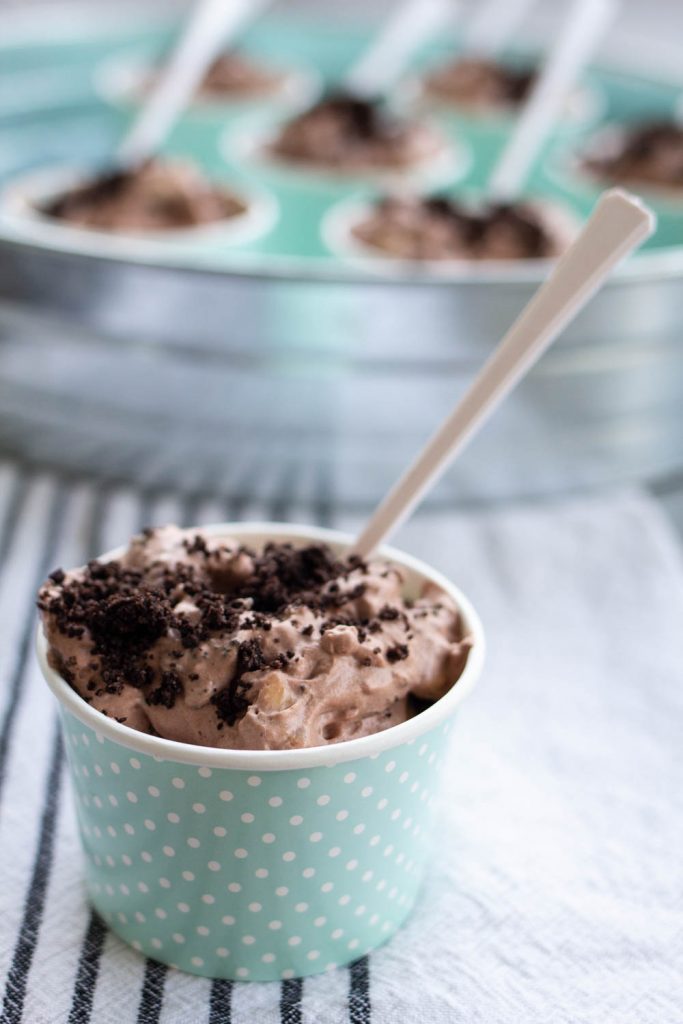 What's better than good old fashioned Southern banana pudding? CHOCOLATE  banana pudding!  I love the vanilla version of this classic Southern dessert, but my fist experience with Magnolia's chocolate banana pudding is one I will never forget.
I shared this  dessert in the back seat of a cab with my daughter Corrine, and we practically licked the cup clean!  One note, this banana pudding recipe is not from Magnolia Bakery in Waco… It is from the famous Magnolia Bakery in New York City.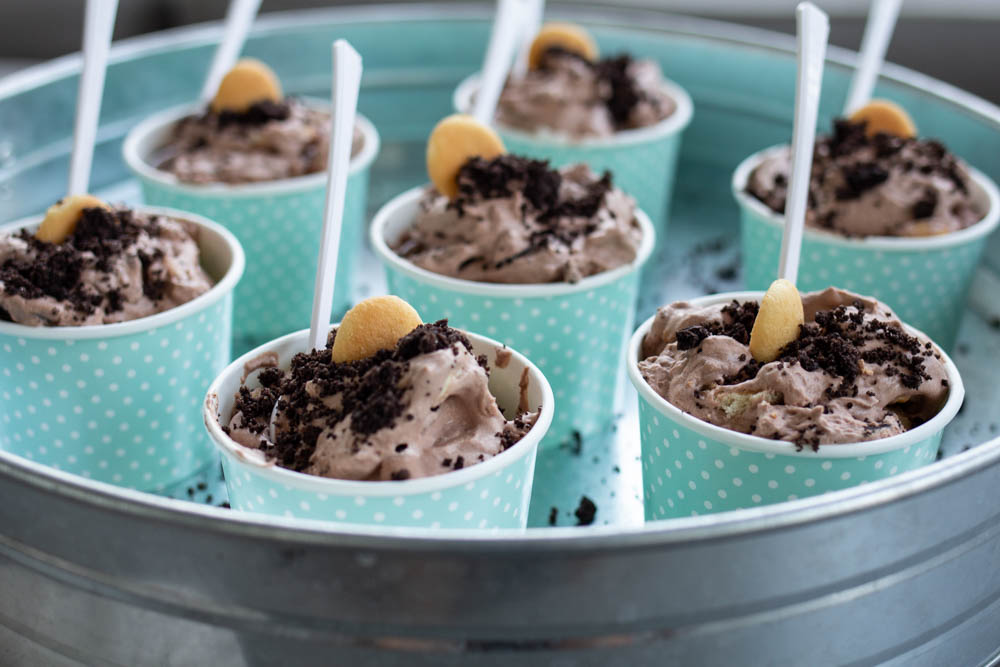 Oreos and Nilla Wafers for a winning combo!
Oreos and Nilla Wafers combined make the perfect base for this easy chocolate dessert! I  use Nilla Wafer Mini's and my preference is Oreo Thins, instead of regular Oreos.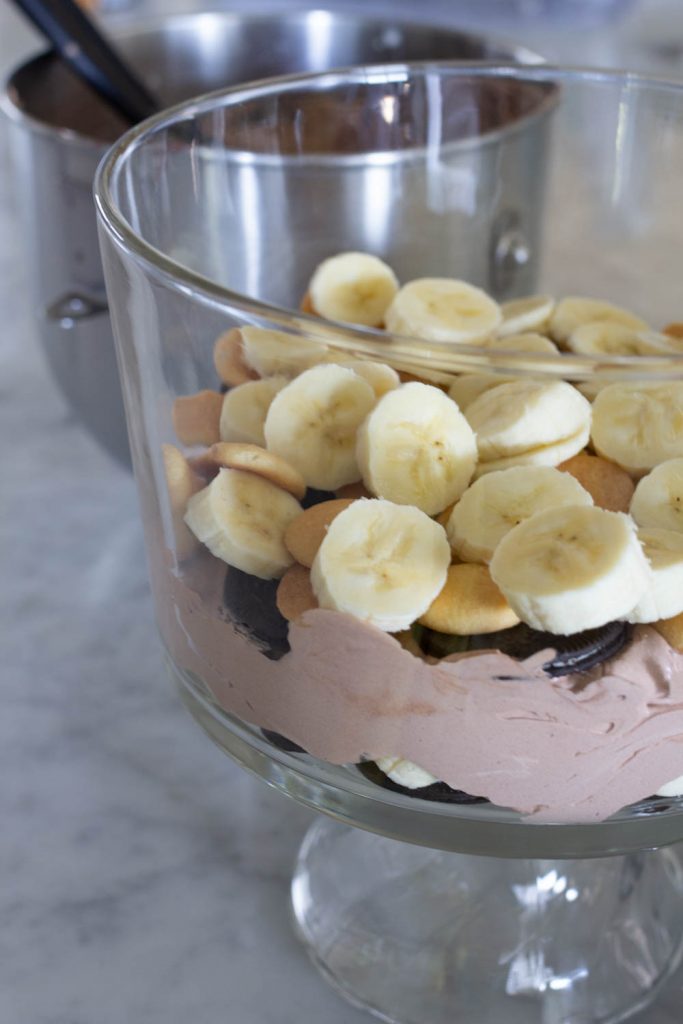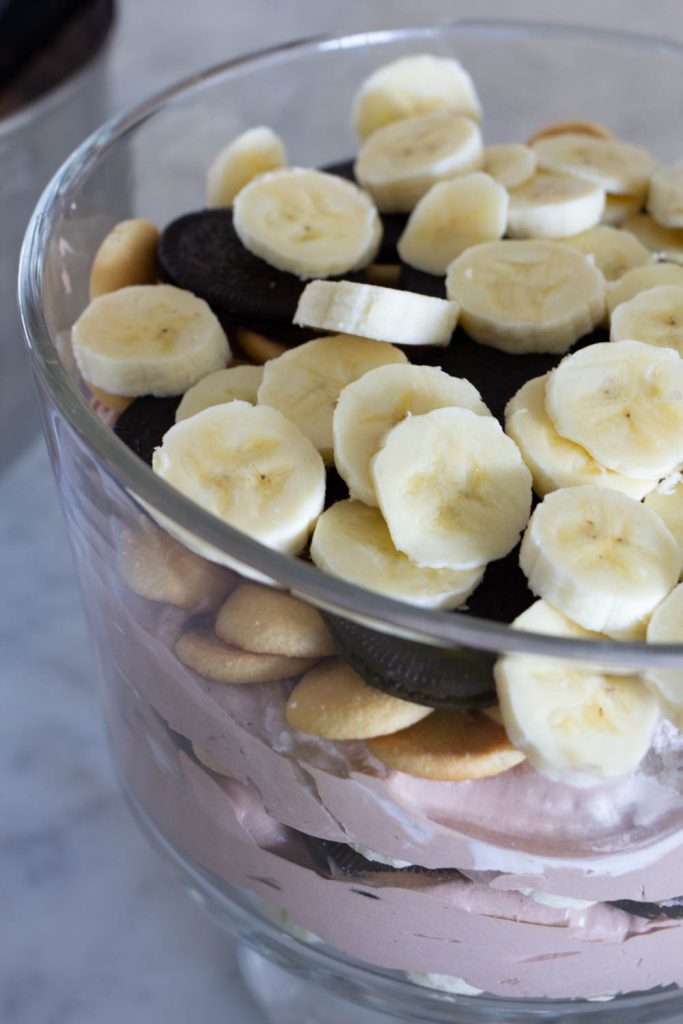 I like to assemble this dessert into small cups for special occasions, or just for sharing with friends.  The mini wafers work better than the full size cookies in small cups.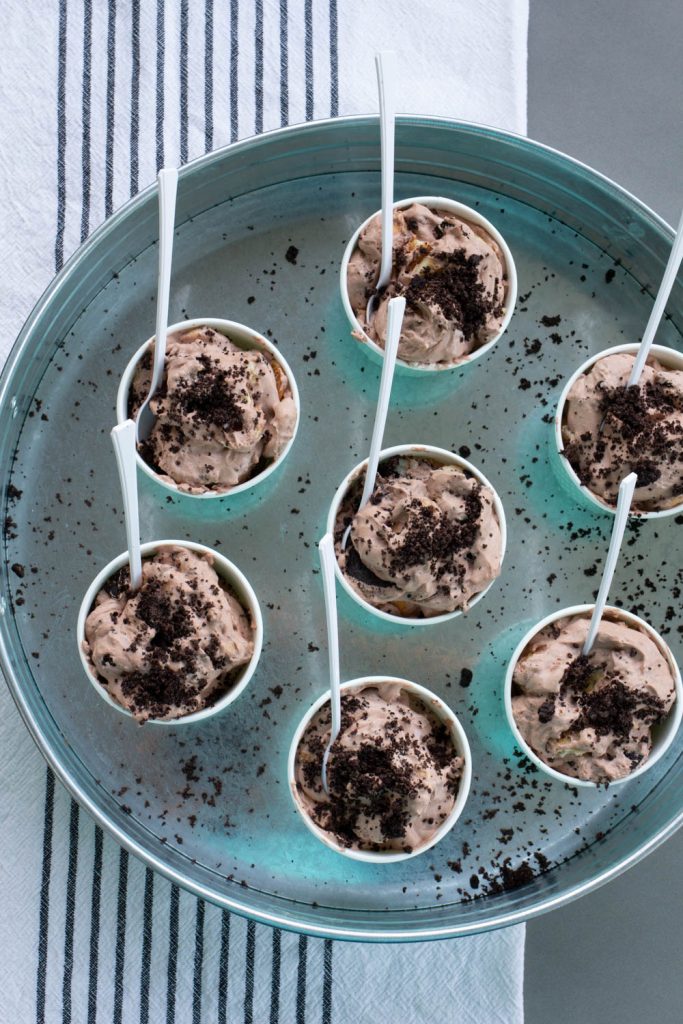 Not all ingredients are created equal…
When purchasing ingredients for this recipe keep in mind that there is a big difference in quality of whipping cream. The best results are achieved when using Heavy Whipping Cream. I highly recommend Darigold Heavy Cream. Most of the time, I purchase this at Costco in a half gallon container. The expiration date is usually about 6 weeks from purchase date, so there's plenty of time to use it before it spoils! If Darigold isn't available where you live, look for a high quality heavy cream, with at least 50 calories per tablespoon. Darigold has 60 per tablespoon. A heavier cream will yield better finished product.
So easy, so good
Chocolate Banana Pudding is a chocolate lover's dream. Layers of chocolate pudding and whipped cream, Oreos, and sliced bananas. Ahhhhhh. I'm warning you. Don't make this unless you have an exit plan for the leftovers! This dessert is so easy to make.  The make at home version of Magnolia Bakery's popular dessert requires a little whisking, a little folding and then layering in a dish or cups. I'm guessing your 8 year old can make this!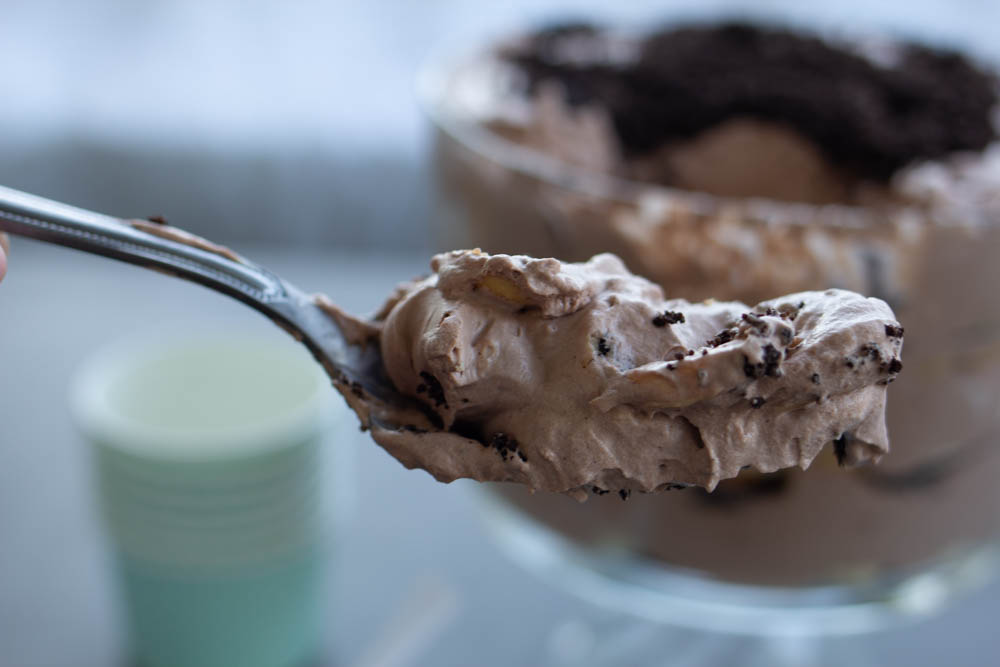 The best news, you never have to turn on the oven! In just a few minutes you can make dessert for a crowd with very little work. Just remember to plan ahead. This dessert needs several hours in the fridge before serving for best results!
Chocolate Banana Pudding can be made in several different size dishes with success. I suggest a trifle bowl, this one is affordable (I have two).  Keep the box for easier transport! I love this 5 quart trifle bowl as well. The paper cups in the photos on this post came from Target in the dollar section. This recipe yields 10 generous 1 cup servings or 18-20 1/2 cup servings.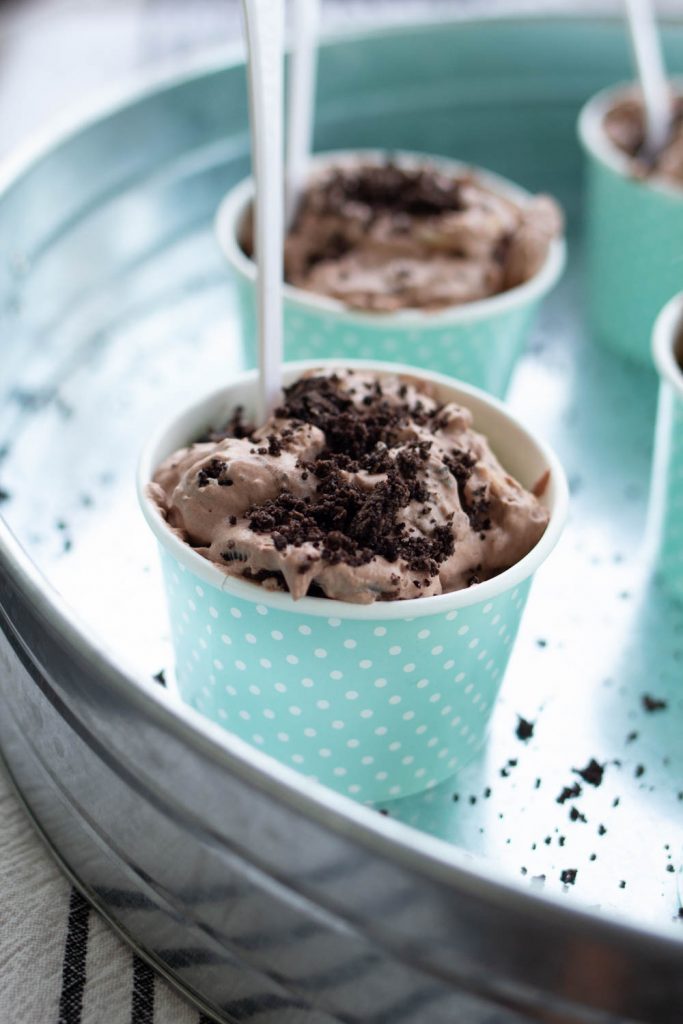 Chocolate Banana Pudding
Total Time
10
hours
15
minutes
Servings
10
generous servings
Ingredients
1- 14

oz

can sweetened condensed milk

NOT evaporated milk!

1

cup

cold water I use cold bottled water from fridge

1- 3.9

oz

(small box) instant chocolate pudding

I like Jello Brand "Instant Pudding and Pie Filling" mix sold in a box

3

cups

good quality heavy whipping cream,shaken

I use Darigold or Winder Dairy

3

tablespoons

unsweetened cocoa powder

4-5

cups

slightly under-ripe bananas

sliced (about 5 large bananabananas should be slighly green (not bright green!)

1- 10.1

oz

package Oreo Thins

reserve some for crumbling on top and placing on top of pudding

1/2

12 oz

box Nilla Wafers regular or mini size

reserve some for crumbling on top and placing on top of pudding
Instructions
In the bowl of a stand mixer or a large bowl whisk together the can of sweetened condensed milk and 1 cup cold water until combined.

Add the pudding mix and beat with a whisk or the whisk attachment. The mixture should be smooth and all pudding ingredients dissolved.

Cover and refrigerate for 2-3 hours or overnight, or up to two days ahead of serving. Make sure to allow the pudding enough time to set up.

In a large bowl, or the bowl of a stand mixer, whip the heavy cream in a clean bowl for a few minutes (this takes about 3-4 mintues in a stand mixer) on high until the cream is stiff. Reduce speed on mixer and add 3 tabelspoons of unsweeteend cocoa. Mix again on lower speed until blended well.

Using a rubber spatula, fold the chocolate whipped cream into the set up pudding mixture until no streaks of pudding remain. Don't beat with a mixer; gently fold mixture so the cream doesn't deflate! You may use a large whisk and whisk by hand.

To assemble dessert, use a large glass bowl, trifle bowl, 9x13 pan or (10-20) 4-8 oz cups. 
If making in small individual containers, I like to use a 1/4 cup measure and place pudding in the bottom of the bowl or cup first, then layer sliced bananas and a layer of cookies, both the Nilla Wafers and Oreo Thins. Repeat and end with a little pudding mixture on top. Cover and let chill for 4-8 hours.

When ready to serve, slice a few bananas and place an Oreo Thin, or crushed Oreo's on top of each serving if making individual portions. If making in a bowl, arrange in three layers and end with either wafers or pudding on top.
Recipe Notes
PLAN AHEAD. You need a full 2-3 hours for the pudding to set up properly. You can do this up to two days ahead of assembling dessert. After allowing the pudding to set up, you'll need another 4-8 hours for the assembled dessert to set up properly. I think 6 hours is the perfect amount of time.
This recipe differs just a bit from the original Magnolia Vanilla Banana Pudding Recipe (also found on ABK).  I found after many test batches the pudding sets up better in the chocolate version of this recipe when using 1 cup instead of 1 1/2 cups of cold water. Also, after several batches of mixing the pudding with the 3 tablespoons of unsweetened cocoa and having it not set up as firm as I like, I started whisking the cocoa powder into the whipping cream. This also reduce the chances of white streaks from the cream showing up in the pudding mixture after the two are blended.
Buy bananas that are slightly green. Make sure the bananas are almost ripe, not bright green! I received several messages regarding the ripeness factor of the bananas when I posted the original Magnolia Bakery Banana Pudding. I understand a riper banana will yield a sweeter banana, but I'd rather have a firm banana that is not discolored than a sweet soft (and eventually slimy) banana in my dessert!
Purchase regular pudding, whipping cream, sweetened condensed milk, and cookies. The success of the dessert depends on it. No low fat or low sugar ingredients/versions of the listed ingredients.
* If you are topping the dessert with fresh bananas, wait to top the pudding with bananas until just before serving!
* If you are making this for a party, and would like to make individual servings, the recipe yields about 10 heaping 1 cup servings (quite a large serving), or about 18-20 1/2 cup servings. I suggest the smaller version for most occasions.