Christmas Pecan Shortbread Cookies are a little family treasure! This traditional holiday cookie was handed down from Grant's grandmother in the early years of our marriage. The dough is filled with pecans, with a pecan also baked on top of the cookie. This is a classic Christmas cookie, if ever there was one!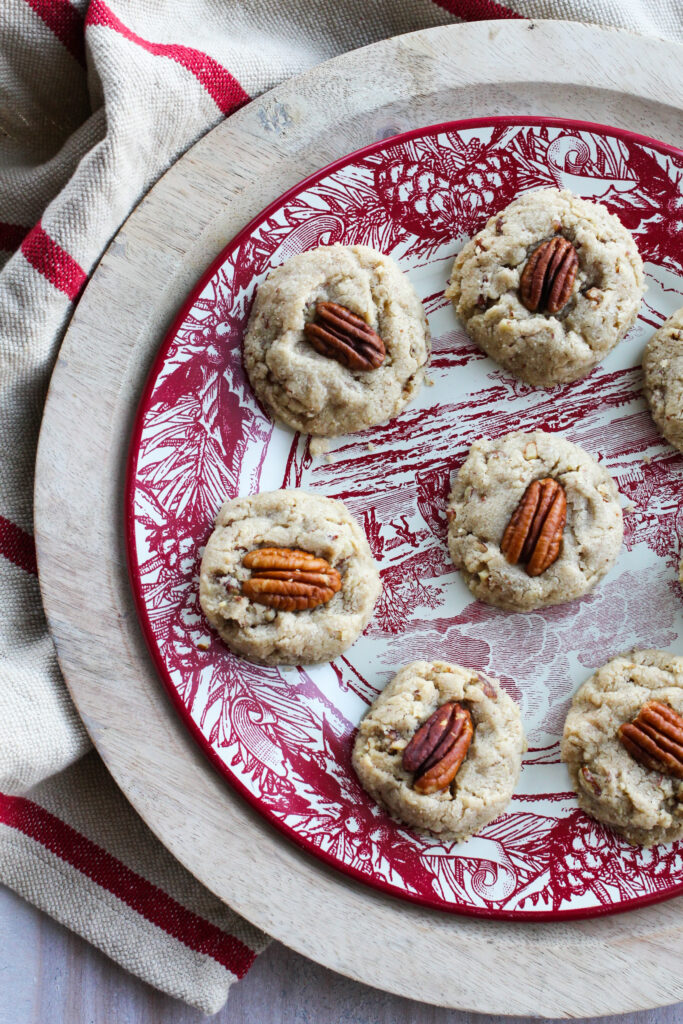 What's not to love about our Pecan Shortbread cookies? They are easy to make, have a long shelf life, and freeze well. I love baking early so I can enjoy the holidays, and pecan shortbread cookies make that task easy! Just make, bake, freeze and enjoy later. They also keep well stored in an airtight container at room temperature for a month!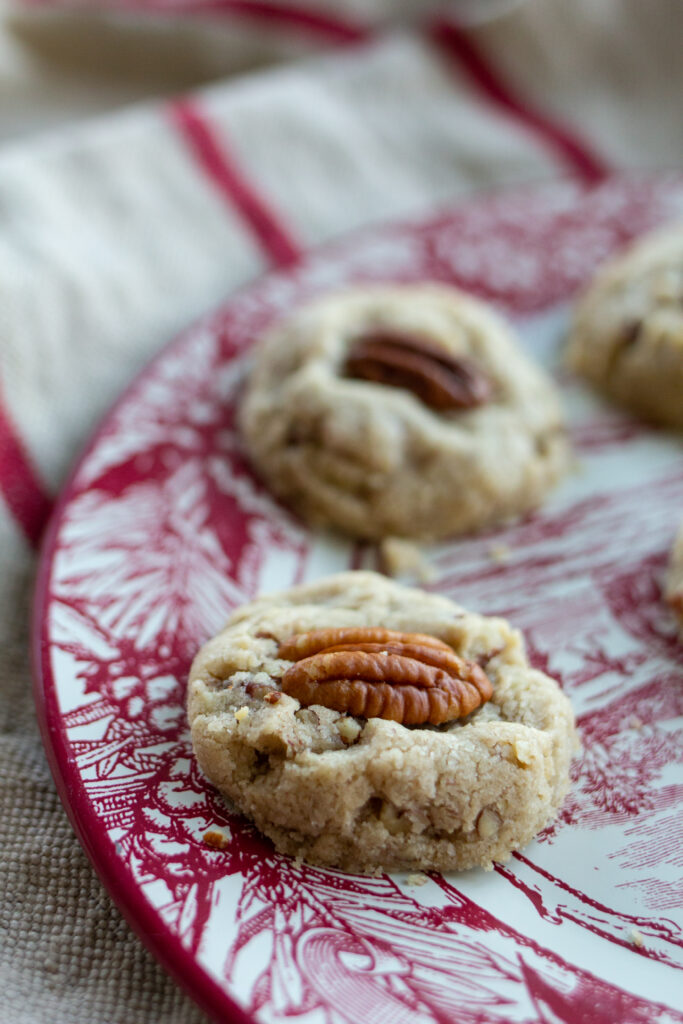 When I think of Grant's Grandmother Lauder, I think of her impeccable style, generous nature and all of the treats she baked at holiday time! She baked ahead of the holidays, and if we were lucky enough to visit Grandmother, she'd give us a shoebox filled with her delicious treats. She is also known for her Peanut Butter Balls, which we make every Christmas!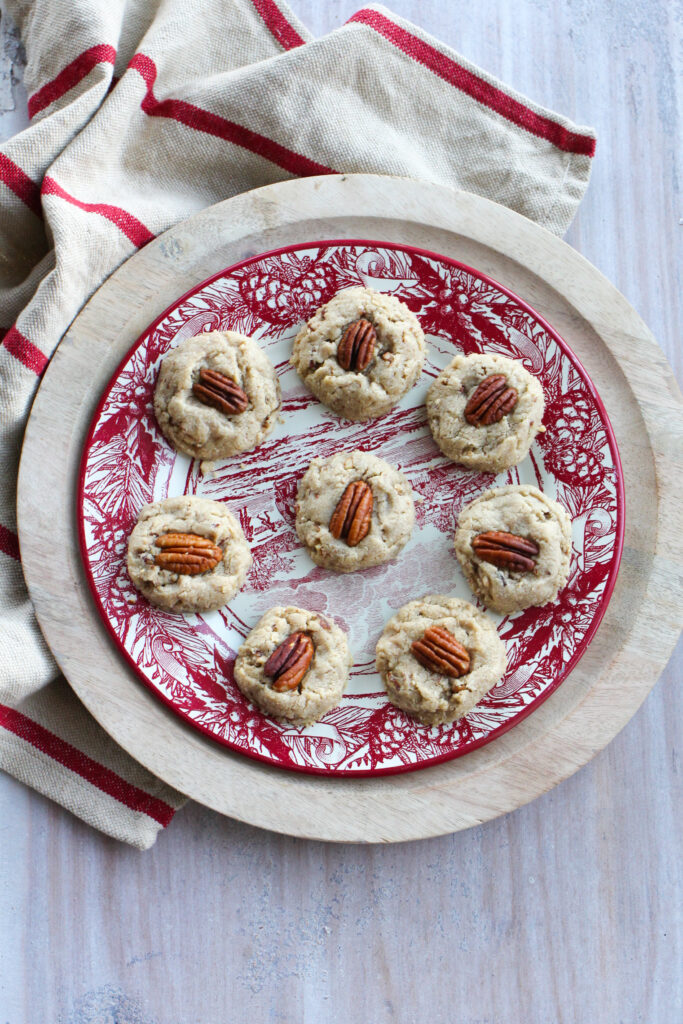 Pecan Shortbread Cookies are simplicity at its best. Sugar, butter, flour, a little cornstarch and nuts. Love the way recipes used to be written: "Bake in a slow oven until done". Typed out, on a real typewriter, using carbon paper. If you are saying "carbon whaaa?" you are probably young enough to be my kid 🙂 This not-to-sweet cookie is versatile too! See the recipe notes for instructions for dipping in chocolate or rolling in powdered sugar.
This post originally published December 2010, update with new content and photos December 2021
Christmas Pecan Shortbread Cookies
Christmas Pecan Shortbread Cookies are classic American cookies enjoyed at holiday time!
Ingredients
1

cup

unsalted butter

softened

2/3

cup

brown sugar, light or dark

1

cup

chopped nuts- pecans, walnuts or a mixture

1 1/2

cups

all purpose flour

1/2

cup

cornstarch

1/2

teaspoon

salt

whole pecans for topping cookies
Instructions
Cream together butter and brown sugar until light and fluffy.

Add 1 cup chopped nuts.

Measure and sift together flour, cornstarch and salt.

Mix dry ingredients into butter-sugar mixture in mixing bowl with mixer set on lowest setting, or use hands and large spoon to mix.

Turn out on lightly floured surface and knead in flour until cracks appear on surface of dough.

Using small 1 inch scoop, make balls of dough.

Place on lightly greased cookie sheet. Flatten slightly with fork and press pecan into center of cookie.

Bake at 275 for about 20-30 minutes or until cookie is light golden color and cooked through. If the cookies spread while baking, use a small spatula and push the edges in to form a circle shape.
Recipe Notes
If the dough is too dry after mixing in dry ingredients and will not hold together, add 1-2 tablespoons milk or water.
Occasionally, the dough may be a bit too wet or soft. This is determined by many things. Humidity, temperature of climate, the softness of the butter, etc.   If the dough seems sticky at all, add a tablespoon or two of flour to the dough. The dough should ideally look like it has been lightly dusted with flour, but not so much flour that it looks dry! If the dough is too wet, it will spread during baking, if it is too dry, the cookie will dry out and be a little tough. 
Dough may also be rolled out and cut into strips and then  baked.
This is a firm, crunchy cookie, perfect for dipping in hot cocoa!

Variations for the Christmas Shortbread Pecan Cookie:

The cookies may be rolled into balls and baked without flattening. After removing from oven, roll in powdered sugar. Let cool, then roll in powdered sugar again.
Leave off the pecan on top and dip half of the cookie into melted chocolate, or melt chocolate and drizzle on top of baked and cooled cookie.
Pecan Shortbread Cookies freeze well. They also keep well in a cool place, covered, for about a month.