Looking for a simple, indulgent holiday dessert or brunch dish? Cranberry Bread Pudding with Caramel Sauce is festive and decadent and so unbelievably easy to make!
This Cranberry Bread Pudding with Caramel Sauce is the best bread pudding recipe ever! Bread pudding generally consists of bread or rolls, cream or half and half, eggs, sugar and butter. This recipe for bread pudding doesn't require much work besides tearing up bread and mixing together a few simple ingredients.
Bread pudding may be made with fresh or stale bread or rolls. I love using "Hawaiian Rolls" which are a little sweeter than a traditional dinner roll. They are sold in specialty bakeries and in stores as big as Walmart. Again, any type of soft roll or even a loaf of thick sliced bread will work!
I believe the key to a perfect bread pudding, and one that is not dried out or too wet after baking is to bake it covered for part of the time, and then remove the foil and bake for a few minutes uncovered to let the top crisp up just a little and allow the excess moisture to escape the pudding. Remember to not overbake, you want the bread pudding to be moist, but not drippy wet!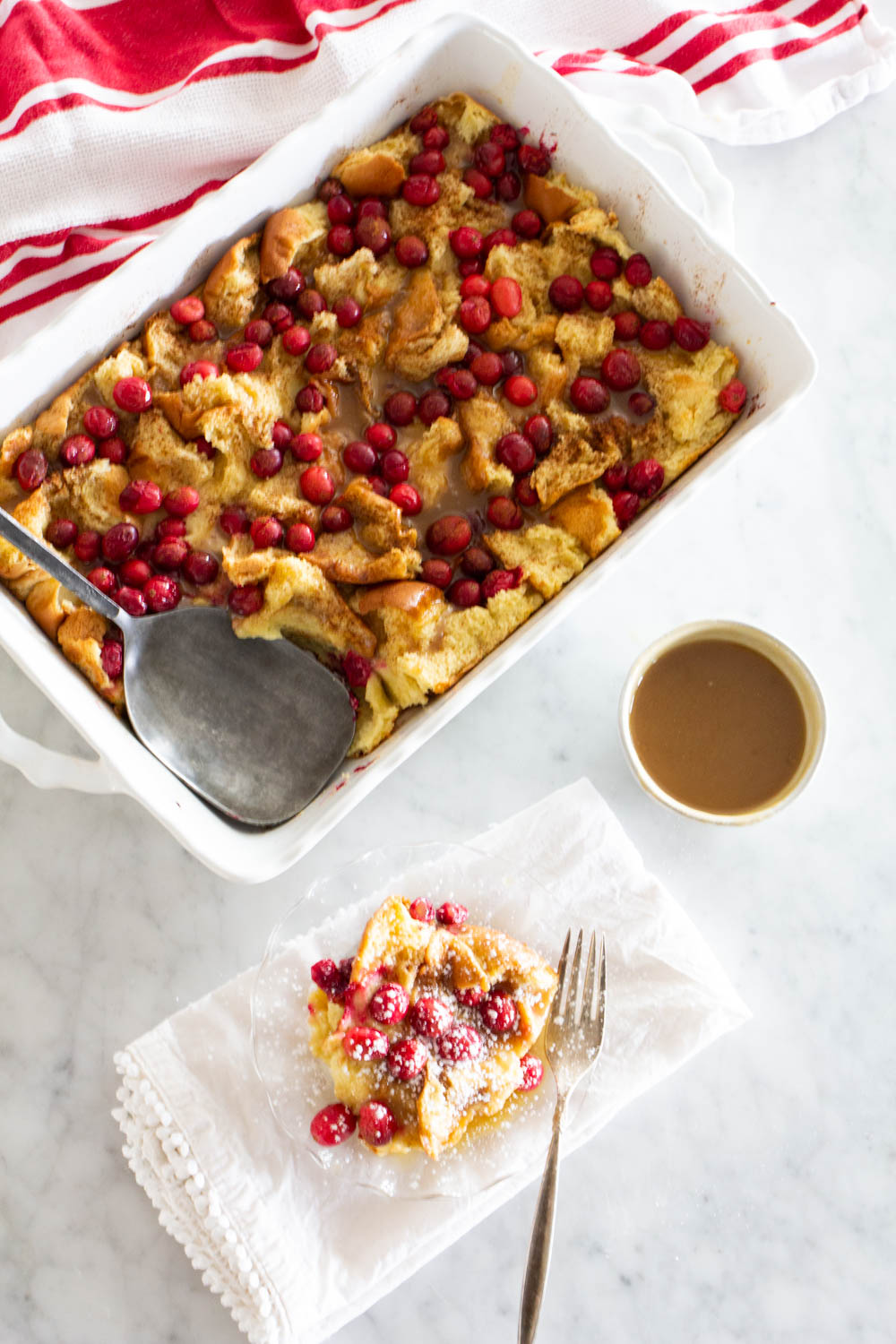 ABK's recipe for Cranberry Bread Pudding is seriously the easiest dessert you will ever make. Place the rolls in the pan, pour the egg mixture over the rolls, cover and bake. While the bread pudding is baking, make the sauce. After the pudding comes out of the oven, pour on a little of the sauce, serve the rest on the side and enjoy! This tart and sweet dish tastes like you spent HOURS in the kitchen. Don't worry, your secret is safe with me!
Every bite of this treat is filled with a creamy, tart and sweet mouthful of goodness that will satisfy any serious comfort food craving. Whip up a batch of this easy Cranberry Bread Pudding with Caramel Sauce for your next holiday gathering!
Ingredients
1

15-16 oz package

Hawaiian Rolls

I used either Sara Lee or King's brand

2

cups

half and half

4

large

eggs

1

cup

granulated sugar

1

tablespoon

vanilla

1

teaspoon

cinnamon

1 1/2

cups

fresh cranberries, washed and drained

1/4

cup

brown sugar

for topping bread pudding
Caramel Sauce
1/2

cup

cup unsalted butter

1

cup

light or dark brown sugar

1

cup

heavy whipping cream

not whipped

1

teaspoon

almond flavoring (optional)

1

teaspoon

vanilla

1/4

teaspoon

sea salt

powdered sugar for serving
Instructions
Preheat oven to 350 degrees and place rack in center of oven.

Spray a 9×13 pan with nonstick cooking spray.

Break each roll in quarters and place sideways to fill the pan.

Blend half and half, eggs, sugar and vanilla in a blender.  When mixed well, pour over top of the rolls evenly.

Sprinkle cranberries and cinnamon on top. Cover with foil.

Bake for 35 minutes, then uncover and bake for 10-12 minutes until light brown. 
For Caramel Syrup
While bread pudding is baking, combine butter, brown sugar and whipping cream in a heavy saucepan.

Whisk sauce until smooth, bring to a boil for one minute, then remove from heat – add vanilla, almond and salt. 

Pour 1/2 cup caramel sauce over the top of the bread pudding after baking, reserving the remainder for individual servings. When ready to serve, sprinkle individual serving with powdered sugar and additional caramel sauce.
Recipe Notes
I place the rolls on their side instead of the bottom of the roll directly on the bottom of the pan because the roll is already browned from cooking the first time! If you place the roll with the browned side down, it will often turn very dark brown on the bottom after the additional time to bake the bread pudding. This also applies to savory breakfast casseroles! The simple solution is to bake the rolls on their side.
If eggs are small, use enough eggs to equal 1 cup.
Use almond flavoring, vanilla, or both. I use both!
You can improvise and add chopped nuts and other berries as you like! 
This recipe may be made up to 24 hours in advance. If the dish is going to sit in the fridge for over 6-8 hours, make sure to add an additional 1/3 cup of half and half to the egg mixture to prevent dryness!