Of all the pies I make at holiday time, Fresh Apple Cranberry Pie is our family favorite. It's fresh, tart and sweet. We love the hint of almond flavor with the combination of apples and cranberries. There's a reason why almost everyone in our family declares this their all time favorite pie!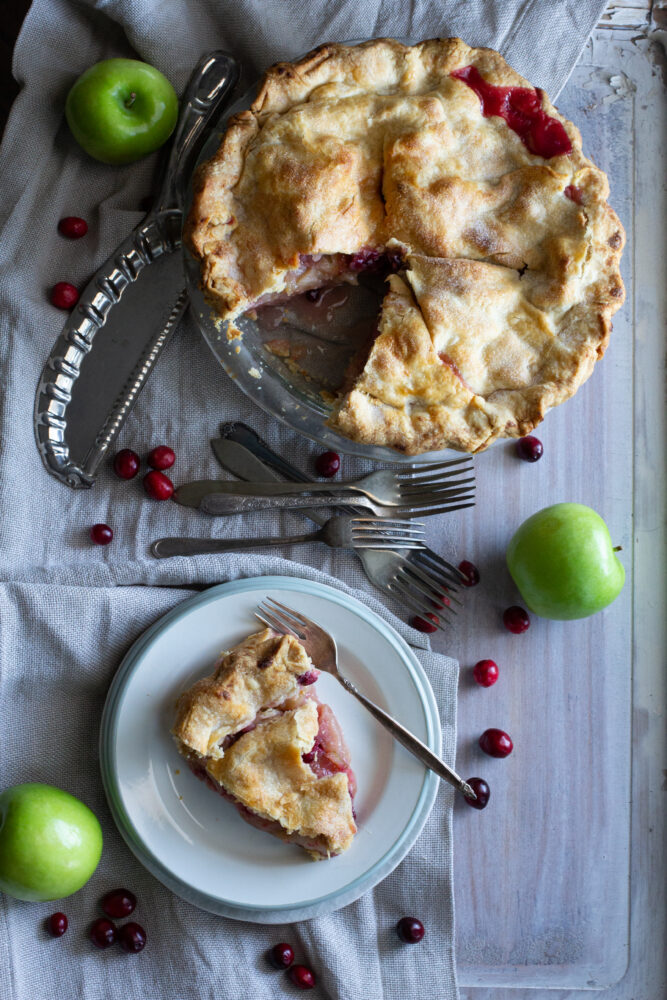 Nothing compares to this Fresh Apple Cranberry Pie! It has been on our Thanksgiving menu for over 25 years and continues to be on the top most requested recipes I make at holiday time. We also make this pie every Christmas as well!
I learned how to make Fresh Apple Cranberry Pie from my friend Carolee years ago. She brought this pie to a Recipe Club dinner back in the early 90's and we have loved it since. The fresh cranberries (not dried) gives this pie an added tartness which pairs perfectly with the sweet cinnamon and sugared apples!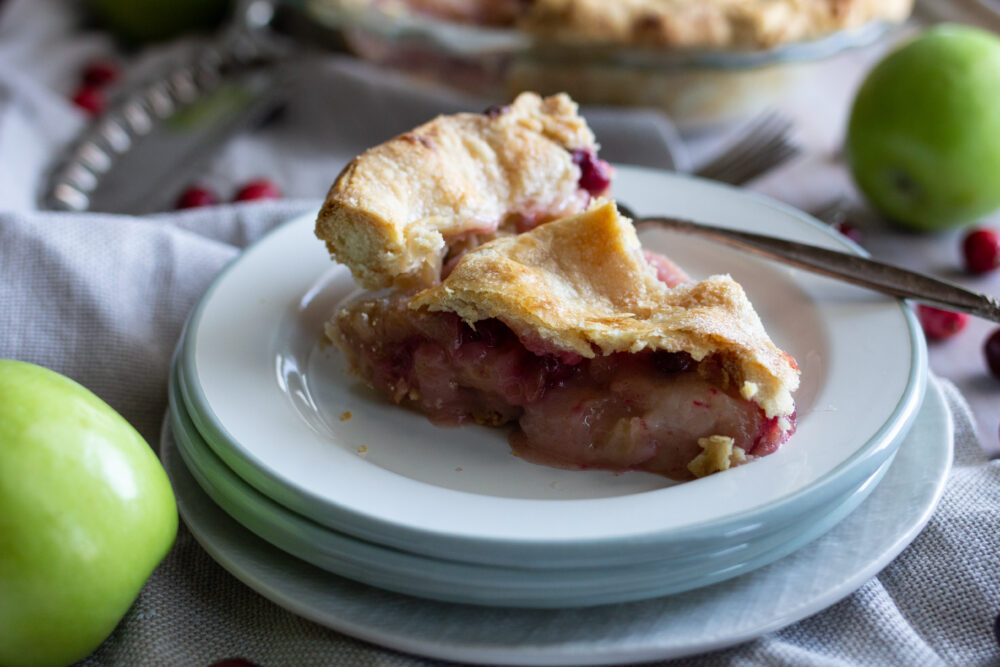 How to avoid runny filling in apple pie
The use of fresh cranberries increases the amount of liquid created in the pie when baked. I use a half cup of flour in the filling to allow the juices to set up when mixed with the sugar. This ingredient is essential when making a Fresh Apple Cranberry Pie to avoid a runny or watery filling! In my traditional apple pie, I use 1/4 cup of flour to thicken the juices from the apples.
How to bake a fresh apple pie
This apple pie recipe is different from most because the apples are not cooked on the stovetop before baking. I like to bake the apples in the pie crust. I believe this results in the freshest tasting pie!
The apples will settle in the pie as they bake (and shrink). To avoid a sunken center in your pie, make sure to mound the apples in the center of the pie so they gradually slope down toward the rim of the pie plate. The apples will usually settle about 2-3 inches while baking!
Why use an egg wash on apple pie?
Coating the top crust with an egg wash will not only give the crust a slightly shiny appearance and a little crunch, but it will also help the top crust to hold its shape while baking! You may use the whole egg for your egg wash or just the egg white, beaten. Remember to only use a small amount of egg wash on the top crust. One egg will coat three pies! If dealing with an egg allergy, the pie crust may simply be left without any additional topping or brushed with cream, or sprinkled with sugar.
How to make a Fresh Apple and Cranberry Pie
Preheat the oven and set rack on lowest setting
Prepare the crust as directed, set aside or in refrigerator
Cut up apples, add rest of filling ingredients
Place the apple and cranberry filling in the bottom crust
Top the apples with butter and place top crust on pie
Brush with egg wash and sprinkle with sugar, cut slits in top of pie
Bake pie and let cool for at least 2 hours before serving
For more tips on making apple pie, read this post! For additional detailed tips on making flaky pie crust, refer to this post.
This post originally published in November 2009 has been updated with additional content and new photos December 2021
Fresh Apple Cranberry Pie
A sweet and tart fresh apple pie! This combination is sure to become your new family favorite pie!
Cook Time
1
hour
15
minutes
Total Time
4
hours
45
minutes
Ingredients
7-8

Granny Smith apples

peeled, cored and sliced about 8 cups sliced

1 1/2

cups

fresh cranberries

washed

1 1/4

cups

sugar

1/2

cup

all purpose flour

1

teaspoon

cinnamon

1

teaspoon

almond extract (optional but highly recommended)

juice from 1/2 of a lemon

about 2 tablespoons-no need for this if using Granny Smith apples

dash salt

1-2

tablespoons

butter, cut into small cubes about 8 total pieces

Crust:

2

cups

all purpose flour

1

teaspoon

sea salt

1

cup

solid shortening such as Crisco

I use 1/2 cup Butter flavor and 1/2 cup Regular (white) Crisco

1/2

cup

cold water (an additional tabelspoon or two may be needed)

1 egg, beaten +granulated sugar for top of crust
Instructions
Preheat oven to 375 degrees. Place rack on lowest shelf in oven.
For crust:
Place flour and salt in medium sized bowl.

Cut in shortening with pastry cutter.

Add cold water all at once, fold with fork, just until all of the flour mixture is moistened. You may need to add a bit more water if baking in a dry climate.

Gather the dough together in a ball. Split the dough in to two parts.

Generously flour a clean surface and rolling pin. Roll out one half of dough to about 1/8 inch thickness into a circle. Continue to place flour under crust when rolling to prevent sticking to surface.

Fold dough in half. Lift onto a 9.5" pie plate. Open and shape to pan. Roll out the other half of dough, and set aside, or place in refrigerator while making filling.
For filling, assembly and baking:
Place sliced apples in large bowl and mix with cranberries. Add remaining filling ingredients and mix until apples are well coated.

Fill bottom crust with apple cranberry mixture. Mound the apple mixture in the center of the pie. Dot top of filling with 1-2 tablespoons of butter.

Place other half of rolled out dough on top of filling in pie plate.

Gather the pie dough around the edge of the pie, fold under to form a seal to keep all juices from escaping while baking.

Crimp and decorate edges and make slits on top of pie for steam to escape.

Brush with egg wash if desired, sprinkle with 2 tablespoons sugar.

Place pie onto foil-lined cookie sheet (important, this usually bubbles over a bit).

Bake for about 90 minutes. Cover loosely with foil if pie is getting too brown about half way through baking. Bake until pie is bubbly and golden.

Remove from oven, let cool for at least 2 hours before cutting, 3 hours is best!
Recipe Notes
Generally, I use a 9.5 inch pie plate that is about 1.5 inches deep (not considered deep dish). 
I am a huge fan of using Pyrex glass pie plates for baking pie.One of the biggest problems (especially beginner pie makers) experience is an under done bottom crust! The glass pie plate solves this problem because you can take a quick peek at the bottom crust to see if it is golden. Nothing is worse than making a pie and having the bottom crust turn out doughy!