This easy gazpacho recipe highlights the end of summer harvest! Fresh tomatoes, cucumbers and peppers are essential ingredients. Gazpacho is the perfect meal on a hot day because-  no cooking required!
Gazpacho memories
I still have vivid memories of the first time I ate gazpacho. I was going into my senior year of high school  and my friend Victoria, who was a server at Ericksen's restaurant  in Poulsbo, WA offered me a bowl of gazpacho. The fresh chopped  veggies, topped with a little sour cream was heavenly.  It's been years but I still remember that food experience!
How to Make Gazpacho
If you can chop, you can make ABK's  gazpacho soup.  First, are you wondering –  Exactly what is Gazpacho??  Gazpacho is a chilled soup, traditionally made in Spain and some areas of Portugal. In Spain, it is blended until smooth, and includes a few ingredients. This recipe is not a traditional Spanish version of gazpacho. I love my veggies chunky.  When I'm enjoying gazpacho in the hot weather months, I love to eat it as a main dish. Smooth soup – even if it includes the same ingredients blended up, somehow doesn't seem quite as filling!
Sometimes I blend up a third or half of the chopped veggies, but most of the time I just chop the veggies, add tomato juice and serve. I love this easy gazpacho recipe because it is so versatile. If you love zucchini, add some chopped zucchini. Yellow squash is also a great addition.  If you don't love peppers- leave them out, just add another veggie to make up the volume. Some people will scoff at adding ingredients like fresh chopped avocado and even herbs like fresh basil or cilantro to gazpacho, saying it is not an authentic ingredient, which is true for traditional Spanish gazpacho, but this easy gazpacho recipe is an  'add what you love'  gazpacho. So improvise away!
Gazpacho Soup?
Technically, gazpacho is cold soup. It is best when fresh tomatoes are plentiful. Most gazpacho served in Spain or Portugal is served with a bit of bread in the veggie mixture, which thickens the soup. I like to make homemade croutons to serve on top.  Of course if you want to make this a gluten free meal, leave the croutons out, or use gluten free bread for your croutons!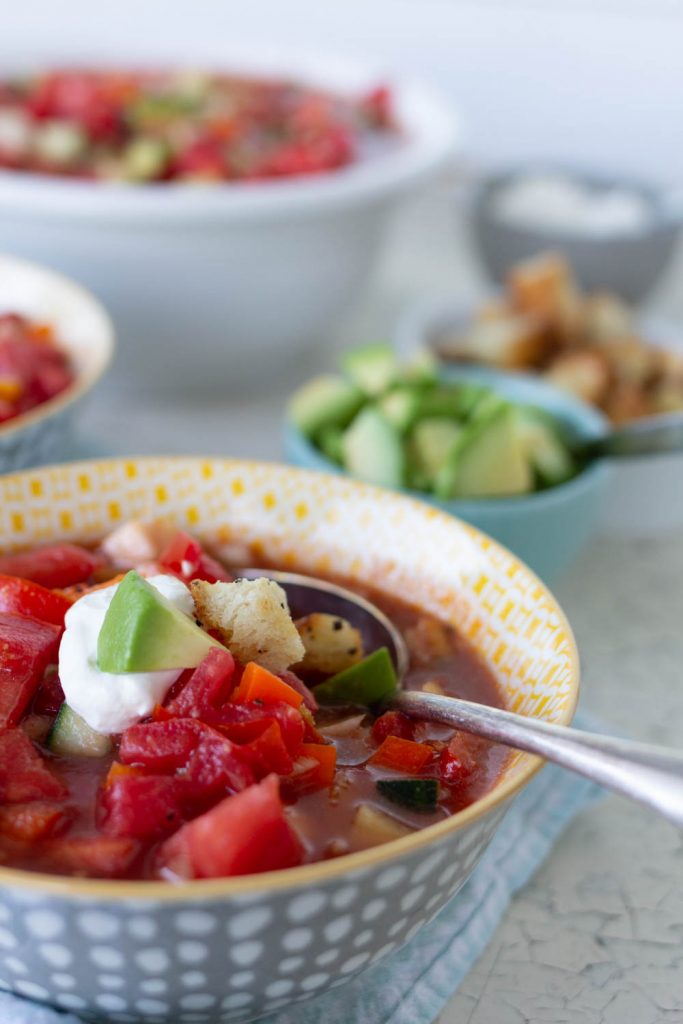 Easy gazpacho Recipe – Perfect for make ahead
I've made ABK gazpacho many times and it is the perfect make-ahead dish for a busy day! This easy gazpacho recipe is perfect for a starter or main dish. One recipe yields about 12 cups of gazpacho,  and can easily be halved. I love to make a full recipe (or two) and give away a few jars filled with gazpacho.  Since this recipe is made with fresh veggies it needs to be eaten within about 3 days!
Ingredients
Gazpacho ingredients
4

lbs

fresh tomatoes, cored and cut into chunks*

about 8-10 cups total

2-3

red, yellow or orange bell peppers, or a mixture, cored and seeded and chopped into 1/2 inch pieces

about 2-3 cups total

2

medium

seeded cucumbers, skins peeled or left on

about 3 cups total

1

small

sweet or white onion, chopped into chunks

such as Vidalia, Maui, or Walla Walla about 1 cup total

1

jalapeno, seeded and chopped small

or a few shakes of hot pepper sauce

2

avocados*

optional- see recipe notes

2

cloves garlic, minced

1/4

cup

red wine vinegar or white balsamic vinegar

1

fresh lemon, juiced

2-3

teaspoons

sea salt or kosher salt

to taste

1

teaspoon

Ground black pepper

to taste

4-5

cups

tomato juice or V8 juice*
Garnish
1

chopped avocado

1

5.3 oz

plain greek yogurt or sour cream

Extra-virgin olive oil

for drizzling on top

croutons

recipe linked in post
Instructions
Combine all chopped veggies in a large bowl.

Add the vinegar, fresh lemon juice, salt, pepper and tomato juice. Gently fold together and add more salt and pepper if needed.

Cover and refrigerate until ready to serve.

Serve cold, drizzling each portion with a little olive oil and other garnishes as desired!
Recipe Notes
This recipe is easily halved for a smaller quantity.
Tomatoes can be any variety. I've used Beefsteak to Romas. Heirloom are also nice for color. If your tomatoes are really juicy, you can drain the juice by chopping and placing the tomatoes in a colander in sink. This will drain off any watery juice and a few of the seeds.
It is not necessary to skin and seed the tomatoes, but if you prefer the gazpacho (mostly) seedless and skin free, take a few extra minutes and skin and seed. To easily skin the tomatoes, boil a pot of water. Carefully drop the tomatoes about 4-5 at a time into the water for about 1 minute and remove with a large slotted spoon to a cold water bath. Not actually a bath, but a large container filled with cold water. this will stop the cooking process and help the skin to fall off easily! Then place tomato in another bowl and then chop. To seed, run the knife along the inside of the tomato and remove the soft seeds and discard. Again, place the chopped tomato into a colander to drain any watery juice. 
I like to leave the skin of the cucumber on for extra crunch and color, but peeling is fine too. If using baby cukes, no need to seed before adding to this recipe. 
Make sure to seed the jalapeño or the gazpacho will be very spicy! 
When choosing avocados for this recipe, choose ripe but not overly ripe as you would for guac. I like to use an avocado that is barely soft so it will hold up for a couple of days in the gazpacho! 
I've used everything from V8 to Trader Joes brand tomato juice in this recipe. I prefer plain tomato juice to V8. 
I don't recommend freezing gazpacho!