Nothing says PARTY like a tray of our easy Ham and Cheese Sliders with Poppyseed Topping! It's a one tray, feed a crowd type of recipe. Easy to make-ahead or assemble in minutes with a crew.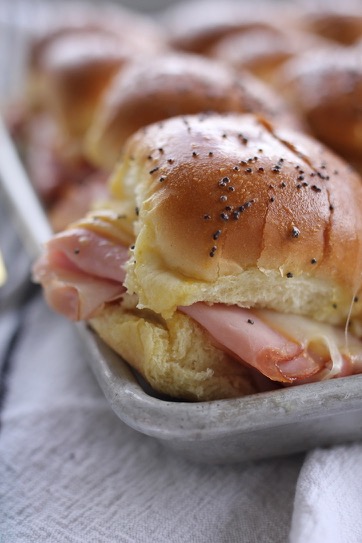 Is there a person in the world who doesn't love a warm ham and cheese slider? There are so many reasons to love this easy to make recipe! The ingredients are easy to find. From your local grocery to Costco to Walmart, everything you need for this recipe is accessible in one quick trip to the grocery store.
If you don't love ham, this recipe can easily be adaptable to turkey as well. In fact, if I'm making this for a large group, I often make half ham, and half turkey sliders, and change the cheese up a bit. Ham and cheddar, turkey and gouda. The possibilities are endless!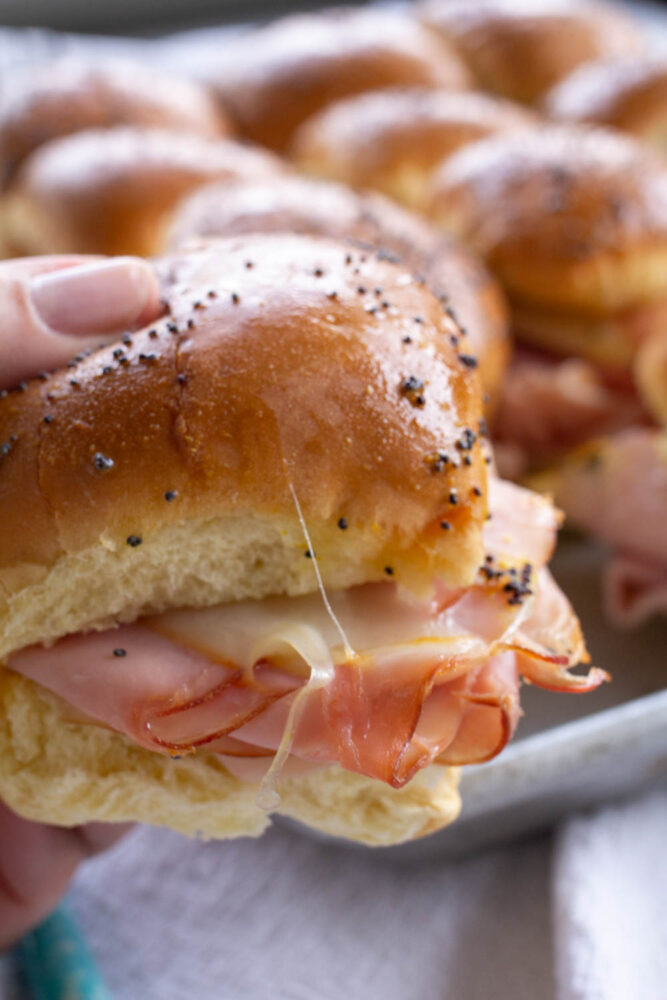 How to make sliders ahead!
I have made Easy Ham and Cheese Sliders with Poppyseed Topping ahead many times. I first wrap the tray of sliders, placed in the fridge overnight, or make early in the day and set in a cool place. Just cover with foil until ready to pop into the oven. The trays of sliders are easy to assemble. The most time consuming part of this recipe is the baking time!
What are the best rolls to use for sliders?
The rolls are an important part of this recipe! I've used everything from store brand rolls to King's Hawaiian brand rolls to locally baked products (Grandma Sycamore's at holiday time). If I'm making these for a crowd (100 or more), I usually buy Walmart brand rolls (see recipe notes) because they stack easily and I can ask the deli person to get as many as I need right out of the freezer.
I like this option, because they are easy to transport without worrying about the rolls getting smashed. The Walmart brand rolls are also fairly flat, without a big rounded top, so as I mentioned they stack well, even if you have to throw them in your freezer once you get home.
How much meat and cheese is the right amount for sliders?
If you are worried about buying just the right amount of meat and cheese, do a test run. Make a single pan, or half of a pan and see how many slices of meat and cheese you prefer on the rolls. Then make a note and adjust your meat and cheese amounts accordingly. This will also give you a good gauge for how much of the poppyseed and butter you like on top. The topping is optional, but I think it is what makes these little sliders special!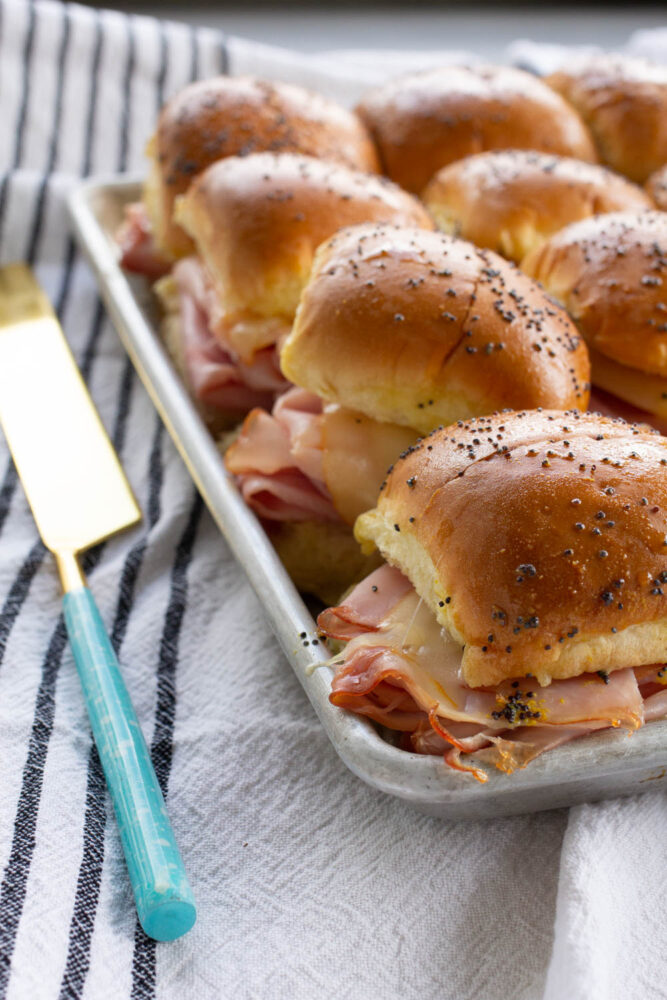 Tessa's original recipe "Mini Melts" still a favorite today!
This recipe was given to me by my friend Tessa, who made sliders for a Chi-Omega luncheon. Tessa said the girls loved the sliders, which convinced me to give this recipe a try. That was about 10 years ago, and I've been making these since. This recipe was originally called Tessa's Mini Melts with Poppyseed Drizzle, but every time someone asked me for a slider recipe, they couldn't find it on ABK! So we renamed the recipe, and now it will be easy to find if you search "sliders" on ABK 🙂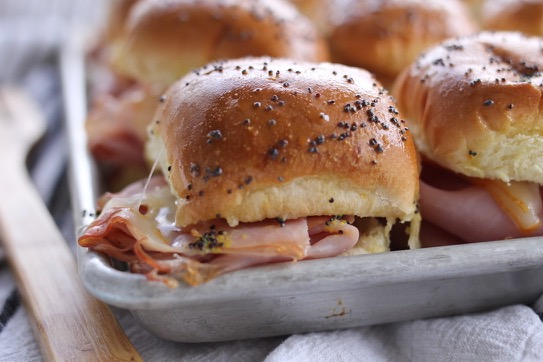 Tessa is a regular contributor of recipes on ABK! Her Chicken Enchiladas and Pan Cream Cheese Sugar Cookies are legendary and have been made and shared more times than I can count. I think you will love this recipe for Tessa's sliders as well. Leave us a comment and let us know if you make the sliders!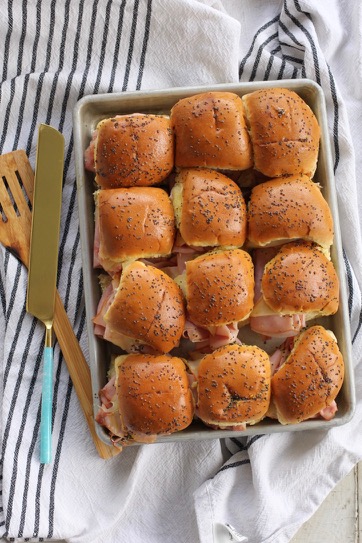 How to make Easy Ham and Cheese Sliders with Poppyseed Topping:
Slice rolls
Place meat and cheese inside of roll and fold roll to close.
Heat ingredients for topping in microwave or on stovetop.
Brush prepared rolls with topping.
Cover with foil.
Bake and enjoy!
Make sure to read recipe notes for tips on making sliders for a few to 100! This recipe is easily adaptable to feed a crowd.
Easy Ham and Cheese Sliders with Poppyseed Topping
This easy to make slider is perfect for gatherings or an easy weeknight meal!
Ingredients
3

dozen soft dinner rolls

2

pounds

deli meat- ham or turkey

or have the deli slice up the exact amount of slices you need*

1

pound

sliced deli cheese

or approx 18 slices, cut in half
Topping:
2

tablespoons

poppy seeds

2

tablespoons

yellow mustard

1/2

cup

butter

1

tablespooon minced dehydrated onion

optional

1

teaspoon

Worcestershire sauce
Instructions
Slice rolls and put small amount of turkey or ham with one slice of cheese on each roll. Place sandwiches in 2- 9×13 baking dishes or one large jelly roll pan. I like to place a sheet of parchment on bottom for way easy clean up.

Heat ingredients for topping in a saucepan until butter is melted. Brush or spoon topping onto sandwiches right before cooking.

Cover with foil. Bake at 350 degrees for 15 minutes or until cheese melts.
Recipe Notes
These sandwiches may be assembled in advance. A day before is fine, but don't brush with drizzle until right before cooking. Store in fridge covered tightly with foil.
*Deli meat- Slice the meat in half with a sharp knife (I cut the meat all at once). If you have 36 rolls, order 18 slices of deli meat, then cut in half.
I use a combo of ham/swiss, ham/cheddar, turkey/havarti. turkey/gouda.
I have also used Costco large croissants and cut them in half after stuffing with meat and cheese. Here are the proportions using large Costco croissants:
3 doz large croissants
4 lbs ham or turkey
2 lbs sliced cheese
Served approx 75
When using Walmart brand rolls- The rolls are found in the deli.  When making sliders for a large (100+) crowd Walmart rolls work well.  They come 16 to a package, are inexpensive and stack well without smashing.
I have also used a roll that looks similar to a Granny Sycamore cluster roll from Costco. They usually only sell these in the fall and winter months. This roll is much thicker than the Walmart brand roll, and I add more meat to the sandwich when using the Granny roll, so the meat is not lost in the roll!
Cooking for 100: plan on about 1 1/2 rolls per person if you are serving other buffet items such as salads, appetizers, sweets. 10 packages of "The Bakery" rolls from Walmart, (Potato or Sweet Hawaiian) 16 per pkg =160 rolls
Deli meat sliced, approx 80 slices, cut in half to yield 160 slices. Cheese slices, approx 80 slices, cut in half to yield 160.
For the poppyseed sauce, use the following for 100:
1 1/4 lb butter, melted (5 sticks)
8 tablespoons poppy seeds
6 tablespoons mustard
3-4 tablespoons dehydrated onion (optional)
2 tablespoons Worcestershire
Follow directions above for baking.