This recipe for Easy Instant Pot Turkey Breast is about to make your life easier! No more waiting hours for a turkey breast to cook. Our simple recipe produces a moist turkey breast in a short amount of time!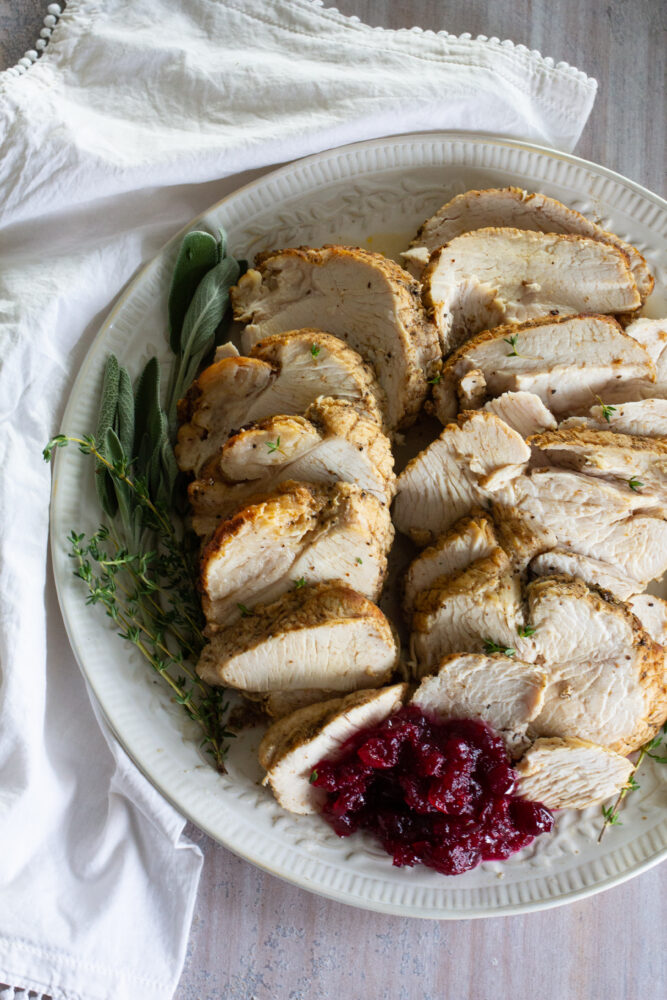 If you think you have to cook a 24 pound turkey to enjoy your holiday celebration, think again! Instant Pot Turkey Breast is an easy way to add holiday cheer without a big mess or spending a lot of time in the kitchen. All you need is an Instant Pot, olive oil and seasoning. In about 1 1/2 hours, your home will be filled with the smell of roasted turkey!
My daughter Corrine (who lives in CA and travels to UT for most Thanksgivings) cooks a turkey breast and makes a couple of sides every year after Thanksgiving. She loves leftover turkey sandwiches, so this is a quick fix for her family without a lot of effort! One turkey breast will serve about 6 people. It's perfect for making roasted turkey sandwiches or this Leftover Thanksgiving Pie after Thanksgiving.
I used to cook turkey breasts in my slow cooker, but this method is much quicker! It takes about 1 1/2 hours from start to serving time. The Instant Pot cuts off several hours from slow cooker or oven time! It's good to keep in mind that just because the Instant Pot is named the Instant Pot, it's not really instant. I like to think of the IP as a tool to speed up a process (that usually takes hours) into a much shorter period of time!
Why cook turkey breast? Not an entire turkey?
If you answer yes to any of the following statements, cooking an Instant Pot Turkey Breast is the recipe for you!
This is the "In-laws" year for Thanksgiving
We've decided not to gather in large groups this year
I want leftovers after the big feast! (Mmm- turkey sandwiches on rolls with cranberry sauce!)
I'm travelling but still want to have a little T-day feast before I go (or after I return).
For any of these reasons, we have perfected the art of cooking Turkey Breast in the Instant Pot!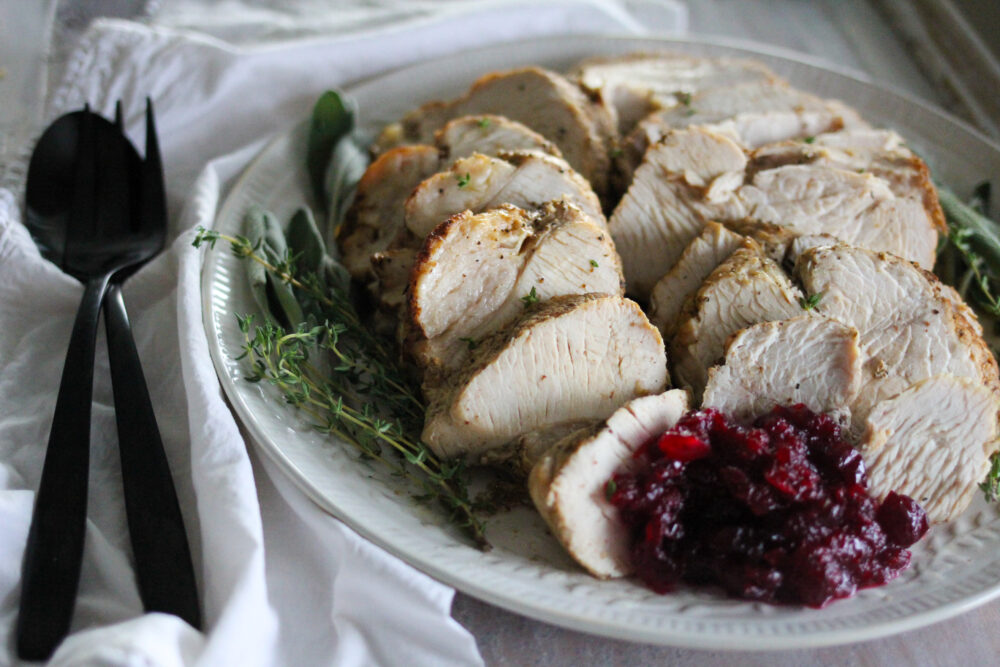 How to make gravy when cooking a turkey breast
Is it possible to make gravy if you don't cook a whole turkey? Most turkey breasts come with a gravy packet, which goes straight into my garbage can. Turkey gravy is so easy to make, why use a package when you can make it in the same pot in minutes?! Make the gravy with the drippings from your cooked turkey breast in the Instant Pot while the turkey is resting before serving.
Why it is important to let the turkey rest before slicing?
I used to think WHY? Why do all recipes for turkey say to let the meat "rest" before slicing. Trust me, it is important. Allow cooked turkey breast to rest for 10 minutes before carving. Here's why. Rest time allows the turkey to retain its natural juices and will keep the turkey from drying out. If my turkey breast sits for a while before serving, I keep it covered with foil. If I'm going to serve it right away, I don't cover the turkey. The foil is primarily to keep the turkey meat warm, but will also help the turkey to finish cooking internally if it needs a little extra cook time.
What's the difference between a Boneless vs Bone-in Turkey Breast?
After cooking and tasting both both boneless, and bone-in turkey breasts in the Instant Pot, I can report that I prefer the bone-in turkey breast. I like the way the bone-in cooks up, and like the texture of the bone-in turkey a bit better. When I first cooked a bone-in breast, I thought the cook time might be a bit longer than the boneless turkey breast. I could not have been more wrong!
I pressure cooked a 6 lb breast for 35 mins in an 8 quart pot, and did not use the rack. Two problems. First, I think cooking without the rack creates a problem with the turkey being directly on the bottom of the pan and heat source. I could be wrong, but I believe that contributed to overcooking. Second, I cooked at 35 minutes and then allowed the turkey to sit in the pot for about 15 mins total after cooking. The result was an extra dry turkey!
For a 6 lb bone-in turkey breast, I've found that 25 minutes works best. I brown it according to recipe directions. Then use high pressure for 25 minutes. After allowing the turkey to natural release for 10 mins, I remove from the pan, and let the turkey sit on a plate or cutting board, covered with foil. Slice and serve afterward. I suggest 23 minutes for a 5-5.5 lb turkey breast bone-in, `10 minutes natural release and remove from IP. Let it sit for 10-20 minutes covered, then serve.
Our recipe for Instant Pot Turkey Breast is a "prep it and forget it" cooking method. Here's how we do it:
How to Cook Easy Instant Pot Turkey Breast
Rub turkey breast with oil and spices
Brown turkey breast in the Instant pot using SAUTE setting
Place turkey breast on rack
Add liquid and cook
When done, allow pressure to release naturally
Cut off and discard the twine on turkey. Let sit for 10 minutes before carving
Easy Instant Pot Turkey Breast
Do you love turkey, but don't want to cook a whole turkey? Cook a turkey breast in the Instant Pot! So easy, so moist and flavorful!
Time for IP to come to pressure, also natural pressure release, and the to sit after cooking
50
minutes
Total Time
1
hour
22
minutes
Ingredients
4-5

lb

pound boneless turkey breast, thawed*

I usually cook a 4.75 lb breast

2

tablespoons

olive oil

3

teaspoons

paprika

1

tablespoon

poultry seasoning

1

teaspoon

salt

1

teaspoon

pepper

2

teaspoons

garlic powder

2

teaspoons

onion powder

2

tablespoons

olive oil (for browning)

For Gravy

3

tablespoon

butter

3

tablespoons

all-purpose flour

2 1/2

cups

drippings from turkey plus water to equal 2 1/2 cups total

1

tablespoon

Better Than Boullion concentrate or Knorr Homestyle Concentrated Stock container

salt and pepper to taste
Instructions
For Turkey Breast:
Drizzle olive oil on the turkey breast, sprinkle evenly with spices and rub in on both sides.

Turn Instant Pot to the SAUTE setting and let it heat up for a few minutes. Add 2 additional tablespoons of olive oil to the pot. Brown the turkey breast on one side, then turn over using a large fork or tongs. Transfer the browned breast to a wire rack (sold with the Instant Pot) See photo.

Carefully lower the rack holding the turkey breast into the Instant Pot. Add 1/2 cup water to the Instant Pot.

Close the lid, lock and place the valve on SEAL position. Set the Instant Pot to the MANUAL setting and set the timer to 27 minutes on high pressure.*

Once the Instant Pot cycle is finished, allow the pressure to release naturally, (about 10-15 minutes). Release any remaining pressure after 15 minutes. Carefully unlock and remove the lid from the Instant Pot.

Check the internal temperature with an instant read thermometer. The temperature should read 160-165 degrees. The breast will continue to cook for another 5-10 minutes after removing from the pot.

Remove the rack from the pot carefully to a large plate or a cutting board. Cut off the butchers twine from the meat. Let cooked breast rest for 10 minutes, slice and serve. If not serving right away, cover with foil to retain heat and wait to cut until ready to serve.
For Gravy:
Remove the drippings from the pot, do not wash out the Instant Pot. Strain the fat from the top of the drippings, discard fat. Set aside the strained drippings in a measuring cup. Add water or chicken broth to the drippings to equal 2 1/2 cups total after draining the fat.

Turn the Instant Pot to the SAUTE setting . Add 3 tablespoons of butter to the pot and cook until the butter is melted. Whisk in 3 tablespoons of flour. Cook flour and butter for about 1 minute, continue to whisk.

Pour the liquid (equaling 2 1/2 cups) back into the Instant Pot a little at a time. Whisk until smooth. Add salt and pepper. If the gravy needs more flavor, add 1 tablespoon of "Better Than Boullion" or Knorr chicken flavor. Cook until bubbly. Whisk until smooth. Serve immediately.
Recipe Notes
Boneless turkey breast will cook differently from bone in turkey breast. Boneless are usually sold wrapped in butchers twine. Bone in turkey breasts are not usually wrapped in twine, and it is not necessary to use twine. 
Use the high pressure or Manual setting instead of the Poultry Setting on the Instant Pot.
There is usually a layer of fat covering the turkey breast to keep it moist if it is a boneless breast, I remove this before eating, but leave it on while cooking.
Allowing the Instant Pot to pressure release naturally, instead of manually releasing the pressure, (especially when cooking meat) will result in more tender and juicy meat. 
Butterball boneless turkey breasts are usually 4.75 -5 lbs. I've found that 27 minutes is perfect cook time for this weight. Most online sources say to cook turkey breast for 6-7 minutes per pound in the Instant Pot. 
It is important to note that boneless and bone in turkey breasts cook differently. For a bone in breast, I follow the directions to brown first on both sides. Place the breast on a rack. I recommend cooking a 6 lb breast for 25 mins on high pressure, with a 10 minute natural release. Remove from the pot, set on a plate. Cover with foil and let sit for 10-15 minutes before slicing.