Easy Spanish Arroz Brut (Mallorca soup), is found in many restaurants on the island of Mallorca! This classic Spanish soup, also called Spanish dirty rice, is so easy to make and a perfect meal in a bowl on a cold day.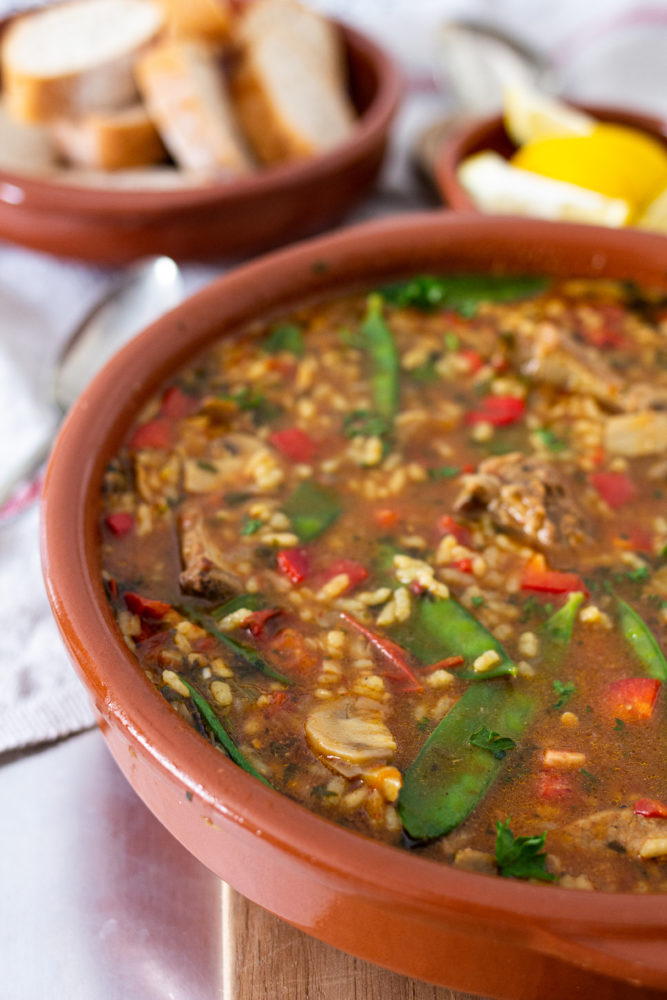 I love classic Mallorquine cooking. It includes lots of saucy dishes filled with vegetables and meats of various types. Some are fish based, others are made with rabbit (common in grocery stores in Spain) or chicken.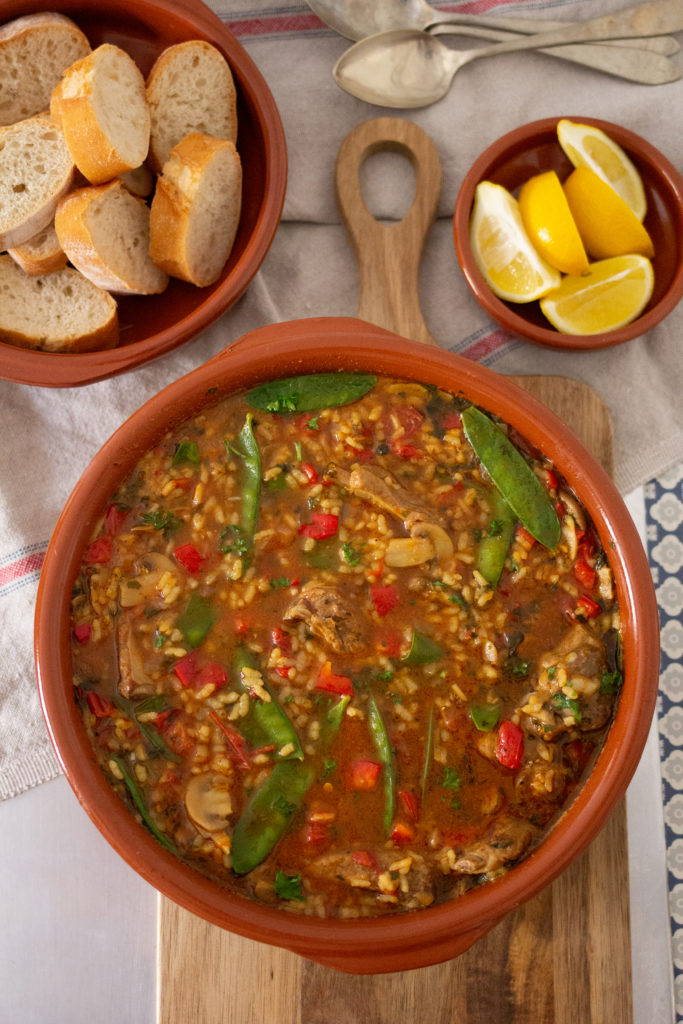 I first ate Arroz Brut shortly after we arrived in Mallorca. What is in this flavor-packed hearty soup? The aroma is incredible. The cinnamon in this soup gives it the most beautiful aroma and flavor. Before you say cinnamon doesn't belong in a soup, you have to make Arroz Brut!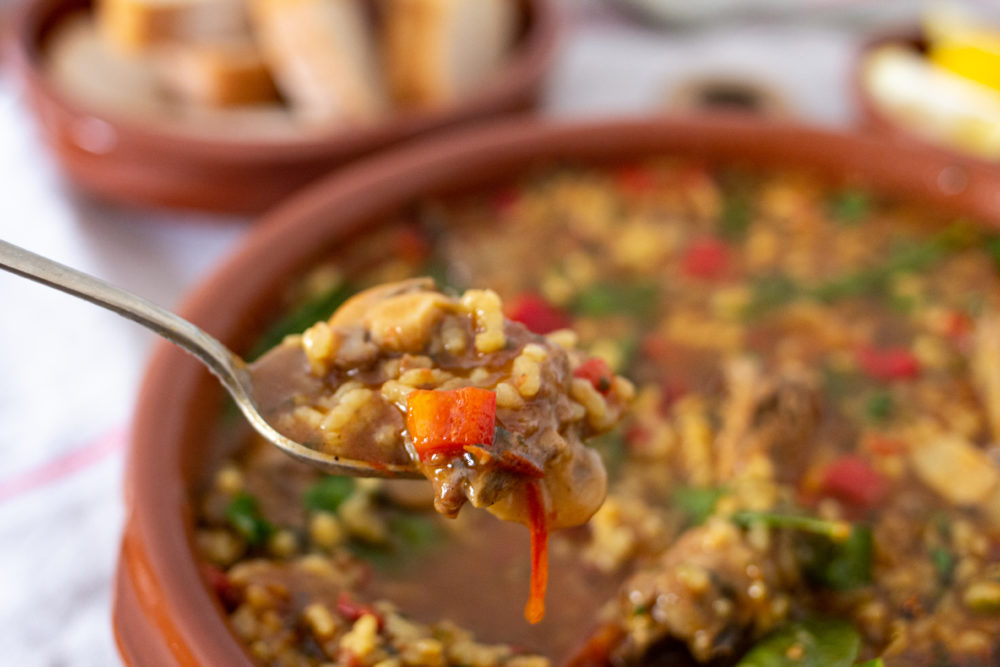 I have eaten Arroz Brut made with pork ribs or chicken, and loved both. I think the pork ribs make the tastiest version of Arroz Brut, but chicken is probably what most of us have on hand. Chicken thighs have better flavor than boneless skinless white meat. If you want to use white meat, it works, but thighs will yield a better flavor overall.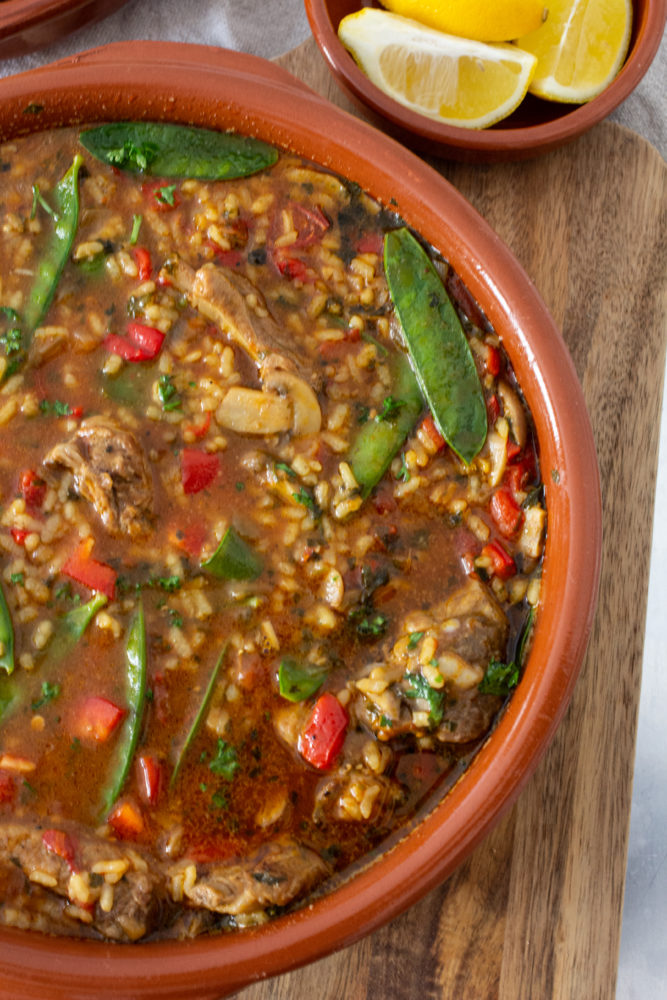 When eating Arroz Brut, serve it with a crusty baguette or hard rolls. You will want to sop up every last bit of the soup! Arroz Brut is always served with lemon wedges, fresh sliced peppers (red and or green) and a spoon.
I have made this a day ahead and it stays well in the fridge. I think it is best on the second day! You may also use any type of vegetable you like. Classic Arroz Brut is made with onion, red pepper, tomato and green beans. These vegetables are plentiful in the Mediterranean and are the vegetables of choice for this dish.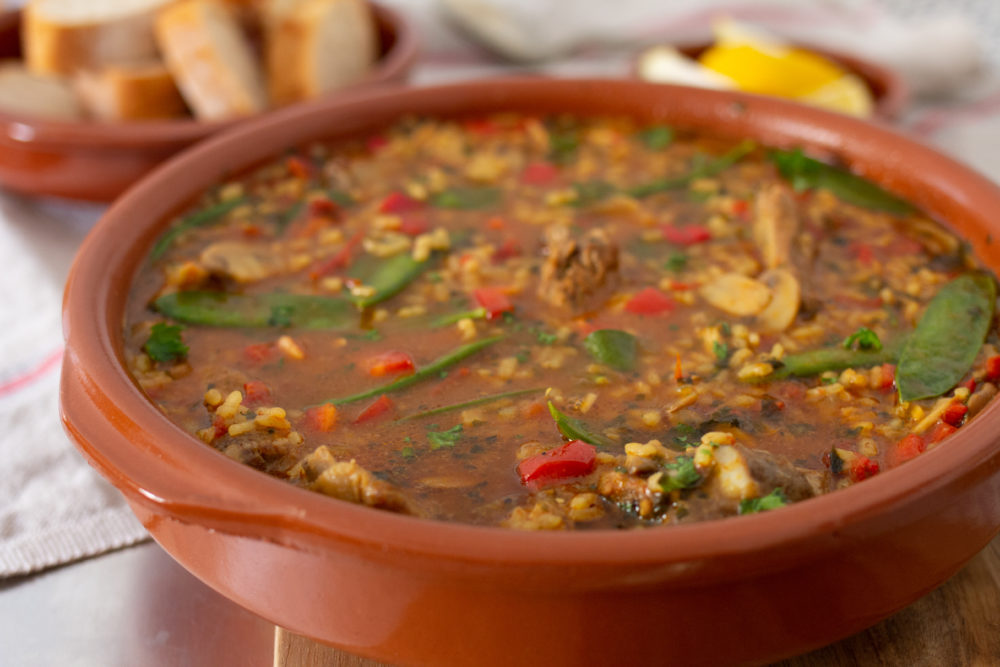 Rice is an essential ingredient in Easy Spanish Arroz Brut (Mallorcan Soup) as well. In Spain, Bomba rice is used in paella and also in Arroz Brut. It is a flat short grain rice, plentiful in Spain, but not quite as common in the U.S. I have also used other types of rice in this recipe, even long grain rice. The only type of rice I do not recommend for this recipe is Minute Rice!
This is a one pot, make it and eat type of meal. Allow about 45 minutes start-to-eat time. I think you will love this classic Spanish soup! Trying recipes from other cultures is the perfect way to expose your family to unfamiliar cultures and open their eyes and taste buds to something beyond the familiar!
How to make Spanish Arroz Brut:
Heat olive oil in pan and brown meat.
Add spices and onion to pan.
Add mushrooms, saffron and chopped tomatoes, cook for 20 minutes.
Add rice, simmer for 20 minutes.
Add green beans, lemon and garnish.
Try our Tortilla de Patata (Tortilla Espanola) if you want to make a classic Spanish omelette!
Easy Spanish Arroz Brut (Mallorcan Soup)
Arroz Brut is a classic soup served on the island of Mallorca. It is a simple dish made with various meats, tomatoes, vegetables, broth, rice and a bit of cinnamon! It is easy to make, hearty and will warm you up on the coldest day.
Ingredients
2

tablespoons

olive oil

1 1/2

lb

chicken or pork short ribs, or chorizo

salt and pepper

1/2

teaspoon

cinnamon

dash

ground cloves

2

cups

chopped onion

1

cup

chopped red pepper

1-2

cloves

garlic

minced or crushed

1/2

lb

mushrooms

sliced

Pinch

of saffron threads

optional

2

cups

chopped tomatoes

6

cups

chicken or beef broth

3/4

cup

rice

I used Spanish Bomba rice, but any type will work, except Minute Rice

1 1/2

cups

fresh green beans

whole with tough ends snapped off

Lemon slices

red pepper slices and olive oil for serving
Instructions
In a large pan at least 4 inches deep, heat olive oil over medium heat. Place the meat in the pan and season generously with salt and pepper on both sides. Brown the meat on both sides.

Add cinnamon, cloves, onion, red pepper and garlic to the pan. Cook until the onion begins to get soft. Stir to incorporate seasonings with the meat.

Add mushrooms and saffron (if using)* Stir ingredients in pan. If using chicken breast remove and set aside, to prevent over cooking. If using pork rib meat, see directions on recipe notes. Chicken thighs may be left in pan.

Place the chopped tomatoes and pour broth into the pan and simmer on low for about 20 minutes without lid.

Add the rice, turn up heat and bring to a boil again. Simmer without lid for about 20 minutes or until rice is done. About 5 minutes before the rice is done, throw in fresh green beans and return meat or seafood to pan.

Drizzle the Arroz Brut with olive oil, a bit of salt and fresh ground pepper and a squeeze of fresh lemon. Along with the soup, serve crusty bread, and red pepper slices.
Recipe Notes
Any vegetables may be used in this recipe. The tomatoes  and onion are essential for the broth, but the other vegetables may be substituted. The vegetables listed are classic in Arroz Brut.
Saffron is a bit on the expensive side and can be difficult to find in the US. I forgot to add the saffron in this dish one time, and it still tasted amazing. This is the brand I use in Spain. A pinch(or a few threads) is all you need. 
If you are using boneless skinless chicken breasts, cook and remove after it has been in the pan for 7-10 minutes. Set aside and chop. When the rice is done, add it back to the pan. I love white meat chicken breasts, but this dish is really best when made with thigh meat or pork short ribs!
If you are using short ribs (pork or beef) I recommend simmering the meat on low for at least one hour in the broth on low heat. This will help tenderize the meat. You may need more broth if using ribs and cooking on low. You can also place the short ribs in a slow cooker for about 6-8 hours on low seasoned, with about a cup of broth to tenderize the meat.
In Spain, this dish is also often made with rabbit. I have been told Arroz Brut was made with almost any type of meat or game available back in the day when it was first made in Mallorca!
To make this dish vegetarian, skip the meat and cube a package of firm tofu adding it to the pan instead of browning the meat. Cook the tofu just a bit to give it some color,  then remove and set aside.  Add it back to the pan when the rice is cooked, just before serving.