Elk and Potatoes with Brown Gravy and Beaten Butter Biscuits
Have I told you before Grant is a crazed bow hunter? Well, he is.
Here is our life.
Part of it anyway.
About early April. Grant bumps up his 3-4 day a week runs to 5-6 days a week. He starts shooting his bow about 3 times a week too (which eventually ends up being 5-6 days a week by July). Every night around 10, he calls his brother Brett, (they are like Siamese twins, separated at birth) who lives 1.3 miles away. Yes, they have measured. The conversation goes like this:
G- "Hey what's up" nonchalantly.
response I can't hear from Brett.
G-"Did you run?'
response.
G- in an even more nonchalant way- "Did you shoot?"
response.
Now Grant is answering the same q's, Brett is asking him.
Every.
Night.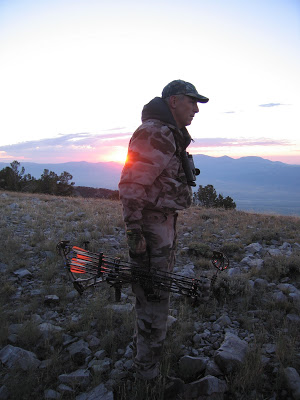 Why is this relevant?? Years ago, when they started hunting together, they decided to use a point system to see who would get to fling the first arrow on the elk hunt. Here's how the elk hunt goes, when you hunt in a pair:
Typically, one hunter calls in the elk, using a hose type device (kind of like a vacuum cleaner hose) called a "grunt tube" Yes, really, that's what it is called. Usually, it's covered in a piece of camo fabric kind of like a huge scrunchie. They make sounds into the tube. Sometimes it's a "bugle" sound, sometimes it 's a cow (girl elk) sound. In my mind, the cow elk must sound like:
"Honey, I found the remote for you!"
Click here
if you want to see a demo. This is serious business.
Anyway, long story short, the hunted elk hears the sounds, comes running to what he thinks is a real animal and the other hunter then tries to shoot the elk or deer or whatever they are hunting.
Getting in to shape- good idea if you are hauling around a pack like this.
So, G & B decided to keep track of fitness and shooting points all summer long. This would motivate them to be in great shape when they needed to hike all over creation to find the elk, deer, sheep, mountain goats, or whatever they were (are) hunting and perfect their bow hunting skills. On the night before the opener, they tally the points to see who will hunt first, and who will call. The person with the most points gets to hunt first. It's suppose to be a surprise.
The only problem is, the nightly phone call keeps them up to date on who is ahead in the scoring system. And often possesses Grant to do midnight temple runs. In the end, it is never a surprise. Does this make sense? Don't answer that question.
Crazy.
Bow Brothers aka G & B, Dit and Dot.
Anyway. Almost every year, we are fortunate 🙂 to have some type of game in our freezer. To date, we have had: elk, venison (deer), mountain goat, moose, big horn sheep, bear, antelope, turkey and duck. No the duck was not shot with a bow. But yes on all of the rest.
And yes, I have tried all of the meats.
My boys love bow hunting as well. They tagged along as when
they were younger, and are now hunters themselves.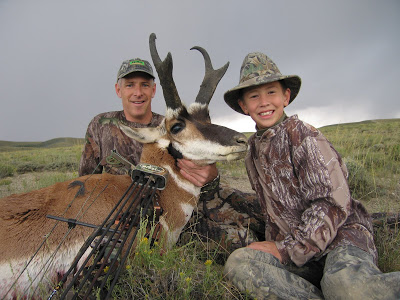 The hat Jake is wearing in this pic is called the
"Good Karma Hat". All hunters must put it on their head,
including Brett and his kids, before a hunt begins.
Serious.
Cooking Part:
So, the big question is always – "Do you eat the meat??" or "Do you cook it??"
The answer, yes. Not as often as I should, but yes. Over the years I have experimented with many different cooking methods. My tried and true is a Swiss steak- Ill post that sometime. Wild game is tricky. Unlike beef, or pork, there is very little, if no fat on elk meat, or any marbling of fat. Grant (my no- cooker hubs) recently found the secret to cooking delish wild game. Searing, and not overcooking, only cooking to medium rare, at most. Seems simple. But for some reason, this has escaped me all of these years.
A while ago, I used some tenderloin elk steaks to make this wonderful dish. I'm not a huge fan of wild game, but this was really yummy. Tender pieces of meat, rich gravy, buttery biscuits. You could of course, use beef in place of the wild game, if your hubs is a girly man, and isn't a hunter.
That was a joke.
Let me know if you need some elk steaks, I have about 900 lbs in my freezer.
That, my friends was not a joke.
Elk and Potatoes with Brown Onion Gravy & Beaten Butter Biscuits
Ingredients
Meat/Potato layer:
1

lb

elk or venison steak

cubed

3-4

cups

cubed cooked potatoes

any type

1/2

cup

chopped onion

1

clove

garlic

minced

herbs optional- oregano

basil, parsley
Gravy:
1/4

pound

(1 sticunsalted butter

1 1/2

cups

chopped yellow onion

about 2 small onions

1/4

cup

flour

1

teaspoon

kosher salt

1/2

teaspoon

freshly ground black pepper

2

cups

beef stock

heated

2

Tablespoons

Worcestershire Sauce

1

tablespoon

heavy cream

optional
Instructions
For the Meat/Potato Layer:

In about 1-2 tablespoons of olive oil, saute the onions in a saucepan until tender. Remove. Turn the heat to medium high, and sear the cubed meat. Make sure to not over cook. Cook just until the outsides are brown. Turn off heat.

Transfer meat, cooked onions and garlic and any desired herbs fresh or dried into a casserole dish. Set aside.

In a large (10 to 12-incsaute pan, cook the butter and onions over medium-low heat for 12 to 15 minutes, until the onions are lightly browned. Make sure the onions are well cooked, this brings out great flavor in the gravy.

Sprinkle the flour into the pan, whisk in, then add the salt and pepper. Cook for 2 to 3 minutes. Add the hot beef stock mixture and cooking wine or Worcestershire, and cook uncovered for 4 to 5 minutes until thickened. Add the cream, if desired. Season, to taste.

Assembly:

-Place meat mixture in greased casserole dish.

-Top with gravy.

-Place biscuits on top

-Bake
Recipe Notes
-Don't let the length of this recipe scare you. Start to finish (prep), I can make this dish in about 30-40 mins. Then pop in the oven and bake. Best to make when you have leftover baked potatoes.
-I usually make gravy without a recipe, but knew you would seriously consider opting out of our cyber/blogger friendship if I didn't give specifics. Ina's is a good basic gravy to make and use in this recipe.