Remember those days when your mom made pot roast and everything seemed right in the world? When our kids were growing up the first Sunday of every month was reserved for our Family Favorite Pot Roast. It's a delicious tradition we all loved, and still do, to this day.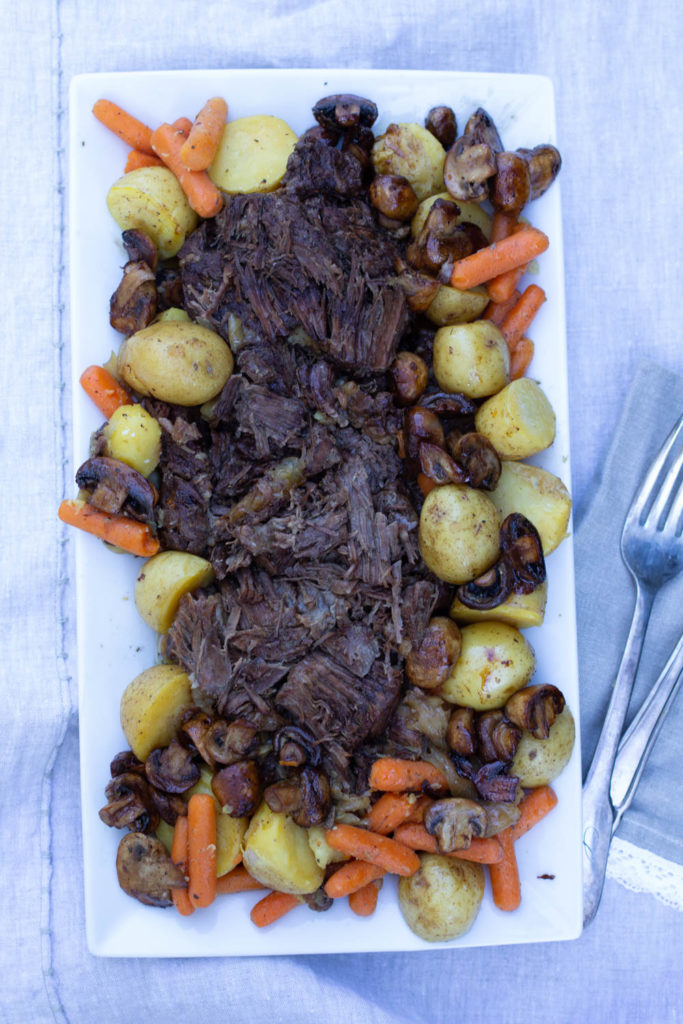 Top five reasons you should make Family Favorite Pot Roast this weekend:
A slow cooked roast is something every cook should know how to make. Follow my directions and it's virtually fool proof! With very little time and effort it can become your signature comfort food dish.
You can dress a pot roast up or down. Fam Favorite Pot Roast is a humble and delicious dinner. Add some creamy mashed potatoes (Slow Cooker Mashed Potatoes are the easiest recipe you'll ever make) and throw on a few fresh herbs (rosemary, thyme) and you've got dinner fit for company.
It's the perfect Sunday or weekday meal. I put this in the oven before church and we come home to a house that smells like heaven. Set the table and you're ready to feast.
Everyone loves a good slow cooked pot roast. Grandpa, babies, hungry teens. You name it, everyone loves it. Nothing pleases like a simple slow cooked pot roast.
Make two roasts and you've got dinner ready for the next night. Shred the extra roast, remove any fat remaining, top with a little juice. When you're ready to serve, warm it up in a pan of Au Jus. Slice and butter some french rolls, grill or broil till golden, top with a little cheese if you'd like, then pile high with shredded beef. Pass bowls of Au Jus for dipping.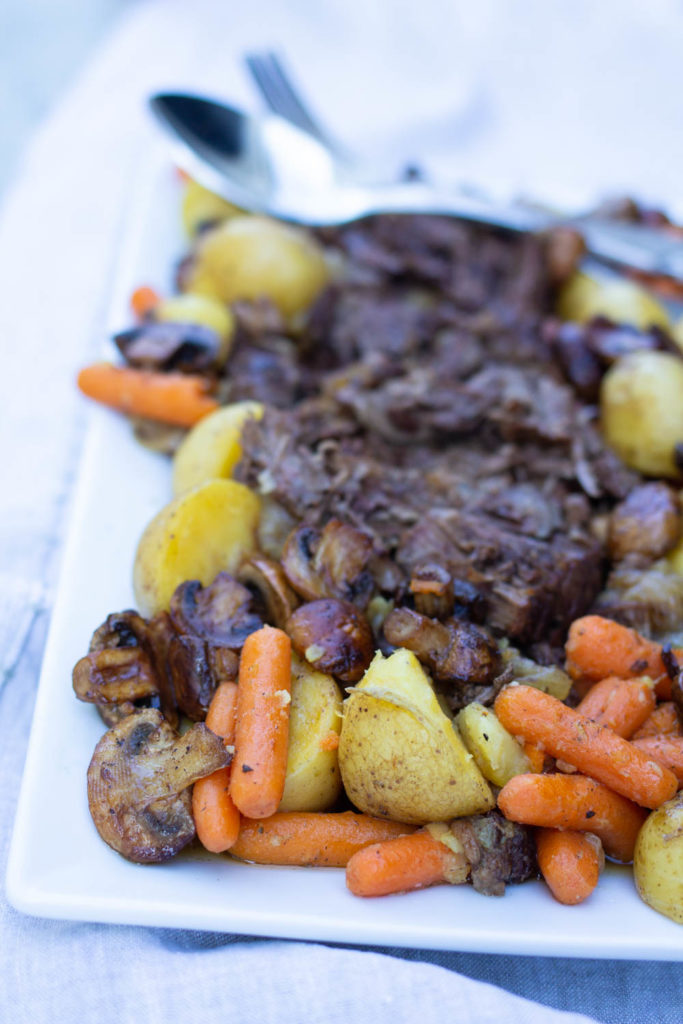 We always rounded out the meal with gravy (see directions on recipe) , rolls , some type of green veggie or salad and usually a simple chocolate cake. You simply can't buy anything from a store that's more comforting than this meal.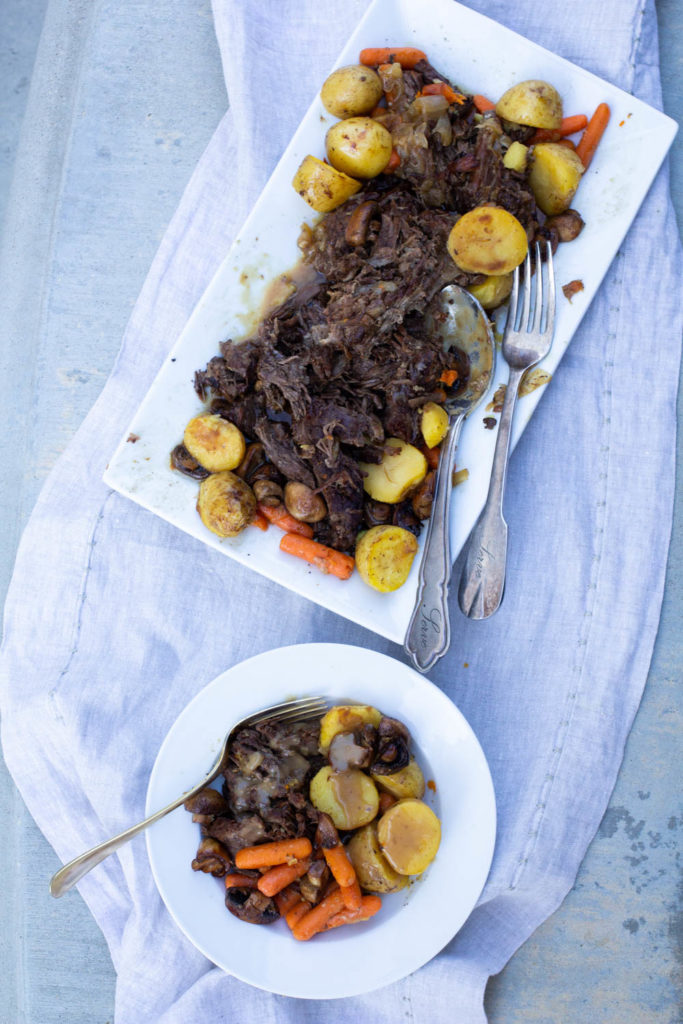 Family Favorite Pot Roast
Ingredients
1- 3-3 1/2

lb

Roast

pot roast, chuck roast

2-3

cups

onion

chunked ( I prefer yellow or sweet onion)

1

cup

celery

cut into 1 inch chunks

1

lb

carrots

baby carrots or whole carrots, peeled and cut up in large chunks

2

cloves

garlic

minced

2-3

tablespoon

olive oil

salt and pepper

garlic salt

2-3

tablespoons

Worcestershire Sauce

2

tablespoons

Balsamic Vinegar

2-3

cups

beef broth
If making gravy from juice:
one package or tub of flavor enhancer

I like Knorr brand "Homestyle Stock" beef flavor
Instructions
Pre heat oven to 225 if slow cooking (8 hours) OR 275 if cooking for 4 1/2 hours plus 1 hour in oven with heat off

Set rack in middle of oven.

Season meat generously on top and bottom of roast with salt, pepper and garlic salt. About 1 teaspoons salt and pepper each, and 1 teaspoon garlic salt per side. Rub seasoning into meat if desired.

Heat heavy pan on stove over medium high heat and add oil. This should be the same pan used to slow cook meat in oven.

Add meat to pan and brown on both sides about 2-3 minutes per side.

Remove meat to plate.

Add another tablespoon of oil to pan if needed. Add chopped onions, carrots, celery. Cook for about 3-4 minutes and loosen the bits of meat from the bottom of the pan. Season with additional salt and pepper.

Add minced garlic and reduce heat. Cook for about 1 minute.

Leave the vegetables in the pan and add the meat back to the middle of the pan, pushing the vegetables around the sides of the roast.

Sprinkle the Worcestershire Sauce and the Balsamic on top of the meat evenly.

Pour the beef broth around the edges of the pan, do not pour over the top of the roast (it will wash away the seasonings and sauces). The liquid should come about half way up the sides of the roast.

Drizzle the entire pan with a bit of olive oil.

Cover tightly with foil or lid.

If using a roasting pan that is not deep, place the pan on top of a jelly roll pan so any excess juice created while cooking will spill over onto the pan and not the oven.

Place in oven to bake.

If baking for 8 hours, oven temperature should be 225.

If baking for 4 1/2 hours, oven temperature should be 275. After 4-4 1/2 hours, turn off heat and leave roast in oven for an additional hour. The roast will be done at 4 hours but will tenderize as it sits in the oven with the oven off.
for gravy:
Pour the juice off of the roast and vegetables, or use a bulb and extract the juice.

Cover pan to keep meat and vegetables warm.

Melt 4 tablespoons of butter into a sauce pan over medium heat.

Add 3 tablespoons of flour, whisk until the flour and butter are a paste like consistency.

Cook for about 1-2 minutes.

Slowly add about 4 cups of the juice from the roast, Whisking while adding the liquid.

Add the concentrated stock tub and whisk until dissolved. Cook until gravy thickens.
Recipe Notes
-You may use either a roasting pan with a tight lid or a any type of pan where you can secure a seal using foil or a lid. The key is to keep liquid in the pan. -If you are doubling the recipe, and want to use the extra roast for French Dip sandwiches, it is not necessary to double the vegetables as well. Add an additional cup of beef broth to the pan.-You may add 1 lb mushrooms or 2 lbs scrubbed potatoes, cut into chunks to the vegetable mixture. -I like to add fresh or dried herbs such as rosemary, thyme, oregano to the roast as well before cooking in oven.