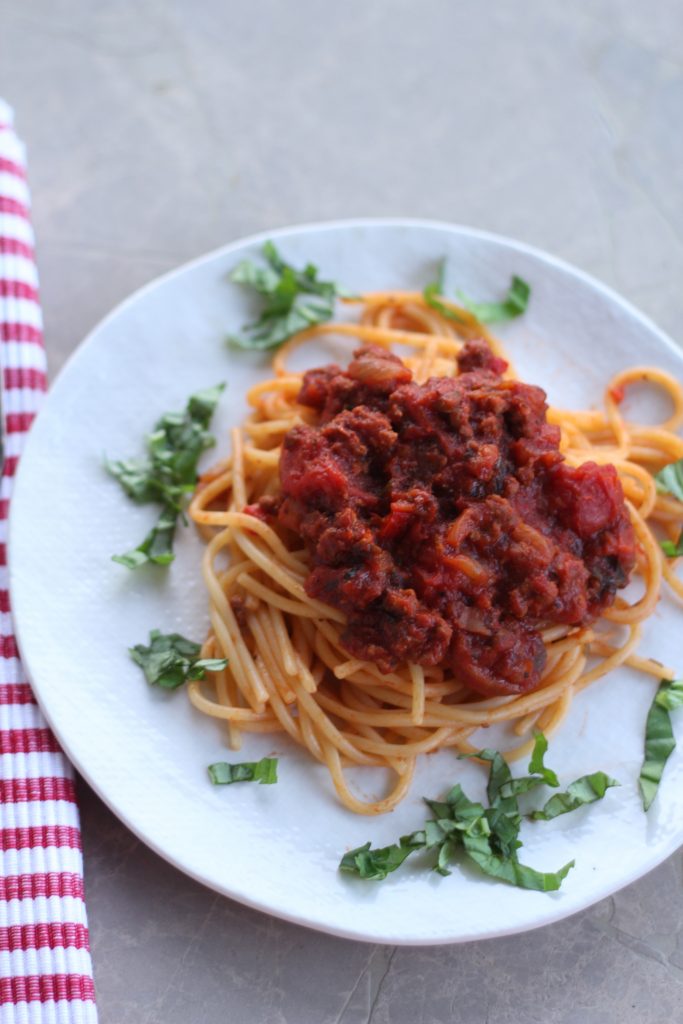 Slow Cooker Spaghetti Sauce is one of the most simple and popular dinner dishes in my recipe files. It takes just a few minutes to prepare and can be served in less than 30 minutes start to finish. All of my family loves spaghetti with meat marinara and I love the simplicity of this delicious homemade meal.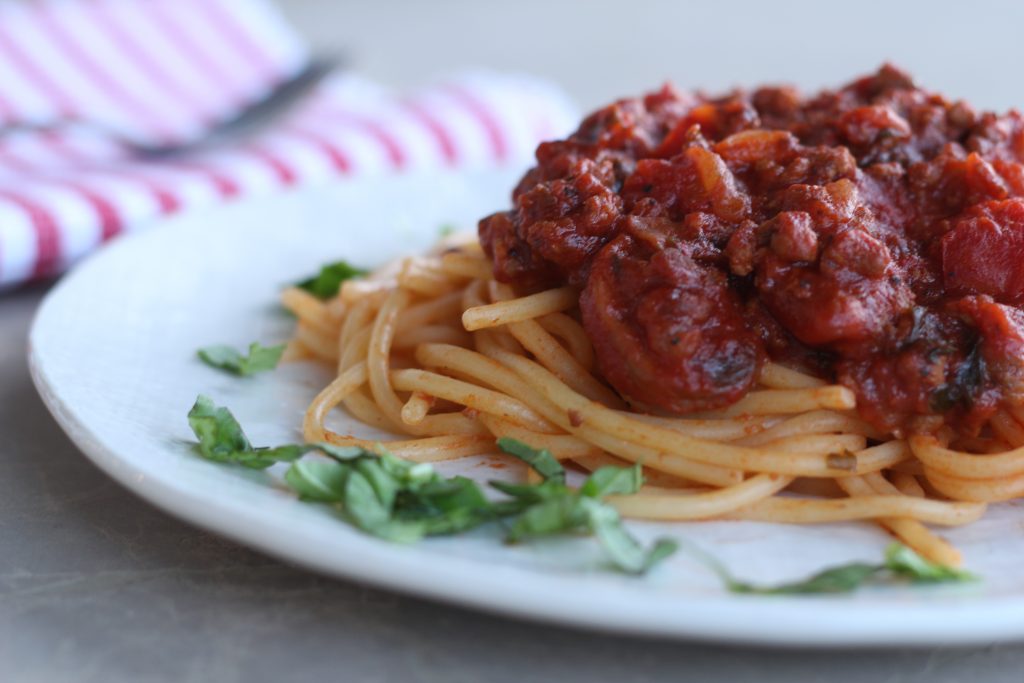 If I have a busy day, I assemble the Slow Cooker Spaghetti Sauce in the morning and place into the slow cooker and turn it on low. At the end of the day all that's required is cooking the pasta and throwing together a green salad. It doesn't get easier than that! Slow cooking all day will allow the flavors to develop and your sauce will have a deep, rich, color and flavor. That said, I've made this spaghetti sauce and served it 20 minutes later more times than I can count. Either way, it's always a crowd pleaser.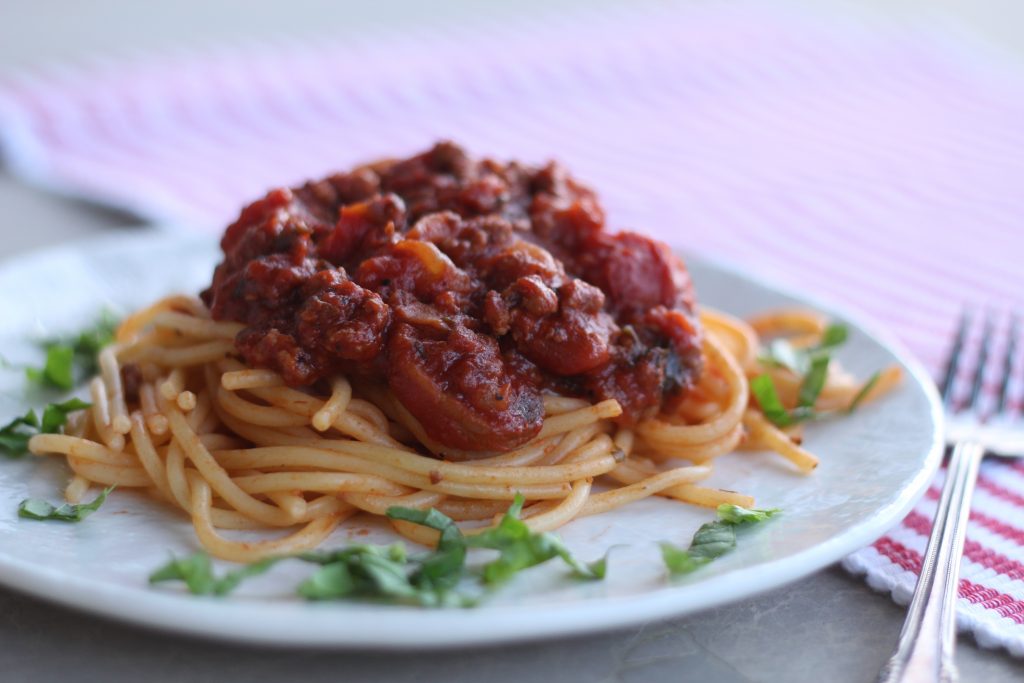 Slow Cooker Spaghetti Sauce
Ingredients
1

lb

extra lean ground beef

1

lb

Italian sausage

ground or link (If link, brown and then cut into 1/2 inch slices) optional

1-2

teaspoon

salt

1 teaspoon pepper

1

large onion chopped

about 2 cups

2

tablespoons

olive oil

1-2

cloves

garlic

minced

1 28

oz

can chopped tomatoes

2 15

oz

can tomato sauce

1 6

oz

can tomato paste

1/4

cup

fresh oregano or 2 tablespoons dried

1/2

cup

fresh basil

chopped or 3 tablespoons basil, dried

1/2

cup

parsley

chopped or 2 tablespoons parsley, dried

few dashes Tabasco

sugar

to taste, optional

1/4

cup

pasta water

2

tablespoons

butter
Instructions
Saute ground beef and Italian Sausage until browned.

While cooking, season with salt and pepper.

Drain grease and discard.

Add olive oil to pan and chopped onion.

Continue to saute until onion is soft.

Add garlic, chopped tomatoes, tomato sauce and paste. Stir until blended.

Add oregano, basil, parsley and a few dashes of hot pepper sauce

Add sugar if desired.

If cooking in slow cooker for the day, Turn on low and cook for 8 hours.

Just before serving, add 1/4-1/2 cup of the pasta water to the sauce and 2 tablespoons butter (optional).
Recipe Notes
If making the sauce for a quick dinner, start boiling water for the pasta when the sauce is being assembled. Once the water begins to boil, cook the pasta according to package directions. The pasta and the sauce will be done close to the same time. -I use extra lean ground beef most of the time, but also occasionally use half Italian Sausage and half ground beef. I also like to mix it up a bit and use link Italian Sausage in the sauce. Cook the link sausage in a pan, remove from pan and slice. Add to the sauce just as you would the ground cooked meat. Any combination of meat will work, 1-2 lbs total.
If you are going to cook the sauce in a slowcooker and not serve immediately, cok the ground meat and the onion together and throw all into the slowcooker when the meat is browned and fat drained. Then simply add the remaining ingredients. Cook for 8 hours on low.
When fresh herbs are readily available, fresh is best but dried herbs work well in this recipe.
Butter will greatly improve the flavor of the sauce and help bind the sauce as well. Not necessary, but highly recommended.
Pasta water is the water in which the pasta was cooked. After the pasta is cooked remove some of the water to add to the sauce.
We love mushrooms and often add 1 lb sliced fresh mushrooms with the onions.
Serve with 1 1/2 lbs of spaghetti, cooked according to package directions.-
I often double this sauce and freeze half for another dinner.