Ginger Cake with Lemon Sauce was meant for Christmas! An easy to make holiday cake with just the right amount of ginger and spice to make it festive, but not overpowering. The lemon-butter sauce adds a bit of tart and sweet citrus glaze to keep this ginger cake super moist!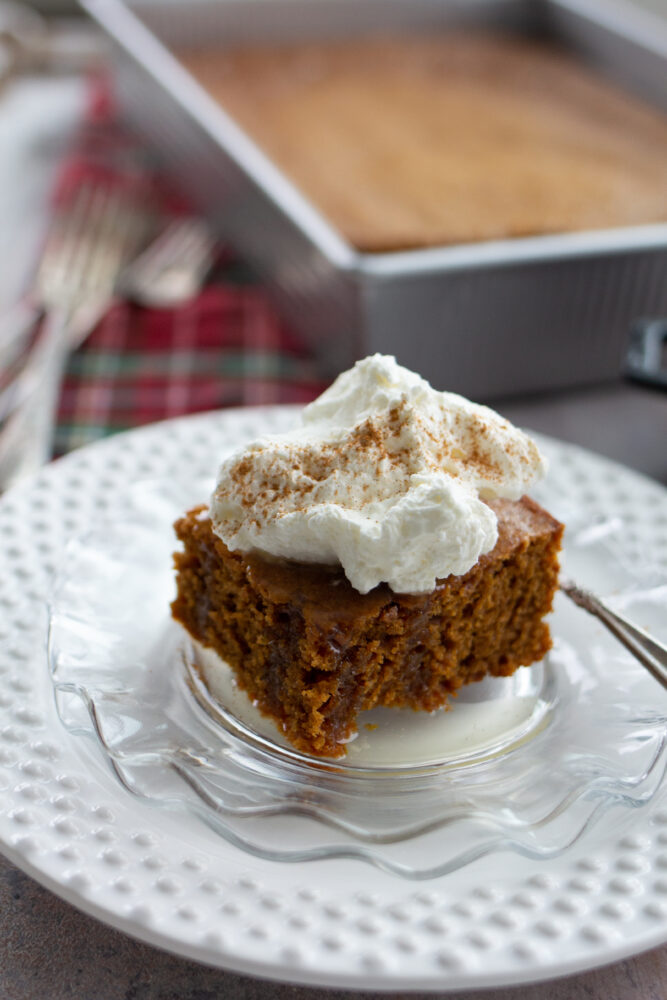 What is Christmas without gingerbread? If you are a gingerbread fan, you'll love this cake. It's a one bowl, one pan cake. The glaze can be poured on while the cake is hot, so no need to wait for the cake to cool before glazing!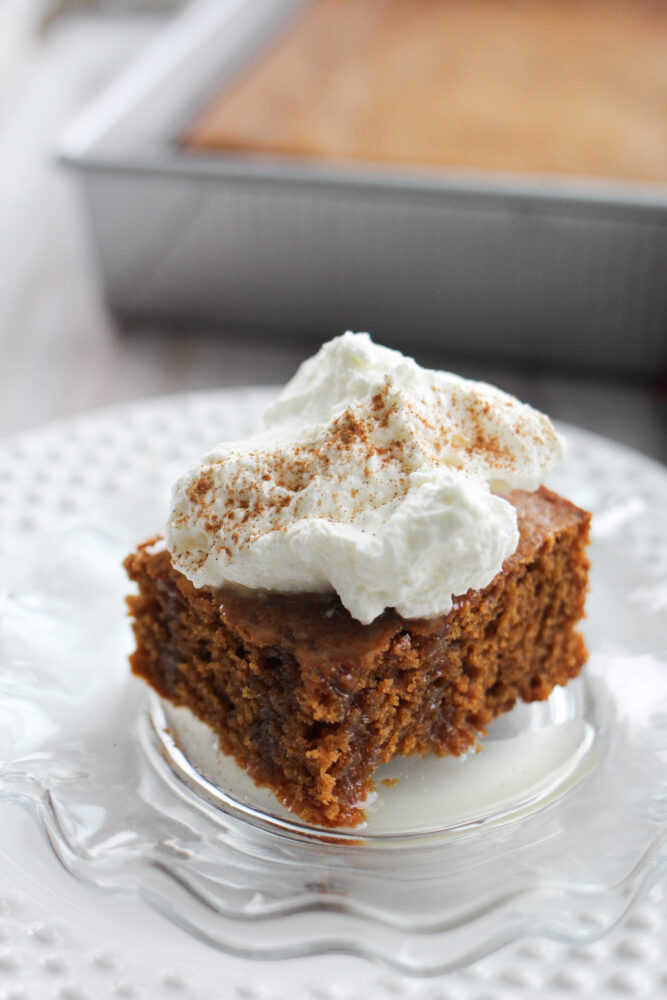 Gingerbread, Ginger cake. What is the difference? Ginger cake as we now know it in the U.S. is usually a cake or cake-like dessert served with frosting or a glaze and eaten with a fork. Gingerbread is usually in the form of a cookie, rolled and then shaped like our Gingerbread Cookies with Lemon Icing. I know our friends of German ancestry have a whole different take on gingerbread! If you are in the know about the history of gingerbread, please leave a a comment below and tell us more about gingerbread!
Ginger Cake with Lemon Sauce is the perfect party cake. It mixes up in minutes and is so simple to bake. If you are making cake for a crowd, you can buy disposable pans for easy clean up! I like to make sure to have fresh whipped cream on hand for this cake to top it off. I've made this several times for large gatherings, and it is always a hit with young kids and more mature party goers! See recipe notes for make ahead directions.
If you are in the market for new baking pans, I HIGHLY recommend USA Bakewear Pans. I love the 9×13 USA pan used to bake this cake.
This easy cake is my go-to dessert when I need something homemade and festive for a holiday dinner. The simplicity of this cake puts it at the top of my list for baking at this extra busy time of year. In forty minutes your house can smell like Mrs. Claus' kitchen! If you prefer, our Ginger Cake with Lemon Sauce can be frosted with cream cheese frosting instead of topping with lemon glaze.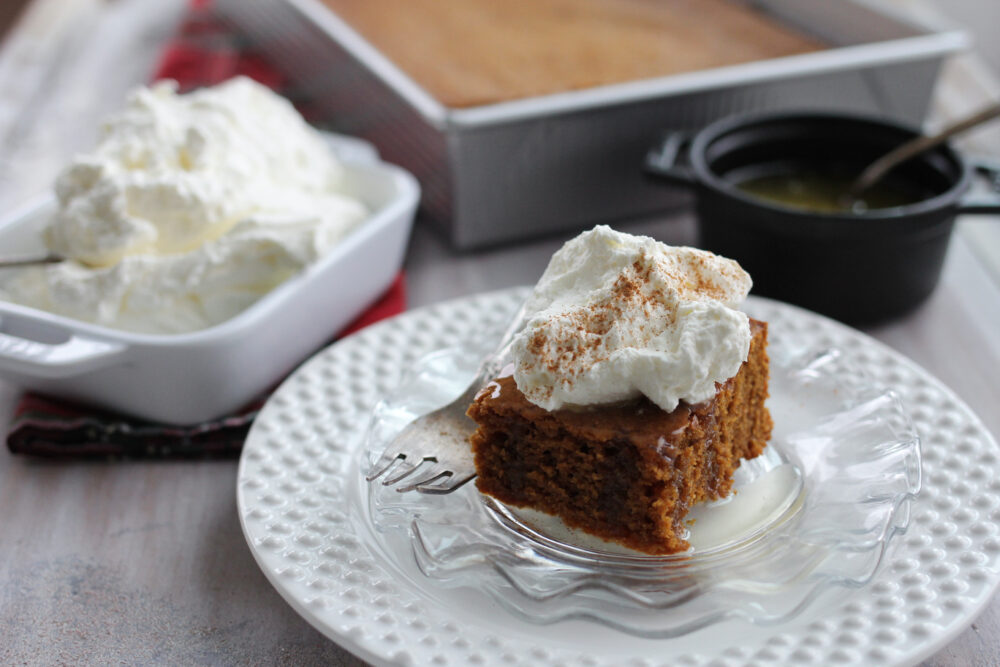 Ingredients needed to make Ginger Cake with Lemon Sauce:
2 eggs
3/4 cup vegetable or canola oil
3/4 cup dark molasses I like Grandma's brand
1 cup sour cream
3/4 cup sugar
2 1/4 cups all purpose flour
2 teaspoons pumpkin pie spice
1 teaspoon baking powder
1/2 teaspoon baking soda
1 teaspoon salt
1/4 cup butter
1/2 cup sugar
1/4 cup lemon juice
dash of salt
Tips for making Ginger Cake with Lemon Sauce:
Gather all ingredients before starting recipe.
Pre-heat oven for at least 15 minutes before baking.
Do not over mix the batter. This is a dense cake and should not be mixed on high speed.
Check the cake after 25 minutes. Cake is done when a toothpick inserted in center comes out with a few moist crumbs attached. Bake time will vary depending on oven.
Ginger Cake with Lemon (Butter) Sauce first posted in 2008, updated in 2016 and updated again in 2021 with new photos and recipe alterations.
Ginger Cake with Lemon Sauce
Ingredients
Cake:
2

eggs

3/4

cup

vegetable or canola oil

3/4

cup

dark molasses

I like Grandma's brand

1

cup

sour cream

regular or light I like regular

3/4

cup

sugar

2 1/4

cups

flour

2

teaspoons

pumpkin pie spice*

1

teaspoon

baking powder

1/2

teaspoon

baking soda

1

teaspoon

salt
Sauce:
1/4

cup

butter

1/2

cup

sugar

1/4

cup

lemon juice

fresh squeezed will make the very best glaze

dash of salt
Topping:
fresh whipped cream or vanilla ice cream
Instructions
For Cake:
In a large bowl, or bowl of a stand mixer, add eggs, oil, molasses and sour cream. Mix until ingredients are smooth. If a few lumps remain from the sour cream, they will blend out with the dry ingredients.

Add the sugar, flour, pumpkin pie spice, baking powder, soda and salt into the bowl with the wet ingredients. Mix all at once, just until wet and dry ingredients are incorporated.

Spoon batter into a greased 9"x13" baking dish. Bake at 350 degrees for 25-30 minutes or until wooden pick inserted near center comes out clean. Do not over bake!

A few minutes before the cake is done, prepare the sauce.
Sauce:
Mix butter, sugar, lemon juice and salt in a small saucepan. Cook and stir over medium high heat until sugar dissolves. Let the sauce come to a boil, stirring occasionally. Boil for about one minute.

Pour sauce over warm cake immediately after removing from oven, or if serving later make sauce and warm up before serving. Spoon over cake or over each individual piece just before serving.

Cake is best served when warm with whipped cream or vanilla ice cream and cinnamon sprinkled on top.
Recipe Notes
Pour the oil into the measuring cup first, and then into the mixing bowl. Then use the same cup to measure out the molasses. The molasses will slide out easily after the oil has coated the cup! 
Make sure to check after 25 minutes, this cake bakes quickly and will dry out if over baked.
This cake is best served within 8 hours of baking.
If the cake has cooled before serving, heat up individual pieces for about 15 seconds in microwave, then top with whipped cream.
Make your own pumpkin pie spice for a fraction of the cost of pre mixed pumpkin pie spice, recipe here.
This cake freezes well. Let cool and wrap pan with Saran Wrap. Freeze until ready to use. On day of serving remove from freezer. Let sit at room temp for 2-3 hours. Prepare glaze, Pour over each slice as served.