Grilled Flank Steak with Charred Tomato Relish is perfect for summer nights when you would rather spend the day playing in the sun and just a few minutes making dinner…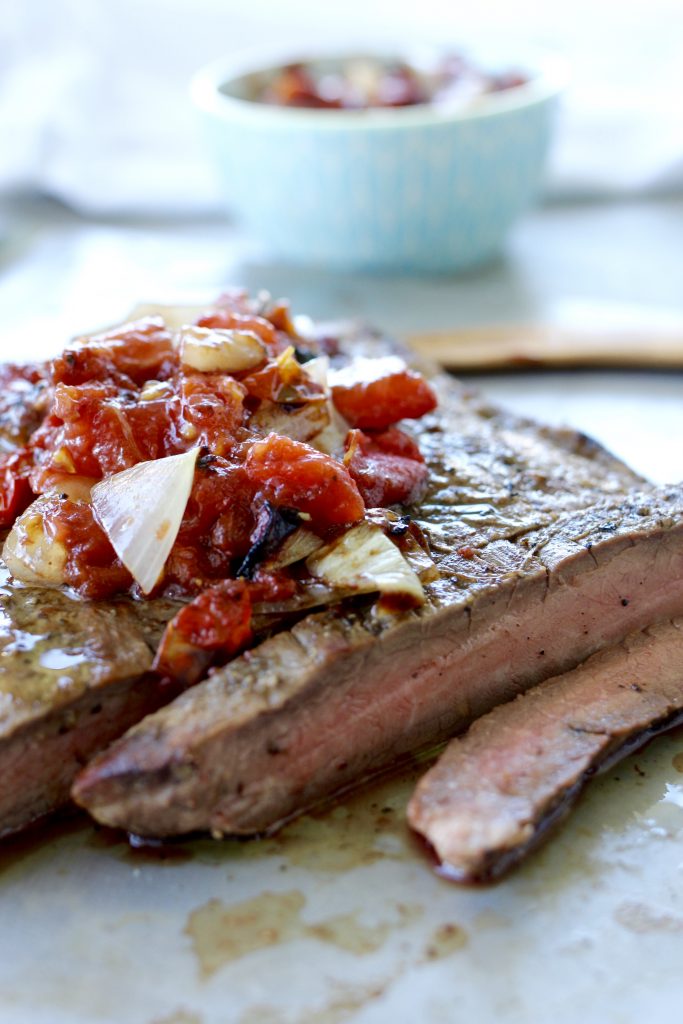 Flank steak is one of our most loved meals of the summer! It grills up in just a few minutes and the leftovers can be used so many different ways. I found this recipe in one of my all time favorite magazines, Southern Living. My friend Tessa gifted me a subscription for my birthday about 25 years ago, and I've had one ever since. The June issue was packed with recipes I wanted to try and this recipe for Grilled Steak with Charred Tomato Relish was at the top of my list.
The charred tomato relish involves grilling, chopping and mixing a few ingredients. I threw a few ears salted and buttered corn wrapped in foil on the grill while we were cooking the meat. A little green salad and we were ready for dinner!
Don't skip the charred tomato relish. It was so good, we ate the rest up right out of the cup. No meat needed! This relish would also be delicious on chicken and fish as well…next time I'll double the recipe.
I grilled two flank steaks- we used the leftover meat for tacos a couple of nights later. I know you're going to love this recipe for Grilled Flank Steak with Charred Tomato Relish. It's quick and easy, and is so tender and flavorful. This is the type of dinner you can serve guests or your family on a summer evening. Have a great weekend!
Grilled Flank Steak with Charred Tomato Relish
Ingredients
6

medium-size plum

Roma or Campari tomatoes, halved lengthwise

1

small sweet onion

in quarters

3

tablespoons

olive oil

divided

2

teaspoons

kosher salt

divided

1 1/4

teaspoons

black pepper

divided

1 1/2

pounds

Flank steak

1

tablespoon

balsamic or red wine vinegar

1

garlic clove

finely chopped

1/2

teaspoon

granulated sugar
Instructions
Preheat grill to medium-high (about 450°F), or heat a grill pan over medium-high.

Toss together tomatoes, onion, 1 tablespoon of the oil, 1/2 teaspoon of the salt, and 1/4 teaspoon of the black pepper in a medium bowl; set aside.

Rub Flank steak with 1 tablespoon of the oil and remaining 1 1/2 teaspoons salt and 1 teaspoon black pepper.

Grill tomatoes and onion turning often, until charred and softened, 4 to 6 minutes. Remove from grill, and let cool until ready to use.

Grill steak, turning occasionally, until lightly charred and medium-rare, 8 to 10 minutes. Transfer to a board, and let rest, 5 to 10 minutes.

Coarsely chop tomatoes and onion, and transfer to a medium bowl. Add vinegar, garlic, sugar, and remaining 1 tablespoon olive oil, and toss to combine.

Slice steak against the grain, and spoon tomato relish over top. Serve immediately.